If you've ever been to Rio de Janeiro, have you ever had to chance to visit one of the closeby counties and towns? The city of Rio de Janeiro is undeniably beautiful, but there are many other places just a few hours outside city limits that are sure worth spending a couple of days.
You could head to the beautiful coasts in Região dos Lagos, spend the day at the waterfalls at Guapimirim, get a taste of the mountain's chilly weather in Teresópolis, or choose to spend a weekend the paradisiac island of Ilha Grande.
We're gonna go through 19 destinations you need to visit just outside of Rio de Janeiro, giving you suggestions of things to do, places to go, the best time to travel, and the best way to get there. Make sure you read all the way till the end, as we're gonna be including some locals tips along the way 😉
1 – Teresópolis
Distance from Rio de Janeiro: 95km – 59 miles | 1:30h
Best Way to Get There: by travel bus
At least How Many Days Should You Stay: 2
If you want to escape the intense heat of Rio de Janeiro, head up to Teresópolis, in the state's mountain regions. With much more pleasant weather than the city of Rio, Teresópolis has a small-town flavor that pleases many locals and tourists looking for close different destinations.
Most of the city's main attractions revolve around the cold, which is the primary reason people look into going to Teresópolis. With that in mind, the best time to go to Teresópolis is during the wintertime (June to September), when there are a lot of festivals and entertainment in town.
Amongst Teresópolis many attractions, we can highlight the beautiful Serra dos Orgãos National Park (PARNASO), enjoy the local gastronomy (especially the Italian and German cuisine), shop for souvenirs at the street fair in the town's square, and try some of the artisanal beer and chocolate.
Still, on the subject of restaurants, I recommend going to Don Phillipe if you enjoy pasta. I had a great experience in this restaurant, the food was amazing and so was the wine the local sommelier recommended.
Suggestions on What to Do In Teresópolis:
Go to Villa St Gallen for drinks and food
Visit the Soberbo Observatory to get a panoramic view of the PARNASO
Watch the beautiful view at the Vale da Lua
Bathe in the Dois Irmãos natural pool
Visit Granja Comary, where Brazil's Soccer team often uses for training
2 – Búzios
Distance from Rio de Janeiro: 172km – 107 miles | 2:40h
Best Way to Get There: by travel bus
At least How Many Days Should You Stay: 3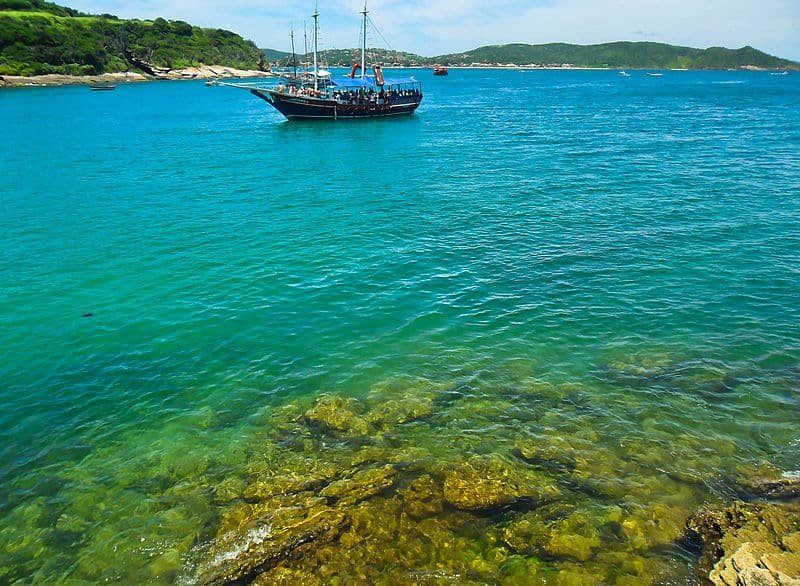 Buzios is located in a region of coastal cities known as Região dos Lagos, which includes a few other destinations we'll be discussing further ahead. The city has over 20 beaches, and a pretty agitated nightlife, with lots of clubs and bars available to enjoy the evening.
Considering the high prices and crowded beaches during the high season (Summer, from December to February), the best time to go to Buzios would be April and May. Although there's a slightly higher chance of raining these months, prices will be considerably lower and the town emptier.
If you are interested in learning about Brazilian beach etiquette, check out this video on my YouTube channel:
Besides eating at the local delicious restaurants, you can also rent your own buggy to explore the city's natural wonders, visit Rua das Pedras, the local shopping street, and take a lot of pictures of the various beautiful landscapes throughout the city.
Just as a curiosity, the city of Búzios has a statue of french actress Brigitte Bardot as one of its staples, as when she dated a Brazilian back in the '60s; she fell in love with the place. The statue is an homage to Brigitte's love for Búzios, depicting her facing the shores, as she used to do.
Suggestion On What To Do In Búzios:
Visit the Porto da Barra restaurant complex for a nice dinner
Visit the wild beaches in Búzios
Get a breathtaking view from the João Fernandes Observatory
Go clubbing at Privilége or Pacha nightclubs
Go scubbadiving at the Ferradurinha beach
3 – Guapimirim
Distance from Rio de Janeiro: 74km – 46 miles | 1h
Best Way to Get There: by car
At least How Many Days Should You Stay: 1
Guapimirim is a county very near Teresópolis, almost 20 minutes away from the latter. Visiting Guapimirim is the perfect activity if you want to go out on a day trip, whether departing from Rio de Janeiro or Teresópolis.
The city's waterfalls, ponds, and rivers are the main attraction here and all the green and natural views. There are guided tours you can take to visit the local canyons and sights.
Although relatively small, Guapimirim has over 25 artisanal beer producers, so if you're a fan, make sure to try some of the homemade brews. If you decide to stay overnight, you can also have breakfast on some of the local farms.
Suggestions On What To Do In Guapimirim
Visit the Von Marius Museum and Visitors Center
Take a dive at the Soberbo River
Take the Guapimirim EcoTur through the natural sights
Visit the Iconha canyons
Take the Rota Imperial beer tour for sampling different artisanal beers
4 – Paraty
Distance from Rio de Janeiro: 240km – 150 miles | 3:50h
Best Way to Get There: by travel bus
At least How Many Days Should You Stay: 2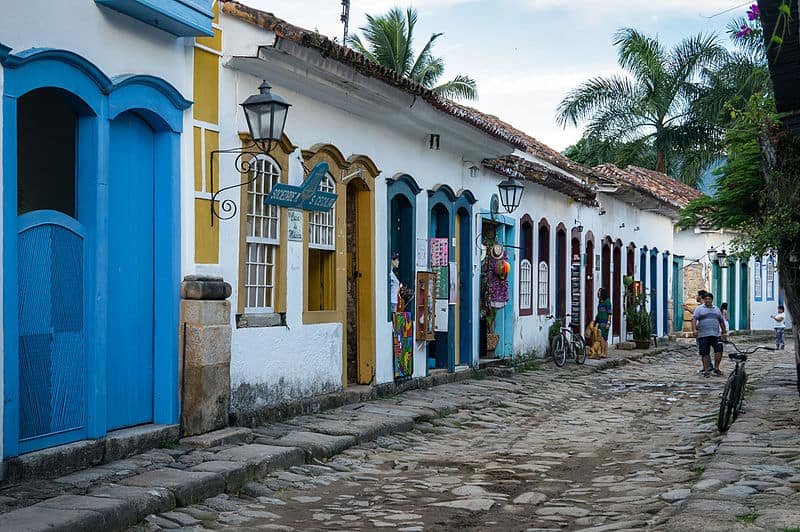 In case you want to take a couple of days off from Rio de Janeiro, visiting Paraty could be an excelent idea. This colonial-Esque coastal city is not only incredibly charming but also very easy to walk about, given its small size.
You can choose many beaches, the hotels and inns are very visually appealing and coordinated with the town's architecture and style, making the whole town looking very picturesque. The most simple backgrounds in Paraty will certainly give you some pretty instagrammable pictures as souvenirs.
The best time to go to Paraty would be right after Summer (high season), during the months of March till June, when accommodations are cheaper and the beaches emptier. Just make sure you check for the weather before you head up there, as there are higher chances of rain during that time.
It's very simple and easy to go to Paraty on a travel bus, but if you're staying near Jabaquara or plan on making a tour through the places nearby, I would recommend you to rent a car if possible.
Suggestions On What To Do In Paraty
Attend Flip, Paraty's literary party, which take places in June
Visit Trindade, a nearby city only 15 miles from Paraty
Try the local cuisine at Banana da Terra, a well-known local restaurant
Go to Café Paraty for some live music and good drinks
Take the boat ride around the Paraty bay
5 – Vassouras
Distance from Rio de Janeiro: 130km – 81 miles | 2h
Best Way to Get There: by travel bus
At least How Many Days Should You Stay: 1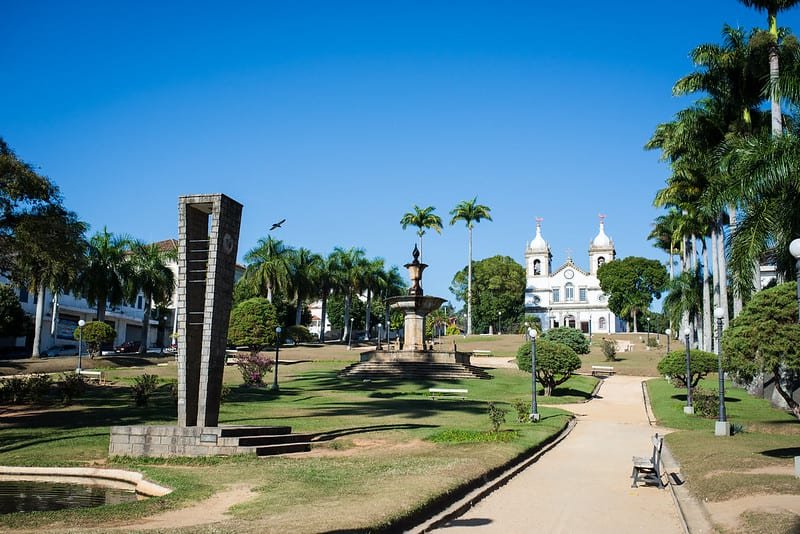 Vassouras is an important city component of Rio's Coffee Valley, which's cultural legacy has endured ever since the colonial times. Almost the whole town is a registered heritage patrimony, what explains the town's immaculate state of preservation.
Aside from the beautiful historic center, you can visit the Vassoura's Trains Station memorial, a legacy from the times Vassouras was one of the biggest coffee exporters in Rio de Janeiro.
Speaking of which, if you're a coffee enthusiast, don't forget to visit the historic farms in the Coffee Valley. You'll be able to see a little bit of how the beans are cultivated and, of course, have a taste of the delicious types they grow.
6 – Arraial do Cabo
Distance from Rio de Janeiro: 161km – 100 miles | 2:30h
Best Way to Get There: by travel bus
At least How Many Days Should You Stay: 3+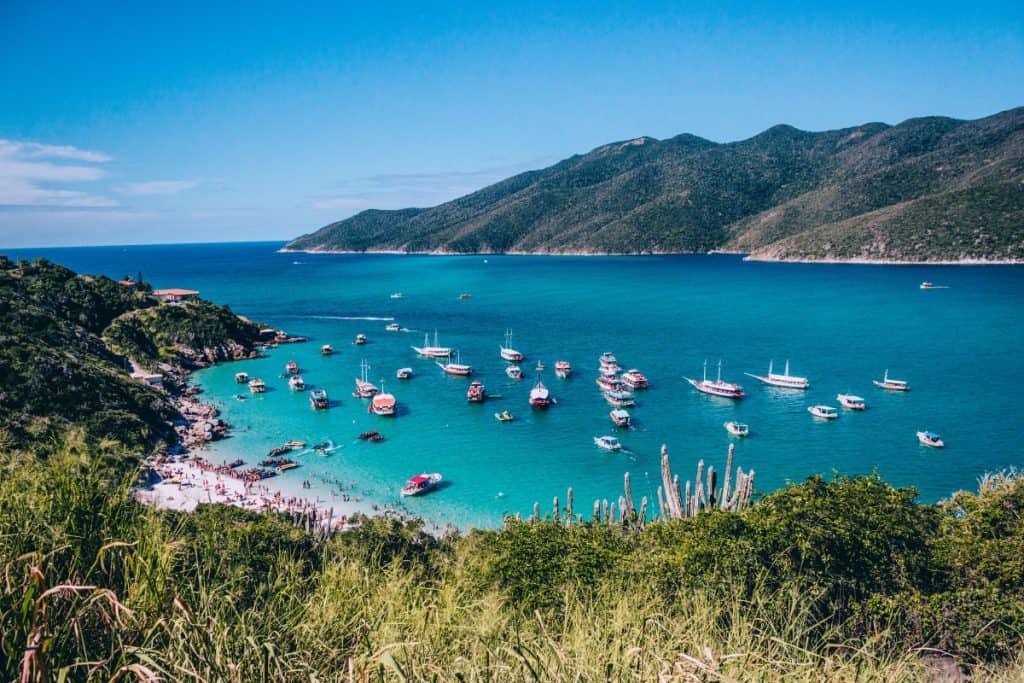 Arraial do Cabo is one of my favorite places outside Rio de Janeiro and the best destination within the Região dos Lagos area, in my opinion. The city is very welcoming and charming and the beaches are drop-dead gorgeous.
Arraial do Cabo is the trip that pleases everyone, from those who just want to chill and relax, to the ones eager for some adventure like diving, kitesurfing, and going on boat rides. To do all of that with no rush, I would suggest you spend more than a couple of days here, trust me; you won't regret it.
If you want to know more about Arraial do Cabo and all the city has to over, check our Complete Guide to Arraial do Cabo: the Brazilian Caribbean; I'm sure if you're not tempted to head there right now, you will after you read our post 😉
Suggestions On What To Do In Arraial do Cabo:
Visit the paradisiac Praia do Forno
Take the Pontal do Atalaia boat tour around the islands
Watch the sunset at Praia Grande
Go to Republica Pub or El Farol Bar for drinks
Have a delicious meal at fish restaurant Bacalhau do Tuga
7 – Nova Friburgo
Distance from Rio de Janeiro: 137km – 85 miles | 2h
Best Way to Get There: by car
At least How Many Days Should You Stay: 3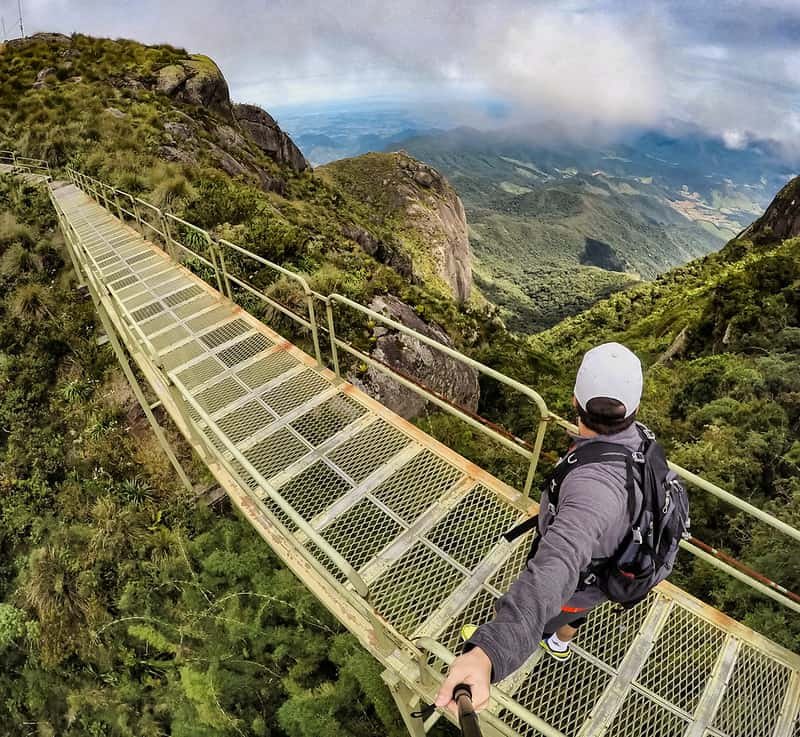 Another option on the mountainside of Rio de Janeiro, Nova Friburgo is a place to relax and recharge the energies. If you're a fan of cold weather, the city gets especially agitated during the Winter (July to September), due to the low temperatures perfectly complementing the town's touristic and culinary attractions.
A lot of restaurants in town especially in German and Swiss food, which perfectly matches with the artisanal beers and wines produced in Nova Friburgo.
Aside from the gastronomic experience, you can visit city staples such as the Véu da Noiva Waterfall, visit the Três Picos State Park (PETP), and even get a breathtaking panoramic view of the mountainside by riding the cable car to the observatory in Morro da Cruz.
Suggestions On What To Do In Nova Friburgo:
Take the Rota Cervejeira beer tour
Shop for chocolate and souveniers at Praça do Suspiro
Go to Trilhas do Araçari for an excellent vegan meal
Visit the Marcílio Dias Square and the São Batista Cathedral
Go to the Chalé do Barão Bar, located inside the Nova Friburgo Country Club
8 – Paquetá
Distance from Rio de Janeiro: 21km – 13 miles | 20 minutes
Best Way to Get There: by boat
At least How Many Days Should You Stay: 1
Although Paquetá is a county that belongs to the city of Rio de Janeiro (right at the center of the Guanabara Bay), this island is still a bit of a hidden gem from tourists, perfect for a day out away from the big crowded beaches.
To get to the Paquetá island, there are several ferry boats that leave Rio's portuary zone, and the ride takes less than 30 minutes. Once you set foot on the island, you'll instantly get the vibe of the place: no traffic noise, no big-town madness, just plain ol' peace and quiet.
During the Carnaval period, Paquetá gets especially festive since one of the Blocos in Rio set off to the island and parade almost throughout the entire day. During the year, there are occasional festivals and concerts held on the beach as well.
Suggestions On What To Do In Paquetá:
Visit the Pintor Pedro Bruno and Bom Jesus Squares
Visit the Caramanchão dos Tamoios landscape
Take pictures at the Renato Antunes gazzebo
Visit Casa de Artes Paquetá, the islands cultural center
Visit Parque Natural Municipal Darke de Mattos, the island's natural park
9 – Ilha Grande
Distance from Rio de Janeiro: 150km – 13 miles | 3h
Best Way to Get There: by bus and boat
At least How Many Days Should You Stay: 3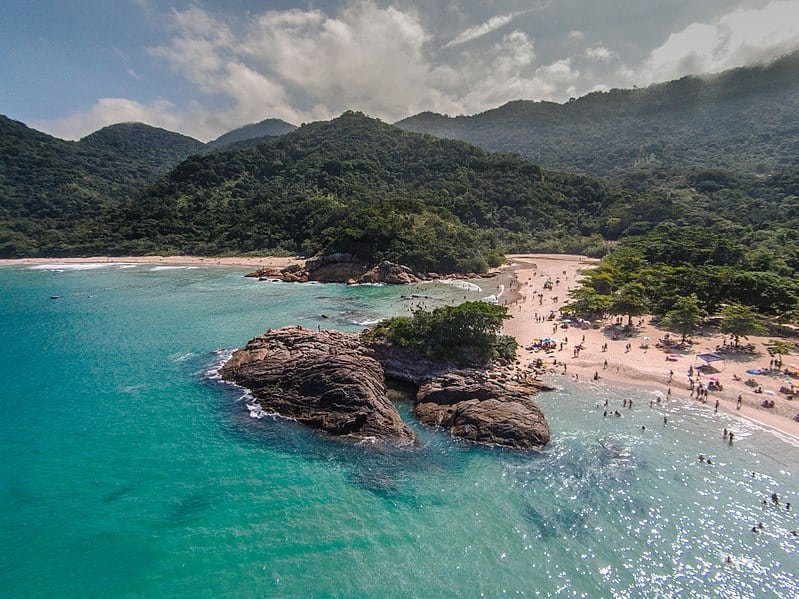 Speaking of islands, I've only recently got to visit Ilha Grande in 2019, and man, I just fell in love with that place. Getting there requires some dedication, as you'll need to take a travel bus from Rio and then a boat to get to the island, but it's honestly so worth it.
With a similar vibe to Paquetá, only way bigger, Ilha Grande feels like a place that stopped in time, given the peacefulness and quiet provided by the life away from the noise and stress. The small-town vibes are incredibly charming, I honestly didn't want to get back to reality when it was time to leave.
If you're a fan of outdoor activities, you're in for a treat. There are several trekking trails throughout the island that leads to different beaches, locations, and lakes, so you'll definitely want to spare more than a couple of days to explore most of the island.
The people are also very welcoming, and the restaurants and bars by the beach are very cozy, with excellent food and service.
Suggestions On What To Do In Ilha Grande:
Visit the Lopes Mendes and Lagoa Azul beaches
Take the trail to Dois Rios beach
Visit the Feiticeira Waterfall
Eat at Marola Flutuante, the islands's floating restaurant
Have drinks and enjoy some live music at Pé na Areia bar
10 – Petrópolis
Distance from Rio de Janeiro: 66km – 41 miles | 1:15h
Best Way to Get There: by car
At least How Many Days Should You Stay: 2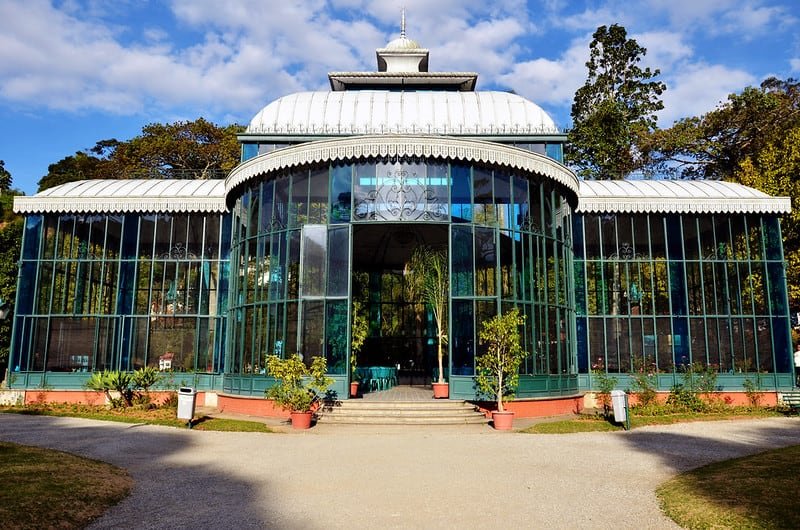 Getting back to the mountainside of Rio de Janeiro, Petrópolis is another historical site within the state's limits. The Portuguese royal family once resided in Petrópolis, leaving behind a very rich cultural heritage, that goes from churches to manors, and palaces.
The Imperial Museum, for instance, is packed with historical furniture, decoration objects, jewelry, paintings, and sculptures from the 18th century. Everything is so well taken care of, they even request you wear slippers while inside, so there's no damage done to the floors.
You can also paddleboat around the lagoon near Hotel Quitandinha, especially if you're on a family trip. The kids usually love the activity, mainly because of the paddleboats shaped like giant swans.
Other than that, Petrópolis is a great place to enjoy good food, and good drinks, with several excellent restaurants to chose from. The city is also pretty well-known for its local clothing stores, the prices are far cheaper in comparison to other stores in Rio de Janeiro.
Suggestions On What To Do In Petrópolis:
Visit the Quitandinha Palace, a staple in the city
Visit the Bohemia Beer Factory, you can make a tour to see how they make their beers
Visit the São Pedro da Alcântara Cathedral to see the beautiful architecture
Visit the historical sites at Koeler Avenue
Visit Santos Drummond (the inventor of the first airplane) house, one of the city's cultural heritages
11 – Cabo Frio
Distance from Rio de Janeiro: 150km – 13 miles | 3h
Best Way to Get There: by bus
At least How Many Days Should You Stay: 3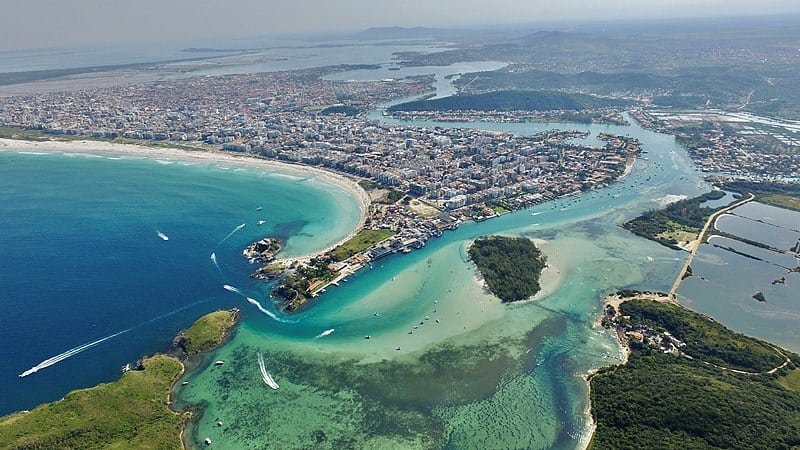 Cabo Frio is another county housed by the Região dos Lagos area, and therefore, another beach destination you can escape to if the beaches in Rio de Janeiro are looking a bit too crowded.
The city is pretty big, and aside from the beaches, there are plenty of historical sites to visit, such as the Morro da Guia Observatory, where you can get a view from the whole area, and the Nossa Senhora da Guia Chapel; built in 1740 and still preserved till this day.
And if you're in Rio in February and wish to experience Carnaval away from the big city, Cabo Frio is also pretty big on the festivity, with loads of Blocos and concerts along the city's coasts.
Suggestions On What To Do In Cabo Frio
Visit the more private beaches in Peró
Visit Bairro da Passagem to see the colonial architecture and historical sites
Spend the day at Ilha do Japonês, an island located in the iddle of the Aruruama Lagoon
To go the Surfing Museum, a common activity in Cabo Frio
Stroll down Rua dos Biquinis to shop for new bathing suits and pieces
12 – Visconde de Mauá
Distance from Rio de Janeiro: 199km – 123 miles | 3h
Best Way to Get There: by car
At least How Many Days Should You Stay: 2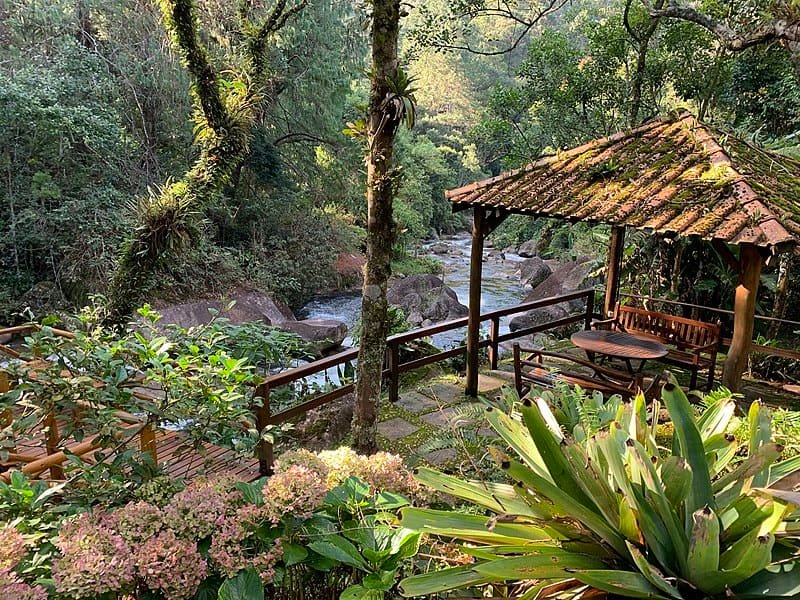 Another destination just outside Rio de Janeiro with lots of beautiful natural sights, Visconde de Mauá, is a charming and rustic town perfect for escaping to when you're looking for some peace and quiet.
The best time to go to Visconde de Mauá would be either during the Summer (Dec to Feb) or during Winter (Jul to Sep), and the city does have features to entertain you both seasons.
The summertime is the perfect weather to enjoy all the waterfalls, natural pools, and trails throughout the city. There are several small fountains and ponds scattered around Mauá, so if you're looking to visit a few of them, I'd suggest you rent a car to travel.
During the winter, the city gets pretty cold given the mountain weather, so all the attentions turn to the local gastronomy, which includes wineries, Italian places, and the town's main culinary attraction, the all-you-can-eat fondue buffets.
Suggestions On What To Do In Visconde de Mauá
Visit de Escorrega and Poção Waterfalls
Take beautiful pictures at the Santa Clara cascades
Visit the Parque das Cachoeiras to spend the day
Do the trail to reach the Véu da Noiva waterfall
Have dinner at Maison de la Fondue
13 – Itaipava
Distance from Rio de Janeiro: 85km – 52 miles | 1h30
Best Way to Get There: by bus
At least How Many Days Should You Stay: 3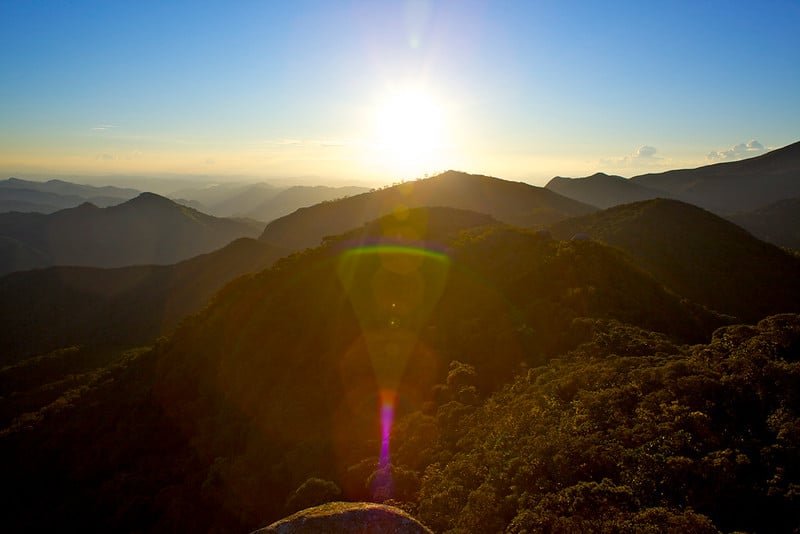 Located just a little under 12 miles from Petrópolis, Itaipava is one of those places that will mostly please everyone. The weather is very pleasant throughout most of the year, but the mountains look beautiful during the springtime, not to mention the heat, which is considerably more bearable.
If you have any spare shells to spend and wish for a different experience, you can rent a room at the Itaipava Castle, which is the only medieval castle in Latin America. Even if you're not staying there, it's definitely worth paying a visit to see the beautiful construction and the external area (the inside is only allowed for guests).
Other than that, there are local artisanal stores to visit, great restaurants to choose from, many activities in the nature like hiking and trekking, and even a cozy little movie theater, which is also a cultural center and bookstore.
If you're a fan of horses, you can go riding in the Radachi Horse Farm, which makes trained horses available for strolls and rides around the region.
Suggestions On What To Do In Itaipava
Go for a picnic at Parque Municipal
Visit Hortomercado for fresh groceries and Horto Bar for a snack
Make your own pottery at Cerâmica Luiz Salvador
Visit the Conecta Orgânica
Go shopping for the local art at O Arteiro
14 – Araras
Distance from Rio de Janeiro: 105km – 65 miles | 2h
Best Way to Get There: by bus
At least How Many Days Should You Stay: 3
Another location in Rio's mountain range region, Araras is surrounded by green and the sounds of nature. The city's infrastructure is pretty awesome, with tons of options of places to eat and visit. But the real star of the show is definitely, the landscape and the ecotourism.
If you're a fan of long bike rides to explore nature, you're absolutely going to enjoy Araras. The Galpão Caipira (located at Vale das Videiras) is a mandatory stop by for the bike enthusiasts of the region, offering guidance and support through the area's trails.
As with some of the other mountain destinations we've seen, the best time to come to Araras will depend on what kind of trip appeals the most to you. If you want to bathe in the local waterfalls and enjoy the sun while out in the nature, it's best to come during the Summer (Dec to Feb), or the following months, during the Fall (Mar – May).
But if you're more interested in the gastronomic aspect of Araras (which is very solid and appealing), the wintertime is the ideal time of the year to come to the city.
Also, don't forget to visit the local shops, as the city's manufacturers and producers have a lot to offer, from various types of food and delicacies to clothing and accessories.
Suggestions On What To Do In Araras
Visit the Ponte Funda and Sete Ondas Waterfalls
Visit the Fefafez Atelier, a local shop perfect for souveniers and gifts
Visit the organic street fair (on saturdays), and Arte em Conserva, a store especialized in homemade conserved food with no preservatives
Visit the Solidão Farm for fresh cheese, milk and other artisanal dairy products
Have dinner at Oliveiras da Serra, a restaurant especialized in Portuguese cuisine
15 – Saquarema
Distance from Rio de Janeiro: 117km – 72 miles | 2h
Best Way to Get There: by car
At least How Many Days Should You Stay: 1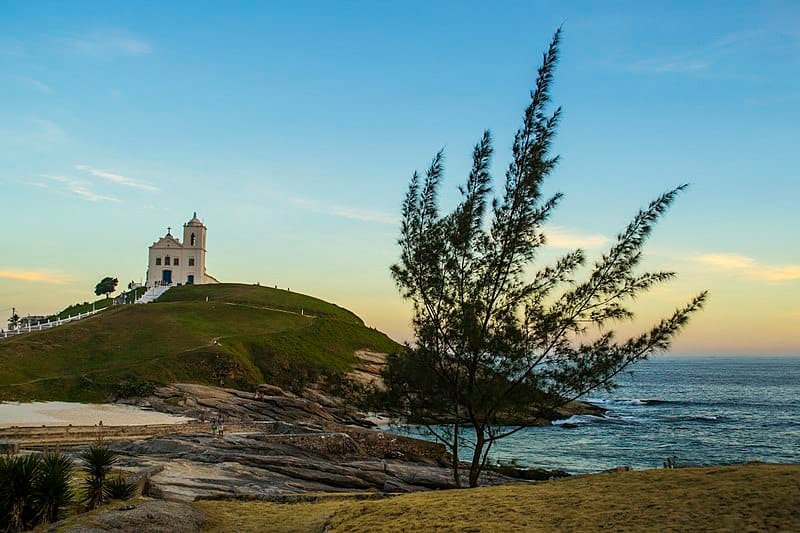 If you're around or planning on going to Rio's Região dos Lagos area, it's worth checking Saquarema's local beaches. The city is especially interesting to surfers and enthusiasts of the sport, mainly because the Itaúna beach is a famous location for the sport.
It's perfectly possible to go to Saquarema by bus if you're not willing to drive there, but if you're interested in visiting most of the beaches, I'd highly recommend using a car, since some of them aren't close to the city's downtown.
Aside from the beaches, there are also waterfalls in Saquarema, especially in the Serra do Roncador area. To avoid the high season of Summer, I'd suggest you visit the city during Spring (Oct – Dec) or Fall (Mar – May), so you can enjoy good weather at more affordable prices.
In sum, Saquarema is a great place to spend a day or two, especially if the beaches in Cabo Frio, Arraial do Cabo, or Búzios are too crowded.
Suggestions On What To Do In Saquarema
Visit the Rock Museum, Brazilian singer and personality Serguei's house and local landmark
Visit the local touristic sites like Igreja de Nossa Senhora de Nazaré and the Saquarema Lagoon
Visit the Sambaqui da Beirada Archeological Site, an open sky museum shell mound which houses pre-historical skeletons and remains
Visit the Brazilian Voleyball Confederation's Development Center
Visit Cachoeira do Roncador and 6 other beautiful waterfalls at Serra do Roncador
16 – Conservatória
Distance from Rio de Janeiro: 145km – 90 miles | 2:30h
Best Way to Get There: by car
At least How Many Days Should You Stay: 2
Locally known as the city of serestas (serenades), Conservatória is the perfect getaway for a couple's vacation. The activities you can do in this town pretty much revolves around the concept of relaxing and recharging, so if you want to be active and doing lots of things, you may want to save your visit to Conservatória for a different time.
This is a trip that I'd highly recommend to be made by car, as the city's transport system isn't much reliable, so you may end up missing out on some of the local points of interest. There aren't a lot of excursions or guides around either, so having your own car is pretty much key here.
You can visit the local farms and see a little bit of how they make their own artisanal products like sausages and cheese. Some of them are also great manufacturers of cachaça, a local Brazilian alcoholic beverage made out of sugar cane.
The city also has other interesting touristic sites, such as Pontes dos Arcos, the Railroad station and the Seresta, Music and Silvio Caldas museum, which explain a lot of the city's relation to serenade singers.
Suggestions On What To Do In Conservatória
Have a late 1800's style photo taken next to the Railroad's train on display
Go shopping for gifts and souveniers at Muito Além do Jardim Artesanatos e Presentes
Visit the Taquara farm, the only farm in town that still harvests coffee beans
Have lunch at Sabor da Terra, there are chorinho (Brazilian music style) concerts sometimes
Take the São João da Prosperidade Farm tour, which ends with an original afternoon coffee and cake
17 – Penedo
Distance from Rio de Janeiro: 171km – 106 miles | 2:30h
Best Way to Get There: by car
At least How Many Days Should You Stay: 2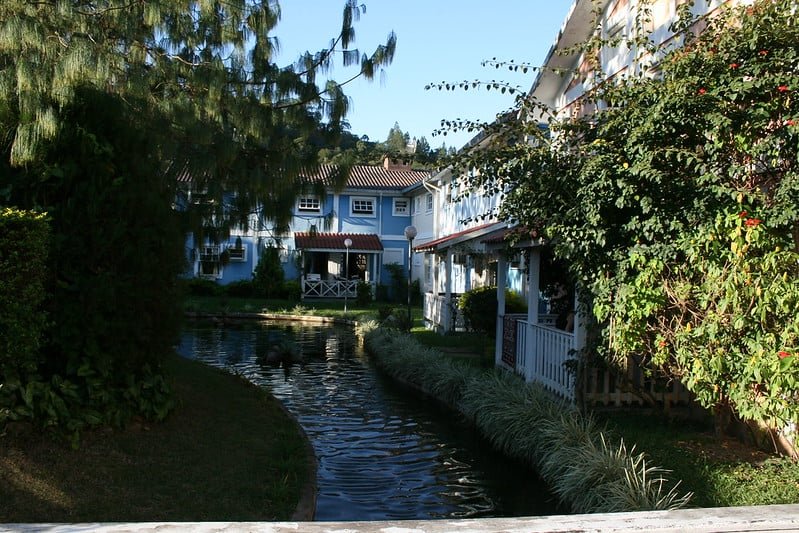 Also known as Little Finland by the locals, Penedo is a small city with a robust infrastructure. The nickname comes from the place's specialty, the artisanal chocolates, and sweets. Now that I've thought about these, maybe it's been too long since I've last visited Penedo ;-D
Like Conservatória, Penedo is pretty much the ultimate spot for couples, with many romantic and beautiful places to visit. Valentines Day (which is celebrated on June 12th in Brazil) is an especially crowded time to visit the city, as the season's cold weather compliments the date.
Speaking on which, the cold weather is another reason why people come to Penedo. And the town's restaurants and establishments are well aware that, with the local cuisine having fondues, soups and broths are a few of the courses you can enjoy to keep yourself heated.
The artisanal local manufactures are also a big part of the town's economy, as homemade jams, sauces, delicacies, sweets, sausages, cheeses, and even wines are amongst the list of products you'll be able to bring home when you leave.
Suggestions On What To Do In Penedo
Visit the Vale dos Duendes marketplace for shopping
Take the kids to Casa do Papai Noel, a local staple which kids love to visit
Visit Clube Finlândia, an establishment especialized in Finish culture
Visit the Cachoeira de Deus and Três Bacias waterfalls
Take a buggy ride tour through Penedo's private farms
18 – Angra Dos Reis
Distance from Rio de Janeiro: 155km – 96 miles | 2:20h
Best Way to Get There: by car
At least How Many Days Should You Stay: 2
Getting back to Rio de Janeiro's beach vibes, Angra dos Reis is located in the south of the state, and it's another destination that you really should visit if you want to take a day trip out of Rio.
The highlight here is the boat rides, especially since Angra dos Reis has over 300 islands nearby and many paradisiac beaches to visit while you're there.
You can even visit Ilha Grande (which we've previously talked about on this list) from Angra dos Reis, so you could be looking at visiting many different places all at once.
If you're a fan of trails and trekking, you can also hire a tour guide to take you to Angra's mountainside, which includes beautiful waterfalls and many instagrammable natural landscapes, so keep your phone charged for some pictures.
If you're a diving enthusiast, Angra dos Reis is also known for snorkling, mainly due to the fact that the crystaline waters make for the perfect scenario to see the sea life with clarity.
Suggestions On What To Do In Angra dos Reis
Visit Ilha da Gipóia and have a few drinks at the local bars and kyosks
Visit Pico do Frande, Angra's highest location (almost 5k feet high)
Visit the historical sites of the city, like the Matriz de Nossa Senhora da Conceição church (one of the first in the country)
Have some delicious seafood dishes at Pé na Areia or Conversa Fiada restaurants
Stay at Mercure Angra dos Reis luxury resort
19 – Niterói
Distance from Rio de Janeiro: 15km – 9 miles | 20 min
Best Way to Get There: by bus/Uber
At least How Many Days Should You Stay: 1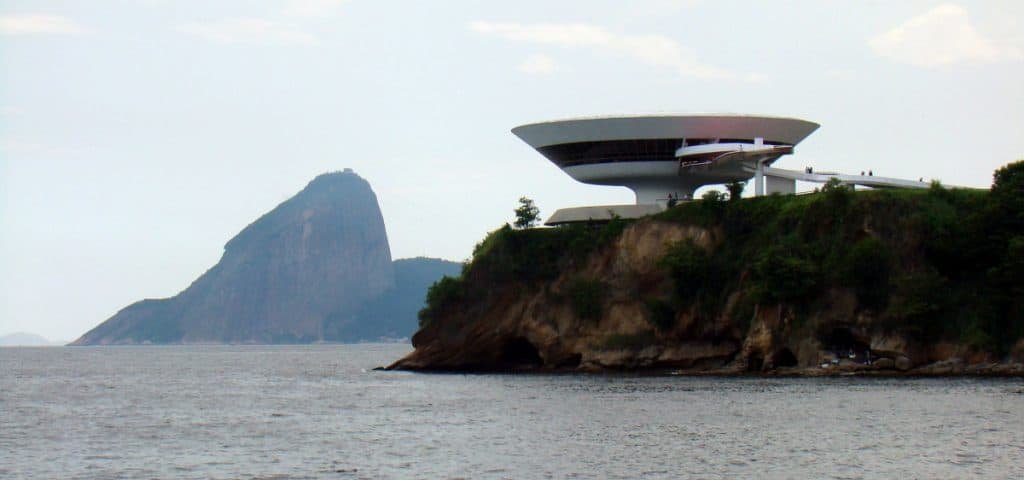 Niterói is so close to Rio de Janeiro that it can't even be considered a trip. Merely 9 miles away from Rio's downtown, Niterói is a great place to spend the day in, given the variety of activities and things you can do around the town.
First of all, Niterói has a couple of beaches worth visiting, such as Comboinhas and Itaipu. Since the beaches are further away than most in Rio, few Cariocas actually go there, which means the sands are usually less crowded.
In terms of leisure, one of Niterói's most famous sites is the Museu de Arte Contemporânea do Rio (MAC). With a beautiful architecture designed by Oscar Niemeyer, the museum offers, aside from the beautiful works of art; an exquisite view of the Guanabara bay, giving you a different perspective of Rio.
Suggestions On What To Do In Niterói
Visit the Complexo dos Fortes
Visit the Serra da Tiririca State Park, an important biodiversity area in the state of Rio de Janeiro
Visit the beautiful Niterói City Theather, built in the 19th century and housing one of the most beautiful architecture in the city
Visit the São Pedro fish market for fresh sea food
Visit the Niterói Botanical Garden
Well that's it for our 19 locations you should visit near Rio de Janeiro! As we just saw, there are many different places you could visit just a couple of hours leaving the state of Rio, so make your plans right and you'll be able to tour around with no problem!
While you're here, I think we might interest you with these:
Traveling to Brazil with a DUI record: all you need to know – Worried about visiting Brazil while having a record? We have everything you need to know right here!

South Brazil Itinerary: travel through the REAL South – the south of Brazil is a pretty interesting place, but do you know exactly what you can do in that region? Come find out!

The Best 9 Roads For Riding In Brazil (and some extra info) – thinking about going for a road trip while in Brazil? Click to know more about the safest roads to drive!
Related Questions
Is Brazil safe for tourists?
In general, yes, Brazil is safe for tourists. Of course, there are some cities and locations that required a little more attention (like Rio de Janeiro for instance), but tourists mostly don't encounter that kind of issue.
What is the cheapest month to fly to Brazil?
Mainly because of the cold brought by Winter, the cheapest month to fly to Brazil would be on August. Plane tickets are available at much lower rates, as well as accommodation fees and general leisure around the touristic cities.
Is Brazil Cheap to Travel to?
Yes, Brazil can be a cheap destination to travel to, especially if you avoid the high seasons. We have prepared a guide of the places and locations you can visit if you're on a shoestring budget, as well as some pointers on what you can do to lower your general expenses while you're in Brazil.
Cover Image Credit: Petrópolis Cathedral – Credit: Flickr | Rodrigo Soldon