My partner is a rider, and when we were in Brazil in 2017, he was quite keen on knowing which roads would be nice for a motorcycle road trip in Brazil, since he saw so many beautiful places perfect for getting the motorcycle for a spin!
My uncle is also a rider, so with his help as well as some research in motorcycling forums, I have consolidated below a few roads that I believe are great for touring or going off-road, whichever is your style.
I have also added some extra tips on how to choose a gas station (to avoid fake fuel) or find a mechanic if you need one, so keep on reading.
One essential thing to note is the road naming. BR roads (i.e., BR-101) are national roads that cross several states.
The roads that are contained within one state (i.e., GO-118 or SC-390) usually have the abbreviation of that state name plus a number. Typically, the abbreviation changes once you cross to another state.
Serra do Rio do Rastro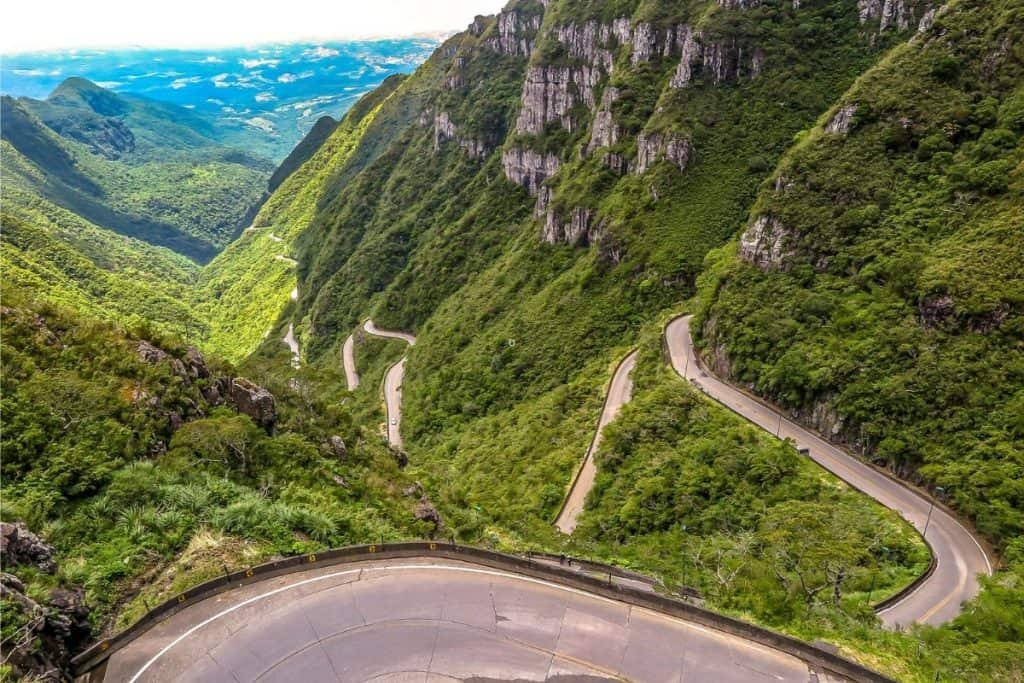 The Serra do Rio do Rastro is the number one choice amongst riders in Brazil. And it is easy to see why. With its 284 curves, including some hairpin bends, it takes you to a lookout where you can have breathtaking views that on clear days allow you to see even the coastal city of Tubarão.
The SC-390 (the official name of this road) has only 35 km (22 miles) and 6.6 Km (4 miles) of bends, but it is totally worth the view once you get to the lookout that is 1460 m (4790 ft) above sea level.
Estrada Real (Royal Path)
The Royal Road (You can also access their website to plan your trip here: Estrada Real) is the road that would be used in the colonial times since the XVII century to carry the gold and diamonds from the mines to the ports to be then transported to Portugal.
It crosses three Brazilian states – Minas Gerais, Rio de Janeiro and São Paulo – and is comprised of three main routes:
Old Path: the first route to be established, it connects the towns of Ouro Preto and Paraty;
New Path: Due to pirate attacks, a new, safer route has been built to avoid the coastal part of the Old Path;
Diamonds Path: Connecting the main town of the time, Ouro Preto with the diamonds production – Diamantina town;
Sabarabuçu Way: the roads around Ouro Preto, full of natural beauties
Ouro Preto is the conversion of all of these four paths, besides it is a beautiful historical city. For more information, check our post on historical sites in Brazil, Ouro Preto and other towns that are in the routes are featured in that post.
The road is generally well maintained and has both asphalted and dirt roads for all types of trips. You can see the emblems of the Estrada Real throughout the route, so you can always make sure you are in the right place.
Map:
I was going to add more information for these four paths, but the entity that maintains it already did a pretty good job, you can check their map on this link to their webpage.
Romantic Route
This road is in the South of the country, perfect for those of you who want to cross to some other countries like Uruguay, Argentina, and Paraguay.
It takes its name from the German Romantic Route as the creators wanted to reproduce the German charm of the original Romantische Strasse as well as promote the cultural exchange between Brazil and Germany.
The route goes through several towns colonized by Germans in the South of Brazil. These towns are pleasant to visit throughout the summer, but they are also lovely to go to during winter (which in Brazil is from June to September).
It has been considered one of the best routes to travel through in Brazil, going through several charming little towns, such as Gramado, Canela, Caxias do Sul, Nova Petropolis, and Pelotas.
These little towns are full of quaint houses from European colonization, wineries, and chocolate factories.
There are a few paths you can take. However, the best one is probably to go through the BR-116 from Porto Alegre until Estância Velha, then take the RS-865 for 15 miles, joining back to the BR-116 in Picada Cafe and getting the RS-235 in Nova Petropolis to reach Gramado and Canela.
Map:
Green Line – Bahia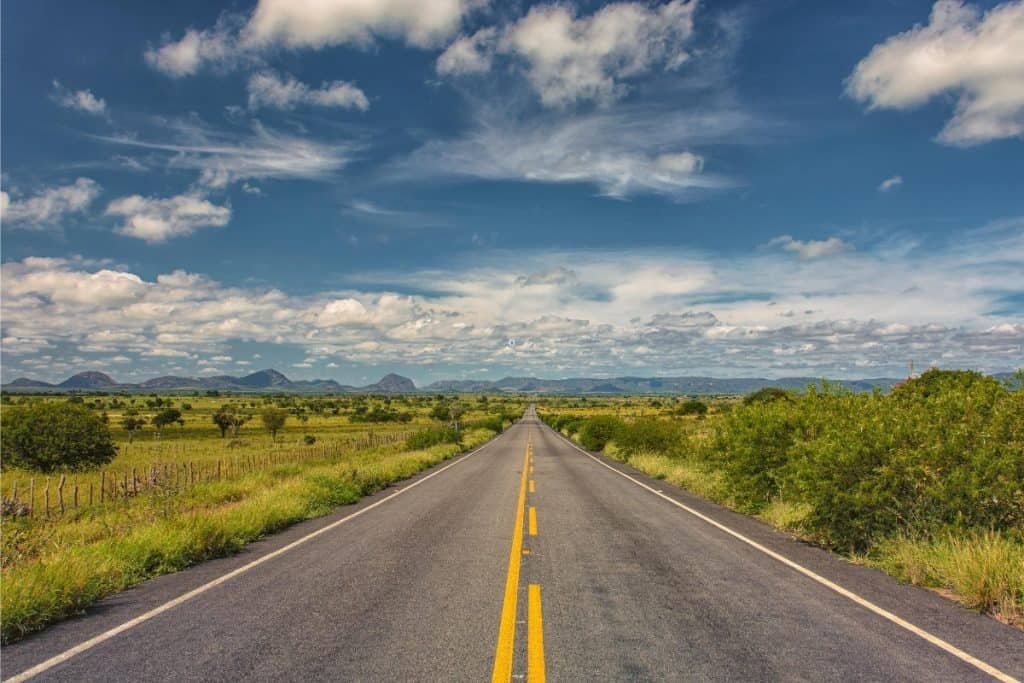 If you are in the northeast of the country and you enjoy motorcycle cruising and beaches, this one is for you!
Also known as BA-099, the Linha Verde (Green Line in a free translation) is a mostly straight road that goes from Salvador, BA until the border of the neighboring state, Sergipe.
The appeal of this road is the fantastic views you will have when riding it! There are many small beach towns you can stop on your journey, but the main ones are Praia do Forte and Sauípe.
Besides that, this road is in excellent condition, making it perfect for a ride through the northeast of the country. And you can also keep going north, towards the RN-063, known as Rota do Sol (Sun Route).
Map:
Sun Route
If you are following the Green Line, why not go on another road trip along the beautiful beaches of this region? Just keep on going north towards the Sun route!
Going from Natal, the capital of Rio Grande do Norte State down to one of the prettiest beaches in Brazil, Pipa beach, this is another alternative for those who love sun and rides!
Map:
Rio-Santos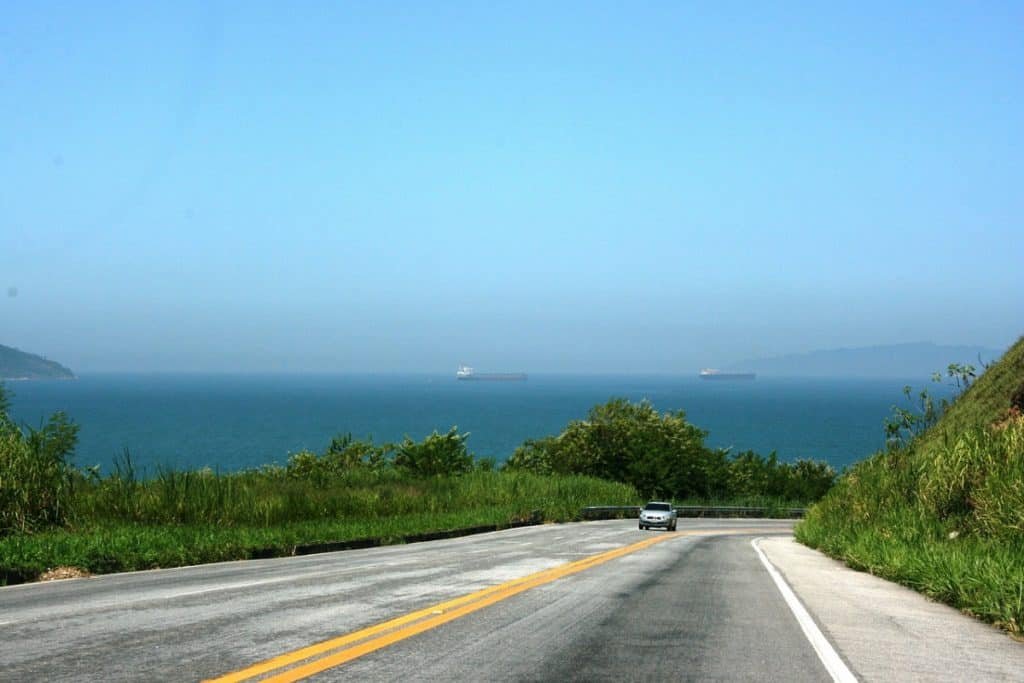 As the name implies, this road connects the cities of Rio de Janeiro and Santos. In the past, it was also the main road to connect Rio and São Paulo.
An excellent option for those traveling between the two major Brazilian cities and prefer a scenic ride instead of a monotonous highway.
From this road, you can also change into the Royal Path when you reach Paraty. This is a fantastic combination for those who want to experience beautiful landscapes on their rides in Brazil.
Estrada da Graciosa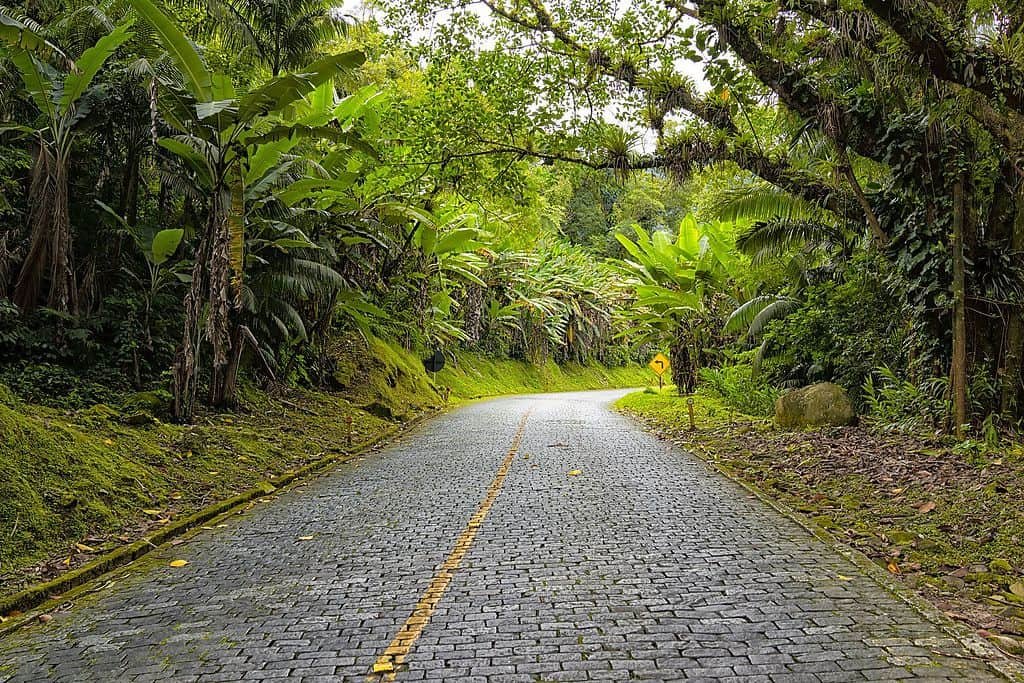 Built in 1873, the Estrada da Graciosa (Graceful Road on a free translation) was the first paved road in the state of Parana, and it preserves its charm with the cobblestones pavement on parts of the way.
As cobblestones can be dangerous under certain weather conditions, we advise you to just ride on this route if you are an experienced rider, as they can be slippery and prone to causing accidents.
It also goes through the most well-preserved part of the Atlantic Forest (not to be confused with the Amazon Forest). If you want to see lush forests, maybe stop by a river stream or two and enjoy the XIX century atmosphere of the bendy road, you should definitely include this one in your itinerary!
It is a short road that goes from Quatro Barras to Morretes, and its official name is PR-410, being a state road in Parana.
It counts with around 30 Km (19 miles) of extension, being approximately one mile the historic stretch of the road, where you can find the cobblestones. It also has some nice hairpin bends for those that enjoy it!
The Estrada da Graciosa is a perfect road to ride on if you are around Curitiba (you should check our post about Curitiba: Best City To Live In Brazil, if you want to move there or if you just want to find some neighborhoods where to stay during your trip).
Map:
GO-118 and GO-239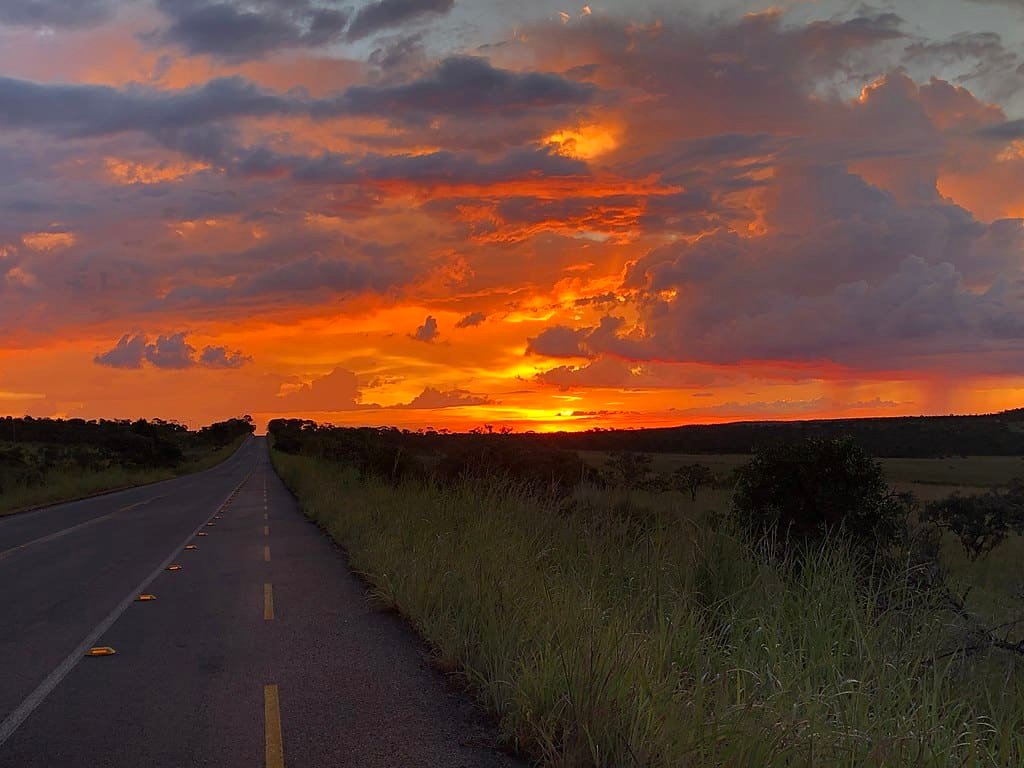 The GO-118 (that overlaps with the BR-010) is a road that goes through the inner part of Brazil. That means no beaches but a beautiful open landscape, with the Chapada (Plateau) dos Veadeiros on the background.
The Chapada dos Veadeiros is a large rocky formation that is visible from several parts of the road and is the main attraction in this area. It has several waterfalls and trails and is very well known by Brazilians that enjoy ecotourism.
This road is perfect for those that are looking into combining their motorcycle rides in Brazil with some hiking and camping. The Chapada dos Veadeiros Plateau offers several options for those interested in adventurous trips.
This road is also in good condition, after being repaved back in 2015. It goes from the Brazilian capital, Brasília, until Campos Belos town, where it turns into a TO road, entering the state of Tocantins.
About halfway to Campos Belos, you will reach a small town called Alto Paraíso de Goiás, one of the main cities that serve as bases to visit the Plateau.
From there, you can also get the GO-239 to reach the nearby village of São Jorge, another beautiful place to stay if visiting the area.
Map:
Via Lagos – Rio de Janeiro
Via Lagos (Lakes route) connects Rio de Janeiro with the Summer destinations of the Lake region in the state, with towns like Cabo Frio, Buzios and Arraial do Cabo being the most renowned spots.
However, don't expect to see lakes on your trip there, except when arriving at your destination, where salt fields are common, and each of these fields is a lake where the salt is taken from the seawater.
Popular with Cariocas year-round (we have a post about what Carioca means if you want to know more), the towns in this area get particularly busy during Summer, long holidays (Carnival, anyone?) and school vacations.
Because of that, I would avoid this road during these busy periods, unless you want to get stuck for 8 hours in a traffic jam. However, the road is very well maintained, although there are expensive tolls throughout the entire route.
If you do decide to go during Summer, I do advise you to visit their website here to check the traffic conditions and toll prices (in Portuguese only). Toll prices can fluctuate on weekends and holidays, so watch out for that.
Also, a highlight if your starting point is Rio, is crossing the Rio-Niteroi bridge, which goes over the Guanabara Bay and offers beautiful views of both cities.
If you do go, I suggest you stop on one of these two restaurants on your way from Rio to Cabo Frio (it might be harder to do so on the way back):
Casa do Alemão: a favorite of mine, I always order the Trio Alemão, which is a combo with a sausage sandwich, a meat croquette, and a drink. For dessert, don't forget to grab their "Palitinhos de Chocolate," which are wafer biscuits dipped in chocolate.
Kiosque do Alemão: direct competitor and with a very similar menu. I personally prefer the other one, but this restaurant has a small lake (ha! You CAN see a lake on your way to Cabo Frio) on the back that can make for a relaxing stop before continuing your journey.
Map:
Other relevant information
When you are on the road, it is never too much to be cautious, especially when talking about a motorcycle trip in Brazil.
We added below some handful tips for having a stress-free trip in Brazil.
Renting a motorcycle
There are very few places that rent motorcycles. We found this website for a company in Sao Paulo that rents motorcycles but they have very strict requirements, such as:
Minimum age 28
At least 3 years of motorcycle driver's license
Your credit card needs to be able to cover for the whole deposit amount (which can go upwards of $1000)
Having a complete protection gear (gloves, boots, helmet, etc)
Signing their responsibility term
Gas Stations (and fake fuel)
Unfortunately, the fake or diluted fuel issue is spread across the country. It can be hard to distinguish good fuel from bad fuel if you are not experienced.
However, there are a couple of things you can try and do to minimize the risk of purchasing bad fuel during your motorcycle trip in Brazil.
Avoid fuelling in unbranded gas stations. The famous branded gas stations have higher quality control. Name brands like Esso, Ipiranga, and Shell are usually reliable.
Keep a mental note of the prices as you travel. If you see too low of an amount charged for the liter in a specific gas station, be cautious.
The above is not a foolproof method, but it can significantly decrease the chances of having a bad experience on the road.
How To Find a Mechanic
As a woman, I have always been cautious when finding a mechanic for my car. You, as a foreigner, should be careful as well, to avoid miscommunication or "incorrect" diagnostics of your problem.
First of all, make sure your motorcycle maintenance is up to date before traveling. Brazil is a huge country, and you can go hundreds of miles without seeing a house, let alone a town!
However, you might need to find a mechanic at some point. Try and use the branded garages (i.e., Yamaha or Honda) to ensure good quality service.
On the main roads (especially the ones with tolls), you might have a towing service maintained by the company that oversees the road infrastructure. They might have signs along the road with a phone number (usually toll-free) for you to call.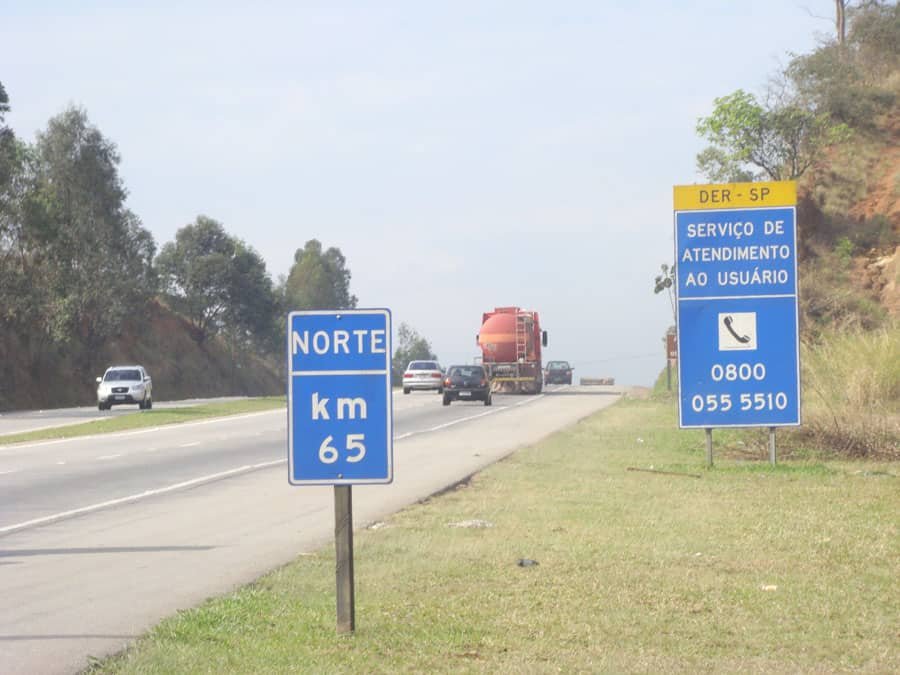 Take notes of that phone number and keep an eye on the Km (Brazil uses the metric system, so kilometers instead of miles) so you can pinpoint where you are.
You can also find some mechanics along the roads called "borracheiros" that mainly fit new or used tires. But they will be expensive, so be prepared.
If all else fails, try and get to a major gas station and ask for help. A lot of these stations serve as overnight stops for truck drivers, so you might find someone who can help you.
Riding Insurance
Make sure to get some health insurance that covers you during the entirety of your trip as well as coverage for your motorcycle in case of accidents.
Private car or motorcycle insurance is not mandatory in Brazil, but there is a compulsory public insurance tax (DPVAT) that costs a tiny amount per year.
Other things to keep in mind
Dress for the slide, not for the ride! Get the right gear, to be always safe when riding, preferably summer gear. Avoid winter gear unless you are traveling in the south during winter.
Always take a chain and padlock with you. Better safe than sorry.
Use a GPS that doesn't require an internet connection or phone signal.
Consider installing a USB port (12Vlighter socket) on your motorcycle if you don't have one already.
Get a paper map. Some regions of Brazil are deserted, and you can't even get a phone signal, let alone an internet connection. Sometimes, even the GPS won't save you.
Plan your route well in advance. It might be hard to find English speakers outside the bigger cities, so make sure you know where you are going.
Check the government website for the road conditions across Brazil here (Portuguese only). This website is better viewed on a computer instead of a cellphone due to the highly detailed maps it loads.
The truth is, there are many many more amazing roads you can go for a motorcycle ride in Brazil, but we selected some of the better maintained and more appealing to riders in terms of bends, road types, and scenery.
We think you might also be interested in the below posts to add some interesting stops to your motorcycle trip: