So you are moving to Curitiba in Paraná, Brazil. Either because of the quality of life, with lower crime rate overall and lower cost of living than Rio and São Paulo, for studying; or maybe because your company is moving you there for work.
You have already seen that Curitiba is tagged as a sustainable city in Brazil and you are now looking into where you should be moving to in the city. We are going to list a few neighborhoods we believe you should consider when looking into moving to Curitiba.
I have asked friends that live in Curitiba and done some research and what I found is that some blogs that have this type of content usually tell you the most expensive places to live (as they are usually run by real estate agents) but not necessarily the best places. When speaking to people that live in Curitiba, these are the neighborhoods that are often mentioned:
Alto Da Rua XV
Batel
Juvevê
Cabral
Água Verde
Ecoville
Mercês
Most of these neighborhoods are really close to the city center and have easy access to plenty of public transportation as well as shops and restaurants. A few of them are also known for their vibrant nightlife while others are quieter neighborhoods. Take a look below to see which one fits your needs the best!
Alto Da Rua XV
Alto da Rua XV or "Alto da XV" as it is called by locals is close to the city center and to other well-known neighborhoods as Cristo Rei (where the city's Botanical Garden is) and Juvevê.
If you speak a little bit of Portuguese, you will have noticed that the word Alto means high, this means that this neighborhood is on top of a hill, at the end of XV street.
Alto da XV also has some interesting nightlife, with a street (Rua Itupava) full of restaurants and bars, which can be a great option if you like eating out and enjoying entertainment closer to home. It is also a very safe neighborhood, so great for living and going out to.
Who would love to live here: young professionals or couples
Bear in mind: this neighborhood is on the top of a hill, so if you like to walk to places, this might not be the best place for you
Batel
Probably the most well-known neighborhood of Curitiba, Batel is also the most luxurious one. With most of the city's nightlife concentrated here, there are plenty of options for night clubs, restaurants, and bars.
It also houses several international brands, such as Prada as well as two malls, so perfect for shopping.
You will probably find a big concentration of expats living in this neighborhood due to being considered the best area of Curitiba. It is also close to the city center and to other important neighborhoods. Batel is fairly flat, so walking around is also easy.
Who would love to live here: People that like shopping or partying.
Bear in mind: It might be noisy at night, so avoid it if you have a light sleep!
Juvevê
Juvevê is known for being a green neighborhood. Full of parks and arborized streets, it is also a little over one mile (2 km) to the city center. This makes it a very quiet area but it also has its fair share of nightlife and entertainment.
There is a famous street fair (street fairs are pretty popular in Brazil) on Saturdays, which is great for casual lunches or just making your weekly grocery shop of fresh fruits and vegetables.
Who would love to live here: Those who like convenience to be close to everything and walk everywhere
Bear in mind: Despite it being quiet, it has been increasingly more famous with the curitibanos for its nightlife.
Cabral
Cabral is well-known for being a transportation hub in Curitiba. The main bus station in the neighborhood will allow you to get pretty much everywhere in the city with minimal effort. Cabral is also known for its beautiful architecture, as it is a more traditional and older area of the city.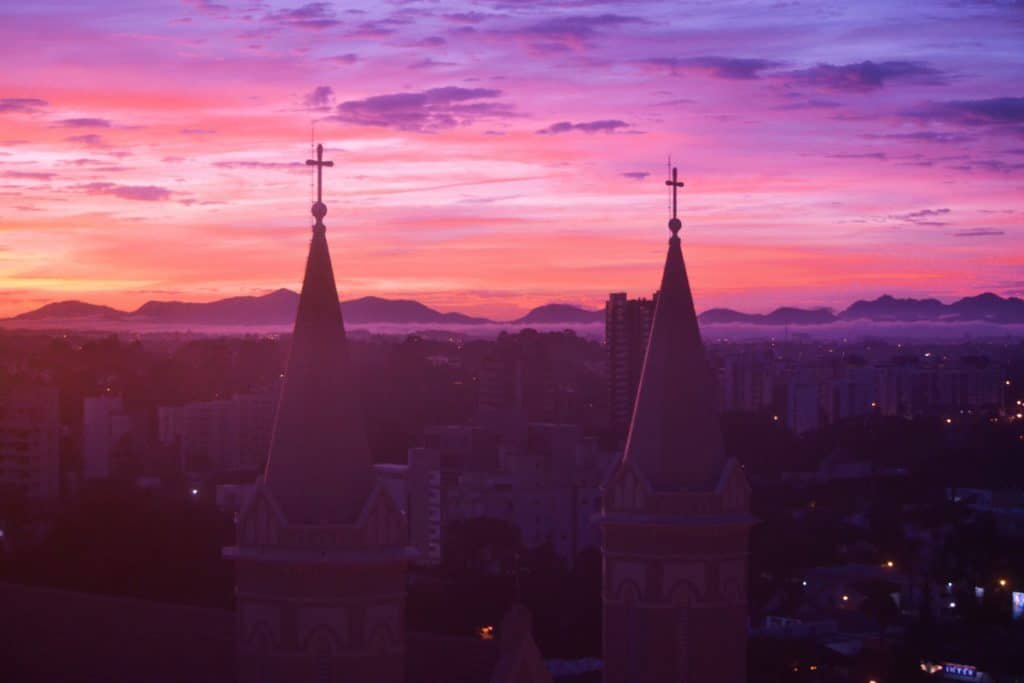 Who would love to live here: Those who prefer not to have cars and do everything by public transportation, perfect for digital nomads.
Bear in mind: It might not be as safe as the other neighborhoods as there will be some pickpockets in the station and in the buses. Having some "street smarts" goes a long way here to avoid having your wallet stolen.
Água Verde
Água Verde means Green Water and it is named like this due to a river (now drained) that had a green color because of algae on the riverbed.
It is the neighborhood with the highest HDI (Human Development Index), full of green areas, shops, and great transportation links, both for public transportation and cars.
It has a mall, movie theaters and the Praça do Japão (Japan Square), and the municipal soccer stadium Joaquim Américo Guimarães, two of the city's touristic attractions.
Água Verde is always recommended by real estate agents and by locals alike, due to its several options of amenities and facilities.
Who would love to live here: families with children or people who like quietness without compromising convenience
Bear in mind: You might face some commuting traffic if needing to go to the city center on peak times.
Ecoville
Ecoville is comprised of three neighborhoods: Mossunguê, Campina do Siqueira and Campo Comprido and it is one of the most modern neighborhoods of Curitiba. Several new buildings have been built in the past few years and this is bringing investments and infrastructure to Ecoville.
In Mossunguê there are 155 square meters (1668 square foot) of green area per inhabitant, which makes it the highest green area per inhabitant of the city!
The next neighborhood, Barigui, has a nice mall with movie theaters as well as a park (lots of capybaras to see!), so it is perfect for those who like some open air space but also some shopping and entertainment options.
There are two main expressways to the city center, which is only 5 km (3.1 miles) away. It is also close to Barigui, which has a nice park (great to see capybaras!) and a mall including a movie theater.
Who would love to live here: those who prefer modern buildings and lifestyle as well as nature all around you.
Bear in mind: It is mostly a residential area, so you might need to drive or get transportation to go out for entertainment.
Mercês
One of the most traditional neighborhoods in Curitiba, it started to develop in the 1920's with mostly Italian immigrants. It has a good mix of the quietness of being mostly residential, with the options of restaurants (especially if you are into Italian food!) and the convenience of being close to the city center.
One of the main attractions of the city, the Telepar tower is in Mercês. The tower is a telephone museum as well as a great spot to have a full view of the city, from its observatory at the top.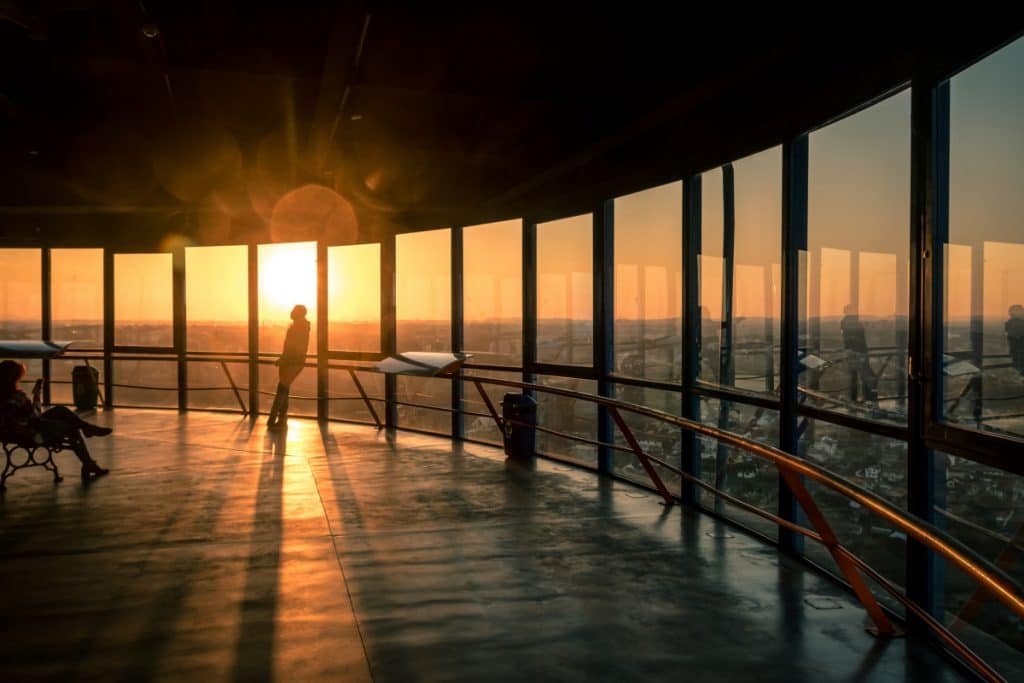 Even though Mercês houses this attraction, it doesn't impact on the peacefulness of the neighborhood.
It has great schools, supermarkets, hospitals and drugstores. It is also close to the Barigui mall and park, which allows for diversified options for entertainment for the entire family.
Who would love to live here: Families that like convenience as well as people who are looking for a balance between cost and quality.
Bear in mind: Most of the residences will be older, so if you want modern decor and amenities, Ecoville might be a better option.
The truth is Curitiba has so many great neighborhoods, it is hard to put all of them on the list. I chose these as they have been recommended by locals, instead of the several real estate agents that are just pushing you to the most expensive places.
The truth is Curitiba is known in Brazil as one of the best cities to live in the country, so choosing just a few neighborhoods is a challenge! We hope this list helps you in starting your search for your next home.
Hey, if you are planning on coming to live in Brazil, make sure you check our post about going to Brazil with just a one-way ticket, to avoid being denied entry in the country!