If you want to see crystal clear rivers with beautiful fish, hike through the forest, see macaws and avoid the tourist crowds, you will want to know about Nobres in Mato Grosso state. Most people, however, do tend to go to Bonito instead, which is in the neighboring state of Mato Grosso do Sul. Here is why you might want to reconsider.
While the international community is just now finding out about Bonito, Brazilians are already well aware of this destination. Bonito has good infrastructure to receive tourists but it also has the price tag that goes with it. Bonito has beautiful rivers but also has a line of tourists wanting to access the attractions.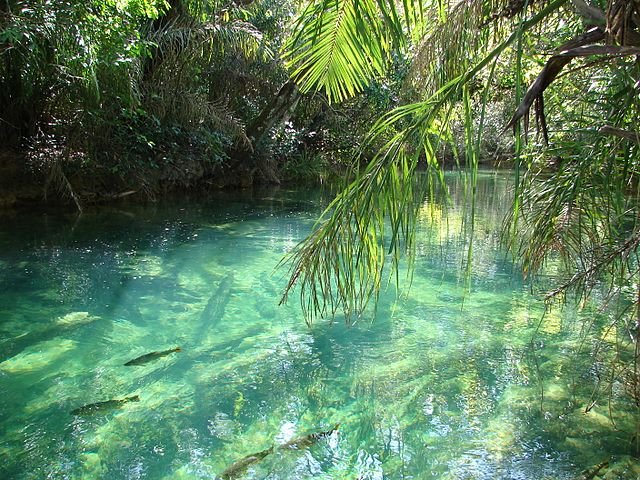 But what if I told you that there is a place that is cheaper, faster to get to from the airport and with pretty much the same natural beauties as Bonito?
Just Google "Nobres, Brazil" and check the images (or click on the link, I already did the search for you).
I will wait.
Good. Did you see the pictures? I guess they speak for themselves. If you can have all the beauty of the Brazilian Cerrado (the vegetation in this area), for cheaper, why not?
How to Get There
You will need to get to Cuiaba airport, which has flights from the main Brazilian cities and some international flights as well. It is usually cheaper to arrive on a domestic flight. A return ticket (2 way) from Rio to Cuiaba in May (one of the best times to visit as it is past the rainy season) costs around $133.
An important thing to note is that the main town that gives the name to the district, Nobres, is not where you will want to stay. The best place to be based is in a village called Bom Jardim, where you will be closer to the main attractions.
Bus
There are buses from the main bus station in Cuiaba once a day directly to Bom Jardim at 2:30 PM and costs R$ 37 ($ 7 USD). If you get this option, make sure to get a flight that gives you plenty of time to get the bus as it is the only one in the day. It takes approximately 2 hours to get there.
The return trip is also offered only once a day, and it leaves at 6 PM from Bom Jardim, so make sure not to miss it!
Taxi and Uber
According to the website Rome2Rio, it can cost you up to $ 90 by taxi and $ 45 by Uber. It is an 81 miles trip, so it might be more comfortable to travel like this if you have a lot of luggage with you.
Transfers
Some hotels and tourism agencies can offer you transfers to your hotel. The prices will vary widely by season and hotel or agency offering the service, so we advise you to get in touch with your hotel and get a quote directly from them.
Where to Stay
First thing you need to know is that Nobres is a town that has several small villages within its territory. The village that you will want to stay for you to be closer to the attractions is Bom Jardim. This village has a few options for little rustic hotels.
The hotels in Bom Jardim will be very simple and a lot of them are not yet brought up to international hospitality standards, so you won't have that many options or luxury like the ones you might find in Bonito. However, there will be a Spa Resort, the Malai Manso Resort, at roughly 1:30 away from Nobres.
In this resort, you can enjoy treatments and massages that use products from the beauty brand L'Occitane and a huge swimming pool as well as a view for the Lake Manso and the Chapada dos Guimaraes, another of the main attractions from this region.
However, if you are planning to save some money on accommodation, selecting one of the Pousadas (Brazilian Bed & Breakfast type of inns) in Bom Jardim might be a good idea. They will be much cheaper, closer to the attractions than the Malai Manso Resort and most of them have their own tourism agency inside the hotel, which can be convenient since you can only visit the attractions with a guide.
What to Do
There are several amazing places to visit. Bear in mind that most of these attractions are in private properties and they charge entrance as well as require a tourist guide to be with you at all times.
You will not be able to go by yourself, so the first thing to do is to go to the tourism agencies and purchase the tours to the attractions. There are around 15 agencies in the village, so it should be easy to find an agency where you can get tours.
We list below some of the main attractions and activities to do in Nobres. The prices are updated as of 2020, but check on this website (in Portuguese) for a complete list of attractions and prices as well:
Enchanted Aquarium
Called in Portuguese Aquário Encantado, this crystal clear stream of water is one of the most famous attractions of Bom Jardim, Nobres. You will pay for the entrance and the gear will be provided to you.
How much: R$ 90 / $ 17 pp
Pro tip: Take your own underwater shoes, like these you can find on Amazon (click here to check the price). These are great to not hurt your feet in rocky river beds and beaches, besides being your own, which is much more hygienic. If you don't have your own, they provide it, but well, you might not want to wear it after other people have also used it.
Macaw Lagoon
It is a beautiful lagoon full of Buriti trees where you can see the macaws coming back to their nests. The Buritis grow directly from the lagoon and it makes it a beautiful place to visit.
The best time to go is just before the sunset. Your guide will take you there around that time so you can see the macaws getting back in pairs to their nests.
How much: R$ 20 / $ 4 pp
Pro tip: Take a binocular with you, so you can make the most out of seeing the macaws. We recommend this one on Amazon, not only for your trip to Nobres but for Pantanal and the Amazon jungle too! It has great quality lenses for you to be able to see macaws, jaguars, and alligators from a distance.
Serra Azul Waterfall
A waterfall hidden deep in the forest, it is a stunning place to visit. It has a trail that had stairs built-in for ease of access. There are around 480 steps up plus 180 steps going down to reach the waterfall.
How much: R$ 105 / $ 20 pp
Pro tip: Once you have enjoyed the waterfall and the wildlife in there, you can get down on a zipline that goes above the forest for a truly unique experience! The zipline is paid separately.
Triste River Snorkelling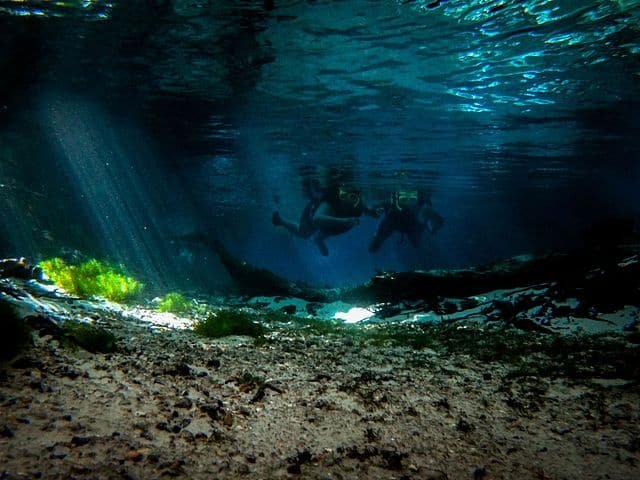 Due to the mineralization of the water, the Sad river (Rio Triste in Portuguese) has this amazing blue color and crystal clear water that makes it even prettier. You are not allowed to touch the bottom to avoid mudding the waters. You will be able to see stingrays and different species of fish while you snorkel almost one mile down the river.
How much: R$ 80 / $ 15 pp
Pro tip: If going with toddlers, take their own arm floaties or vests so you don't need to keep holding them while you all enjoy the attraction. This is also where you can see the most rays. Pair this with the Serra Azul Waterfall as they are close to each other but relatively far from the other attractions.
Enchanted Kingdom Snorkelling
Not to be confused with the Enchanted Aquarium, this is yet another option to see wildlife and destress while floating on freshwater. The water here will not be the deep greenish-blue you will have seen on the Enchanted Aquarium, but the quantity of fish and vegetation is better than in other places.
Here you can also see the actual river spring on the first river pool, so while floating, you can see the water springing up from the ground as well as the wildlife on the crystal clear water.
How much: R$ 75 / $ 14 pp
Pro tip: Make sure to wear the underwater shoes on this attraction as well, since you will be walking back to the entrance once the route finishes.
Vale das Águas Floatation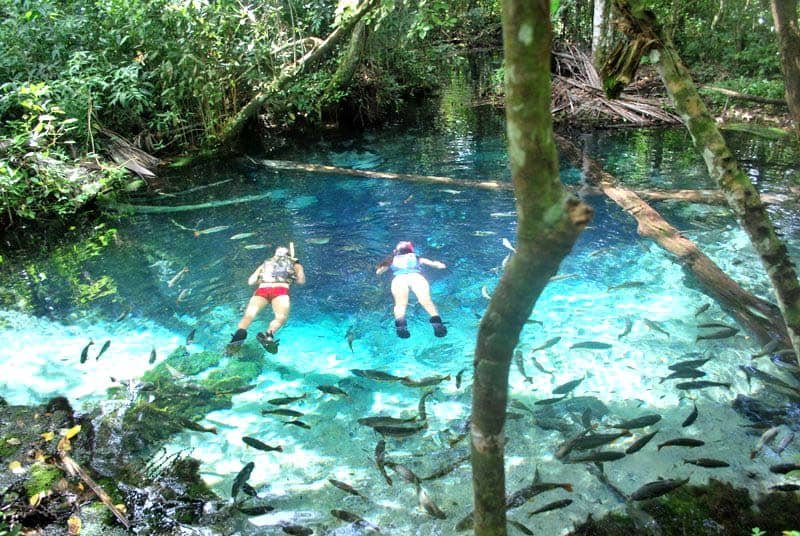 If this is the first time you will go snorkeling and floating down a river, the Water Valley Floatation/Snorkelling (Vale das Águas in Portuguese) is the best one to start with. There will be some training before you can go on and float on the river seeing dorados and piraputangas (Brycon hilarii).
The route is shorter than other similar attractions but the visitors seem very happy with the customer service. There is a pool where you can practice before going to the river. The beginning of the attraction is where there are the most fish, so take your sweet time there to enjoy as much of the wildlife as you can.
How much: R$ 80 / $ 15 pp
Pro tip: take a memory card and rent a underwater camera for beautiful pictures!
Quebó Grotto (Real) Lazy River Course
If you want a little bit more of an adventure, you should go on this lazy river-style attraction. You will have an inner tube and helmet covered in the price of the attraction and drift away the river seeing the forest and going through a grotto and maybe even some bats.
How much: R$ 80 / $ 15 pp
Take a look on the main attractions and click on the icons on the map below:
Cost to go to Nobres at a glance
I have created the table below for you to see the key takeaways, but read on for insider tips and what you can expect for each attraction. Prices below are per person for 1 day
| Category | Average cost in USD | Comment |
| --- | --- | --- |
| Flight | $ 133 | 2-way flight from Rio to Cuiaba |
| Accomodation | $ 35 | Average per night |
| Tours | $ 100 | Main tours (6 attractions) |
| Food | $ 20 | Lunch and Dinner for 1 per day |
| Transfer | $ 100 | Taxi – one way ($200 2 way airport – Nobres) |
| Total | $ 488 | 2 days in Nobres, including flights per person |
Even though there will be fewer options for accommodation, they will be cheaper than in Bonito. I checked the top hotels in both locations, Nobres and Bonito on Booking.com, and averaged the prices of the top 5 rated on each location. In reality, Nobres is still upcoming and undiscovered, so there are no reviews to any of the only 6 hotels listed on the platform.
The average price for 2 people for 2 nights in May (considered the best month to visit the area) is:
Bonito: USD 135
Nobres: USD 69
Bonito is a whopping 95% more expensive than Nobres. Now, I am comparing the very best rated hotels in Bonito with the only 6 available in Nobres (actually, if I add all 6, the difference is 82%, but still much higher).
If you want an authentic, cheaper trip to a beautiful place where you can see lush forests and rich wildlife, you should really consider Nobres, especially if you will be visiting the north of Pantanal, as it is really close.
Useful Information
I just wanted to compile some information I believe you would benefit from when considering going to Nobres:
Make sure to take the following with you, to enjoy both the Pantanal and Nobres, as you will likely be going to both places: swimwear, insect repellent, binoculars, underwater shoes. waterproof purse (for keeping money and valuables with you).
Take cash instead of card. Most places will have apoor or non-existing phone signal, so even the card machines will not work. There are no ATMs at the village, so make sure to take a decent amount of local currency
Don't try and visit the places by yourself, you will not be allowed. All attractions require a guide to be with you at all times.
I suggest you hire a tour package with transfers, accommodation, food, and attractions if you want convenience. It is totally doable to get there by yourself, but you might struggle as there are not many maps, directions, or information in English.
Related Questions
Should I go to Bonito or to Nobres?
In terms of attractions, they are both similar. You can see macaws and crystal clear river waters in both. They are also very good to visit when combining it with a trip to Pantanal. If you are visiting the South of Pantanal, Bonito is closer, if you are visiting the North, then you might want to consider Nobres as an option.
Bonito has a better infrastructure and is more adapted to receiving foreign visitors. The cons of Bonito are: it is more expensive, there are more tourists.
Nobres is cheaper and less crowded, so a lot of these attractions can potentially be visited just by yourself with your guide, which can feel like a true privilege. Besides, it is way cheaper than its famous counterpart. A bonus is that beyond Pantanal, you can also visit Chapada dos Guimarães, which is very close and might be a great option for hikes, camping, and natural beauty sightseeing.
How long should I spend in Nobres?
If you are short in time in Brazil, we advise you to spend a couple of days at most. Most of the attractions, even though beautiful, will be similar – snorkeling to see wildlife in the crystal clear river waters.
Because of that, we think if you can go for just two days, you will probably be able to have a taste of what it is like. For a diverse experience, you should try:
Quebó (Keh-boh) Grotto (Real) Lazy River Course – for seeing the forest while drifting down the river
Água Azul Waterfall – for the feeling of being deep inside nature and going back down on the zipline for some thrill
Enchanted Aquarium / Vale das Águas / Rio Triste floatation – for the main style of attraction, snorkeling, and watching the river wildlife and the blue color of the waters.
Macaw Lagoon – For watching the Macaws at sunset and for beautiful scenery!
You will probably want to separate half a day for each attraction, so book your tickets in the village giving plenty of time to visit each attraction in case you go by yourself.
If you can spare more days, around 5 days are probably ideal to see all attractions on that area, though.
In sum, Nobres is a great place to visit in Brazil, without the crowd of tourists and with a still affordable price tag. If you want to see one of the many facets of Brazilian natural beauty, you should definitely consider Nobres!
By the way, check our posts about Pantanal, if you are planning to pair both destinations on your trip:
Cover Image: Wikicommons – ReginaaAlves