When coming to Brazil, one of the main interests of people is to see historical sites. We are very familiar with the beaches and landscapes, but the historical sites and landmarks of Brazil are still unknown to most of the foreign tourists and to domestic tourists as well.
I added below 15 historical places in Brazil you need to visit as this can give you a good overview of the history of Brazil and how its economical cycles shaped the architecture and the development of the country.
There are of course many more sites you could visit, but I tried to get a balance between importance and ease of access for foreign travelers.
For a lot of towns that are not on this list, you would have some long road trip ahead of you, which might not be ideal if you are in a time constraint to see the most you can of this beautiful country.
Below are a good few options to visit according to where in the country you are. Most of them deserve at least a good 1 or 2 days to see their architecture and historic museums and churches.
1 – Rio de Janeiro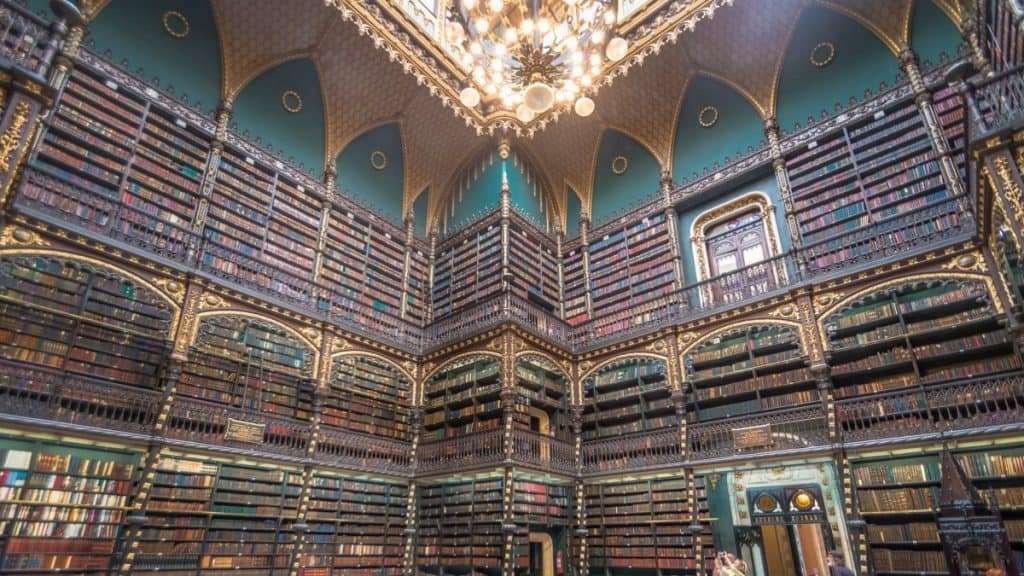 Hear me out on this one. I know 99% of tourists that come to Brazil, visit Rio, so you must be wondering "how is this such a relevant tip?".
Well, the truth is, most tourists stay on the South Zone of the city. They visit the beaches, the Sugarloaf and the Corcovado and move on to the next destination. While this is great, and you obviously should visit these attractions, they are not the historical part of Rio.
Rio has actually many historical neighborhoods, and some are very far away from the South Zone. You have Tijuca and Vila Isabel, known to be where the Samba was born and you can still see the old XIX century houses in there. A lot of places in the North Zone of the city actually preserve this old town vibe through its architecture.
However, the main place for you to see the XVIII and XIX century Rio is the city center. Take a walking tour (see our recommendations for tours and activities here) through the city center and you will be able to see amazing places such as the Municipal Theater, that was inspired by the Parisian Palais Garnier (their Opera House) and the Royal Portuguese Reading Room – in Portuguese: Real Gabinete Portugues de Leitura -, which has a Harry Potter vibe to it and was voted the fourth most beautiful library in the world, according to the Time magazine.
On top of that, you will be able to see several buildings from when Rio de Janeiro was the capital of the Portuguese Empire, in the 1800s, between 1763 and 1820, and the then free Republic of Brazil between 1820 and 1960. You should definitely add the Rio Downtown to your itinerary if you are into history and beautiful architecture.
By the way, I wrote this post about where and what locals eat in Rio (not on the Brazilian steakhouse, mind you) and there is one suggestion in the city center, which is perfect if you are planning to take a look at the historic sites over there!
How to get there:
You are already going to Rio, right? Just get a bus to the city center or the metro to either Cinelandia, Carioca and Uruguaiana stations and you will be there very easily from the South Zone. Piece of cake.
2 – Salvador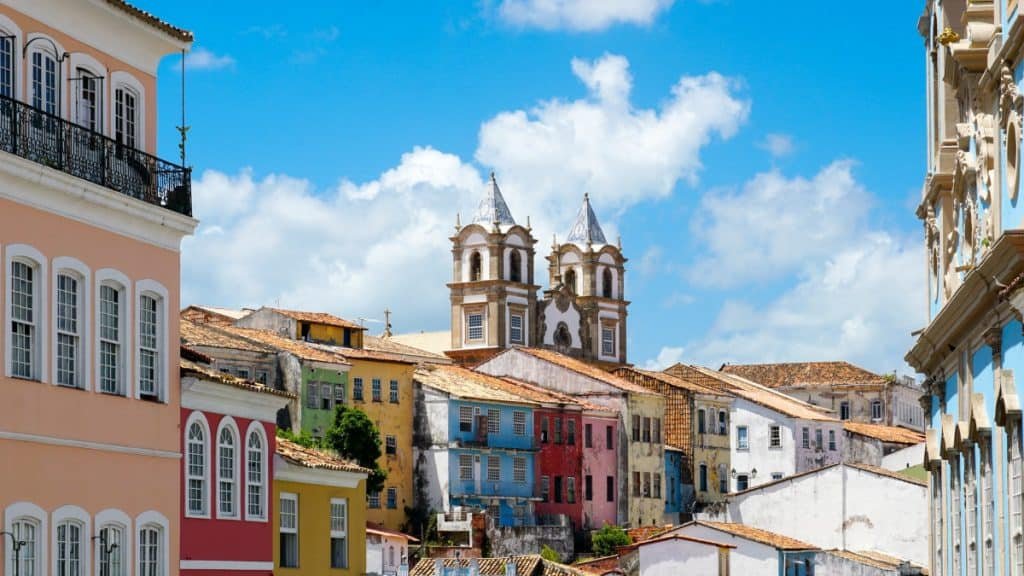 Before Rio was the capital of Brazil (by the way: since 1960 our capital is actually Brasilia, so don't embarrass yourself telling people Rio is the Brazilian capital), Salvador actually held the title. When the Portuguese arrived in South America, they got here through what is now the northeastern coast of Brazil.
Salvador remained the capital from 1549 until 1763, when Rio de Janeiro was chosen by the Portuguese Royal Family to be their new home. Being one of the oldest cities of Brazil, it will have its fair share of historical sites to visit, like Pelourinho and the Model Market.
How to get there:
It is easy to get to Salvador, with plenty of flights either from the main cities in Brazil or direct international flights from several places worldwide.
3 – Olinda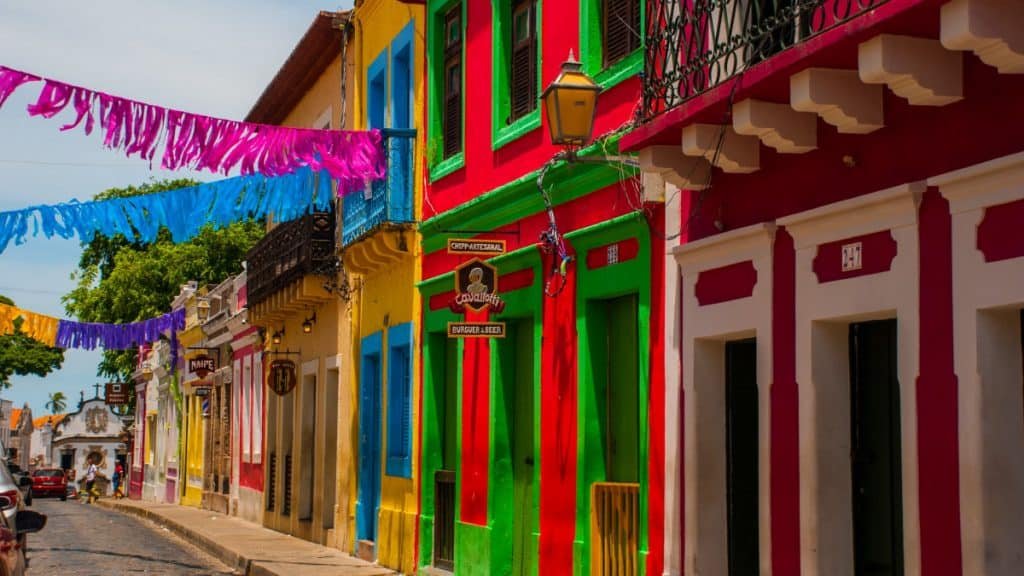 Olinda not only is a historical city but also has a vibrant carnival, which can be a good option if you want to see a traditional Brazilian carnival that is not the Rio Parade.
Olinda is not a beach destination itself, but it holds a lot of historical value about Brazil. It has several churches and colorful colonial architecture, you definitely shouldn't miss it.
We also wrote a list of honeymoon destination ideas in Brazil that can be inspirational, even if you are not recently married!
How to get there:
Olinda is just a 40 min drive from Recife airport, both cities in the state of Pernambuco. If you are visiting the beautiful beaches from the Northeast of Brazil, it is worthwhile taking a day trip or spending a couple of days in Olinda.
4 – Mariana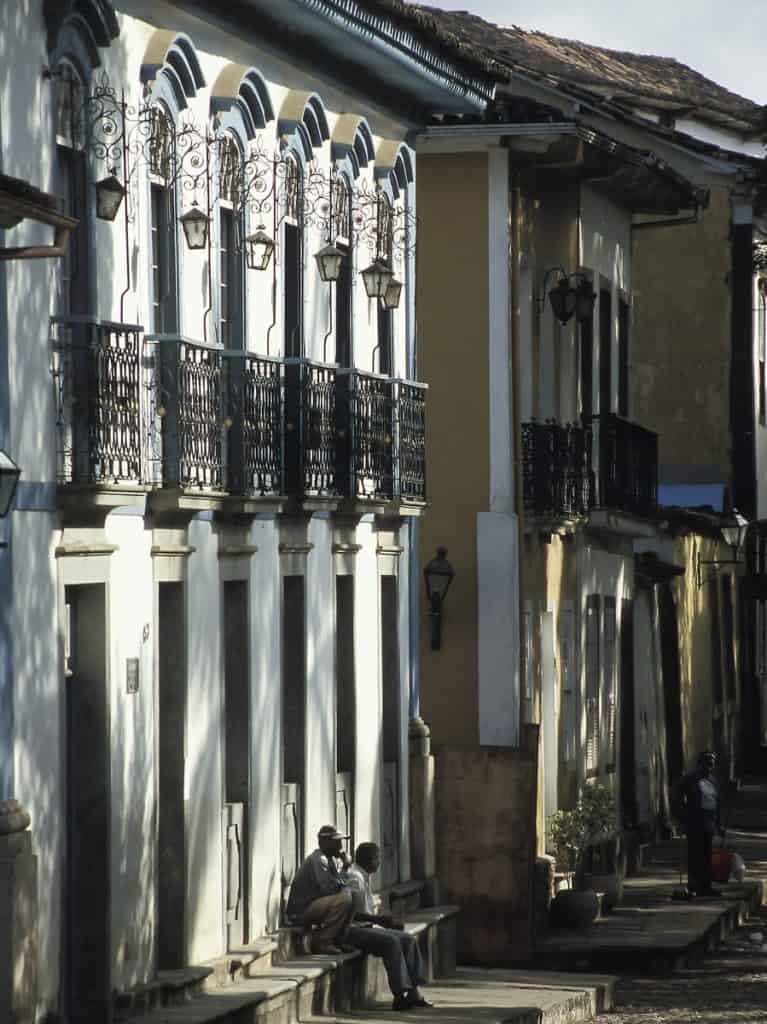 Mariana is a town in the State of Minas Gerais (literally General Mines in Portuguese). Even though it is not very well known by foreigners, it is actually a very popular destination in Brazil.
Mariana was very important throughout the gold economical cycle in the 1700s, when a lot of the exports from the Brazil, then a Portuguese colony, was made of gold. It is part of what we call the Royal route of Gold (Estrada Real do Ouro), which is comprised of a series of towns rich in gold mines that go down all the way to the coast, where the gold was sent to Portugal.
The towns from Minas Gerais have several famous universities in Brazil, and Mariana is no different, having a branch of the Ouro Preto University (one of the best in the country), so there are frequently parties year round and spending the Carnival in Mariana is also a great option for those wanting to see yet another perspective into Brazilian carnival.
How to get there:
The closest airport is in Belo Horizonte, the state capital, and then a two hour drive until the town. However, you are probably better off bundling the main Brazilian gold era towns in a longer trip (perhaps 1 week) and doing it by car, leaving from Rio or probably Belo Horizonte itself.
As you will notice below, there are plenty of other interesting historical towns that are on the Royal Gold Route, so if you are into history, you can plan a full itinerary just with them.
5 – Paraty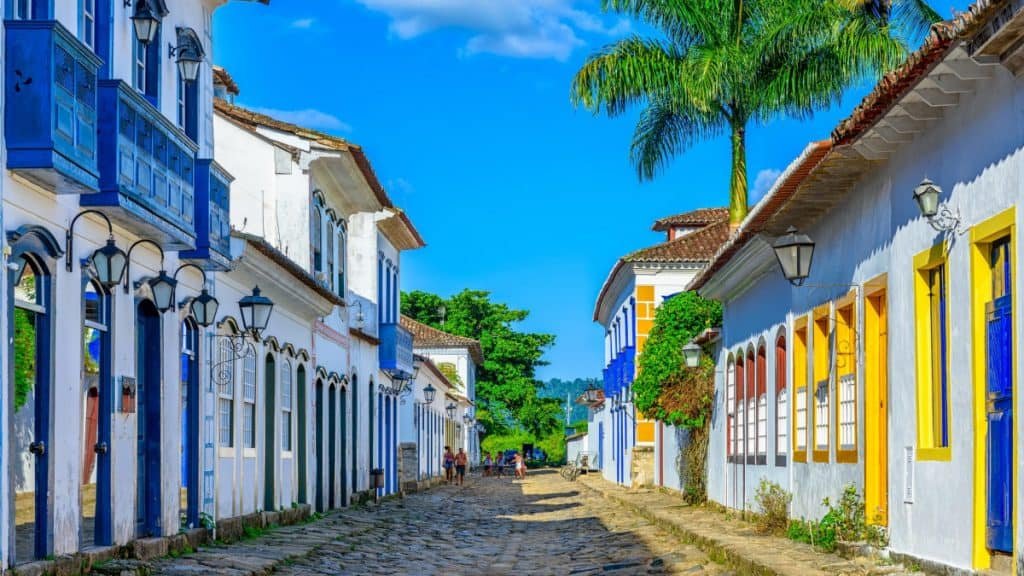 Paraty is a lovely romantic beach town south of Rio. it has colorful colonial houses and a laid back vibe to it. The town survives on tourism mostly, so they have festivals happening throughout the year.
Paraty is also the official last spot of the Gold Route (or Gold Path), as all the Gold taken from the Minas Gerais State would be sent here to be exported. The reason for this is that Paraty has a deeper draft (how deep a ship can sail) then in Rio. This allowed for bigger and heavier ships to be loaded with gold, making the process more efficient.
Due to its importance in the gold cycle, as well as the sugar cane cycle that allowed for Paraty to be one of the main producers of Cachaça (kah – shah – ssah), Paraty flourished in the 1700s and we can still see its splendor nowadays.
Two of the main famous festivals is the Festival da Cachaça, selling all sorts of the sugar cane fermented liquor, which is the main ingredient of the famous caipirinha; and FLIP, the International Literary Festival, bringing several famous writers and publishers from all over the world.
There are also food, music, and art festivals, some lasting just a weekend, others a bit longer. You can check the calendar here, to see what will be going on on the dates you are planning to go. It is worth staying a couple of days to enjoy the town, the amazing beaches and forests, and the festivals.
How to get there:
You can either get a bus, a private driver, or hire a car from Rio. Other options would be to finish or start the Gold Route (Gold Path) if you are planning on following the entire trail. I suggest around 2-3 days, especially if you are planning on visiting neighboring beaches.
6 – Manaus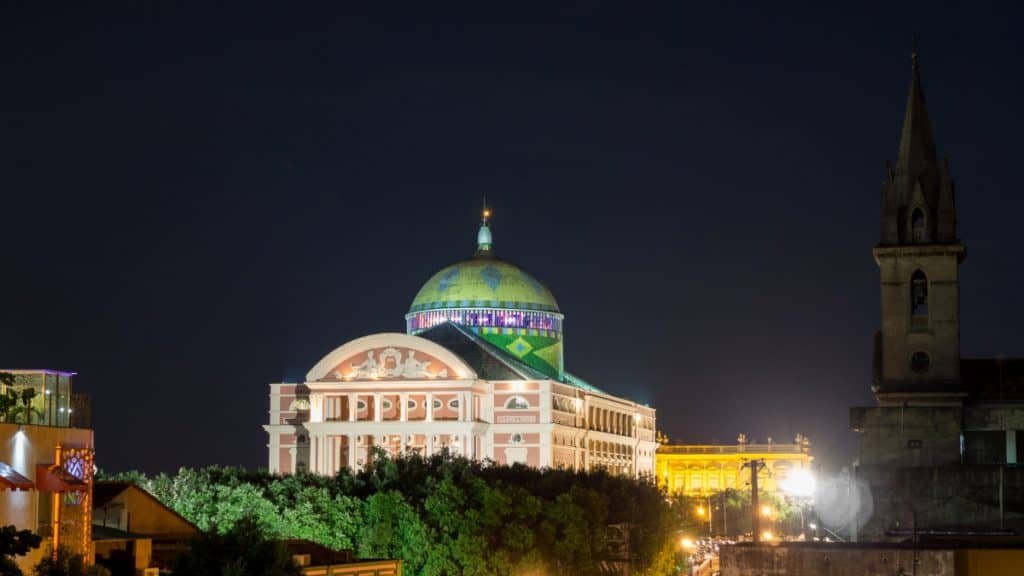 Manaus is the capital of the state of Amazonas, in the North of the country. It is usually associated with the Amazonian rain forest and used as a starting point for that, along Belem, which is to the eastern part of the jungle.
Manaus really developed when Brazil had its rubber economic cycle boom, around the 1800s. There was a powerful elite, the "rubber barons" and you can see an iconic symbol of their power on the Amazon Theater (Teatro Amazonas).
It is a beautiful architectural building, designed by an Italian architect and also built with European materials, such as marbles, noble wood, and chandeliers.
An interesting fact is that due to the heat, the operas and ballets were presented with doors and windows wide open, so to minimize the noise of the carriages on the outside, rubber cobblestones were used to cover the surrounding area. Some of these can still be seen on the back of the theater.
If you are planning a trip to the Amazonian forest, not only using Manaus as your base but also taking some time to visit the city, can be a great way of seeing some of the lesser known historical period of Brazil.
How to get there:
Honestly, you will not want to drive there. It is very isolated and hard to access, even though there are national roads that lead to the city. Your best option is to fly into Manaus, either from another major Brazilian city or from other main global cities. One day to see Manaus before you head to your Amazonian adventure is probably enough.
7 – São Miguel das Missões
This historical site is all the way down in the South of the country, in the state of Rio Grande Do Sul. Founded in 1632 by the Spanish Jesuits on the XVII century, this town (and several others called "Jesuitic Reductions") was used to gather indigenous from the Guarani people and convert them to Christianity.
The Jesuits were expelled by the Spaniard King in 1768 and it eventually became Portuguese territory in the late XVIII century. The ruins were considered National Patrimony in 1938 and World Heritage by UNESCO in 1983.
If you are interested in seeing historical ruins from the colonial period, this is one of the best places to go in Brazil. I also wrote this article about other indigenous and pre-historical archeological sites, and how to visit them.
How to get there:
This is a bit trickier to get to. Here are a couple of options:
From Foz do Iguacu: Take a bus or rent a car. It takes around 7:30 to get there, and it crosses part of Argentina, so maybe you can do a road trip stopping of the other Jesuitic reductions that are on the Argentinian side.
From anywhere else: You have two options – either fly to Porto Alegre and get a bus or rent a car (it will be also around 6:30 drive as well) or take a flight with the air company Azul to Santo Angelo (airport code GEL). It will have a stop in Porto Alegre anyway, but can save you the long road trip, as Santo Angelo is only 1:30 away from Sao Miguel Das Missoes.
8 – Ouro Preto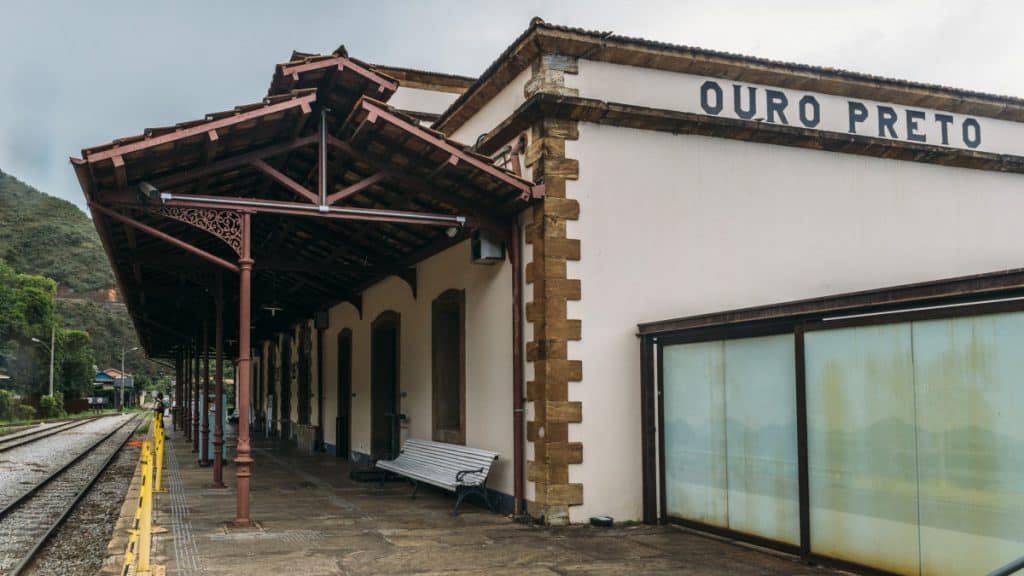 Here is another town famous amongst Brazilians but fairly unknown to foreigners. The big brother of Mariana, this neighboring town is also famous for its baroque churches and colonial houses.
Also an university town, there will be a lively nightlife during school period (In Brazil it goes from February to November and skips July), it is a beautiful place for visiting gold mines, churches covered in gold, colonial museums and trying the amazing regional cuisine.
How to get there:
The town is literally 30 minutes away from Mariana, so you can get there the same way. Either by bus or car, coming from Belo Horizonte or RIo de Janeiro. Also, this would be in the Royal Gold Route list of spots, so if you are doing that itinerary, make sure to include Ouro Preto in it.
9 – Petropolis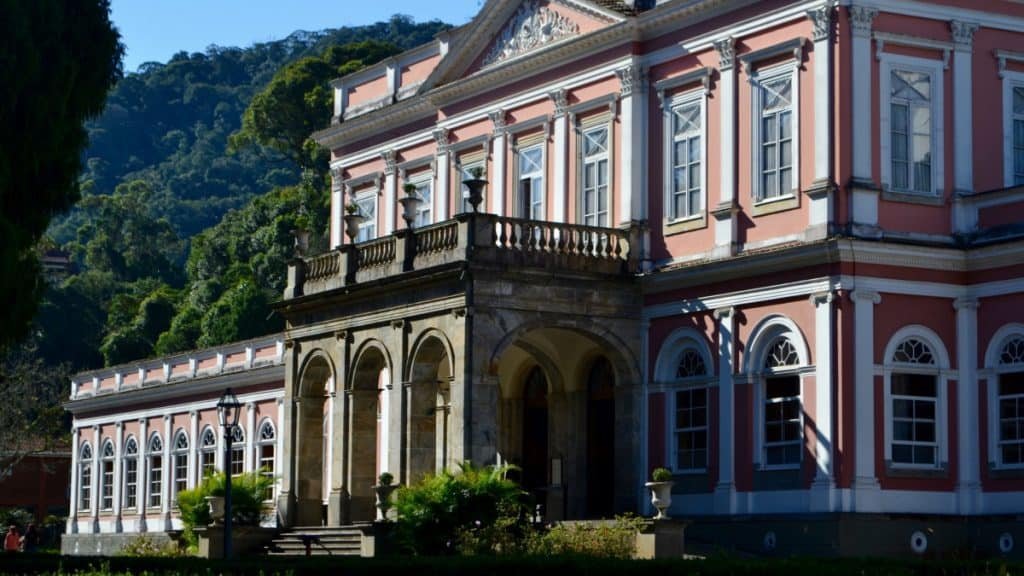 This is the town where I grew up in. Known as the Imperial city, it was used as the Royal Family's summer destination as it is up the hills from Rio, so way fresher than the then capital during the hotter months.
Petropolis is in the middle of the Atlantic Forest, so the roads there go through some breathtaking views of this green sea of trees on the valley down there. Due to its vicinity to Rio de Janeiro, you can easily do a day trip or spend a couple of days in the city.
Some of the main attractions are:
The Imperial Palace: (a lot of the original furniture is exactly as it was left by the family, including the floor, where you need to wear fabric slippers to avoid scratching it)
The Crystal Palace: Given to Princess Isabel in 1884 for her 15th birthday, for her to use as her private greenhouse. It has hosted parties and conferences since then and now is one of the touristic attractions of Petropolis
Bavaria Brewery: If you are into beer, you can visit the manufacturing site and museum of one of the most famous Brazilian beers, Bavaria.
Quitandinha Hotel: Built in 1944 to be the biggest casino in South America, it is now used for wedding parties, conferences or as a honeymoon hotel. It has a beautiful lake in front of it and it is also very close to one of my favorite restaurants, a Casa do Alemão. If you go there, try their buttery biscuits and their German sausage sandwich, it is awesome!
How to get there:
There are buses every 30 min from Rio, so you don't need a tour. However, if you want the convenience to be taken to all attractions without worry, you might be better off with a guided tour.
10 – Porto Seguro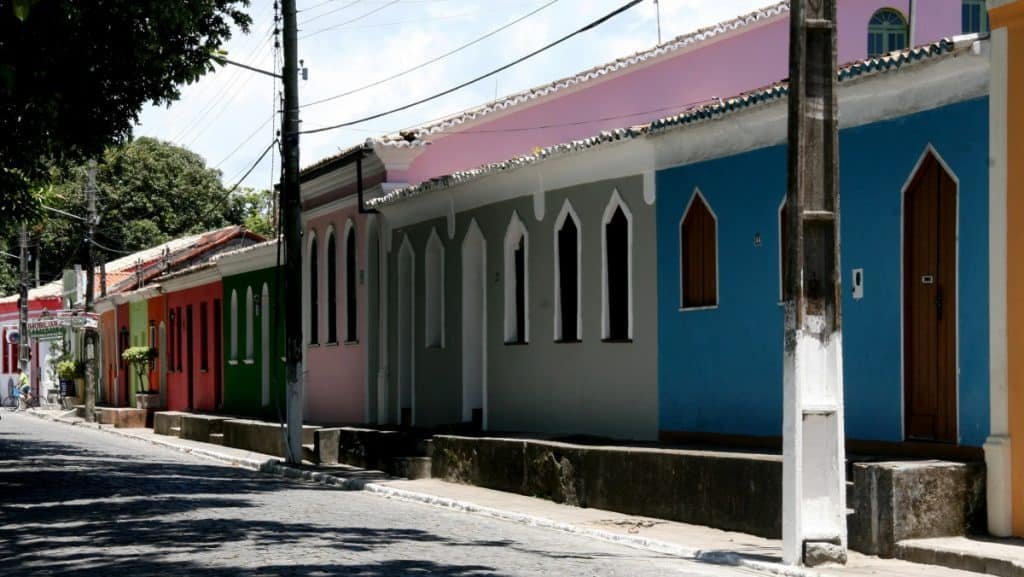 So, I mentioned earlier that the Portuguese arrived in South America in the Northeast of Brazil. Well, Porto Seguro – which means Safe Port in Portuguese – is that place (alongside the neighboring Santa Cruz Cabralia and Eunapolis). This is where in 1500 the Portuguese landed first. This is probably the oldest you can get in terms of Brazilian History. As explained on this other post, the indigenous in Brazil didn't use to erect solid stone buildings, so it is hard to find older historical sites in Brazil.
Porto Seguro is beautiful not only for its architecture but also for its amazing beaches. If you want to have a Spring Break type of experience, head to the city around the 12-15th October, when most high schools and universities take a break and several of them take a trip to Porto Seguro as their last trip while in school.
If you are already a bit too old for that (I went there with school when I was 17, but now I wouldn't set foot in Porto Seguro in October even if they paid me a pound of gold), any other time of the year will be fine. Brazil is usually warm throughout the year, and that is even truer in the northern part of the country, where Porto Seguro is located.
Also, it is a good idea to pair it with Arraial D'Ajuda and Trancoso, which has some dramatic landscapes with the towns all the way up on cliffs and white sand beaches down under, which makes this quite a unique place in Brazil.
How to get there:
There are international flights that get there. They will cost you a bit more than the ones for the main cities, but if you are looking to relax on the beach, it might be worth it. You can also rent a car from Salvador and go on a road trip through the southern coast of Bahia. I would take at least 10 days doing this, because it takes 10 hours if you drive non-stop from Salvador to Porto Seguro.