Brazil can be a very interesting destination for honeymoons! From beaches, to jungles and festivals, there is everything you can want for all types of honeymoons, from the most romantic to the most exotic options!
However, not all of these destinations are on their best shape throughout the year. Go to the rainforest on the wrong season and you can be stuck in the hotel seeing the pouring storms for days outside of your window and end up going home without really getting to enjoy what should be the most memorable trip of your life!
I have selected below a top destination at each month. Obviously most of them will have several months where you can enjoy it, but these are the best months for each one. You can always combine them if you want to see more of Brazil as well.
Is January a good month for a honeymoon in Brazil? – Northeast Beaches
If you think about a honeymoon in Brazil, it is very likely you are hoping to get some beach time and update that tan line. January is the perfect month for that!
Brazil has the opposite seasons from the Northern Hemisphere, so when the USA has its coldest month on average, Brazil has its hottest. This makes January the perfect month to visit the paradisiac beaches in the Northeast of the country.
You will be able to see romantic little fishermen villages, clear blue waters, and white sand beaches. The beaches in this region are often some of the most beautiful in the entire country and a lot of them have the infrastructure to receive tourists and honeymooners.
I could probably write a long list of 1000 places and not be done with all the beautiful beaches you can go to. The ones below are some of the less crowded, still undiscovered destinations or the must-see beaches, since January is the high season in Brazil.
Carneiros, Pernambuco – This is the less crowded little brother of the more famous Porto de Galinhas. You could stay in Porto de Galinhas and spend a few days in Carneiro (if you want convenience over tranquility) or do the other way around. How to get there: Fly into Recife and drive south (or get a bus, taxi or hotel transfer) 45 min to Porto de Galinhas. To Carneiros, add an extra hour on the road.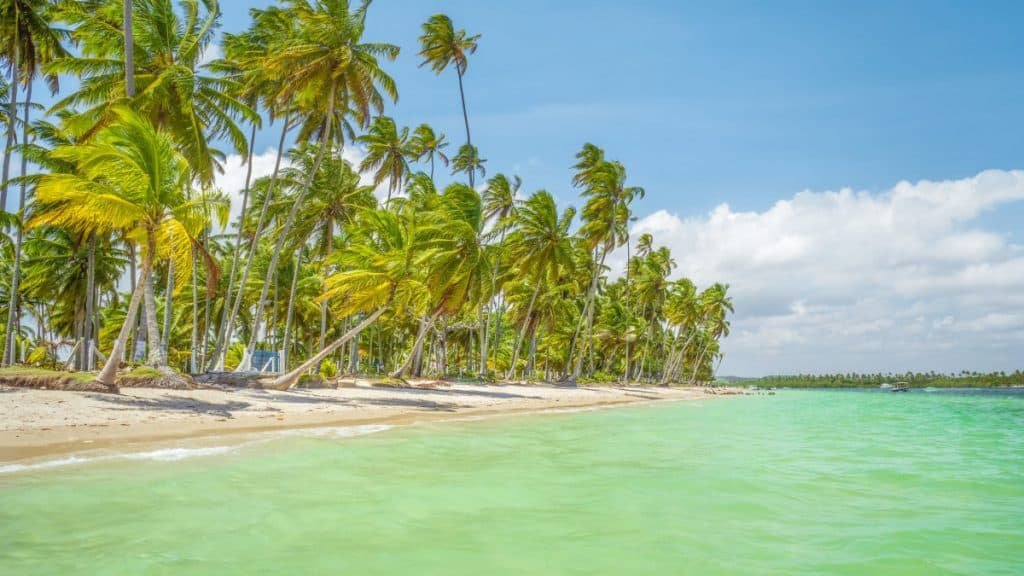 Sao Miguel do Gostoso, Rio Grande do Norte – quickly getting some traction in the tourism scene, this beautiful and quiet fishermen village is a trendy destination if you are looking for those out-of-the-movies type of beach. You can pair it with a much more popular summer choice, the Pipa beach. How to get there: Sao Miguel do Gostoso is a two-hour drive north from Natal, where you can fly into. Pipa is in the opposite direction, around 1 h 40 min south. You can spend a few days in Pipa, a few days in Natal, and end it in Sao Miguel do Gostoso.
Fortim, Ceara – With beaches not yet touched by the growth of cities, there are kilometers of unspoiled landscape here. Located where the river Jaguaribe reaches the sea, it is an amazing place to have a quieter stay but with some luxury and away from the crowds.
Is February a good month for a honeymoon in Brazil? – Rio de Janeiro
Yes, Rio is here on the list. Because chances are that if you are thinking about a honeymoon in Brazil, you might be wanting to check the carnival parade. If that's the case, February (sometimes March, check the calendar for the year you are coming as it changes) is when you will want to come.
I suggest you pair your visit to the northern coast of the Rio de Janeiro state, to places like Buzios and Arraial do Cabo, for some charming little towns with beautiful beaches as well.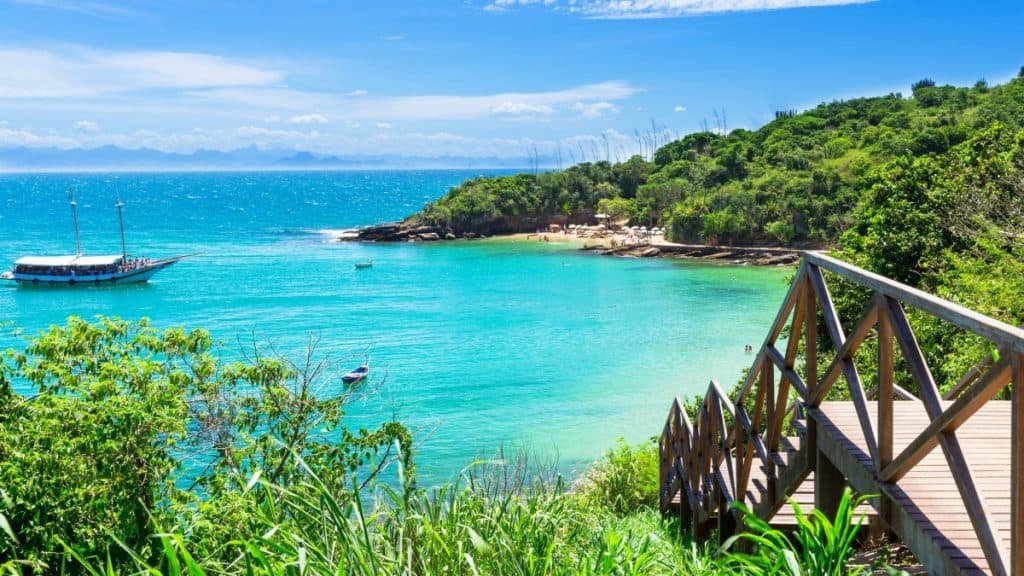 Avoid the southern coast (Paraty and Ilha Grande, for example), as February can still be quite rainy in that area. For those towns, you are better off going in November, still dry enough, and already warm to enjoy the island or the beach.
Tip: Fly to Rio and get a bus to Buzios. Stay based there and do one or two day trips to Arraial do Cabo or maybe a boat excursion leaving from Buzios. You will have better infrastructure and more nightlife options in Buzios than in Arraial.
Is March a good month for a honeymoon in Brazil? – Florianopolis
March is a great time to visit the southern beaches of Brazil. Florianopolis, the capital of Santa Catarina state is an island, thus have several nice places paired with great infrastructure.
Besides, in March, the rainy season is almost over (even better if you go towards the end of the month) and it is still quite warm (this area gets colder than what you would expect in Brazil, so don't wait much longer or it can be a bit too cold for getting some tan.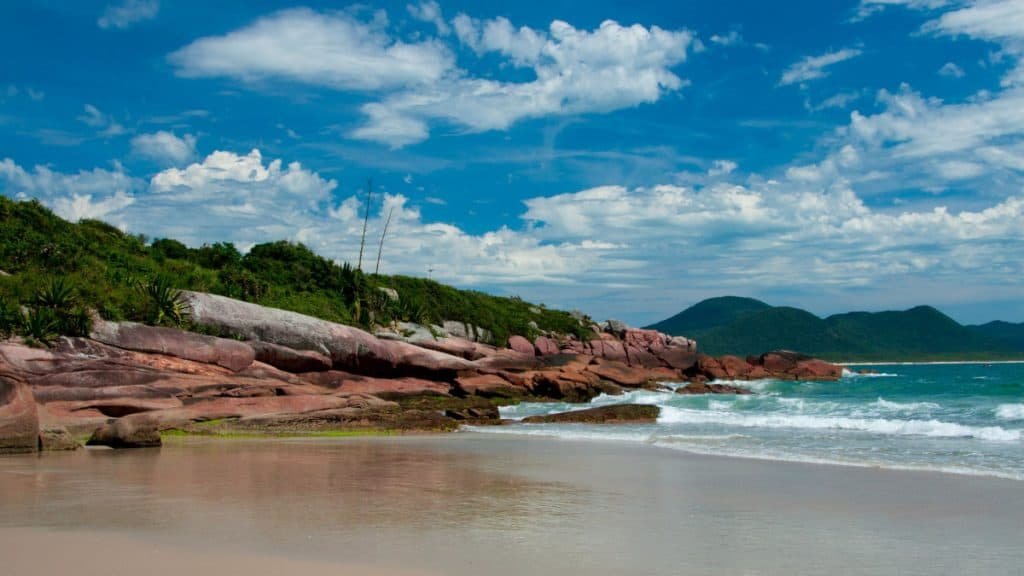 You can add some of the other beaches of the area to the list and road trip leaving from Florianopolis, like Bombinhas, Balneario Camboriu, Sao Francisco do Sul, Guarda do Embau, Garopaba and Praia do Rosa.
How to get there: Florianopolis has several international and domestic flights, so you shouldn't have an issue reaching the city
Tip: For doing this, we suggest you fly into Florianopolis and rent a car from there to explore the other locations.
Is April a good month for a honeymoon in Brazil? – Iguazu Falls
If you are looking for the natural landscapes of Brazil, a great option is the Iguazu Falls. The key to coming in April is because the rainy season is over and this makes the river have a lower water volume (don't worry, this is a good thing!).
With less water falling down, there is less fog created, thus the visibility is so much better! It would be a disappointment to get there and see nothing because there is just this heavy cloud of water enveloping the landscape.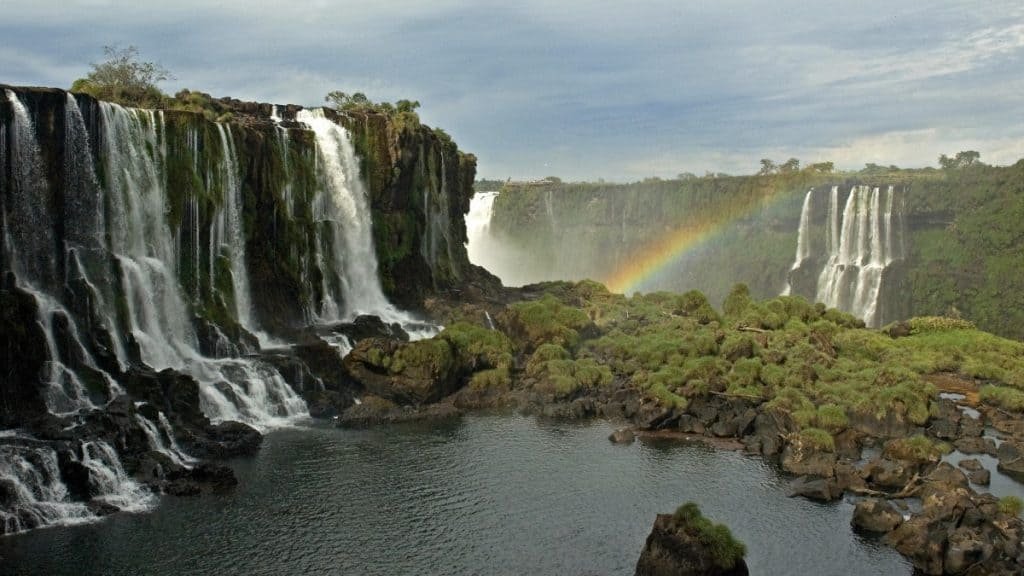 You can visit the Bird Parks, the Itaipu Dam and the Macuco Safari, for a full nature style trip!
Tip: Go to the Argentinian side and if you would like to Paraguay as well, that way, you can say you went on honeymoon on three countries instead of one!
Is May a good month for a honeymoon in Brazil? – Pantanal
Actually, the Pantanal has two main season: the rainy and the dry season. Each of them has its own charm and you can do different activities during each one. We suggest May because it is the last month of the rainy season.
This way, you can get a bit of both worlds, with less rain but the rivers will still be full, so great to see alligators and you can do horse rides or 4×4 truck tours for a great experience.
However, in May, you can already start seeing Jaguars and other mammals, and the beginning of the flowering season. It might also be a good time for fishing, but I wonder if you would want to go fishing on your honeymoon?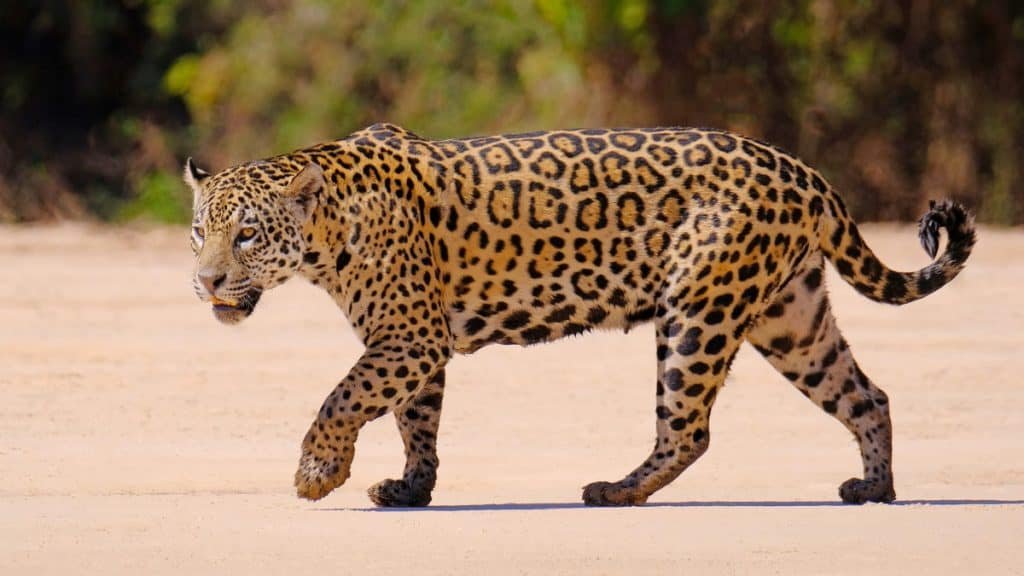 How to get there: Fly into Cuiaba (for northern Pantanal) or Campo Grande (Southern Pantanal). I suggest you get a full package with airport to hotel transfers included as it can be quite difficult to access certain areas.
Tip: Hire a River Safari for a better chance to see the Jaguars. Some of these tours can take up to 5 days, so can be quite an adventure!
Is June a good month for a honeymoon in Brazil? – Chapada dos Guimarães
This doesn't come often on the suggestions for itineraries for foreigners, but it is already an old friend of all Brazilians that are into travel and adventure.
This huge National Park has several falls, caves, wildlife, and hiking and trekking trails is perfect for the adventurous couple. You can only get into the National Park with a guide as due to over-tourism and pollution left behind by travelers, the government decided to put measures in place to preserve the park.
There is plenty to do for several days and quite a few small hotels and tours and activities in the area, so you will not get bored!
How to get there: Fly into Cuiaba and rent a car as it will make your trip more flexible to reach the different places you might be interested in visiting (public transportation is quite limited).
Tip: You can use Cuiaba as your entry point to both Pantanal and Chapada dos Guimarães, so you can pair the two destinations into one big adventurous honeymoon!
Is July a good month for a honeymoon in Brazil? – Amazonian rainforest
If you want the exotic experience of going to the jungle for your honeymoon, then you are probably thinking of going to the Amazon forest. Make sure you come on July when you have less rain, otherwise you might not be able to leave your hotel room for days!
Boat trips up the Amazon river, hiking and animal watching are the highlights of this trip. There are a few luxurious hotels where your room will be facing the Amazon River or the lush forest, so can be a great place to relax and have some adventure at the same time.
How to get there: You can fly into Manaus or Belem and they each deserve a day or two just to visit them. After that, you can get a resort and relax as well as participate in the activities they have as well.
Tip: Take the insect repellent (or buy some in Manaus or Belem) and some long sleeves t shirts (get the light ones). It is a hot country, but you will be thankful for not being eaten alive by the mosquitos. You don't need long sleeves to most other destinations, though, unless you want to just feel awkward in the middle of everyone else in top tanks and shorts.
Is August a good month for a honeymoon in Brazil? – Lençois Maranhenses
This is one of the most beautiful places in Brazil. Half desert, half beach, this beautiful collection of sand dunes with look like wrinkled sheets (Lençóis in Portuguese) when looked down from the sky. There can be around 36,000 lagoons on the fullest period and it falls to mere 2 (the perennial lakes) on the high of the drier season.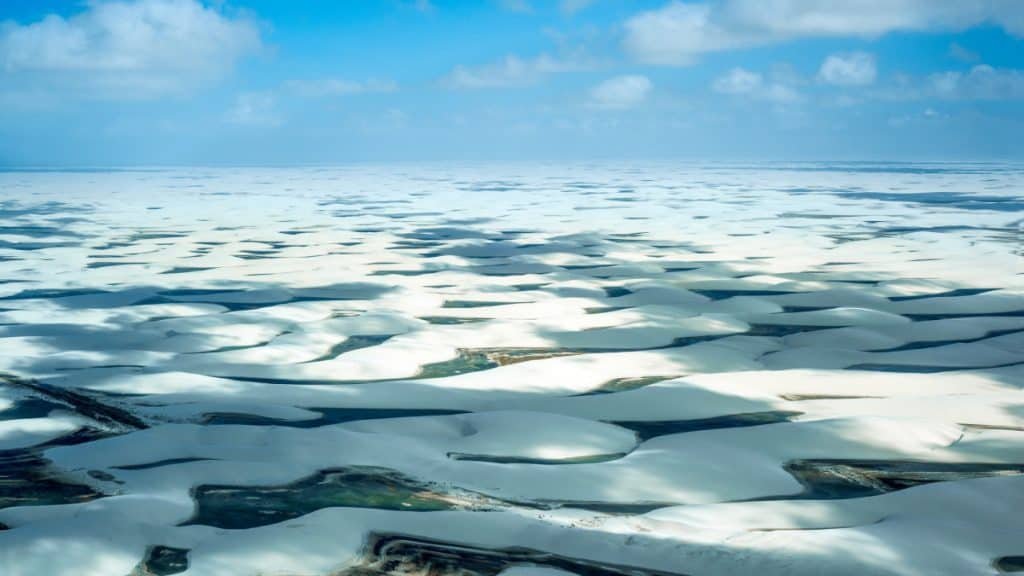 In August, the rainy season in the region has ended a couple of months before, so you will have plenty of sunny days but it will also allow for you to still see the lagoons full and be able to dive in them. In the following months, they become drier and drier, so you might just have sand to see.
How to get there: Fly into São Luís, which is 250 Km (155 miles) away from Lençóis Maranhenses. You can then hire a charter flight to a closer airport (Barreirinhas Airport), but be prepared to pay a lot for the luxury. Or you can go to Barreirinhas by bus (around 4 hours). Also, check with your hotel if they have a transfer option from the airport or if they suggest a different way of transportation.
If possible, go to the quieter but better Santo Amaro or Atins towns, by a 4×4 transfer. They are a bit more inaccessible, which makes these a more enticing option if you are looking to go to a beautiful place with fewer crowds! Do not hire a car, as you likely won't be able to get there yourself as not the entire road is paved.
Tip: Try and coincide your visit with a full moon, as you can visit the park at night (all night long, actually), and due to the lack of city luminosity, the view of the sky is truly amazing. Just careful not to go out of the trail and get lost. Remember it is a desert, after all. The view of the dunes might be confusing and you can get in trouble!
Is September a good month for a honeymoon in Brazil? – Fernando de Noronha
I know I used the word paradise a couple of times on this article already, but if I were to choose one place in Brazil to be called paradise, this would be it.
This archipelago of 21 islands is the dream destination of most Brazilians and foreigners alike. Beautiful landscape, gorgeous beaches, and amazing wildlife, from exotic birds to turtles and dolphins (that you can swim with!), this place seems like out of a fairy tale.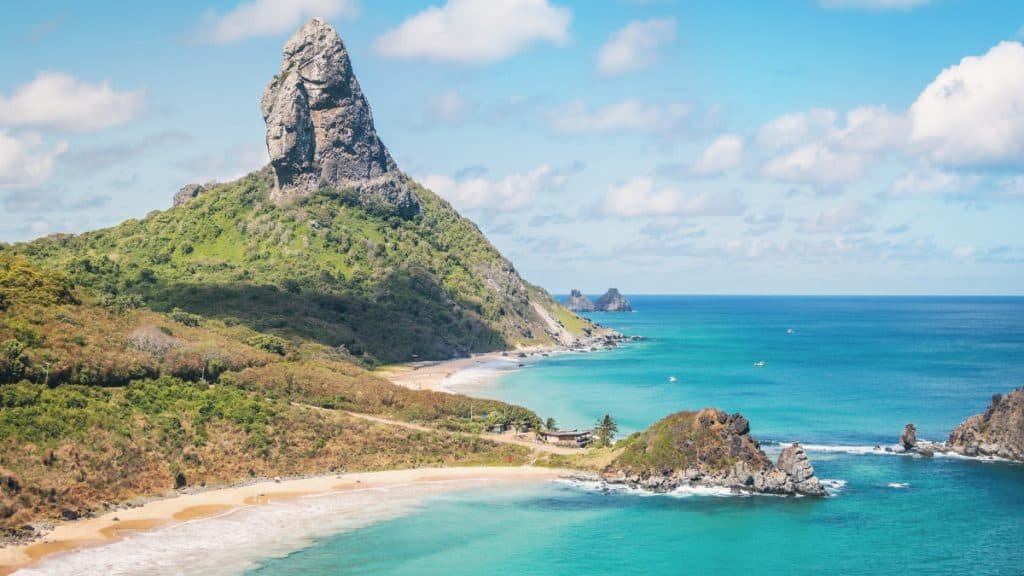 It is protected by the environmental entity in Brazil and has a cap of the number of tourists that can be there at any given time, around 450 people. Also, there are only 5,000 total permanent inhabitants, which makes this the perfect retreat for a dreamy honeymoon!
Obviously the caveat is the price. It. Is. Expensive. Flights are expensive, there will be ecological taxes to be paid, hotels and food will also be above the average that you would expect for Brazil. And on top of that, you will need to budget for the activities like diving, snorkeling, etc.
September is just before the high season starts, so you can hopefully pay a bit less in activities and hotel, but there is not a way around the ecological taxes. Besides, the sea is usually calmer in September, perfect for diving and relaxing on the beach.
How to get there: Luckily, there are flights from the main Brazilian cities. If you feel like splurging, you can use a private or chartered yacht and arrive like a Hollywood celebrity.
Tip: Even though ATMs exist and cards are accepted, they might not always get signal reception, so to avoid issues, take plenty of local currency in cash with you.
Is October a good month for a honeymoon in Brazil? – Recife and Olinda
October is a great time to go to Recife and Olinda. The cities, one right next to the other, are perfect if you want a historic and cultural experience for your honeymoon. Besides, there is great food (but that is true anywhere in Brazil, so I didn't even mention it here!) and great beaches to go to.
You can pair it with the already mentioned Porto de Galinhas and Carneiros (the options for the month of January) or with the also amazing Cabo de Santo Agostinho, which is much closer to Recife and Olinda than the other two, which makes it perfect for a day trip.
In Cabo de Santo Agostinho, go to Calhetas beach, for a breathtaking little bay hidden between two hills.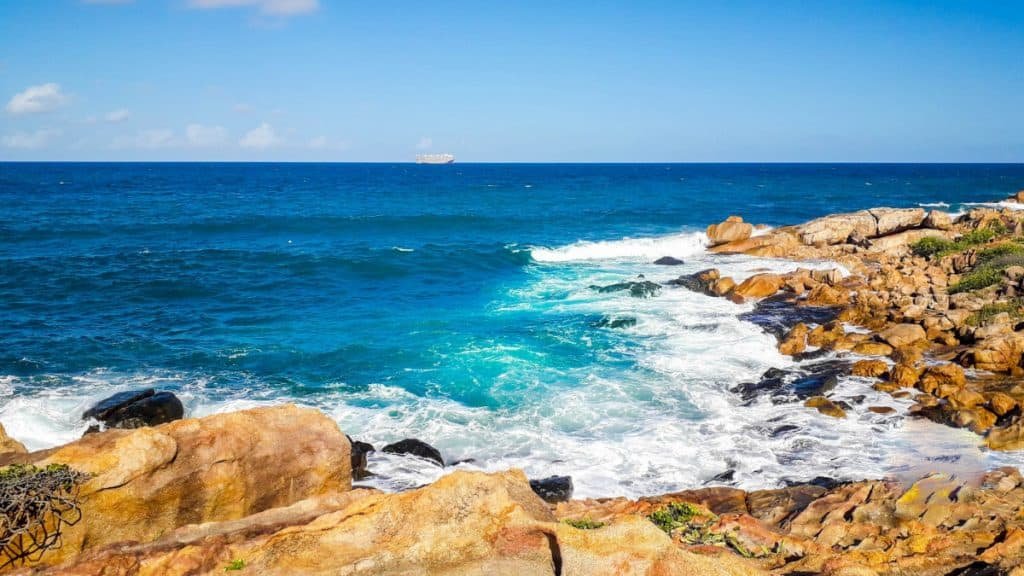 How to get there: Fly into Recife. There are numerous flights from abroad and from several Brazilian cities as well. You can visit Olinda and Cabo de Santo Agostinho being based off of Recife.
Tip: This area is great pretty much during most of the year, and it is also famous by its carnival, so coming during the festivities might also be a good idea for a radically different experience from the Rio Carnival.
If you want something a little more quiet and chill, you can visit the best museum in South America while you're in Recife, check out this video to find out more:
Is November a good month for a honeymoon in Brazil? – Alter do Chão
For an exotic, charming, and undiscovered place in Brazil, you can visit Alter do Chão, deep in the Amazonian forest, and on the margins of the Tapajos river. In November is when the river is on its drier season and several river water beaches appear, making it an amazing combination of jungle and beach.
The indigenous culture is very present in this quaint village and you can try the local cuisine and ingredients, that are still unknown to even most of Brazilians from the southern regions of Brazil. There are only 6,000 inhabitants and very few hotels in the village, so this is also an amazing spot for a honeymoon immerse in the Brazilian culture.
How to get there: Fly into Santarém from either Brasília, Belém, or Manaus, so you will likely need to make a connection through one of these cities. From Santarém airport, you can get a taxi to Alter do Chão, which is 33 Km (20.5 miles) away.
Tip: Don't shy away of going on other times of the year, when the river is full. You might not have the river water beaches, but the inhabitants say the landscape is even more beautiful during the wet season.
Is December a good month for a honeymoon in Brazil? – Ilhabela
If you are coming to Brazil for your honeymoon in December, it is probable you want to spend New Year's Eve in Brazil as well. Chances are you will want to see our most famous Reveillon party, at Copacabana beach.
If that's the case, Ilhabela (Portuguese for Beautiful Island) is a great option to get away from the obvious and yet be close enough to not need to cross half the country just to be back in Rio on the last day of the year.
Ilhabela is great to be visited in December as it is not yet that crowded (although during the festivities time I am not sure you can really avoid crowds pretty much anywhere) and the rainy season has not started yet – it starts in January.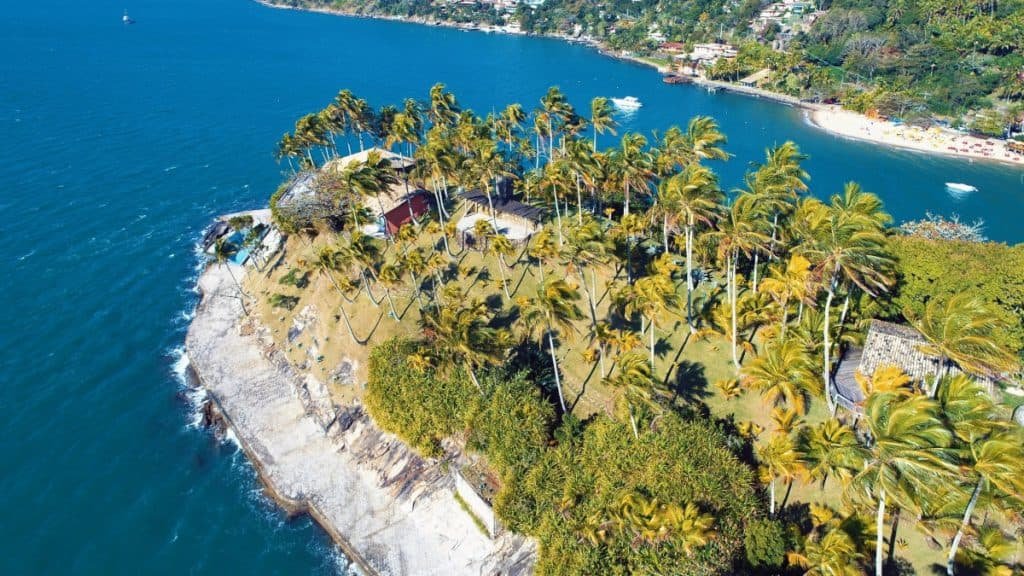 How to get there: Ilhabela can be accessed only by helicopter or by ferry, which takes people and cars alike. You can also go by bus from São Paulo or Rio, although you have more options from São Paulo, so prefer to fly there if possible. Hiring a car and driving down to Ilhabela can be a great option as well because there will be beautiful Atlantic forest sights on the way.
Tip: Hire a four wheeler and go through the beaches, especially the harder to access Baía de Castelhanos (Castellans Bay) for some amazing views of waterfalls, secret beaches and Atlantic forest.
If you want more off the beaten path honeymoon destination ideas in Brazil, check these posts:
And if you are looking for a destination wedding in Brazil, check our post on the Brazilian wedding dress code, so you know what style to request your guests to dress up with.