The state of Rio de Janeiro has a famous coastline amongst citizens, known as "Região dos Lagos." It houses a few counties you may or may not have heard of, like Cabo Frio, Búzios, and Saquarema, which are ideal destinations if you want to visit nice places outside the big city.
Arraial do Cabo is a paradisiac town, located halfway of Búzios and Cabo Frio, just over 100 miles away from downtown Rio. The city has various accommodation options fit for every type of trip and beaches that made it earn the title of "Brazilian Caribbean" by locals.
Since Arraial do Cabo (or just Arraial as I'll be referring it to as sometimes) is one of my favorite locations in Rio de Janeiro, so I'll be adding a few tips and personal experiences throughout the article, so make sure you don't miss it!
Before we get started:
All the price estimates contained here were based on the exchange rate of the day this article was written (USD 1.00 = BRL 5.42), so you may find discrepancies while doing your own research.

all the accommodation fees were calculated by making an average of 10 different places in each category, so you'll most likely find places that are way cheaper (and others that are way pricier as well) during your own digging
How To Get To Arraial do Cabo?
Arraial do Cabo does not have its own airport, with the closest being located about 6 miles away in Cabo Frio (CFB). Unfortunately, this airport offers very slim airline companies choices, so the flights are costly, and with few to no international arrivals.
So the best (and cheapest) way to get to Arraial do Cabo is by landing in Rio de Janeiro's international airport (GIG) and taking a travel bus there (or renting a car), which should be a 2-hour drive.
Getting to Arraial do Cabo By Bus
After landing in Rio's Galeão Airport, you'll need to get to the city's bus station (Novo Rio), which is about a 15 minute Uber drive.
If you decide to buy your bus tickets once you arrive, locate Auto Viação 1001's ticket office, that's the company that makes the route to Arraial. Although they don't seem to have an English version, you can check the bus schedule on their website, as it should help with your travel arrangements.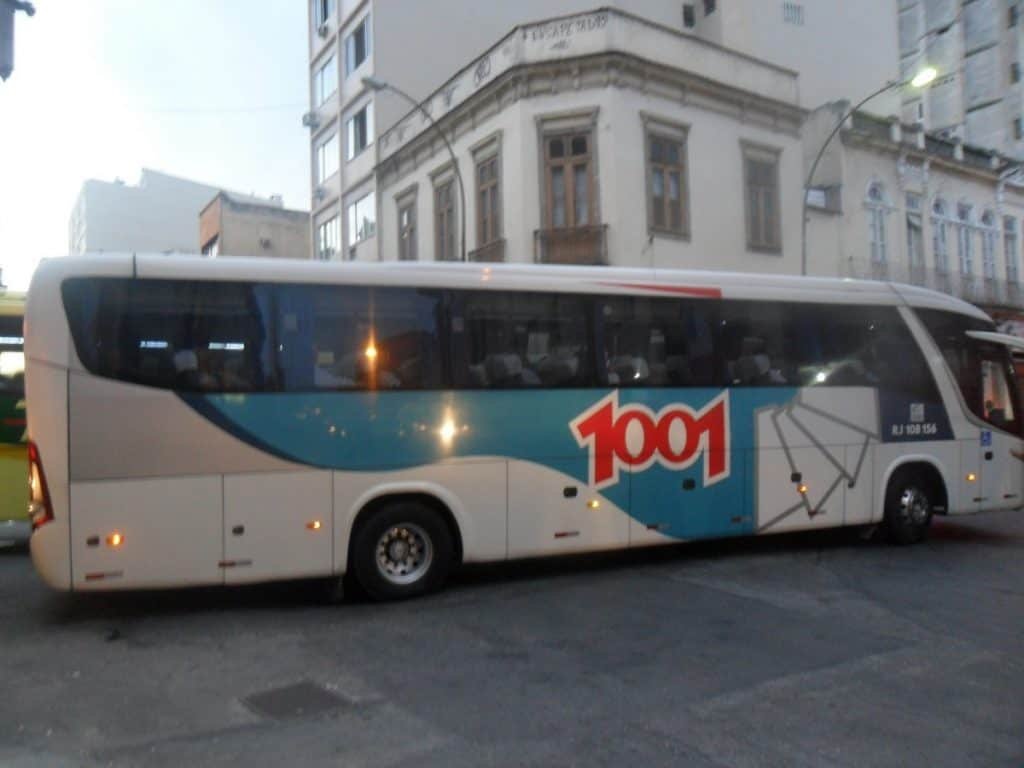 A bus ticket to get to Arraial from Rio costs around BRL 107,00/USD 20.80 a leg. The bus is pretty comfortable, and the road that leads to the city has been recently renovated, which should make it a smooth ride.
Once you get to Arraial's bus station, you'll be able to find Uber drivers very easily, and since the town is pretty small, you shouldn't spend more than a couple of bucks getting to the place you're staying at.
Budget-Friendly Tip:
Schedule and get your bus tickets on Clickbus beforehand. Although there are buses leaving Rio's bus station to Região dos Lagos almost on an hourly rate, you'll probably save a little money by getting tickets on their website/app.
Getting To Arraial By Car
If you're traveling with friends and/or family, renting a car with a rental company may be more economical on your budget, as car rentals fluctuate from BRL 50,00/USD 9.70 to BRL 200,00/USD 38.90 a day (depending on the car model and accessories included).
On the other hand, gas isn't exactly cheap in Rio de Janeiro. To fill up the tank, expect to spend around BRL 133,00/USD 25.87 to BRL 296,00/USD 57.58, as the gas is now costing up to USD 0.88/liter.
Once you get to the Galeão Airport, there'll be several car rental companies with which you can close a deal; it's just a matter of choosing which vehicle you'll be riding. You can also use Skyscanner to compare prices beforehand, facilitating the deal.
Getting to Arraial do Cabo by car is a very simple task if you're any good with directions. The road to Região dos Lagos is pretty straightforward and well-signaled. Since regular vehicles are faster than travel buses, you'll probably make it to Arraial faster by driving there yourself.
Another benefit of having a car to move around town is the fact you'll be much more comfortable carrying your stuff around, especially if you have kids (I mean, it's no joke carrying all those beach toys and gear, right?)
Here's a map to give you a better sense of how you'll be getting there:
COLOCAR MAPINHA FANCY DA GORDA ANA
Best Time to Travel to Arraial do Cabo
Arraial do Cabo and the cities close to it are generally pretty packed from December until the beginning of April, so I wouldn't advise going during that period. Not only is the city way busier, but also way more expensive.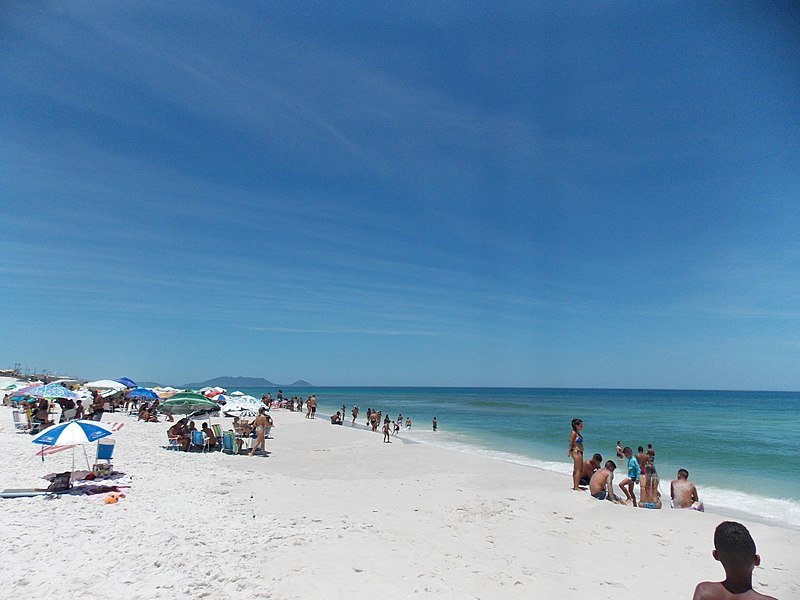 Carnaval season (February and March) is an especially hectic period to visit most coastal cities in Brazil, and Arraial is definitely not an exception. The city alone received a whopping 600k visitors during that season in that season 2020. So if you want you're looking for a party while you're there, Carnaval is your time to let loose!
But if you're looking for some downtime, the best period to travel to Arraial do Cabo is around April and May. You'll be able to explore the city wonders with much more ease, still enjoy the beach (the Sun during Fall is much more bearable for tourists – and locals too!), and even better, spending way less money.
Where To Stay At Arraial do Cabo?
Being a relatively small town, you won't have much trouble finding a place near one of Arraial do Cabo's 8 beaches. The town has several hotels, inns, and hostels that can offer some great deals depending on the level of luxury you're looking for.
First of all, ask yourself what kind of trip you're planning to take. Is it a couple's trip, maybe vacation time with the whole family or your friends? If you're traveling with a relatively large group, chances are you'll find better deals in hostels and inns, so keep that in mind while choosing where you're staying.
Location-wise, based on my knowledge and personal experience of the city, the best spot to stay at Arraial do Cabo is near the far-left side of Praia dos Anjos, as it's closer to where the boat rides leave and near one of Arraial's most beautiful sights, Praia do Forno.
This spot is also pretty "central" concerning the main points of interest around town, like drugstores, markets, restaurants, and other facilities. With that in mind, we did a little digging to give you a good estimate of what to expect price-wise:
Hotels/Inns
Economically speaking, hotel rooms are only worth renting if you're traveling with a companion, as the ratings are fit and thought out for couples.
Based on booking.com's list of Arraial do Cabo's 10 best places to stay, you're looking at spending an average of BRL 300,00/USD 56.00 per night. Keep in mind that the closer to the beach the hotel is, the more expensive its daily ratings will be.
Also, if you didn't read our Guide For Tipping in Brazil, aside from the official hotel rate, most places charge a 10% fee on top of your final bill to reward the hotel staff, which could elevate your final bill considerably.
Hostels
Now, if you have three to four people traveling with you, it's definitely a good idea to check the hostels around town. If you do your digging correctly, you can find great places to stay and save a lot of money by sharing a room with your friends.
Considering Trip Advisor's list of Arraial's 10 best hostels to stay at, you'll be spending an average of BRL 210,00/USD 40.00 per night. Prices can vary whether you're choosing a room with its own private bathroom or if you decide to use the common restroom with the rest of the hostel regulars.
Some hostels also include a free breakfast meal in their rentals, which could substantially lower your food expenses.
Apartment/House Rentals
If you're looking to travel with a large group and want complete privacy and the whole place all to yourself and the people traveling with you, you can check rental apps such as Airbnb to rent a place to stay in Arraial do Cabo.
Depending on how many rooms and dependencies you'll be needing for your party of people, house rentals prices go around BRL 293,00 / USD 57.00 per night. If you have 3 other friends with you, that will leave a total of USD 14.25 each per night. Pretty sweet deal, huh?
Aside from privacy, renting a house or an apartment allows you to bring your own grocery shopping for cooking instead of eating out in restaurants, which can save you a LOT of money.
What To Do In Arraial do Cabo?
Now that we got you to Arraial do Cabo, let's move on to the good stuff! Being a coastal town, most of the activities and venturing around revolve around the beaches and the ocean.
To help you get a better understanding of what activities you could be doing there, we made you a small list of some of the things to do in Arraial do Cabo:
Take the Boat Tour
Arraial do Cabo is famous for its boat tours, as they allow you to explore close islands and even let you catch a glimpse of wild animals like manta rays, whales, dolphins, and turtles!
The boat rides in Arraial do Cabo usually lasts around 3 to 4 hours, in which you'll be stopping by 5 to 7 different locations, including deserted beaches (like the locally famous Praia do Pontal do Atalaia) and even a grotto in the high sea (Gruta Azul).
The boat rides cost around BRL 70/USD 13.50 per person, and they usually leave around 9 AM at the docks after the local Navy determines whether boating activities are safe or not that day. If the tides or the sea currents are too unstable, they'll cancel the ride and refund your money.
While on the boat, the crew offers drinks and snacks (which are charged separately), and you can also rent the boat's equipment to go snorkeling while visiting the different locations.
During the mating season (which has its peak between July and August), you may even go whale-watching in the waters of Arraial do Cabo, as Shark Whales are seen there every year because of the perfect water temperature (the waters in Arraial do Cabo are usually very cold).
To guarantee a spot on the boat, you may reserve your seats here and learn more information on the different locations you could visit.
Visit Praia do Forno (and all the other beaches!)
Although all shores here are stunning, Praia do Forno is easily the city's crown jewel, in my opinion. Undoubtedly the most beautiful beach in Arraial do Cabo, Praia do Forno feels like a private paradise, mainly because it can only be accessed by doing a small trail or by taking a taxi-boat.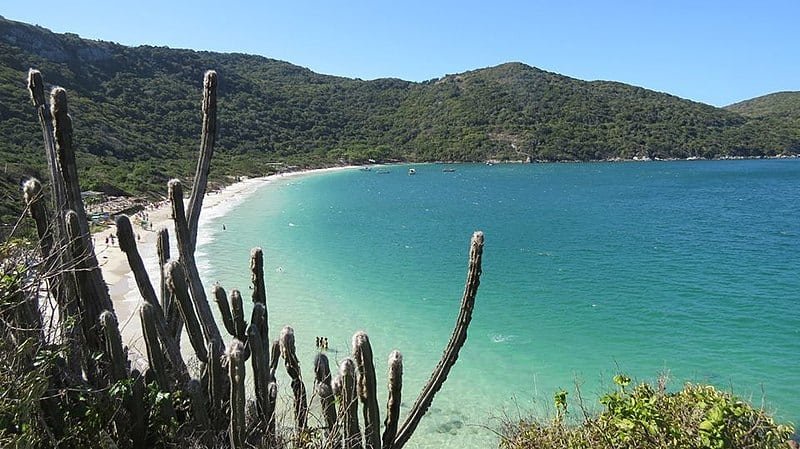 Going to Praia do Forno by foot
Right next to the docks entrance, you'll also spot the trail's starting point to the Praia do Forno beach. The trail itself is pretty easy, consisting of a light climb that lasts around 20 minutes.
The view along the way is pretty fantastic, and the sight of the beach by the end of it is just breathtaking. It's definitely a very picturesque and instagrammable spot; make sure you have your phone charged for some gorgeous clicks.
Going to Praia do Forno By Boat
Suppose you want to save some energy for later, no worries! By the town's docks, small boats known as taxi boats, which will charge around $2 to $5 (per person) to take you to Praia do Forno. The ride there lasts a little less than 15 minutes, but the view is totally worth it.
When I'm there, most of the time, I take the trail to Praia do Forno to get there and hire the taxi boat services once it's time to leave. This way, I get the full experience and a chance to see this beautiful beach from all angles. Plus, getting on the boat while the sun sets is just too amazing IMO.
Aside from Praia do Forno, you'll have 7 other beaches to visit, which I definitely would advise. And, since Praia do Forno is rather small, it has higher chances of getting crowded, so it's nice to know where you can go next if you want to escape an occasional blowout of people.
Here's a list of the other beaches you can go in Arraial do Cabo:
Praia do Farol
Praia do Pontal
Praia Grande
Praia Brava
Praia dos Anjos
Prainha
Praia do Pontal do Atalaia
Nightlife in Arraial do Cabo
Arraial do Cabo town has a very summery and daytime vibe, reflecting in the lack of options if you like to party hard at night. Still, there are a few places you can go to have a nice cold beverage after a long day at the beach!
Bars & Pubs
If the idea is just getting a few drinks, there are a few bars down the Praia Grande shores you can go to, like Bar do Peri. A few bars feature live music playing, and they usually charge a small entrance fee as compensation for the band. Tickets are around $1 to $2 per person, depending on the time you get there (the later, the more expensive).
One of my personal favorite spots is Espaço Cultural Mestizo, an open deck facing the Praia Grande beach. They have great snacks, great drinks, great music, and you'll be able to enjoy all of that while feeling the ocean breeze.
Restaurants
Being a coastal city, Arraial do Cabo's main specialty in the kitchen is definitely the fish, but there are options for every taste around town.
If you're looking for a place to eat but don't know quite where exactly, just head down to Praia dos Anjos, and you'll find a lot of options to chose from. If you're looking for something fancy, try Bacalhau do Tuga or Saint Tropez.
On the other hand, if you want to spend a little less but still eat well, the town is also filled with small restaurants with self-service buffets, some even having that home-cooked meal flair to it. Not only are they way cheaper, but the taste leaves nothing to be desired.
In case you don't get easily seasick, you could also have a mean at Arraial's fluctuating restaurant, the self-titled Restaurante Flutuante. Some of the boat rides make this restaurant their final destination.
Clubs
Unfortunately, there are no nightclubs in Arraial do Cabo, but if you're willing to take a short 40-minute trip, Búzios is just under 22 miles away from there and features a much more agitated nightlife than Arraial.
Places like the Privilege club, the House of Rock and Roll, and Anexo Bar are just a few of the locations that keep the party going all night in Búzios, so if you find the night time too dull in Arraial do Cabo, you know where to go now.
Go Trekking Around Arraial do Cabo
If you're the outdoor type of person and like to enjoy physical activities while in nature, Arraial do Cabo has a few trails you can do in order to get that sweat on.
Most of the trails there are pretty mild, some of them leading to observatories that could yield you pretty nice souvenir pictures, others leading to further beaches. Here's a list of the main trails you can go in Arraial do Cabo:
Praia dos Anjos trail
Praia Grande trail (which branches out to Praia Brava or to Lago do Amor
Prainha Beach trail (which branches out to Praia do Forno or to Praia do Pontal)
Rota dos Naufrágios beach
Well, that's the end of our post! Hope we were able to give you enough reasons to come down and visit Arraial, you won't be disappointed!
While you're here, I think we may interest you with these:
Top 10 Safest Beaches In Brazil: Crime, Sharks, Waves – everything you need to know for a safe trip to the beach while planning your vacation in Brazil!

Swimming In Rio Beaches: The Do's And Don't's – out in Rio but not sure where to go for nice safe swimming session? Read all about it here 😉

Capitolio, MG: The (Secret) Beach Away From The Coast – looking for a different kind of beach holiday in Brazil? Meet Capitólio!
Cover image credit: WikiCommons | Ezarate