Taxis, restaurants, hotels: there are many different types of services in Brazil, and around the world that are usually gratified by customers with a tip. If, when, or how much to tip can vary a lot from country to country, and that can be a bit confusing to tourists not familiar with the place.
In Brazil, tipping is not expected. Most places charge an optional service fee, which revolves around 10% of the tab's total value, which is usually informed when you receive your service bill.
Although there is no legal obligation of paying the service fee in Brazil, most local people oblige, unless there's a good reason not to, like bad service or bad general experience at that particular place.
On the next few topics, we'll be taking a quick look at which kind of places usually charge the optional service fee, the differences between service fee and tip, how to identify and calculate tips in Brazil, and some other information to clarify the tipping practice in the country.
What Is The Difference Between Tipping and Paying the Service Fee in Brazil?
As customers, there's not much of a difference to us, but to the employee performing the service in question, it can be a big deal, as it directly impacts how much money they make that day.
In Brazil, tips are interpreted as extra gratifications with a value determined by the customer, directly given from the consumer to the employee at their own will, and treated as the property of the staff member.
Service fees, on the other hand, are automatically added values on your tab, representing a gratification to the place's entire team, being treated as the property of the business, and part of the company's gross revenue.
Some venues consider tipping as an unfair way of gratification, especially in high-end restaurants. That means that some employees may end up with few or no tips for various reasons.
For example, a customer can tip someone solely based on their looks or something else other than performance, which could harm some of the staff's income that might be treated unfairly.
Therefore, many places in Brazil end up adopting the service fee system, dividing the total sum value amongst the employees. Here are a few reasons why businesses are encouraging service fees instead of individual tipping:
It reduces payment differences between employees, as the service fee is equally divided between the staff. In restaurants, for example, waiters can earn more than the cook, due to them being in close touch with customers.
The service fees can balance the highs and lows of the staffs' payments throughout the year, as some periods can be busier than others, meaning, some employees could have their income hurt if they solely depend on tipping.
Since the service fee is treated as commission, it reduces the legal complications tipping could bring.
As mentioned before, in most places in Brazil, you will most likely find a 10% service fee added to your tab, which is an optional fare you can oblige or not.
You can also opt to tip to gratify the employee individually, which is rarely done in Brazil except for in a few selected situations, as we'll take a look at the following topic.
Where, When, and How Much Do I Tip?
Even though in Brazil there is an optional service fee you can pay the establishment for the employee to be paid later on, there are still people who would instead make sure the specific service provider gets a more generous gratification, for various reasons.
In beauty parlors, for example, it's common that people tip their hairdressers, barbers, Brazilian wax estheticians, or nail technicians, as there is no service fee added to the final tab.
In bars and pubs, on the other hand, locals usually settle for the service fee, with few people individually tipping their bartenders.
Here's a quick relation of businesses in Brazil that often gets people confused on whether they should tip or not and why:
Bars, Restaurants & Nightclubs
Bars and restaurants in Brazil generally apply the 10% service fee on your final tab, which is not compulsory even though it may look like it.
The service fee is usually included in the final tab (always make sure to ask if it is), and you can request it to be removed if you disagree the service was worth it.
If you go to a pay per kilo (self-service) restaurant – which, by the way, are very common in Brazil – a tip is not expect, so you just really need to pay for what you consume.
Although it's optional, some waiters may react negatively if you decide not to pay the 10%.
There are some places in Brazil where you'll find bands playing live songs, and those venues usually request a cover charge for the artists' services.
That fee is mandatory if you chose to sit in the restaurant while the band is playing and it is usually charged before you go inside.
Nightclubs usually follow suit, adding a 10% service fee to the bill when you're paying your tab. Make sure you hold on to your tab, as most clubs charge a BRL 100,00 or higher fine in case you lose it!
Should I Tip? It's up to you! Most Brazilians don't, as they always oblige to the service fee. Just as some inside information, some friends of mine do like to tip their bartender after the first caipirinha (traditional Brazilian alcoholic beverage) to ensure the ones that follow are a bit stronger! (wink, wink). For restaurants, it is usual to pay a 10% tip except in the so-called "self-service" restaurants, where you serve your own food.
Hair & Nail Salons
As mentioned earlier, these establishments do not include a service fee for their employees, so it's a common thing for customers to leave a tip directly with the service provider.
Also, these workers usually rent their work stations from the beauty parlor they work in, meaning they indeed need customer tipping as an addition to their income.
Should I Tip? Definitely tip! People usually tip from BRL 5,00 to 10,00.
Hotels
Like in restaurants, hotels also charge an optional 10% service fee on their services, which is later divided between the hotel staff. If you decide not to pay the service fee and individually tip the hotel staff, here is what Brazilians usually do:
| Hotel Staff Employee | How Much To Tip? |
| --- | --- |
| Bell Boy / Luggage Carrier | BRL 2,00 / USD 0.40 per bag |
| Housekeeping / Maid | BRL 5,00 / USD 1,00 |
| Concierge | BRL 5,00 / USD 1,00 |
| Vallet | BRL 5,00 / USD 1,00 |
Bell Boy / Luggage Carrier
Like in many parts of the world, it's usually a nice gesture to tip the person who carried your luggage. Tipping the staff around BRL 2.00 per bag is a good rule of thumb.
Housekeeping
Housekeeping is not usually tipped, but if you want to compensate that person's work, you can leave a tip in an envelope specifying the destination of the money (leave it at the hotel room when you leave or hand it to the maid directly).
Giving BRL 5.00 as a tip to the hotel maid is usually enough unless there was something that might have given them more work than reasonably expected, such as some coffee stains on the bedsheets or spilled food on the floor.
Concierge
If you're in a fancy hotel and the concierge is working hard to make you reservations on a trendy restaurant or bar, definitely leave them a tip.
If you'd rather just pay the hotel service fee, it is usually presented at check out, and if you don't agree with it, you can ask for the fee to be removed from your bill.
Should I Tip? Many people still prefer individually tipping employees they've been in touch with the most (like maids, bell boys, attendants), but that's entirely up to you, as many people would also rather stick to the service fee.
Taxi/Uber Drivers       
            Car ride services and apps already have a service fee included, so Brazilians don't usually tip. Still, it is customary to round up the fare to the next Real or the occasional "keep the change" when you're paying in cash or when the driver is exceptionally professional and considerate.
If you "contract" a taxi driver (that means setting up a price upfront without running the fare meter) to take you to or from the airport or elsewhere, you're not expected to tip, as they already include a service fee on the total sum.
Should I Tip? Only if you want to gratify the driver with a little extra but it is not expected.
Food Apps & Delivery Services           
Delivery people in Brazil work a lot and get paid very little in comparison. They go through intense hours at work and are not compensated as they should, which is why Brazilians most often tip the deliverymen whenever they can.
There's no default value to tip, but people usually give the delivery person around BRL 5,00 to BRL 10,00 to compensate them for their services. Here's a more detailed breakdown on the types of delivery and how much to tip on each of them:
| Delivery Worker | How Much To Tip? |
| --- | --- |
| Groceries Delivery Man | BRL 5,00 to 10,00 / USD 1.00 to 2.00 |
| Furniture/Movers | BRL 20,00 to 50,00 / USD 4.00 to 10.00* |
| Drugstore/Food Delivery | BRL 2,00 to 5,00 / USD 0.25 to 1.00 |
·depending on the weight and how many flights of stairs (if there's no elevator). Don't forget to offer them a beverage!
Should I Tip? Definitely tip!  
Tour Guides
 Guides in touristic cities like Rio de Janeiro are hard workers and mostly very professional, so it is customary to tip them up to 10% of the cost of the tour, especially if they provide a good service.
They usually make this request by passing a hat around the costumers, so you can contribute with how much you want/can.
For the free walking tours that exist in most of the touristic cities nowadays, around BRL 50.00 is fair. Most of them can also take the main foreign currencies, like USD and EUR. Around USD 10.00 should be enough for tipping a Free Walking Tour Guide.
Should I Tip? Yes! Most free guides need your tips to survive, so help them to continue doing their job.
Beach Vendors
If you're in Rio de Janeiro for example, you'll find several kiosks and people on the sand renting umbrellas and chairs and selling cold beverages and snacks.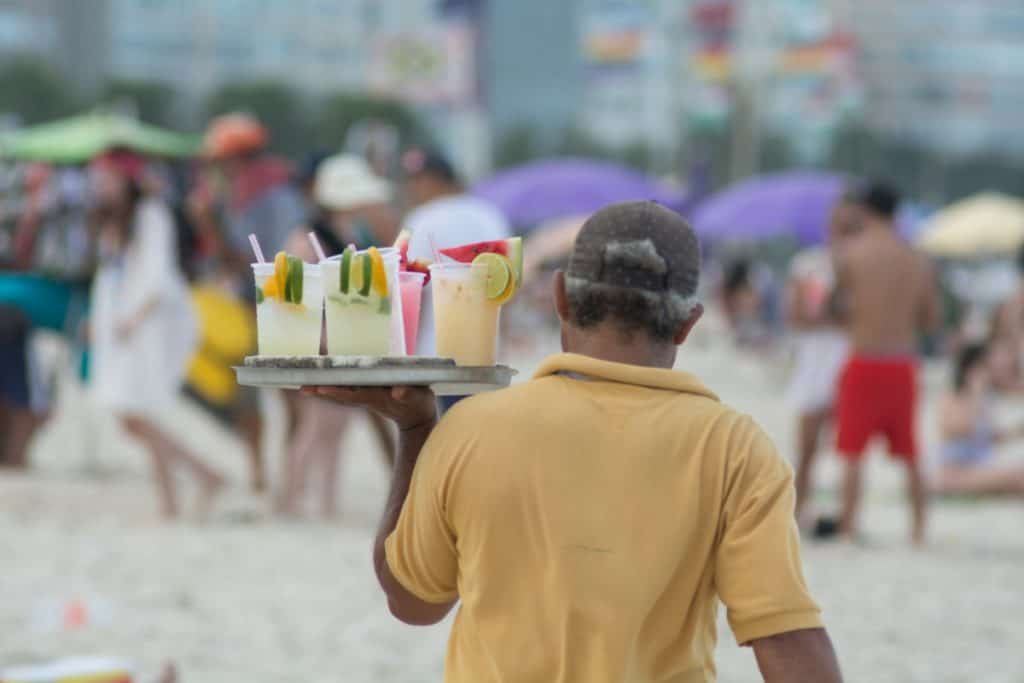 If you decide to rent with that particular kiosk, they'll always make rounds asking people if they need anything, so it's not unusual for Brazilians to compensate them with a tip, especially as they walk around in hot sand under the sun most of the day.
Should I Tip? Yes, most people tip the vendors at the beach around BRL 5,00 to BRL 10,00 after the work is done (or beforehand if you want to try and get a more VIP service), depending on the quality of the service.  For the vendors that are just passing by with their products, people usually do not tip.
In sum, Brazilians aren't big on tipping as they are very accustomed to the service fee. This means that you're never really expected to tip, but if you deny paying the service fee, chances are people won't have a pleasant reaction, unless you have a perfect motive on why you're not paying for it.
So if you're ever in the country, stick to the tips (see what I did there?)) we gave in the topics above, and you should have no issues compensating any kind of service!
These other posts might also be helpful in your trip, so make sure to check them out!
Cover image: Dreamstime | Rtdeleon04