Out of the many famous paradisiac beach destinations in Brazil you must have heard about, Capitólio is probably not one of them. Not because it's natural beauty is inferior in comparison to others (it's absolutely gorgeous), but mainly because this secret beach is not even on most locals' radar.
            Located in Minas Gerais, Capitólio has a breathtaking scenario with its emerald-colored waters and beautiful canyons, as well as waterfalls, caves, and a lot of nature-based activities, being a destination you can both relax and have a wild adventure.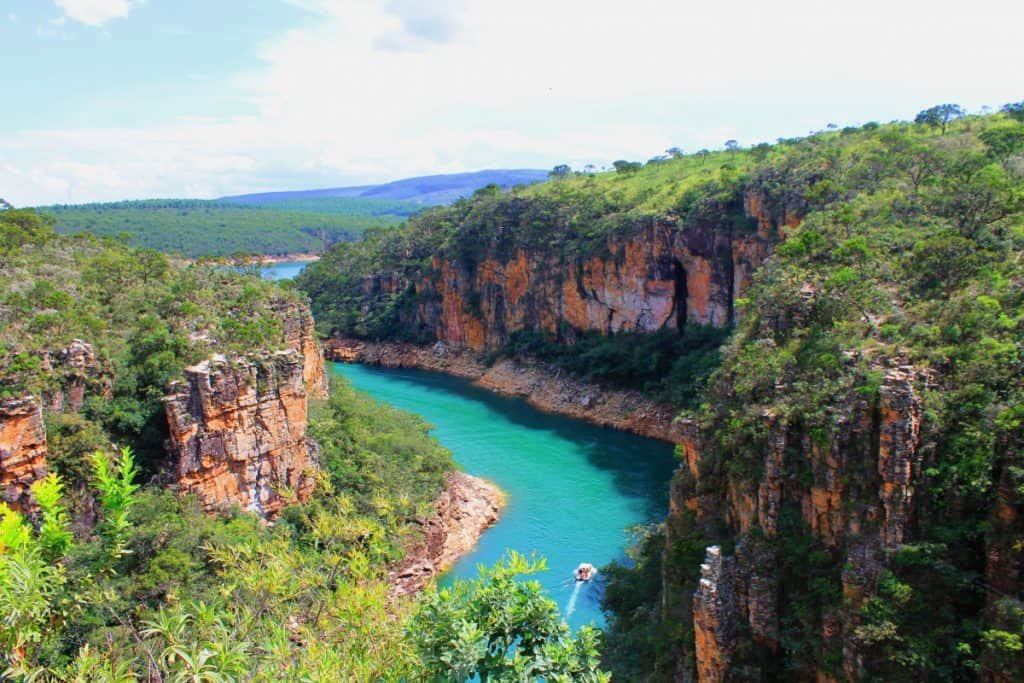 We're going to be covering everything there is to know about Capitólio on this piece, from how it came to be, how to get there, to its main attractions and even some estimates (based on the USD 1.00 = BRL 5.28 conversion rate of the day this publication was written) on costs regarding topics of interest such as accommodations, food, and leisure. Get your planners ready!
Where and What Exactly is Capitólio?
As stated earlier in the article, Capitólio is a city located in Minas Gerais, a Brazilian state. It is about 400 miles away from Rio and almost 500 miles away from São Paulo.
We've briefly discussed Belo Horizonte's many tourist attractions in this post about vacation ideas in Brazil, as it's the most famous city in Minas Gerais, and the State capital. Still, Capitólio deserves a special mention, as there are many exciting things you can do and places to visit around here.
Just as a quick history lesson, back in the 50s', in an attempt to tackle an energy crisis that was bringing down the economy on several Brazilian states, a hydroelectric plant was built on the south side of Minas Gerais.
As the watercourse was diverted in order to build the Furnas Power Station, the Lake of Furnas began to shape up, creating a beautiful scenario with canyons and waterfalls. Tourism began to increase, and the nearby city's' infrastructure followed suit.
Today, Capitólio has a population of just under 9000 people, but it has evolved over the past couple of years due to an increase of tourists looking for lesser-known locations.
Even so, it's still a small town, so there aren't any bank agencies, for example, which adds to that "away from the big city" flair.
            Capitólio is also very near Serra da Canastra, an off-the-beaten-path location we've also briefly covered here, so since they are only just under 55 miles apart from each other, you can visit both places during your trip.
A Beach Away From The Coast?
Well, as you've probably figured by now, Capitólio is not exactly a natural beach per se. It became known as this in Brazil since Minas Gerais is not a coastal state like Rio de Janeiro or São Paulo, therefore, having no beaches.
            But serving as the house for one of the biggest artificial lakes in the world, having over 555m² and bathing as much as 30 counties in the state of Minas, earned the Lake of Furnas the title of Minas' unofficial beach, as not only it serves as one to locals and tourists but it leaves nothing to be desired in comparison to other famous Brazilian beaches' beauty.
            There are many boat rides and tours you can take around the Lake of Furnas' crystal clear waters, in which you can capture the beauty of the canyons from all sides and enjoy the paradisiac landscape.
How to Get To Capitólio?
There are no airports or commercial flights to Capitólio. The closest airport is located in Belo Horizonte, about 176 miles away, so your best option is to fly to Belo Horizonte and take road transport to Capitólio. 
Car Rentals
Having a car to drive around in Capitólio is an excellent idea, as most tourist attractions (like the Lake of Furnas itself) can be 30 to 50 miles away from downtown.
There are also no buses to drive you directly to those locations, leaving you with the only option of hiring cabs or transfers, which could be expensive here.
You can schedule and rent your vehicle on rentcars.com, a portal where you can compare prices on different car dealers, check out their policies, and sign up for car insurance, which is always a good idea if you don't really know the place your heading to.
If you're planning on driving around Capitólio, I would highly suggest you get a sturdy vehicle like a 4×4, for example, as the rocky dirt roads could be hard on a regular car, and it's hard to get mechanics and car services out there.
Buses
There are special bus rides that leave Belo Horizontes' bus station directly to Capitólio, about a 4-hour drive. These buses are usually scheduled to make this trip to Capitólio 3 times a day, so make sure you get your tickets in advance.
You can check the bus company's website to check the schedule for the day you'll be arriving as well as bus fares.
What To Do In Capitólio?
Now let's get to the fun part: there are tons of things you can do in Capitólio, especially if you're a nature lover and an adventure enthusiast. But don't worry, there's also plenty of stuff to keep you relaxed if you're looking for a more laidback kind of trip.
Clic onk the spots on the map to see some pictures of the main attractions:
Lake of Furnas           
The clear star of this show, the Lake of Furnas, is the most searched location in Capitólio, and you probably know why by now. The two main attractions here are the Capitólio Canyons, with two beautiful waterfalls, namely Lagoa Azul and Cascatinha Waterfalls.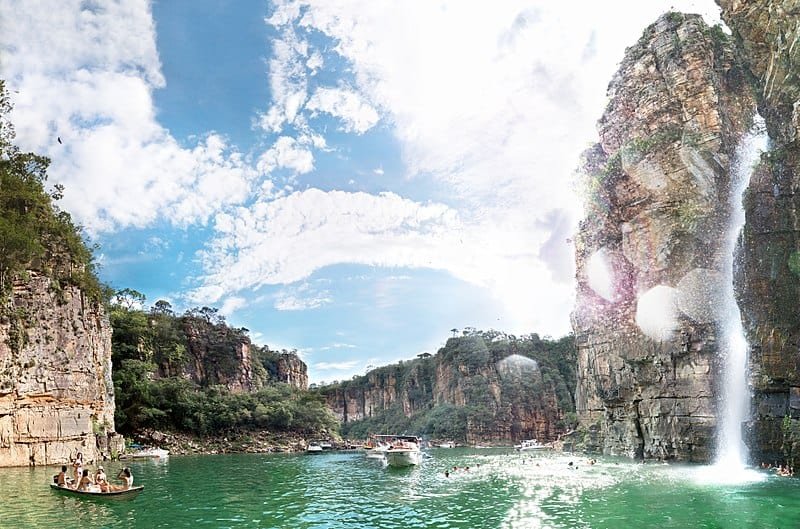 You can rent the services of 3 types of boat rides to take you sightseeing around this gigantic lake:
Chalana Boat (Ferry Boat)
            During the weekends, you can visit a few places around the Lake of Furnas in old school-like ferry boats called Chalanas in Brazil. These rides are usually slower than other boats, so the Chalana rides tour around fewer places and makes quick stops.
            This is an interesting choice for those who want to take a quick touristic tour to have a general idea of the place and then adventure on their own, or to older people who are just in for a relaxing ride.
The boat ticket costs around USD 11.00 (BRL 60.00), and children under the age of 4 are exempted from ticket fees.
            On top of that, there are also floating restaurants and bars on the Lake of Furnas, so you're able to enjoy a nice sunbathing moment and then take a boat ride to meet the other attractions around the lake.
Motorboat
            Motorboats are faster, making more visits in a shorter period of time than the ferry boats. On the downside, they are a bit more expensive (around USD 20.00 / BRL 100.00) and take fewer people on them, with most being able to carry 8 to 15 people (depending on the boat) per ride.
This is a good option if you're with a large group, so you're able to negotiate a private boat for you and your party.
            You have two principal harbors in the Lake of Furnas, each with motorboats that can go on two different routes:
Ponte do Rio Turvo Harbor
            These rides are usually 4 hours long, making stops on places such as the Cachoeirinha and Lagoa Azul Waterfalls and the Furnas Canyons. There's also a pit stop on the floating bar, so you're able to recharge and relax.
Escarpas do Lago Harbor
            The boats departing from here make the same route as the above, but visits more stops than the previous one, making for a long 7-hour boat ride. These rides are a bit more expensive (around USD 30.00 / BRL 160.00), and it's definitely made for the ones who really want to visit every bit of the lake.
Private Boats
If you really want to make sure you and your friends can have a private party just for yourselves, you can also rent a boat for yourself in advance, which is a more comfortable and private option, although obviously more expensive.
Boat rentals are around USD 350.00 / BRL 1,850.00 per day, including a certified sailor on the boat. The boats are equipped with bathrooms, barbecue grills, life jackets, and sound systems, making this a hot choice if you have some spare cash to spend.
The Canyons Observatory
            This beautiful location is the postcard of Capitólio, given its incredible view. In some portions of the canyons, you can rappel your way down, hiring one of the ecotourism companies' services.
There's a USD 5.00 / BRL 25.00 admission fee which allows you to access the different viewpoints through 2 other entrances:
Main Observatory
            This is the most disputed place for photographs as you can see a large part of the canyons and the waters cutting through them in the valley. You'll take a quick and safe path from the entrance that will lead you to the observatory.
Other paths branch out from the main one that will take you to other beautiful locations, so make sure to check them out if you got the time.
Lovers Observatory
            This location is named this way due to how the river cuts, making it look like a giant heart from a particular perspective, making this a perfect picture spot for the couples in love.
To access this place, you must enter from a different entrance than to the main observatory. If you continue following this pathway, you'll end up in a gorgeous waterfall in which you can swim around and enjoy the scenery.
Lagoa Azul Waterfalls
            This beautiful waterfall consists of two main points of interest:
Top Portion
The top portion of the waterfall charges an admission fee (around USD 8.00 / BRL 45.00). It can be accessed through the previously mentioned boat rides around the Lake of Furnas or through the Lagoa Azul Empório.
This excellent inn/restaurant will provide you with a bracelet so you can spend the day on the top portion.
It has crystal clear emerald waters, ideal for swimming, and you can even get lucky enough to find them warm, making for a really lovely relaxing time on this beautiful location.
Bottom Portion
The bottom portion of the Lagoa Azul Waterfall has a darker shade of green, and it's waters flow directly into the Lake of Furnas. It also features a bar and can be accessed through the boat rides we've mentioned before, as it is one of the main pit stops.
You can also pay the USD 8.00 / BRL 45.00 admission fee to climb to the top portion of the waterfall from the bottom, but I wouldn't really recommend doing this, as most boat rides make only 30-minute stops on each place, giving you very little time to enjoy both portions.
Trilha do Sol
            This trail will lead you into an ecological 2,5 mile light walk in the middle of nature that will lead you straight into more beautiful waterfalls and canyons. There's a USD 10.00 / BRL 50.00 entrance fee, and this trail can take you to 3 different locations:
Poço Dourado
            Translated as "the golden well" from Portuguese, this place truly lives up to its name, as the bright yellow sands under the crystal water really look like its made out of gold.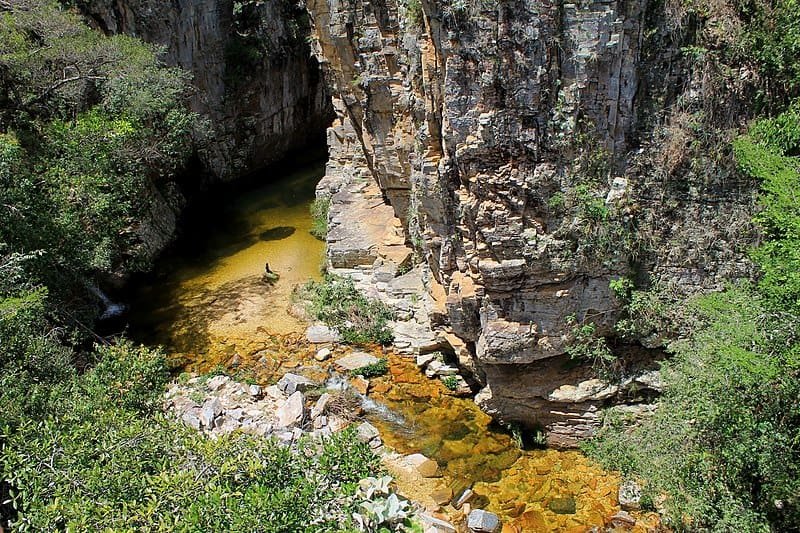 This is the only portion of the trail that will 100% require you to get wet, as, in order to cross a few patches, you'll find water up to your knees.
Grito Waterfall
            This waterfall can be accessed through a long 100 steps ladder, but boy, is it worth the effort!
Not only is the landscape absolutely breathtaking, but there's also a common belief that if you scream under the waterfall, you'll get rid of all the negative energy (which is why its name can be loosely translated to Screaming Waterfall).
Why not give it a shot (or a shout?) while you're there?
No Limite Waterfall
            The smallest waterfall amongst the three, you'll find incredible natural pools to dive and relax, as well as be able to take a good look at the local wildlife.
Other Important Information
            As we're getting to the end of our overview on Capitólio, a few things worth mentioning:
Visiting CAPITART Crafts for Gifts
            CAPITART is the association of craftsmen in Capitólio, a place you'll be able to buy many different souvenirs from your trip, from little ornaments and trinkets to copper pots and handmade jam.
            The place sometimes holds street fairs to exhibit the local art, and you can see more of what they sell on their website.
Restaurants and Side Road Shops
            With all this water around Capitólio, no wonder fish is the main dish in most restaurants around Capitolio. You'll be able to find plenty of restaurant options in downtown Capitólio, so it's just a matter of choice when you get there.
            Alongside the roads to the different locations in Capitólio, you'll also find small vendors, in which you'll be able to buy a cheese called Queijo da Canastra, a famous Minas Gerais delicacy totally worth your money. Trust me, it is REALLY GOOD!
Accommodation
            Based on the prices and fees listed on Booking.com, you can find hotel rooms in Capitólio from USD 100.00 to 120.00 (BRL 530.00 – 630.00), depending on which time of the year you decide to visit.
Busy months like December and January are usually pricier, as well as quieter periods (like the ones on the next topic) are more economical
Best Time To Visit Capitólio
            If you want to find the city mostly free of tourists, the periods from March to June and August to December are the best to visit. Also, try avoiding the holidays, as there's a notorious increase in people in town.
Make Sure you bring some Cash!
            As we've mentioned earlier in this article, there are no bank agencies around Capitólio, with you only being able to cash through a lottery house. To avoid wasting time with this, bring with you some cash just in case you should need it, as most attractions accept credit cards.
I hope this post was helpful if you're planning on getting to know this incredible place in Brazil, you surely won't regret it! And if you are keen on knowing more about off the beaten path places in Brazil, check our other posts:
Cover Image: Dreamstime | Cristian Antonio Lourenco