If you are looking to move to Brazil because of work circumstances, you must be wondering where you should start while looking for a place to live. And even if you are not being transferred to the country, it is still curious to know where most ex-pats live in Brazil once they leave their home countries.
Most ex-pats choose to live in cities like Rio de Janeiro and Fortaleza due to their proximity to the beach and natural parks. Still, there are also those who prioritize living near urban centers, choosing cities like São Paulo Brasília and Curitiba as their homes.
In this post, we are taking a look at the top 6 places ex-pats choose to live in Brazil, detailing the main reasons for their choices, the pros and cons of each city, and also give you an estimate on the cost of living in each location, just in case you really are looking to move to the country.
Note: all values stated on this post were calculated based on the exchange rate of the day this article was written (USD 1.00 = BRL 5,26), so you may find some discrepancies in your research in regards to that depending on the fluctuation.
1. Rio de Janeiro (RJ)
Best Places To Live: Leblon, Ipanema, Gávea, Botafogo, Urca
Average Cost of Living: USD 330.00
Pros: many paradisiac locations, good weather most of the year, friendly locals
Cons: the city can be violent due to the local illegal drug trade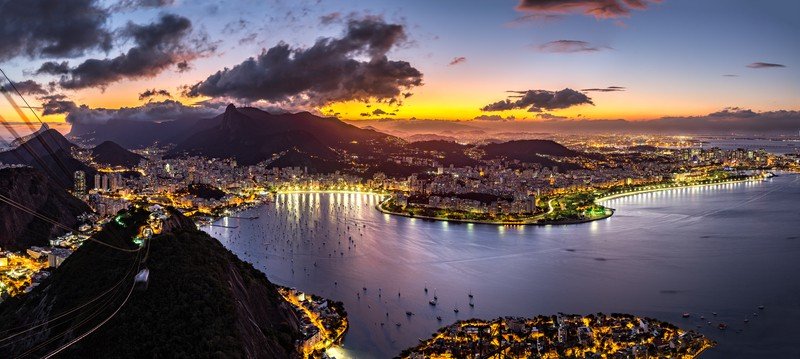 From a resident's point of view, there is no escaping the fact that Rio de Janeiro can sometimes be bad and dangerous to know. Petty crime, robberies, and drug traffic violence are unfortunate daily situations in the city, but behind the negative news headlines lies a place of enormous beauty and charm, which have become the home of many ex-pats living in the country.
Speaking on the safety issue, we have a full video on how to be safe in the city of Rio de Janeiro, so take a look!
Aside from the obvious issues, if you are looking for a more nature-oriented lifestyle, in which you will be able to take a swim in the ocean every day after work, then maybe Rio de Janeiro is the place for you. The city has tons of spots in which you will be able to unwind, forget about your issues, and get more in touch with nature, which allows for a better quality of life.
Rio de Janeiro is also home to a large ex-pat community, which means you will most likely meet people from all over the world. And at the end of the day, who wouldn't want to settle in one of the most beautiful cities in the world for a while?
The city also attracts ex-pats due to the variety of things you can do day and night, so if you want to check a little bit of what Rio's nightlife looks like, take a look at this video!
2. São Paulo (SP)
Best Places To Live: Alto de Pinheiros, Consolação, Santo Amaro, Butantã, Perdizes
Average Cost of Living: USD 340.00
Pros: it is the biggest metropolis in Brazil, so you will find anything you want, an excellent public transportation system
Cons: hectic work life, not enough green places around the city, high cost of living
Now, if you are more of an urban-centered person and Rio de Janeiro is too quiet for you, then São Paulo might be right up your alley. However, the city is generally very crowded and a bit hectic, which is an obvious outcome of the fact that it is the biggest metropolis in Brazil.
Still, São Paulo is a fantastic place to live and has the biggest ex-pat community in Brazil, who accommodate in the city mainly because of the excellent life quality, overall safety, and comprehensive job market. But, of course, all of that comes with a price, as the cost of living in São Paulo is fairly more expensive than in other parts of the country.
You probably won't ever get bored in São Paulo as well, as it is so ethnically and culturally diverse, it will probably take you a little while to do all the activities the city allows you to do. Luckily for you, we went ahead and listed 7 of them in this post so you can start planning your schedule!
3. Fortaleza (CE)
Best Places To Live: Aldeota, Meireles, Cocó, Bairro de Fátima, Dionísio Torres
Average Cost of Living: USD 336.00
Pros: accessible cost of living, great weather most of the year, friendly locals
Cons: can be a bit violent in some isolated places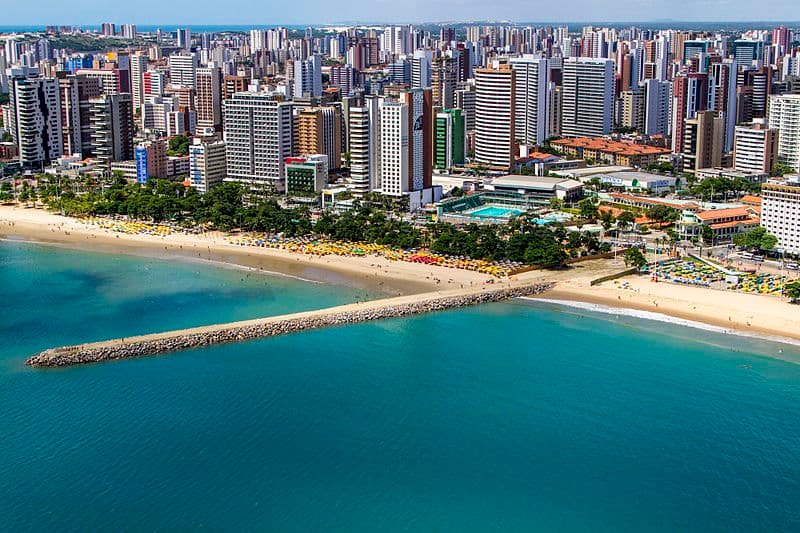 If you wish you could merge the chill vibes of Rio de Janeiro with the job market and economic growth of São Paulo, then you would probably get something very similar to Fortaleza. While the city is the leader of the northeastern economy of Brazil, it also houses some amazing paradisiac locations, making it the best of both worlds.
That growing economy is one of the main reasons why ex-pats come to live in the country, and you will be able to find that there's a large ex-pat community here as well. But when the work is done, Fortaleza has plenty of locations so you can unwind and enjoy life too.
From the natural parks with abundant flora and fauna species to the locally famous waterpark and resort Beach Park, there are a lot of places to keep you busy in Fortaleza, making it #3 at our Top 6 places ex-pats choose to live in Brazil.
4. Brasília (DF)
Best Places To Live: Asa Sul, Asa Norte, Lago Sul, Lago Norte, Águas Claras
Average Cost of Living: USD 553.00
Pros: lots of green areas around the city, good overall salaries, safe to live
Cons: few leisure options, high cost of living (depending on the place), bad public transportation system
Brasilia is the federal capital of Brazil (not Rio de Janeiro as some people still think), and for that reason, the job market in the region is pretty inviting, mainly because of the higher salary rates. Of course, this is already a very good reason why ex-pats choose the city as their home, but there is more to Brasília than just work.
Brasília is also a cultural place to live (and visit), becoming a UNESCO World Heritage site in 1987. In addition, the city houses many important museums (such as the Federal Reserve Museum and the Museum of Brasília), as well as a few significant historical sites, like the National Theatre and the JK Bridge and Memorial.
Other than that, the overall climate in Brasília is pretty mild, but due to the dryness of the air, you could get occasional nose bleeds if you are not used to this type of weather. I occasionally get this when I go to Brasília, as the weather in Rio is very humid.
Also, the city's public transportation system is pretty inefficient, which leads to a higher number of vehicles around, making traffic pretty chaotic at times.
5. Curitiba (SC)
Best Places To Live: Água Verde, Batel, Cristo Rei, Santa Felicidade, Bigorrilho
Average Cost of Living: USD 200.00
Pros: great infrastructure, lots of green areas, good economic growth, many cultural attractions
Cons: weather is cold most of the year, traffic can be chaotic, people are not as friendly as in other places in the country
Last but not least, Curitiba is the final city on our list of the top places ex-pats choose to live in Brazil. Located in the South region of Brazil, ex-pats like living in Curitiba mainly because of the colder weather (it even snows in a few locations!), something that we discussed more thoroughly in this post.
This makes for a pretty smoother adjustment if you are not used to living in hotter places such as most of the cities aforementioned. Other than that, Curitiba is also the 5th largest economy in the country, which translates to more job offers and more opportunities to grow and have a better quality of life.
Curitiba also stands out for the number of green areas it houses. The city has over 30 parks and urban forests, which contribute to the well-being of residents. Among the advantages of living close to green areas are air purification and microclimate balance. The feeling of being closer to nature also results in physical and emotional benefits – which leads a large number of people to enjoy these locations.
And by the way, we dedicated a full post on Curitiba being the best city to live in Brazil, so make sure to take a look and find out why that is!
So, what did you think about our selection of the top 6 cities where ex-pats live in Brazil? Of course, there are many other wonderful cities to live in around the country, whether you want to live near the beach, on the mountainside, in a warmer or colder spot!
While you are here, I think we might interest you with these:
11 Great Reasons To Move to Brazil – Can't think of a single reason why you should move to Brazil? Well, we got 11 of them for you! So click here and find out why you need to book your flight and arrange your moving to Brazil ASAP!
Can I Open An Account Before Even Getting To Brazil? – If you are considering moving to Brazil, then getting your financial life in order is crucial during the process. Click here and find out if you can open an account and control your finances before you even set foot in the country!
Moving To Brazil With My Pet: How To Take Them – just because you are moving doesn't mean you need to leave your best friend behind! We got all the info you need to know right here, so don't waste time catching up!
Cover Photo: Brazilian flag waving in the wind – Credit: Max Pixel