When you think about traveling to a cold destination to enjoy the snow, Brazil may not even cross your mind as a possibility. But is it possible that there's a place in this beach paradise that you can enjoy the cold or even experience some frost?
Yes, there is snow in Brazil, surprisingly. The south region of Brazil is known for its cooler weather throughout most of the year, with locations like Gramado and São José dos Ausentes having experienced snowfall during wintertime in the past.
In the following topics, we will check which destinations you can choose while in Brazil if you're looking for some fun in the snow, how often it snows in each of them, and the best time to go and witness Brazilian snowflakes!
Put on your wintercoat, we're going to Brazil!
Snow In Brazil Throughout the Years
Snow (or neve as we say it in Brazilian Portuguese) has always been a natural phenomenon that couldn't be more unrelated to a tropical country like Brazil. However, historically speaking, snowflakes have previously made an appearance in several locations in Brazil.
Although really rare, it is possible to see snow in places like São Paulo, Minas Gerais, Paraná, Brasília, and even Rio de Janeiro (!). But in addition to happening once in a blue moon, the snow in these locations is also pretty mild and smooth compared to other regions in the country.
The event also only happens in specific spots in those locations (especially in the mountain areas), so don't expect to be doing snow angels on the beaches in Rio de Janeiro anytime soon!
Where Does It Snow In Brazil?
As we mentioned earlier, the southern region of the Brazilian territory is the most common place to snow in the country, mainly in the states of Rio Grande do Sul and Santa Catarina, where most of Brazil's coldest places are located.
We're listing the top places you'll most likely find snow while in Brazil, as well as give you a few pointers on which snow-related activities you'll be able to enjoy in each one of them:
Gramado – Rio Grande do Sul (RS)
Gramado is a famous destination in Brazil for the ones who enjoy cooler weather. The city's architecture is a highlight, in which the European colonial-style combines with pine trees and flowery fields to create a really charming atmosphere.
The city's infrastructure is also pretty awesome; you'll find loads of good restaurants and cafés to recharge and feast on delicious local delicacies. Locals know the city as the "Brazilian Switzerland," which basically means: don't leave without eating the local artisanal chocolate!
Although it may not snow every year in Gramado, the city is always ready to receive tourists looking for snow, as it has its own winter wonderland theme park, called Snowland, one of the few places you can ski in Brazil.
When Does Is It Usually Snow?
June and July are most likely, but August and September have also previously had snow before.
What To Do If It Snows?
go skiing in Gramado's Snowland
eating the local cuisine, especially the fondue
getting a hot chocolate at Chocolate Prawer (famous local chocolate parlor)
São José dos Ausentes – Rio Grande do Sul (RS)
Being the coldest city in Rio Grande do Sul, São José dos Ausentes is a small town ideal for a trip away from the crowd. The city itself has very few attractions, leaving all the attention to the natural beauties surrounding it, like canyons, waterfalls, and rivers.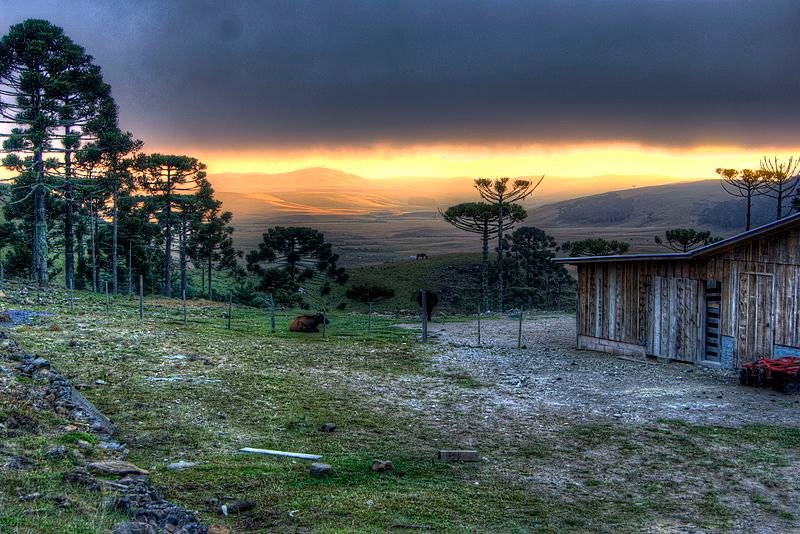 During wintertime (June to August), you can spot frost, especially in the early hours of the day. Although snowing is not a rule, São José dos Ausentes does experience small snow precipitation at least once a year.
In 2013, the city reached an all-time high in terms of a blizzard, with over 11 inches of snow registered that year. That doesn't happen much often, so if you're looking to brush up on your skiing skills, São José dos Ausentes might not be the place!
When Does It Usually Snow?
More likely between July and August

What To Do If It Snows?

Visit at least one of the 8 canyons
Go horseback riding at Fazenda Morro da Cruzinha
Visit the waterfalls, like Cachoeirão dos Rodrigues and Cachoeira do Dez
Cambará do Sul – Rio Grande do Sul (RS)
Cambará do Sul is a small town located on top of a canyon, over 4k feet above the ocean level. The city sports one of the coldest winters in the Brazilian territory, mainly because it gets hit by many polar currents due to its location.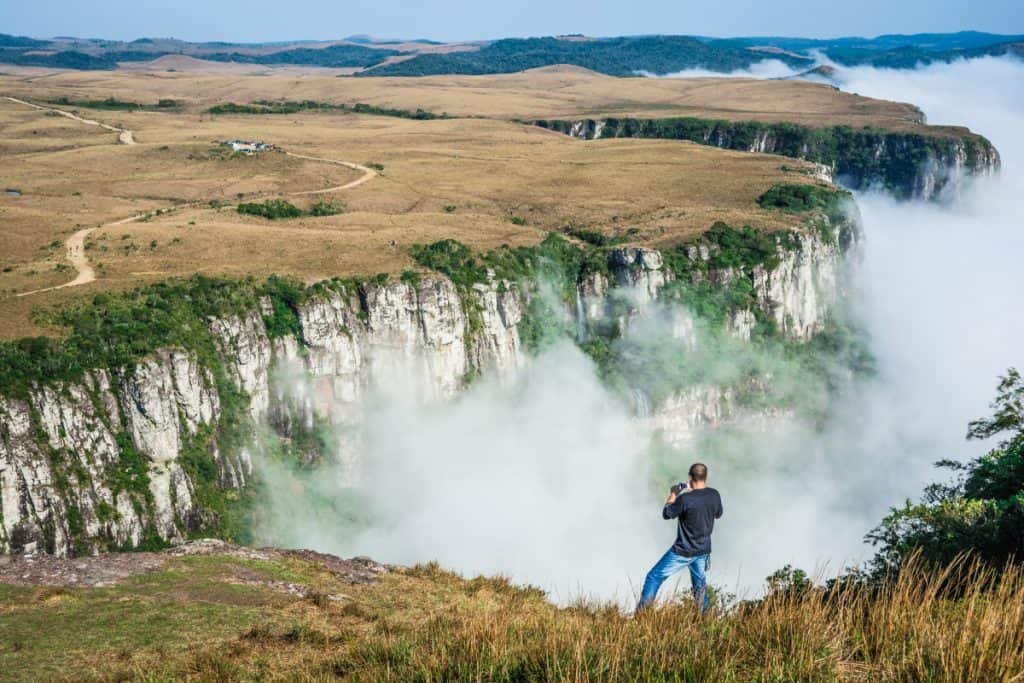 You'll instantly get the small-town feel when you get to Cambará do Sul, with a lot of places having firewood stoves to cook some delicious home-cooked meals (what's better during the cold, right?) and stay heated during the cold.
The city is located just under 125 miles (2 hours) away from Gramado, so you could potentially visit Cambará do Sul while staying in Gramado, as the latter has a much bigger structure for tourists.
When Does It Usually Snow?
July and August
What To Do If It Snows?
visit some of the canyons and waterfalls
go to Du Perau Pub Bar, the local place to get some drinks
enjoy a fireplace during the dusk
São Joaquim – Santa Catarina (SC)
Located on an even higher canyon than Camará do Sul, São Joaquim is another Rio Grande do Sul county that also has its snowy days during the wintertime in Brazil.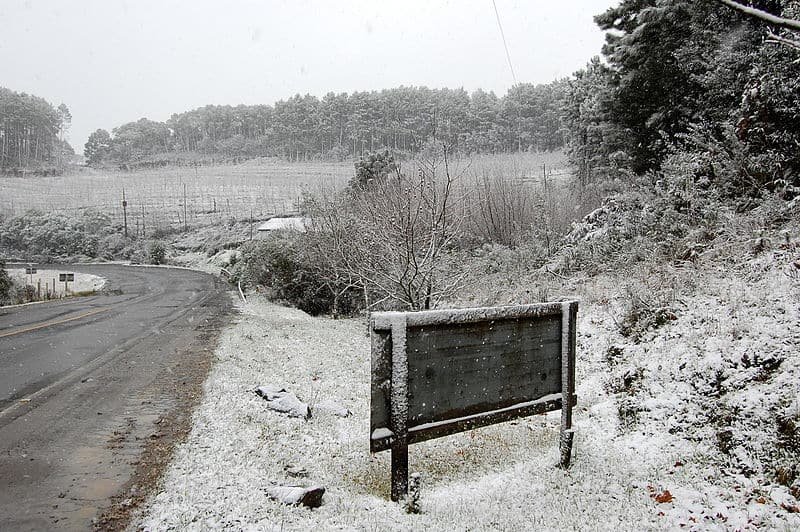 São Joaquim is a place with nice infrastructure to receive visitors. It has great sights to visit, like the Matriz Church, the Apple Park, and several art museums, not to mention the natural beauties like waterfalls and canyons.
When Does It Usually Snow?
July
What To Do If It Snows?
visit Exponeve, the local craft exposition fair
visit the local wineries and vineyards
eat at the Snow Valley Restaurant
Urupema – Santa Catarina (SC)
Urupema is officially the coldest city in Brazil, the kind that will freeze your clothes if you let them out in the clothesline for too long. Although small (only 2.5k citizens), the city is ready to give a warm welcome to tourists, with nice inns and restaurants.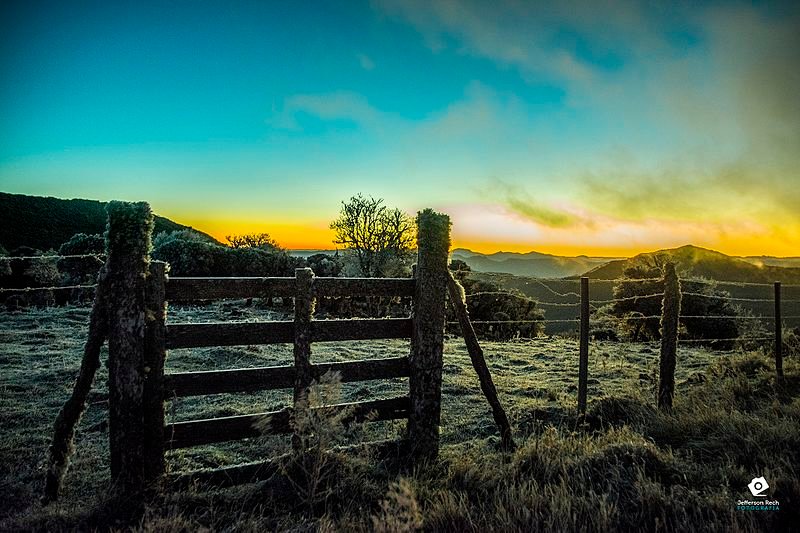 During the wintertime, the main attraction is definitely the Frozen Waterfall (Cachoeira que Congela), located by Morro das Torres. On the coldest days of the year, a thick layer of ice dominates the lake, sometimes leaving it completely frozen for days.
When Does It Usually Snow?
July and August
What To Do If It Snows?
visit the Frozen Waterfalls
visit the Morro das Antenas
Urubici – Santa Catarina (SC)
Also on the top spots of the coldest weather in Brazil, Urubici is another place you can visit while looking for snow in Brazilian territory, having registered one of the lowest temperatures of the country in recent years (-17,6 Celcius in 1996).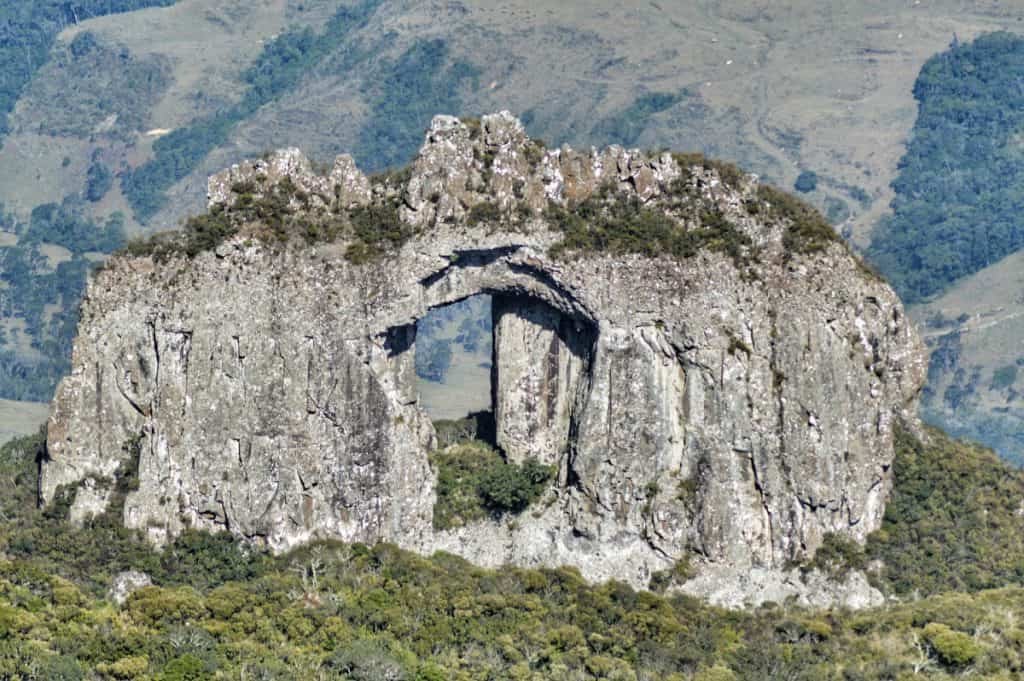 Urubaci, like the previous locations we went through, features several natural beauties to visit like big mountains and cataracts, being a great location if you're into outdoor activities.
When Does It Usually Snow?
July and August
What To Do If It Snows?
visit the Urubaci Observatory
visit the Dream Valley
visit the Urubaci Mountain Ranch
So those were our top locations to go if you want to see snow in Brazil! Though it may be difficult to go skiing in most of the Brazilian territory, it is possible to have a good time while enjoying the winter in the country!
Oh, and if you are interested to know about what really happened in regards to the polar cold air mass that hit Brazil in July 2021, check out this article we made discussing what was fake and what was true about the subject!
While we're here, I think these may be of your interest:
12 Brazil honeymoon ideas: one for each month! – getting married and planning on the perfect honeymoon spot? We got your back!
10 Historical Places In Brazil You Need To Visit – tired of the beaches in Brazil? How about some local culture and history?
9 Off-The-Beaten-Path Places To Visit In Brazil – if you're tired of being suggested the same vacay spots in Brazil, we've got something just for you!
Related Questions
Is it going to snow in Brazil in 2021?
Temperatures will be cooler in Brazil in 2021 than they were in 2020, mainly because of the La Niña phenomenon. Still, there is still no official forecast if it's going to snow in the country during winter just yet.
Cover image credit: WikiCommons | Teles