When you think about Brazil, we almost always immediately think about the amazing beaches, Carnaval and Bossa Nova. But while these are indeed amazing legacies, the country has a lot more to offer, especially if you are considering Brazil your soon-to-be home.
Brazil is a very nice place to live. It has excellent food (with a great diversity of fruits and vegetables), various types of amazing landscapes (most of which involve nature), and of course, Brazilian people are the friendliest and warmest people you'll ever meet.
In this post, we're gonna list 11 great reasons why you should move to Brazil, giving you an inside perspective through the eyes of a Brazilian resident. We will go over life quality, weather, local costumes, and even food, all so that by the end of this post, you will want to start packing your bags to Brazil!
1. The Food
Coxinha, brigadeiro, feijoada, pão de queijo, acarajé, catupiry. I could literally spend the whole day listing the amount of delicious typical dishes we have in every corner of the five regions of Brazil. Our traditional cuisine, which surely makes every gringo (how Brazilian refer to tourists from outside the country) fall in love with the country, is a source of pride for Brazilians.
Here's a little taste of what awaits you in Brazilian territory:
Coxinha – deep fried dough stuffed with seasoned shredded chicken (sometimes with catupiry cheese)
Brigadeiro – very traditional Brazilian sweet made out of condensed milk, cocoa puff and chocolate sprinkles
Açaí – traditional Brazilian fruit usually consumed as a smoothie
Empadão – typical savory pie with various fillings, much appreciated and popular all over the country
Brazilian Barbecue – we made a special and exclusive guide on Brazilian steakhouses, take a look here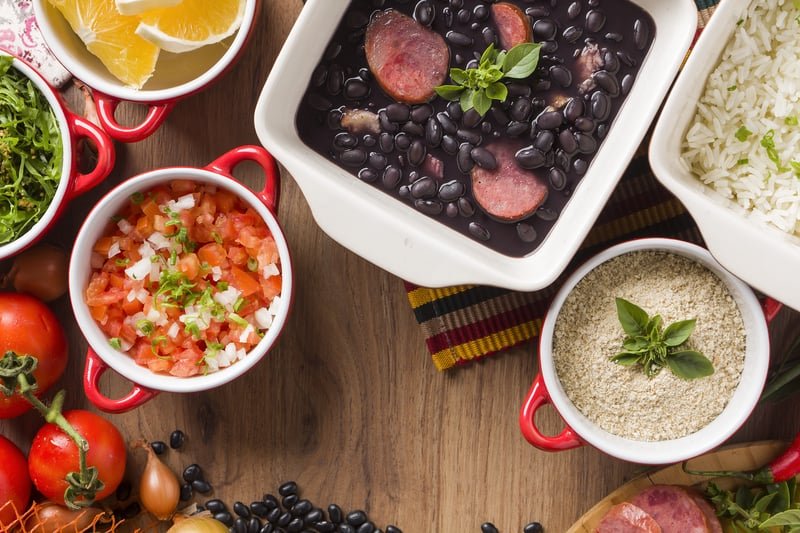 2. The Country's Size and All Its Possibilities
Brazil is a country so big and with so much cultural diversity that a trip from Oiapoque (located in the state of Amapá – North of Brazil) to Chuí (located in Rio Grande do Sul – South of the country) is the equivalent to a full Eurotrip.
It takes 7 and a half days to travel the 5,598 km in a straight line that separates the two extremes of the country. So it's safe to say you probably won't run out of new things to do around the country anytime soon, right?
3. The Weather Diversity
Being so big, rest assured that the overall weather and climate in the different regions of Brazil are also very diverse. The country indeed owns some of the most beautiful beaches in the world, but a tropical country does not only live in Summertime, right?
If you like cold weather, you can also face the snow in São Joaquim, in the Santa Catarina mountains, for example. The South of the country is pretty well-known for having the coldest temperatures in Brazil, as you can even go skiing in a few places (don't forget to check this post we made on the subject!).
4. The Art Festivals
Brazil is famous for hosting some of the biggest arts and music festivals in the world. The Joinville Dance Festival, Rock in Rio, Mecca, and Psicodália are just a few examples. And there is also no lack of international events such as Lollapalooza or Tomorrowland.
Those looking for good music, dance, theater, and movie arts will not be disappointed if you are looking to move to the country! Here are some of the main festivals in Brazil:
Rock In Rio
MECA LOVE
Tomorrowland
Universo Paralello
Planeta Atlântida
Psicodália
Planeta Brasil
PicniK
CoMa (Convenção de Música e Arte) 
5. The Variety of Fruits and Produce
Brazilians are legitimately very privileged to have such a huge availability of different fruits, always fresh and found at affordable prices. This may seem silly to some, but being able to enjoy natural and freshly pressed juice (something that is very common here) is actually considered a luxury in countries in Europe and North America.
The great variety and availability of fruits and produce also allows for a healthier lifestyle, which is surely something that attracts many people into moving to Brazil. Here are some of the delicious fruits you will only find in the country:
açaí
guaraná
cupuaçú
goiaba (guava)
graviola (soursop)
camu-camu
jatobá 
caju (cashew)
castanha do pará (cashew nut)
jabuticaba
carambola (star fruit)
6. The Overall Brazilian Lifestyle
Unless you are in a big metropolis like São Paulo, where the people are much more work-oriented and live a more hectic lifestyle, in most of Brazil, people tend to adopt a pretty chill lifestyle, which can be easily perceived especially in coastal cities such as Bahia and Florianópolis for example.
So for those looking for a nice place to live a quieter and relaxed life, Brazil should definitely be on your list of options.
7. The Nature
If you are a nature enthusiast and loves to do activities on the outside, then Brazil might be right up your alley. Being so big, the country is able to house the most diverse natural landscapes, with waterfalls, stone walls, huge green areas, and of course, its many paradisiac beaches. And sometimes, you won't even need to leave your neighborhood to get to those depending on where you are located.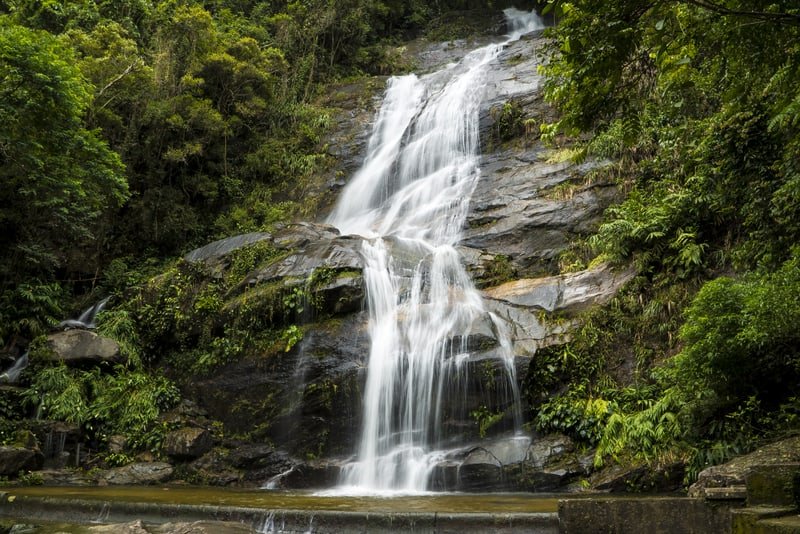 Even in well-known and developed cities such as Rio de Janeiro, you still get to have a taste of nature on multiple occasions, like having whole streets filled with trees and watching the local fauna develop on top of it (I see little chipmunks on a daily basis in the trees underneath my building!)
8. The Music
I mean, we definitely couldn't leave out the music from this list, right? While the Bossa Nova and Samba sure have helped to catapult Brazil to international fame, the country has many other great music styles and rhythms that will make you fall in love with the culture.
All five regions in Brazil have very distinct and traditional music styles. The North, for example, is famous for its Frevo music and dance, as the South has the Xote as its main rhythm. Other musical styles include the Pagode (which is a derivation of Samba), Forró, and of course, the famous Carioca Funk made internationally famous by Brazilian pop singer Anitta (check out this post we made if you don't know who she is).
Here are some famous Brazilian genres you should know:
pagode
sertanejo
funk carioca
brega funk
axé
baião
choro
forró
lambada
MPB
frevo
9. The People
Perhaps the main thing on this list, the Brazilian people is definitely one of the reasons why the country is so great to live in. Brazilian people are mostly very warm and affectionate, with a clear desire to help and to be nice to people they don't know or who need some kind of help.
For instance, if you ask for directions, people sometimes will go out of their way to make sure you will get to where you are supposed to get, and that's something that you won't easily find in other places in the world. In addition, the Brazilian people are generally very welcoming, so I guarantee you will be feeling at home in no time.
10. Women Are Being More and More Empowered
Even though the macho man syndrome exists basically everywhere and in every culture in the world, women are progressively more and more recognized as powerful in Brazil. The growing number of women occupying important positions in basically every sector is proof of that, something that got even stronger after former president Dilma Rousseff was elected in 2011.
In 2021, the country achieved its 5th consecutive year in which women are occupying a growing and important big slice of the job market. But, unfortunately, they are still to be paid the same as men for executing the same job, as this survey concluded that women make from 22 to 38% less than men in the same job positions.
At the end of the day, we still have a long way to go, but if you are a woman thinking about moving to Brazil, know that the country is in constant evolution to achieve gender equality.
11. The Religious Diversity
Brazil is a country that has a very rich religious diversity. However, due to cultural miscegenation and as the result of various immigration processes, Brazil houses a lot of different religions in its territory, such as Christian, Islamic, Afro-Brazilian, Judaic, and other beliefs.
In everyday life, there is mostly tolerance for people of different religions and beliefs, etc. While there is still a lot of room for improvement, I have never heard anyone call a person a "terrorist" just because their family was from India or a country with a Muslim majority, for example.
According to a survey led by IBGE, here are the main religions in Brazil:
Catholicism – 22,2%
Traditional Evangelicals, Pentecostals, and Neo-Pentecostals – 8%
Atheists, Agnostics, or Deists – 2%
Afro Religions (Candomblé, Tambor de Mina, Umbanda) – 1,6%
Spiritists – 0,7%
Jehovah's Witnesses – 0,3%
So, those were our 11 reasons why you should move to Brazil! Although still having a lot of issues and a long way until it becomes an ideal location to live, Brazil still is a great place if you are looking for a change of air. There are a lot of excellent cities to accommodate yourself, so it is just a matter of finding out which one fits your profile the most!
While you are here, I think we might interest you with these:
Capybara: All You Need to Know About the Chillest Animal on Earth – Have you met the Brazilian Capybara, AKA the nicest and chillest animal on the whole planet? Well, even if you are not a pet person, I doubt you will be able to resist this little guy's cuteness!


Brazilian Art: Native, Colonial, Modern, and More – They say if you truly want to get to know a place, you take a look at its art history. Brazil has a long and impressive history in the arts, so why don't you chick here to check out the main movements and pieces?
Beyond Samba: 7 Brazilian Dances You Must Know – I'm pretty sure you know about Samba, but have you ever heard of the Brazilian Forró? Well, it's time to move your dining table to the side, cuz we are about to teach you some new steps!
Cover Photo: local architecture at Recife, capital of Pernambuco (North East of Brazil) – Credit: ID 130862621 © Marcos Souza | Dreamstime.com