Aside from the paradisiac beaches, lively people, and contagious samba music, there is one thing that makes many tourists fall in love with Brazil: the traditional Brazilian culinary, the steakhouses in particular.
Brazilian steakhouses are popular for a few reasons: it is an all-you-can-eat restaurant, it has a wide variety of Brazilian dishes and several cuts of meat that allows you to have the traditional Brazilian barbecue experience.
In this article, we're going over everything Brazilian steakhouse-related, giving you the full rundown on everything you really need to know about, like restaurant etiquette, how the steakhouses work as well as give you some locals tips on how to enjoy yourself the most with this experience!
Since it's been a while since I've been to a steakhouse (maybe over 3 years, I believe), I've had a friend join me in a place in Rio called Assador, so we could experience what the service is like these days.
Keep an eye out for our pro tips on how to best take advantage of your Brazilian steakhouse experience that we have spread throughout this article. These are common knowledge among Brazilians but might go unnoticed for most people not used to these restaurants.
We wanted to give you an extensive resource on Brazilian Steakhouses (or Churrascaria in Portuguese), so check below the content table if you are looking for some specific information. This is what we will be covering:
What Is the Origin of a Brazilian Steakhouse And Barbecue?
Brazilians are big on meat no matter where you are in the country. A good portion of us grew up on family and friends barbecues; it's very traditional to invite your relatives and close ones for a little social gathering while grilling some meat (or "queimar uma carne," as we like to say).
When I was a kid, my mom and dad would literally invite almost everyone in the family every Sunday and barbecue from noon till I dozed off on the couch and had to be later removed to my bed.
And as I grew older, I've discovered that barbecues as social gatherings were not just a thing in Rio de Janeiro, as most people I met from other parts of Brazil were also big on this kind of event.
But although barbecues are a very cultural aspect of the Brazilian people as a whole, it was the gaúchos (Brazilian citizens born in the state of Rio Grande do Sul) who have perfected the culinary art of Brazilian barbecue.
They were also the ones responsible for the first steakhouses in Brazil, inspired by the fireside roasts they traditionally have in the southern portion of the country.
But What Exactly Is A Brazilian Steakhouse and How Does it Work?
Brazilian Steakhouses are usually huge all-you-can-eat restaurants, where you pay a fixed price for the buffet, and the waiters approach each table with a skewer and a knife, offering meat cuts to the customers.
The meat chops served can vary from beef to lamb, chicken, pork, duck, sausages of various types, and sometimes even fish. They also serve traditional Brazilian barbecue side dishes like garlic bread, farofa (fried cassava flour, often with bacon or sausage pieces), and queijo coalho (traditional Brazilian cheese similar to Halloumi), which are highly requested.
Aside from the meat cuts, traditional Brazilian steakhouses also have a salad bar (or a market table like some locals like to call it) where salads and fruits are served, along with starters and cold dishes like smoked salmon, candied bacon, and various cheese types.
These tables are usually packed with tasty stuff, from different salad mixes with various sauces to vegetables galore. The salad bar can either be a nice way of whetting your appetite or giving you some nice side dish options to complement your main course.
Pro tip: avoid eating a lot of these dishes as they will fill you up quickly, and you won't have a lot of space for the start of the show anymore!
So, just by painting this picture, I'm betting you can already see how Brazilian steakhouses are different from the regular ones. It becomes clear why the Brazilian restaurant system became so popular worldwide for meat-eaters, as it basically aims to be a full-throttle crowd-pleaser.
While most traditional non-Brazilian steakhouses have an a la carte serving system and mostly rely on steaks as the main dishes, Brazilian restaurants of the same sort greatly expand the concept in terms of food variety and all-you-can-eat service system.
Brazilian Steakhouse Etiquette: a Tour
So, if you've never been to a traditional Brazilian steakhouse before, some advice and training are in order. As you probably noticed, steakhouses in Brazil work a little bit differently, so we're gonna give you a full tour of every major feature.
Pro tip: Weekdays and evenings are a little less crowded than lunchtime on weekends. However, if you decide to walk in over high peak hours, expect waiting times of up to 2 hours. This is especially true on festive days such as Valentines (12th June in Brazil) and Mother's (1st Sunday of May), and Father's (1st Sunday of August) days.
The Table Set Up
Brazilian steakhouse table sets usually display aside from your serving plate and regular cutlery, a smaller plate for salads, a set of tongs (referred to as "pegador" in Brazil), and a small token colored green on one side and red on the other.
The set of tongs are used to help the meat waiter serve you, otherwise, it might just fall on your plate and splash meat juices all over you. Waiters go around the room from table to table, offering different meat cuts by announcing the name of the meat they are currently serving.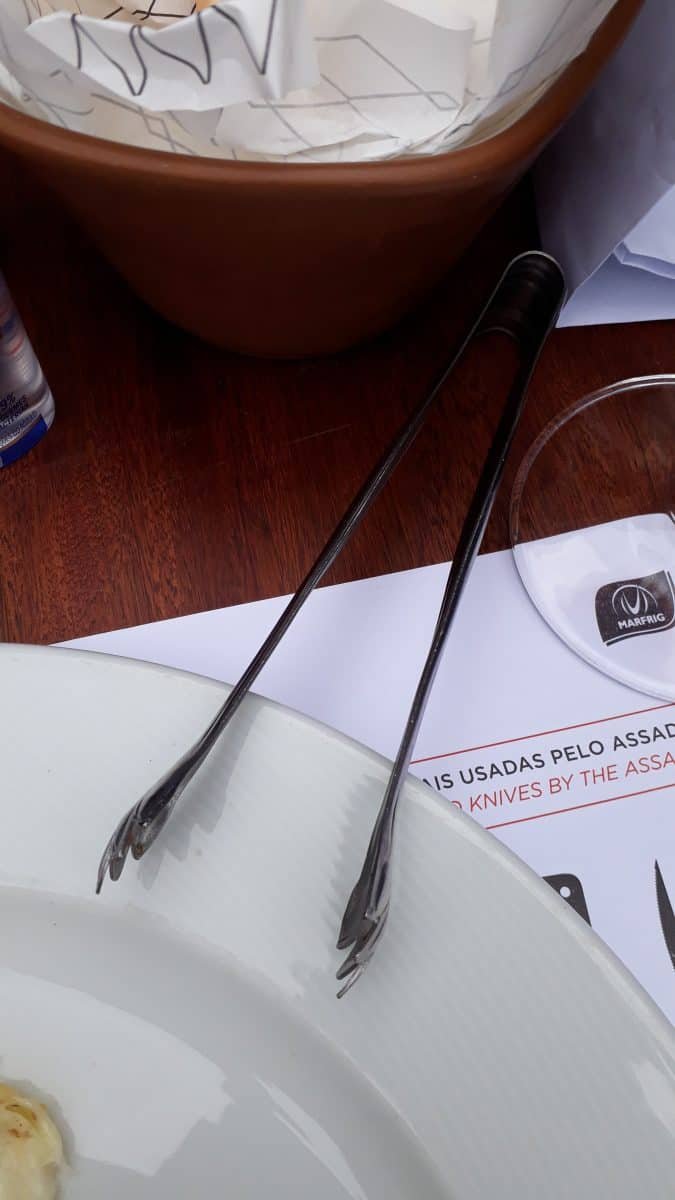 If you're interested, they'll slice pieces off the skewer on the spot, and you'll pick the grilled meat slices with the tongs just before the waiter finish cutting it (they will make a bit of a dramatic pause just before finishing the cut to wait for you to pinch it), and place them on your serving plate.
Since the waiter has both hands busy with the skewer and the carving knife, it would be hard to serve the customer without making a mess, so the set of tongs really came in handy to provide a better service.
As for the token placed in each table, it is a common device used in Brazilian all-you-can-eat buffets, whether we're talking barbecue, pizza, or any other kind.
If you leave the token with the green side up (which may also have a word like "Sim" (yes in Portuguese) written on it, this will indicate to the waiters passing around that you are interested in being offered more meat cuts.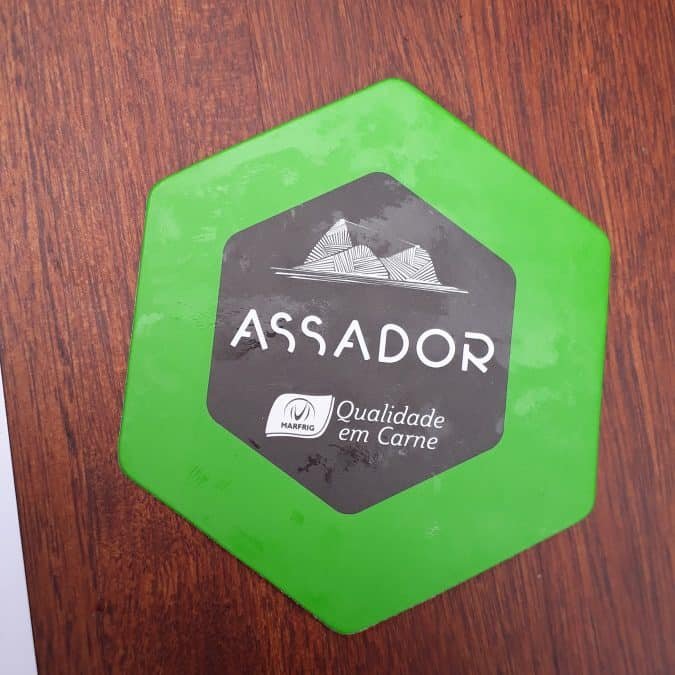 If you leave it turned on red (which can also have the word "Não" written across), waiters will understand that you are finished and won't bother you offering food.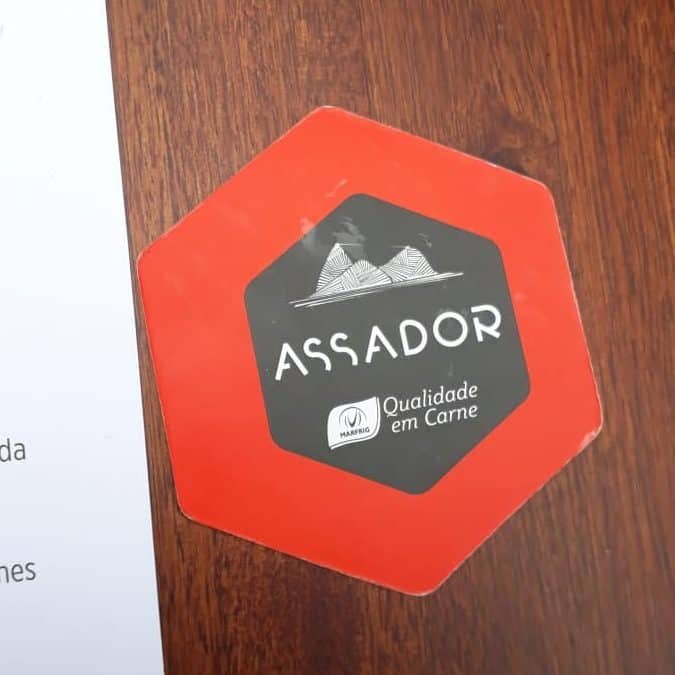 Pro tip: Alternate between red and green when you need a little bit of a breather or just to control the amount of meat you have on your plate so it doesn't get cold!
The Buffet
Most traditional Brazilian steakhouses feature a salad bar, which is usually loaded with goodies. You'll find lots of delicious salads with varied dressings, vegetables, dairy, and cold meats like carpaccio and smoked cuts.
Some steakhouses also put in traditional local finger food options in the mix, like pão de queijo (which roughly translates to cheese bread), coxinha (a deep-fried snack made out of chicken and spices), and bolinho de bacalhau (deep-fried cod cakes).
And there are even steakhouses that go HAM on the buffet and offer feijoada as part of the service! If you've never tried feijoada before, I definitely encourage you to try it, as it is one of the most traditional Brazilian dishes ever.
Having that said, you may want to try it as some sort of starter, in small quantities, as it can leave you too stuffed to face all the barbecued meat cuts about to come.
You can go back to the buffet as many times as you like, so it's a good idea to go little by little and have small taste tests on the things you may not have tried before (we'll see more on this in our next major topic).
Pro tip: Go around the buffet once without getting anything to check first what you will want to try. Be strategic in quantities and selection. Even though the food is usually very high quality, you are there for the meat, so try not to stuff your face with entrees.
It's also important to note that soft beverages in general and alcoholic drinks are charged separately from the food, as they're not included in the all-you-can-eat buffet.
Meat service
As we briefly discussed before, the meat waiters pass each table to offer barbecued meat cuts. They'll inform what type of meat is being served and if it's rare, medium, or well-done as they approach you.
The Assador Steakhouse I went to had this really cool informative of every grilling stage of their meat, which is really nice for the people who are not very familiar with how they want their food.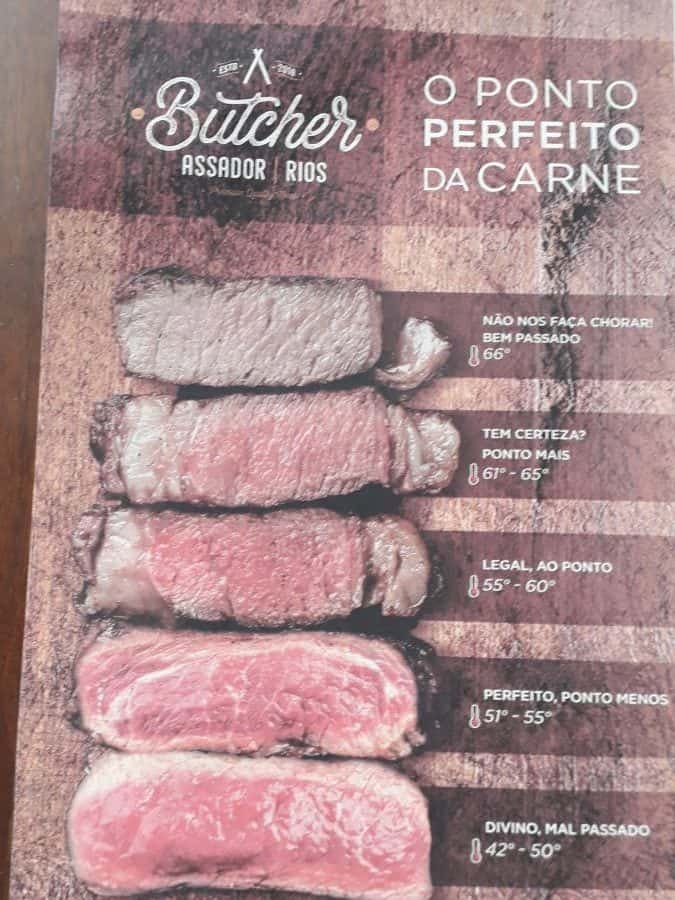 If you're interested in what they're serving, they'll carve thin slices off the skewer until you say it's enough. Most waiters walk around with one to two skewers each, given how many people are usually served per day in these steakhouses.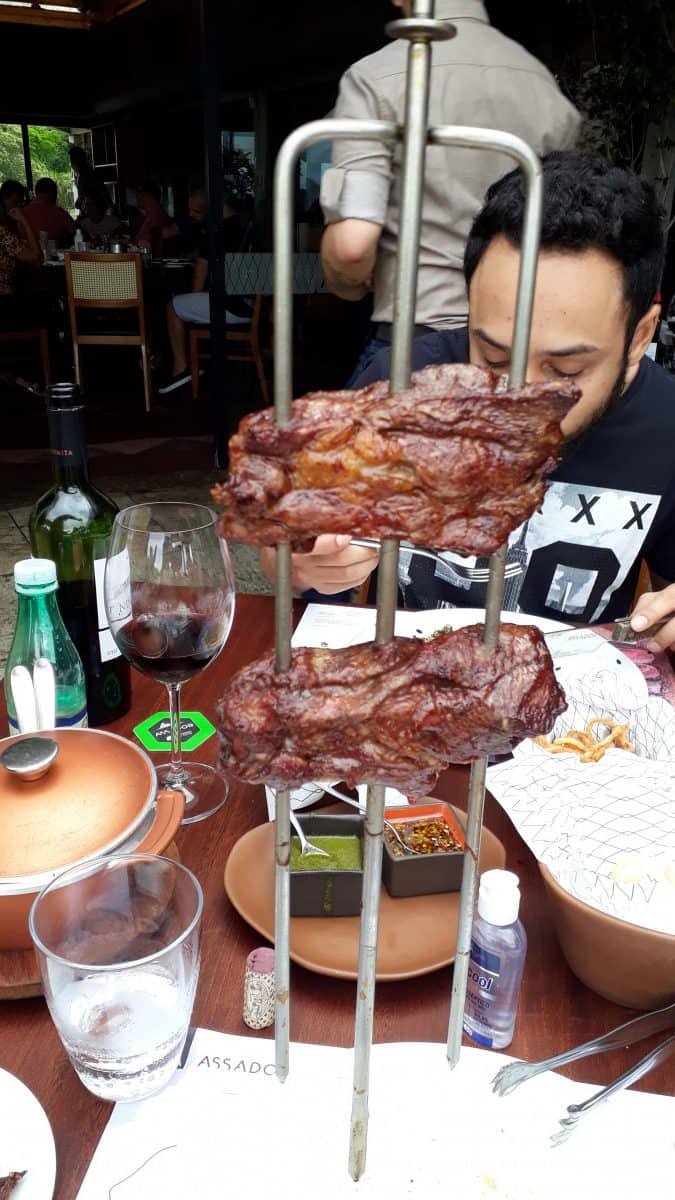 If you know what type of cut you're interested in or if you want to make specific requests on how you like your meat, you can call the waiter, make your order, and he'll bring it to you next time he's out on the floor.
Most waiters in Brazil don't speak fluent English (most only speak Brazilian Portuguese), so it might be a good idea to memorize or even write down the names of the cuts you like the most in Portuguese if you wish to order them again.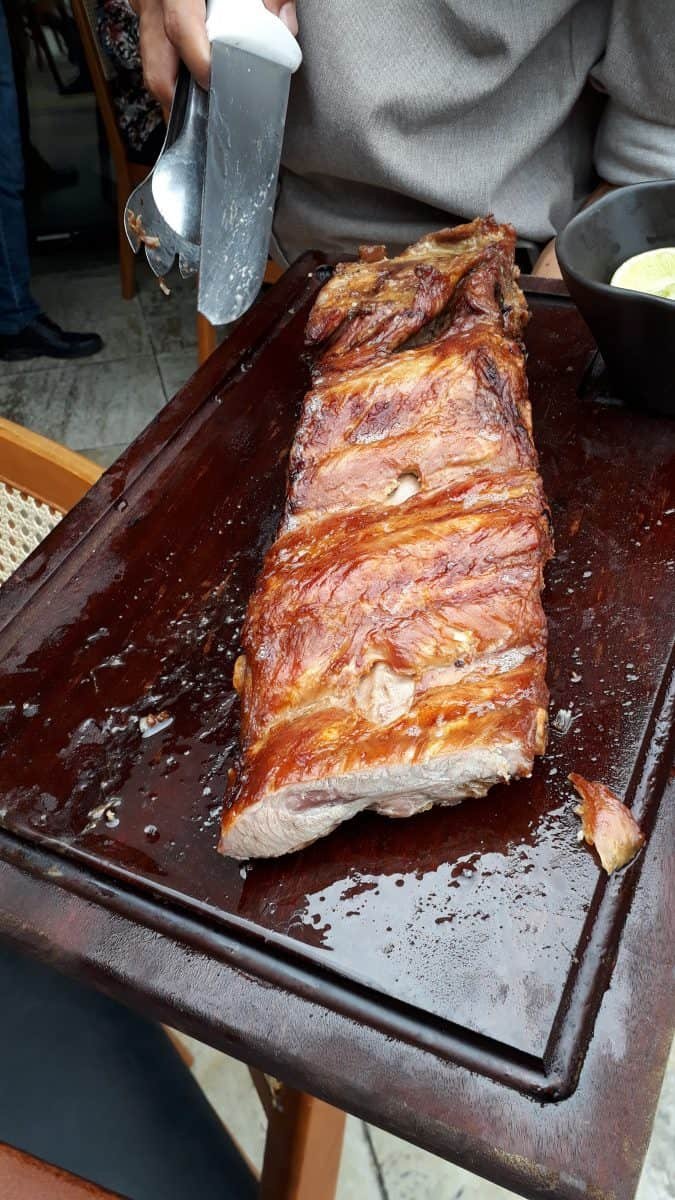 We've prepared a full chart on meat cuts up ahead, so definitely take a look if you want to get more familiar with the names.
Also, it's considered impolite to leave food on your plate in Brazil, especially in all-you-can-eat buffets, so make sure you only request or get what you can handle!
Table service
There are different staff members that will provide you service in traditional Brazilian steakhouses.
For example, if you want to order drinks, a different waiter than the one who serves meat will take your order. Some establishments may also have specific employees dedicated only to serving desserts and coffee.
When you first arrive at the steakhouse, the maître or restaurant hostess will show you to your table if you made reservations or arrange you one if you decided to go on the spot.
The same maître will also be responsible for bringing you the check or solving any issues you may have with the service.
Live Bands & Musical Attractions
Some steakhouses in Brazil often invite musical attractions to play during a certain period of time inside the restaurant. They are especially featured in regions where there is a lot of tourism, to make the experience that much more Brazilian.
The musical numbers are usually made of samba acts, and depending on the place you're in, or how close to them you are; they can be LOUD. So if you're looking for a quiet lunch/dining experience, make sure to go on a day when there are no musical guests.
If you like the concept and decides to stay, you'll be charged with a mandatory fee Brazilians like to refer to as "couvert artístico," which is the customer's contribution to the band.
Tipping 
Tipping in typical Brazilian steakhouses is handled the same way as in every other establishment in Brazil, consisting of a 10% service fee added to your final bill.
The service fee is not mandatory to pay, but most Brazilians oblige, as it represents compensation to be shared amongst the whole staff. Although not expected, you can also tip more than 10% if you feel like the service provided was worth it.
There are also some places with service fees over 10%, like Assador for example. They added a 13% fee on our tab and I have to say, the service was totally worth it, they really excelled in everything.
If you disagree with paying over 10% of service fees, you can request the value to be reviewed and recalculated.
If you should decide to pay for your restaurant bill in cash and there's change, it's also customary in Brazil to leave the change to the employees, but this is not expected in any way.
For further information on the subject, you can also check our Guide for Tipping in Brazil to know more about how tipping is handled in other services in the country.
How To Have the Best Experience Possible at a Brazilian Steakhouse
Now that we've gone through the major features of Brazilian steakhouses, I'm going to give some inside tips on how to enjoy them to the fullest (and believe me, you will be full!).
Make Reservations if Possible
It's usually wise to make reservations if you want to eat at a Brazilian steakhouse.
These restaurants are packed with people, mostly in big groups of friends and family (remember what I said about barbecues as social gatherings?). So expect to see tables with over 15 people sometimes!
Other than that, the whole dining experience generally lasts longer than your usual night out at a restaurant. If you are with Brazilian people, the whole experience can easily last between 3 to 4 hours!
Whereas in regular restaurants people usually have dinner and leave, there's a lot to digest (literally!) when you're at a traditional Brazilian steakhouse, especially if you're attending one for the first time.
People really enjoy taking their time (as they should) at these establishments, sampling all kinds of food, taking small breaks to digest, and then get back on sampling what they haven't tried until their stomachs are full.
You can also try your luck and show up on the spot to see if the maîtree can fix you a table, but there's a big possibility you'll be waiting for a seat for at least an hour or so if the place is busy, as mentioned before.
If you should decide to wait, the maîtree will take your name and ask how many people are joining you, so they can prepare for your party when there's room available.
They also usually hand you a small alarm device that will beep, vibrate, and light up to let you know the maîtree has your table ready, so there's no need to stay at the door but don't go too far not to lose the device signal.
Pro tip: Make your reservations on the steakhouse's website through Google Agenda a few days in advance. It will confirm your table and provide you with reminders on the day you've requested.
Know your Favorites but Try New Flavors!
As we've said quite a few times now, there's a lot to choose from in traditional Brazilian steakhouses.
So if you tend to feel full in a short amount of time, it might be a good idea to check what meat cuts and dishes may interest you the most beforehand.
It may sound exaggerated, but the huge food variety can really catch you off guard. There are so many tasty foods to try that it's very easy to keep on sampling everything 'till you suddenly feel too full to eat anything else.
So check out what cuts are your favorites, but also keep your mind open to trying some new things!
To give you a little help, we've prepared this chart showing all the meat cuts names in English and Portuguese. You'll find the best cuts in green, the average in yellow, and the inferior chops in red.
Start Your Meal at the Buffet Table
Brazilian locals usually like to start their meals at the salad bar instead of diving straight into the barbecue meat cuts.
It's a good idea to visit the buffet table to get some appetizers like olives, mushrooms, and cheese sticks before the main course. There are also great options that can help bring out the meat flavors, so make sure you make wise choices.
Pro tip: If they have Palmito ("Palm Tree Heart"), make sure to try that. A good one will be very soft, melting in your mouth and it is very hard to find it outside of Brazil. They will be white vegetable sticks (looks similar to crab sticks) and are delicious!
And although it may sound contradictory for a vegetarian to visit a steakhouse, I actually happen to have a friend who always likes to join in the group whenever we decide to go!
She loves the salads, dressings, and side dishes they serve, so although eating green is not the focus here, it is also perfectly possible for a vegetarian to go to a traditional Brazilian steakhouse and leave very satisfied.
As for my visit to Assador, I was surprised to see they had moving salad bars, which I hadn't seen before. Now the waiters walk around with a cart with 4 or 5 different types of salads and side courses instead of having people gather around a big table.
I believe this was one of the measures the establishment decided to take to avoid crowding during these times of Covid-19, but it's definitely a change for the better, as it is safer and more convenient to the customer in my opinion.
It's also worth mentioning that all the waiters and staff had masks on while serving and waiting on the floor, and every table had a little bottle of 70% Antiseptic Alcohol.
Sides Are Great, But Can Be Very Distracting
This may clash with our last topic, but the variety of food offered at the market table can really be an issue if you are not careful!
In my opinion, the keyword here is "parsimony": take small samples from the buffet choices that will whet your appetite, but not enough to make you feel too full to try the other things you may want to try.
For example, although delicious and absolutely necessary on our plates, leaves, and greens have a lot of fiber, causing you to feel full sooner than expected. Red meat can also make you feel really full very fast, so take your time to balance and enjoy everything little by little.
Very much the same applies to buffet options like bread, toasts, and finger food. Although delicious and always very tempting, they will make you feel very stuffed, and let's face it: that's not what you're really here for.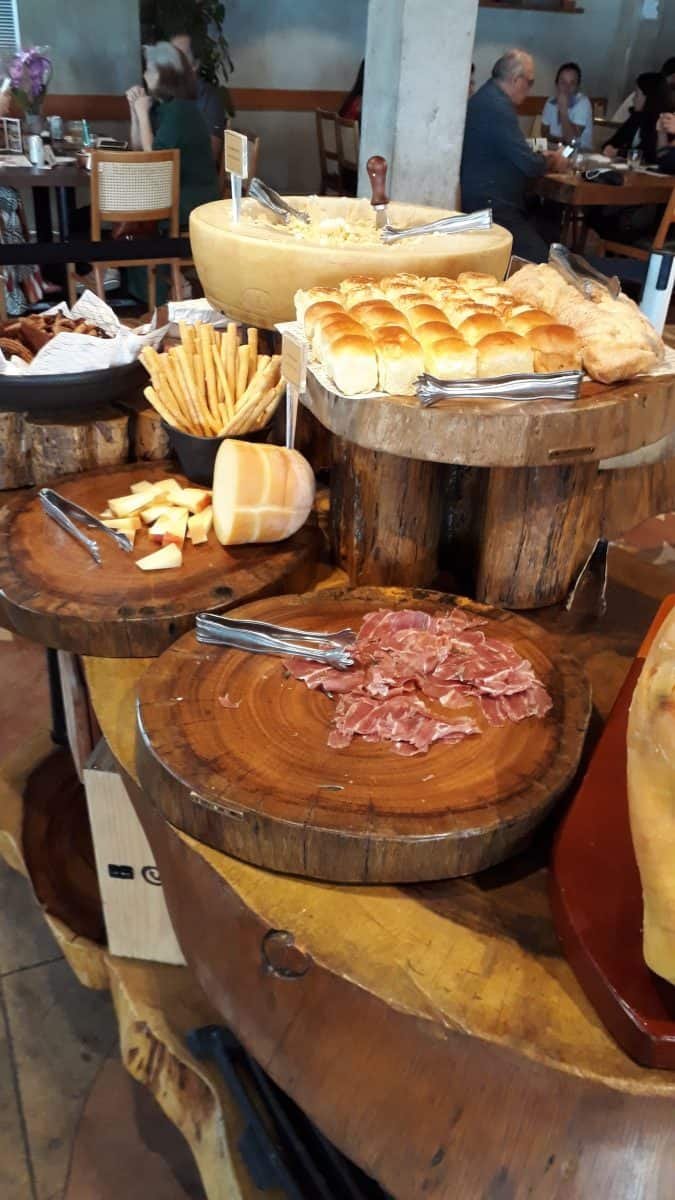 If the main focus is the meat cuts (as they should, after all, those are the real stars of this show), make occasional visits to the buffet table and take small food samples from it to complement your dining experience.
It's also good to point out that local Braziillians customers consider it rude if you take the plate you just ate back to the salad bar if you should decide to make second or third trips.
So it is customary to leave the plate on the table and get a new one from the pile that is usually set right next to the market table, as there's always a waiter making rounds to take used cutlery and dishes away.
Try Some New Cocktails
It's a Brazilian tradition at traditional steakhouses to have a shot of caipirinha before we eat, to get that appetite running, or as we like to say, "começar os trabalhos" (which can loosely be translated into "getting this party started").
Caipirinha is an alcoholic beverage made out of lemon, cachaça (sugarcane liquor), and sugar, and if you haven't tried it yet, this is your chance! There's also a variation of it that uses vodka instead of cachaça (namely, Caipivodka), so you can order it as you wish.
Aside from caipirinhas, there are many other drinks you can try, as well as different brands of Brazilian and international beer. You can also ask the waiter for the wine menu as a good red wine can really complement barbecued meat.
And if you're not interested in alcohol, you can usually opt from freshly pressed juices to soft beverages and iced tea.
Pro tip: Pineapple juice is a great choice in big buffets like this, as it helps the digestion process.
And if you haven't tried Guaraná (typical Brazilian soft drink) or Matte Leão (the Brazilian way of making iced tea from Yerba Mate) yet, please do! They are traditional Brazilian beverages you'll most likely fall in love with after the first taste!
Since I live in Rio, most waiters will put ice in your drink/glass, as the weather is mostly hot throughout the year. You can request for it to be served without the ice cubes or ask for a small bucket of ice so you can serve yourself when you wish to.
And Don't Forget Dessert!
If you're one of those people who like to eat something sweet after the main course, you'll not be disappointed with traditional steakhouses.
From ice cream to different types of pies, cheesecakes, muffins, pastries, and puddings, you'll have a lot to choose from, so definitely leave out some room for dessert.
And make sure you try some local Brazilian delicacies that are sure-fire crowdpleasers, like the famous brigadeiro (made out of condensed milk and chocolate), beijinho (for the coconut lovers), and goiabada com queijo (guava jam with fresh cheese).
Fried bananas with cinnamon sprinkles is also a dessert commonly served in Brazilian barbecues. Some people also like to order ice cream to go with it, but it is mostly served without it.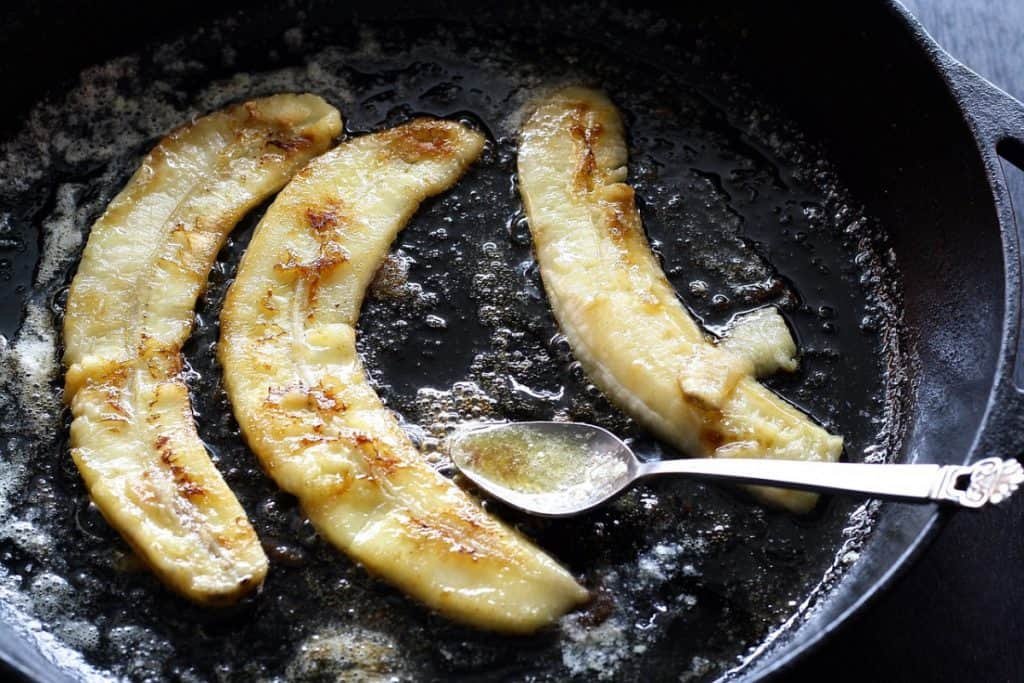 I have to say, I don't really have a sugar tooth, but after all that meat parade, I was just craving for something sweet at the end of it. My friend and I both ordered two different desserts and shared them; it was just perfect, to be honest.
Bear in mind that desserts are often not included in the main meal price, as well as the drinks.
How Much Do Brazilian Steakhouses Cost?
Traditional Brazilian steakhouses usually cost from 100,00 to 170 BRL per person, which, considering the conversion rate of the date this article was written, floats around from 20 to 40 USD.
Steakhouses are usually more expensive during the weekends, so if you're available and looking to save a little bit, I'd suggest you go to one during the weekdays.
Not only is the price lower, but the restaurant is also way less crowded, which means less noise and the waiter paying more attention to you, contributing to a better dining experience.
That amount covers all the food they provide on the all-you-can-eat buffet, so anything from the menu will be charged as extra. Drinks and desserts are also charged separately.
To give you a more accurate estimate of how much people usually spend per person in a traditional Brazilian steakhouse, I took a picture of our final bill at Assador Steakhouse:
To clarify the items listed on the bill (in order as they appear), check out this table:
| | | | |
| --- | --- | --- | --- |
| Item | Price (BRL) | Price (USD) | Price/pp (USD) |
| Water Bottle (x2) | 17,20 | 3.00 | 1.50 |
| Bottle of Wine (x1) | 132,00 | 23.30 | 11.65 |
| Open Buffet Entry (x2) | 324,00 | 58.00 | 29.00 |
| Pudding (x2) | 26,00 | 4.60 | 2.30 |
| Petit Gateau (x2) | 28,00 | 5.00 | 2.50 |
| Coffee (x2) | 16,40 | 3.00 | 1.50 |
| | | | |
| Service Fee (13%) | 70,67 | 12.50 | 6.25 |
| TOTAL | 614,27 | 108.52 | 54.26 |
According to Trip Advisor, we've also prepared this comparison table to show you the range of prices between some of the top traditional steakhouses in Brazil.
| | | | |
| --- | --- | --- | --- |
| Steakhouse Name | City | Price per person (BRL) | Price per person (USD) |
| Assador Rio | Rio de Janeiro (RJ) | 160,00 | 28.30 |
| Fogo de Chão | São Paulo (SP) | 150,00 | 26.50 |
| Chama de Fogo Gramado | Rio Grande do Sul (RS) | 140,00 | 24.70 |
| Porcão BH | Belo Horizonte (BH) | 100,00 | 17.70 |
| Tropilha Grill | Florianópolis (SC) | 100,00 | 17.70 |
| Vento Haragano | São Paulo (SP) | 140,00 | 24.70 |
| Malta Beef Club | Rio de Janeiro (RJ) | 150,00 | 26.50 |
| Churrascaria Schneider | Porto Alegre (RS) | 100,00 | 17.70 |
| Boi Preto Prime | Salvador (BA) | 130,00 | 23.00 |
| Freio de Ouro | Porto Alegre (RS) | 90,00 | 15.90 |
Keep in mind that prices only cover what is provided on the buffet and may vary greatly from region to region, so lower prices may not necessarily translate into low-quality service.
Rio de Janeiro and São Paulo have the highest prices on average, mostly due to the cost of living in those cities. By the way, if you want to know more about the cost of living in Rio, check this article.
What Are Some of The Best Steakhouses in Brazil?
This is a really tough list to do just based on personal experience, especially since I haven't been to many places like this outside of Rio de Janeiro.
So we're going to list the best rated traditional Brazilian steakhouses in Brazil (in no particular order) according to Trip Advisor:
Mocellin Steak – Rio de Janeiro (RJ)
Pobre Juan (Vila Olímpia) – São Paulo (SP)
Chama de Fogo – Gramado (RS)
Sol & Brasa – Salvador (BA)
Fogo de Chão (branches all over Brazil and in the USA)
NB Steak – São Paulo (SP)
Barra Grill Steakhouse – Rio de Janeiro (RJ)
Vento Haragano – São Paulo (SP)
Are There Any Brazilian Steakhouses Outside Brazil?
Yes, there are traditional Brazilian Steakhouses scattered in various parts of the world, especially in the US.
Fogo de Chão is possibly the most famous Brazilian steakhouse outside of Brazil. It first started in Rio Grande do Sul and later expanded to the US, Mexico, and the Middle East, owning a whopping 57 branches worldwide at the moment.
The restaurant offers a typical Brazilian barbecue experience, and from what I have experienced here in Rio, it leaves nothing to be desired. Make sure to check their website to see what's the closest branch near you.
US residents can also look up for the following places:
Carnaval Brazilian Grill – Sioux Falls (SD)
Chama Gaúcha – Houston (TX)
Bossa Nova Brazilian Cuisine – Hollywood (CA)
Rei do Gado – San Diego (CA)
Chima Brazilian Steakhouse – Fort Lauderdale (FL)
Churrascaria Plataforma – New York (NY)
Brazilian Grill – Hyannis (MA)
Texas de Brasil – Orlando (FL)
If you're outside the US and also want to try a traditional Brazilian barbecue, we've also prepared a list of places you can go in some of the main cities around the world:
El Gaucho – Munique (Germany)
Porta da Selva – Paris (France)
Costelão Gaúcho – Lisbon (Portugal)
El Novillo Carioca – Madri (Spain)
Le Rodizio Gaucho – Genebra (Switzerland)
Barbacoa Grill – Tokyo/Osaka (Japan)
Churrascaria Braza – Sydney (Australia)
Fogo Gaúcho – Nairobi (Kenya)
Brazil Steak House – Moscovo (Russia)
Brazilian Aussie Barbecue – Bali (Indonesia)
If none of these establishments work for you, try browsing for "Brazilian steakhouses" or "churrascarias" on Google, they'll point you in the right direction for the nearest one.
You can also try looking for Brazilian groups of discussion on social media, as there are many Brazilians around the world who'll be able to help you out.
We've come to the end of our steakhouse guide! I hope I was able to answer all of your questions about traditional Brazilian steakhouses; it was definitely a pleasure to go on this field search at Assador to get you the latest scoop!
While you're here, I think these may interest you:
Related Questions
What is the most common food eaten in Brazil?

Feijoada, acarajé, farofa, empadão, brigadeiro, and pão de queijo are amongst the most common typical food eaten by locals, but it can vary a lot from region to region.
Is Brazilian food spicy?

Brazilian food is generally rich and flavorful, and it can be spicy in certain places (like Bahia for example). Coconut and palm oil are frequently used to bring out and blend the flavors and spices. However, most times the spice is served in a small condiment bottle, making it easier to have milder food if you prefer it.
Can you take food home from a Brazilian Steakhouse?

No, you cannot take food home from the restaurant. All-you-can-eat buffets do not allow you to carry doggy bags home, you can only eat at the restaurant.