So your birthday is coming up and you want to celebrate it by traveling to Rio. After all, Rio is the party city and you can find loads of options all over the place to celebrate your birthday in style. I have done some research and found the below options for the most interesting experiences you can have.
For a big party: Party at the Sugarloaf
Now, this is obviously not suited for the average traveler that just wants some ideas of where to go. Keep reading for some other options that are more suitable for those who might have a smaller group, are traveling with only their significant other, or are taking this birthday trip solo.
And before you think I am referring to going up the Sugarloaf as a tourist to celebrate your birthday, I am not. Everyone that goes to Rio will do that, regardless if it is their birthday or not. Besides, it would be too lazy of me to just say that.
I am talking about what I think is one of the most luxurious ways of throwing a birthday party in Rio: Renting the Sugarloaf for your event. Just imagine, after all the tourists are gone, you can have that amazing view just for yourself and your guests. I didn't know I wanted this so badly until I started looking for birthday celebrations in Rio.
The Sugarloaf provides two spaces that can be rented. The Maria Ercilia lookout, which is in the lower hill and have a beautiful view from the beach and the higher mountain and the Disco Space, a smaller (146 guests), closed space that overlooks the other side of the hill, with an also amazing view of Copacabana and Ipanema beaches.
If this seems like an overkill for a birthday (unless maybe you are celebrating a big one or perhaps you are an expat living in Rio and really want to go all in), this venue is also perfect for weddings! If you are planning a destination wedding in Brazil, more specifically in Rio, I can't think of a better place to hold your reception.
Obviously, this amazing venue will come at a price tag. I have reached out to them for values and will update the post once they come back to me on this. If you are interested to reach out yourself for further information, go to their official website here.
For a medium party: Go on a Party Boat through Guanabara Bay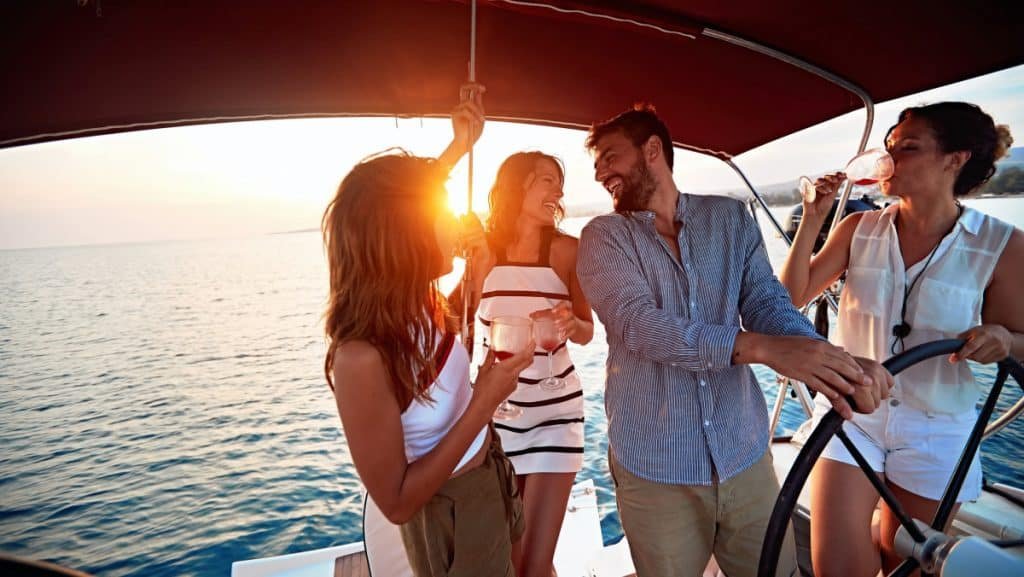 OK, ok, I got a bit too excited about the Sugarloaf and that might not be for everyone. Maybe it is just too big of a venue or maybe just not your kind of thing.
However, if you have a group with you, you can definitely go on to have a party on a boat privately, or if you are by yourself with two or three friends, then you can join an already existing party.
A ticket for a party on Thursdays was coming at around $10, for up to 5 hours on the sea. This includes pizzas served hourly and open bar on the first 2 hours of the event, after that the drinks are paid for.
Bear in mind Brazilians party hard and late. Most of the parties you can join in will start at 10 PM (expect people to start arriving at 11 PM only), the boat will set sail at 12 AM and return only at 4 AM. Be prepared to be on the sea for a long time but these parties are usually very well known by the Cariocas and people usually enjoy them a lot.
If you do go privately, be prepared to pay a large sum of money for the experience. The prices are usually per boat and not per person in this case. For example, a party for up to 50 guests will cost around BRL10,000 (USD 1,900) with food included. The cost would be the same if you have 1, 25, or 50 people.
This can be a good option if you are interested in splurging a bit to treat yourself. I suggest you select the "afternoon period" for your party, to be able to enjoy the amazing sunset at the back of the Two Brothers Hill (Morro Dois Irmãos) .
There are several options for boat tours, private or joining an existing party, but most of them didn't really have a website in English, but I did find this one in English. You will likely be able to find several tour options on Viator (check this link) or other tour platforms. Most of the boats will leave from the Gloria Marina and the easiest way to get there is by taxi or Uber.
For a small party: Try a restaurant with amazing views of the city
So maybe you are not the partying type or perhaps you just don't want to spend loads of money on a party, since you are already having quite an expense going to Brazil, so you want something a bit more affordable, but still memorable.
You can always resort to the traditional: just going out for dinner. I will list some restaurants with a few of the best views for you to be able to celebrate your birthday in Rio with style.
Aprazivel
Nested on the top of the neighborhood Santa Teresa, Aprazivel is a charming restaurant that takes its name from the street it is located at. They offer contemporary Brazilian food in a beautiful environment and their highlight is the beautiful view you can have from the city.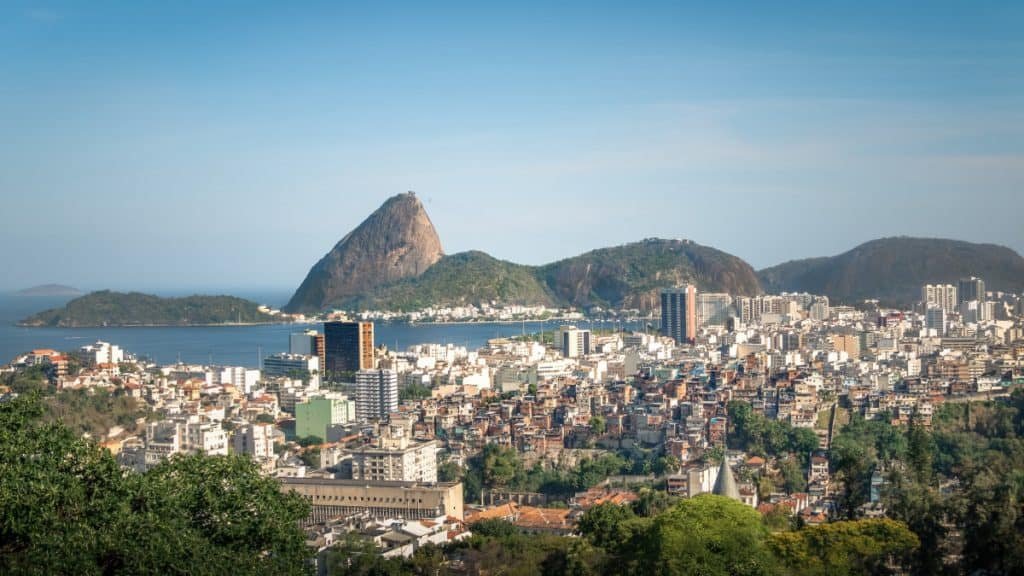 If you are staying in Santa Teresa or in Laranjeiras, they also do takeaway, but you will miss on the view, which is one of the highlights! Also, they got mentioned on the Michelin guide in 2019, so it is worth a try!
Get more information on their website.
L'Etoile
L'Etoile has a privileged view of the Rio most famous skyline. It is located at the 26th floor of the Sheraton hotel, at the far end of Leblon. From there, you can see the Sugarloaf, the Corcovado, and the entire beach from Leblon to Leme, passing through Ipanema and Copacabana.
They offer a romantic package, with the guaranteed best table (with that magnificent view) and a 7 course meal with wine for around $200 for two people. It is also perfect for a wedding proposal, but I am sure this would be an awesome option for a fancy birthday dinner.
They are usually closed on Sundays, so you might want to keep that in mind as it is an unusual day for a restaurant to be closed.
For reservations and further information, check their website.
Rubayat
If you are into great food as well as horse racing (funny combination, I know), this might just be the restaurant for you.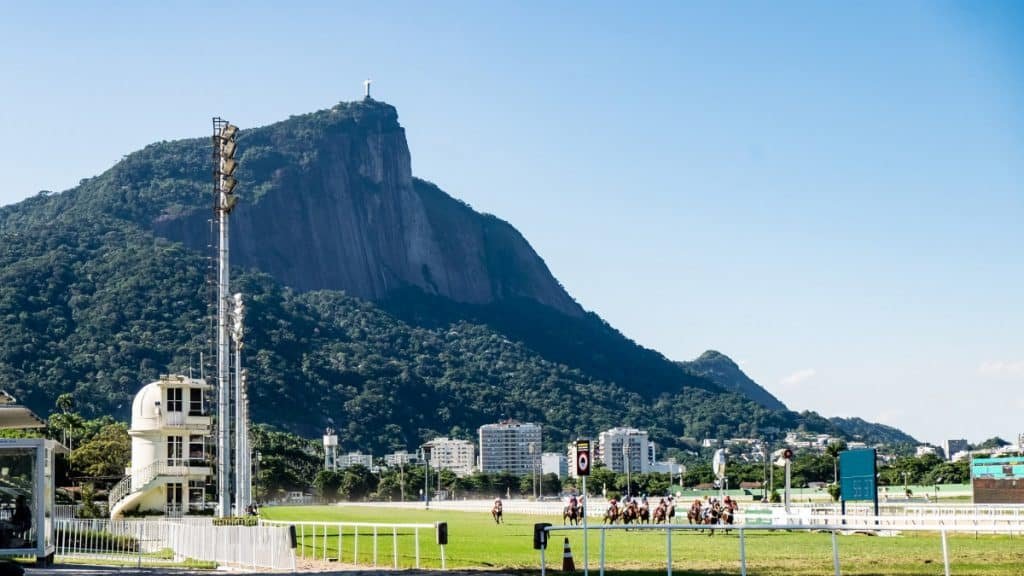 Rubayat is a famous restaurant that started out in Sao Paulo where its main branch has literally a huge fig tree inside it. It is one of the most renowned restaurants of Sao Paulo and since 2014 they have a successful branch in the Jardim Botanico neighborhood in Rio de Janeiro.
They have a roomy terrace that can accommodate up to 160 people with magnificent views of the Corcovado and the horse racing tracks. You can go even on the days where there are no races, but you still have a nice ample view of the tracks.
A good idea would be to go on Saturdays (make your reservations to avoid disappointment, isn't that what they say?) and have one of the most typical Brazilian dishes, the feijoada. This pork stew is actually originally from Rio, so you can't go wrong by trying Rubayat's take on it.
They also specialize in prime meat cuts and Mediterranean cuisine, so you have quite a diverse selection if you prefer. It is also a great idea to go for lunch instead of dinner, to be able to enjoy the view better.
To book your table, go to their website.
For an intimate party: go to a love motel
This next one is an adult tip, slightly NSFW, but it is also a perfect way to celebrate your birthday, specially with your significant other! Besides, we, Brazilians, actually do that, so it is a really authentic tip.
You might or might not have heard about the love motels in Brazil. Our concept of motels is completely different than that of the American motels. We have them everywhere but mostly on non-residential roads and the outskirts of the city.
A Love Motel, simply called Motel in Portuguese, have usually a simple objective: to allow for two (or more) people to have some… hmm… "alone time". You usually pay per period like 6, 12 or 24 hours instead of paying per day. That means you can get there at any time and request the period you would like to stay for.
Depending on the type of room you get, you can have some very interesting furniture, like round beds, ceiling mirrors, "play" chairs and poles for sensual dancing. Some other love motels specialize in themes, such as medieval, Japanese style, or BDSM. This is something I have not seen in other countries (except Japan) and it might be a good different experience if you are into something naughtier.
Some things to keep in mind:
There is no breakfast or beverages included. However, they usually have a 24/7 kitchen that serves from breakfast to dinner and appetizers all day long for a price. Also, you have some options in your mini bar or can request extra drinks from room service as well.
Room Service can bring you "toys". I think that's enough information.
The rooms are really affordable due to the shorter period, so you can have some nice rooms with saunas and hot tubs for not that much money
Most of these are built to people entering by car (as they are trying to be discreet. If you want to go by foot, you might need to awkwardly wait "in line" behind a car and go through the only entrance, which is a garage.
It is completely acceptable to get a taxi or Uber to go in, though. Most drivers are already used to taking passengers there, so it is not that weird.
You usually do not need a reservation to go to a Motel, but depending on the date, such as Carnival period, Valentine's Day (which in Brazil is June 12), and New Year's might be trickier to find a room.
A couple of famous ones in the South Zone are the Panda's Motel (no, it isn't mine and I am not affiliated to them, lol) in Botafogo and VIP's suites, but this last one has just closed its doors permanently as to the road it is in being now closed due to the landslide risk. It is a shame as the VIP's suites is known for having one of the best sunrise views in Rio.
If you really wanted the view, an alternative to the VIP's is the Shalimar Motel, closer to Leblon, but I believe they only have one room that has a better window to the sea, so it might not be that great if you want the sunrise view. You are better off getting a room in Sheraton, but they are an international reputable chain and will be charging per day as the standard of the industry.
For a traditional celebration: Go to the nightlife neighborhoods
One of the most common ways of celebrating your birthday, is to do as a lot of Cariocas do: just go out to a bar and party! There are just so many options, it is very hard to pick and choose a few.
I will put below the neighborhoods that will most likely find a good selection of bars, so you can just pick and choose from them, or even do a pub crawl if that's what you want.
Lapa
I could not talk about celebrating a birthday in Rio without mentioning Lapa. I know you are aware of the neighborhood, and you might already even have tickets to go to the famous (with foreigners) bar Rio Antiquarium. The truth is, there seems to be quite a difference between the Lapa that Cariocas experience and the Lapa most tourists experience.
Usually, there are a few bars that are well known between the tourists, but that's simply not where we, Cariocas, go to. It is simply just too expensive. The Brazilian experience is more on the streets, buying the cheaper booze from the vendors on the street (although, careful with that, avoid the spirits and stick to the beer. Liquor is usually fake and can make you feel really bad. Beer for some reason is usually the real deal. Don't ask me how I know that.).
We do go out and sit on bars and have finger food, but those are some of the ones on the outskirts. One of my favorite ones is a bar that is actually a bit far from the crowds, called Bar das Quengas. It is in what used to be a gentlemen's club in the past. The restaurant is around five minutes walking from the main central part of Lapa, so it is much quieter than near the arches.
They have interesting decor that goes with this theme, which is a clothesline full of women's underwear. Mind you, this is just the decor, currently, this is just a restaurant that offers traditional Brazilian finger food, especially from the Northeast of the country.
The Bar Das Quengas is a good option if you are looking to experience Lapa but you are not into the loud music or crowds like me.
If you want to take a look at how Lapa's nightlife is (as well as other places), check out this video:
Tijuca
A lesser-known neighborhood by the tourist but very well known by all Cariocas, Tijuca has a lively nightlife. If you want authentic Carioca nightlife, this is it. It will be very unlikely you find another foreigner around there.
It is also not hard to get there from the South Zone, a taxi or Uber should be able to take you there in 20 min going through the Rebouças Tunnel and near the Sambadrome (in case you are not there for Carnival, you can see where the parade happens, but it is a bit underwhelming as it is just a street with grandstands on the side).
Head to Varnhagen square (Praça Varnhagen) for a selection of bars and restaurants. One of the main ones is the one called Buxixo, they have live music shows almost daily, and it is always full. Check their website (in Portuguese only) for schedule and prices.
Lagoa
If you want to stay local to the South Zone where you can enjoy a fresh breeze, nice view, and do some people watch (is this a thing? That thing where you just watch the people going by for no reason other than curiosity. Well, that.), you should try going to Lagoa.
There are some very nice bars in the small kiosks all around the Lagoon (Lagoa in Portuguese), so just go for a stroll and pick one, or go to Bar Lagoa for a typical Brazilian restaurant, order some food and a chopp (light beer very common in Brazil).
If you are looking to party, then go to Palaphita, the eco-friendly nightclub that is on the margins of the lagoon, so you can party until morning (if you do, head to the beach in time to watch the sunrise. It is amazing).
We have a post where you can check what music Brazilians actually listen to, so that you can already start to prepare for partying in Rio (including a Spotify list curated by us with what is going on in the Brazilian music scene right now!).
Well, I hope the different options above entice you to celebrate your birthday in Rio. The truth is, Rio has a very lively nightlife, several options for bars and restaurants, so I am sure you can definitely have a remarkable experience, whichever one you decide to go for. I wish you a happy birthday!
Also, if you are just interested in traveling to Rio for your birthday or otherwise, check these other posts that might help you to plan your trip: