The state of São Paulo (SP for short) is the biggest metropolis in Brazil, and the amount of things you can do while staying there is equally substantial. Although not a common destination for vacation purposes, São Paulo offers many activities and is an unequivocal crowd-pleaser.
You can go museum hunting down Avenida Paulista, visit lots of green leisure areas like parks and botanical gardens, hit the beach at Guarujá, try delicious delicacies at Mercado Municipal, and even visit São Paulo's own Chinatown, a district called Liberdade.
There's all sorts of stuff to do and a little bit for everyone, so if you couldn't think of a single reason why you should visit ASAP, stick around, and I'm sure I'll be able to think otherwise with at least one out of 7 different things you can do in São Paulo!
1 – Visit The Beautiful Beaches in São Paulo's North Coastline
Although it may not be your first option when you think of Brazilian beaches, the state of São Paulo's north coast is a beautiful place and leaves nothing to be desired compared to Rio de Janeiro.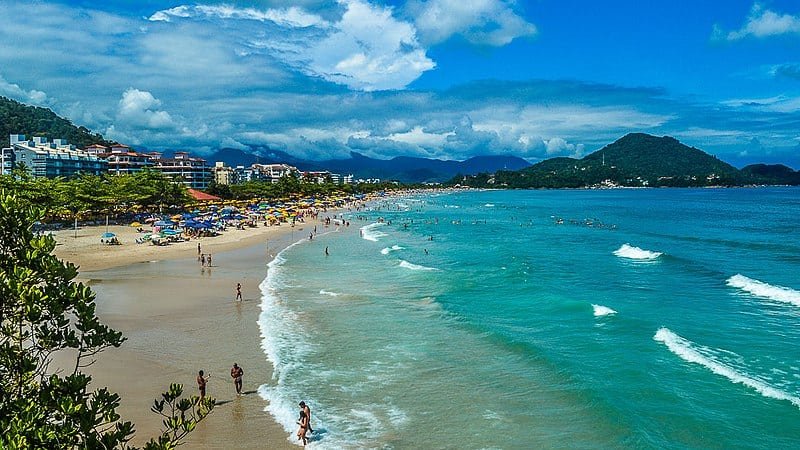 The city of São Paulo has two main airports, Guarulhos (GRU) and Congonhas (CGH), which are the best choices for you to hit any of the places we're about to list. They are each approximately 2 hours away from the airports but easily reached if you grab a travel bus or rent your own car.
Ubatuba
Ubatuba is a district of the São Paulo state and a relatively known beach destination amongst Brazilian citizens, mainly due to the paradisiac beaches along the coast. It's not as targeted by tourists as the beaches in Rio, which is definitely a plus.
Best Beaches in Ubatuba:
Praia do Cedro
Itamambuca
Praia do Felix
Praia do Prumirim
Puruba
Guarujá
Popularly known by locals as the place where the rich and powerful São Paulo people spend their summers, Guarujá is another county on SP's coastline. It houses beautiful urban and wild beaches, including one of Brazil's safest beaches, Riviera de São Lourenço.
Best Beaches in Guarujá:
Praia das Astúrias
Praia das Pitangueiras
Praia da Enseada
Praia do Éden
Praia do Iporanga
Ilhabela
Besides another coast county in São Paulo, Ilhabela is also an archipelago with 19 islands and islets formation. So if you're a fan of the outdoors and adventure in the wild, Ilhabela is the place to go!
Best Beaches in Ilhabela:
Praia do Curral
Praia da Feiticeira
Mirante do Piúva
Praia das Pedras Miúdas
Praia de Santa Tereza
2 – Visit the Art Galleries and Museums Around the City of São Paulo
The city of São Paulo (which obviously belongs to the state of SP) breathes art, and the ultimate proof of this is the large number of museums and art galleries that you'll find all around town.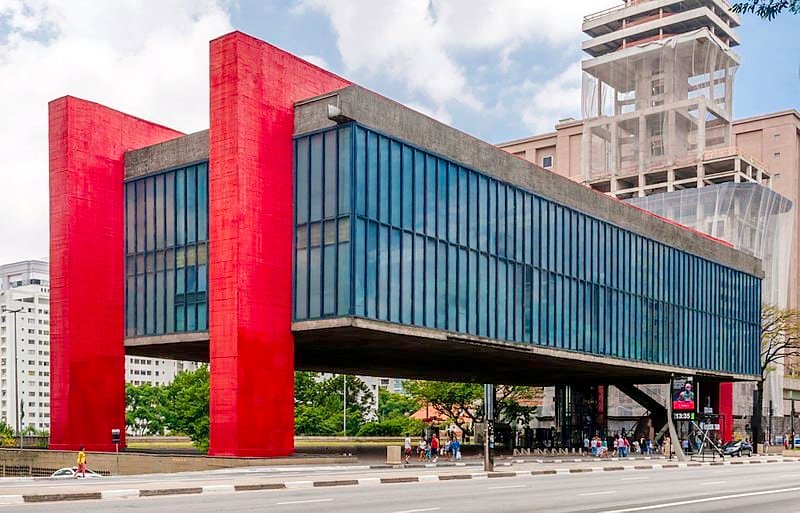 So whether you're looking for fresh art from unknown artists or wanting to see famous pieces, São Paulo got your back. There's even a museum of Sexual Diversity, a landmark in São Paulo's fight for LGBTQI+ rights.
Museu de Arte de São Paulo (MASP)
Surely one of São Paulo's most familiar locations, the MASP building was the first modern art museum built in the country and features over 8 thousand pieces, including Portinari, Van Gogh, and Picasso, and Monet. If you happen to stop by on a Tuesday, they don't charge for entrances that day.
Museu da Imagem e Som (MIS)
Solely dedicated to music and photography, the Sound and Image Museum is one of the city's most innovative art buildings. Having had exhibitions on art legends such as Bowie and Kubrick, the MIS always tries to bring an immersive out-of-the-box experience.
São Paulo's Pinacoteca
By far one of the city's most beautiful buildings IMO, the city's Pinacoteca (picture library) was built back in the early 1900s and houses a comprehensive collection that illustrates Brazil's art evolution through paintings, sculptures, prints, and photographs. There's no entrance fee on Saturdays.
3 – Visit the City of São Paulo's Liberdade County
Visiting the Liberdade county is like taking a trip to Japan without actually never even leaving São Paulo. Filled with Japanese culture and history, the place is definitely worth a visit, especially since it concentrates on many good restaurant options!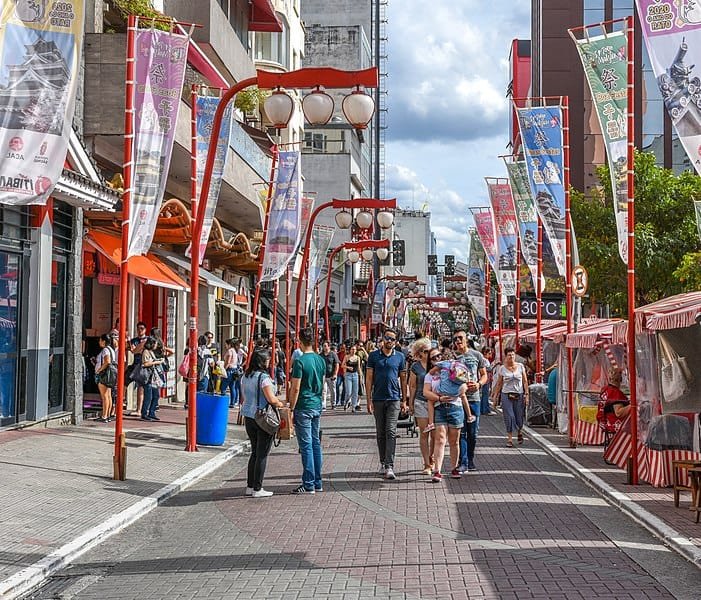 What To Do At Liberdade?
Visit the Japanese Immigration Museum, the Bunkyo
Visit the Liberdade Street Fair and try the local delicacies.
Visit the Conde de Sarzedas Mansion
Have lunch at a typical Japanese restaurant, like Kazu
4 – Visit the Country Side of the State of São Paulo
SP also has a lot of attractions for those looking for some downtime. The state's countryside has options for nature lovers, relaxation enthusiasts, and even those who enjoy cold weather!
Botucatu
Filled with many waterfalls, trails, and rocky mountains for those who like hiking and rappel, Botucatu is your wild retreat in the state of São Paulo. The views here are amazing, and you'll easily take some very instagrammable pics while you're visiting.
Águas de Lindóia
One of the most important hydroclimatic nuclei in the country, Águas de Lindóia, is the ultimate place for a relaxing vacation in São Paulo. The County Spa offers several treatments such as moisturizing baths, scrub massages, and lymphatic drainage.
Campos do Jordão
Located on São Paulo's mountainside, Campos do Jordão is the go-to destination for many locals looking for a chilly spot in SP. With beautiful architecture and cuisine inspired by the German, this cozy and gorgeous location is a well-marked crowdpleaser.
5 – Enjoy the Green in São Paulo
Although branded as the biggest metropolis in Brazil, the state of São Paulo houses many leisure options for nature-lovers. From the traditional Parque do Ibirapuera to Serra do Mar State Park (which crosses Rio de Janeiro's borders), there's plenty of green to enjoy here.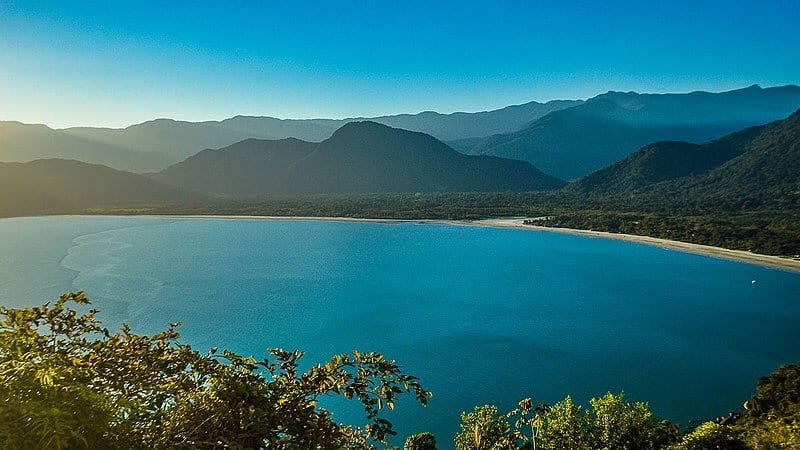 Here's a list of the main parks in São Paulo:
Parque do Ibirapuera
Parque Estadual da Cantareira
Parque Estadual Serra do Mar
Instituto Butantan
Jardim Botânico de São Paulo
6 – Walk Around Avenida Paulista
Strolling down Avenida Paulista, the city of São Paulo's most famous avenue is an adventure on its own. Filled with stores, restaurants, bars, museums, and theaters, you'll be amazed not only by its size but also by how colorful and artsy it is.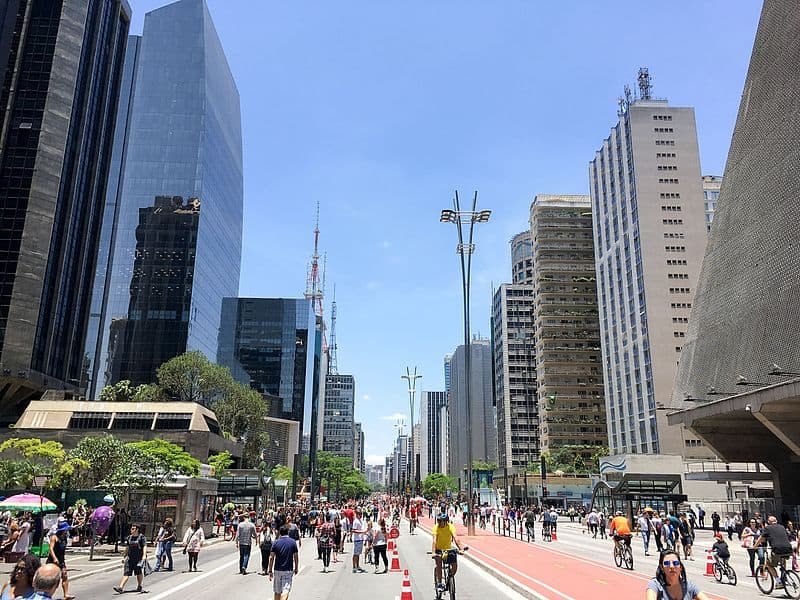 The traffic gets closed on Avenida Paulista every Sunday, so you'll see lots of people biking, rollerblading, jogging, or just taking a walk to enjoy the weekend.
What To Do At Avenida Paulista?
Sit down for a coffee at Casa das Rosas mansion
Visit Rua Augusta for drinks and snacks
Eat lunch at restaurants like Capim Santo and Ibis Kitchen
Visit the Japan House
Watch a movie at Reserva Cultural
7 – Go to Mercado Municipal for a bite
Mercado Municipal is a 130,000+ square feet market where you can find all sorts of food: artisanal cheeses, fresh, exotic fruits, all types of jams and sauces, wines, and even whole meat pieces like lamb and pigs!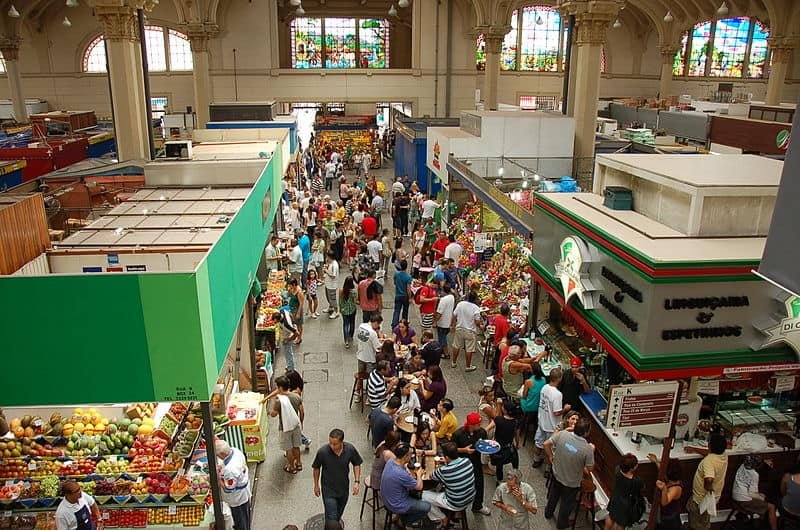 The cool thing here is that the vendors usually have samples for you to try before you buy anything, making your shopping a whole lot easier. Also, don't forget to try the famous mortadella sandwich, it's a São Paulo staple course!
What To Eat at Mercado Municipal de São Paulo
Mortadella sandwich
Fried cod cakes
Fresh, exotic fruits like pitaya, Malaysian lemon, and the Paquistanian Passion fruit
Different types of cheeses and finger food
Well, that was it to our choices for you to enjoy in the state of São Paulo! While you're here, I though you'd might be interested in these:
Related Questions:
Is São Paulo a city or a state in Brazil?
Both, actually. The state of São Paulo (abbreviated as SP) houses São Paulo's city, which is the biggest in the whole state. The biggest cities in the state of São Paulo are:
São Paulo
Guarulhos
Campinas
São Bernardo do Campo
Santo André
Cover Photo: Pinacoteca de São Paulo | Credit: Wilfredor