If you're one of those travelers who like to visit as many different places and locations as possible in your destination, it's important to know the best ways to get around to get to your points of interest safely. Not only that but choosing the ideal way of moving around could also save you a lot of money and time.
If you're planning on visiting different spots in Brazil, the best and most popular ways of getting around the country are by plane or travel bus. But depending on the location and convenience, renting a car or even using apps like Bla Bla Car could really come in handy.
In this post, we're going to explore the main ways of transportation around Brazil, which of them are fit for which type of travel, and the advantages and disadvantages of each one of them.
Important Topics to Consider While Choosing Your Way of Transportation in Brazil
If you're planning on coming to Brazil, getting to know all the places you've only seen pictures on the internet sound like the perfect idea, especially since it's easy to get all hyped up about getting to a destination you've never been to before.
But in order to tour around different places under the best circumstance, it's necessary to take the time to make a clear schedule on your points of interest and think about how you'll be getting from one point to another.
Choosing the best way to move around in Brazil depends on a series of factors, as each way of transportation has its pros and cons. The ideal thing is getting to know the features in each of them before you make your choice, which will provide you with a much better experience.
Here are some topics you should consider before choosing your way of transportation in Brazil:
Average Travel Time
One of the main advantages of traveling by plane is getting to your point of interest much faster than with any other transportation. It allows for a distant location to be accessed with a lot more ease, differently from a car trip, that depending on the distance, could take days.
For example, Brasília and Porto Alegre are a little over 1k miles apart, demanding approximately 26 hours of non-stop driving (not considering resting stops) to get to one another. The same trip by plane would only take a little over 2 hours, sparing you from the fatigue of driving and giving you more time to enjoy yourself once you arrive.
So, if the distance is overbearing and you have the financial means available to afford a plane ticket, don't hesitate to treat yourself.
Knowing Your Destinations
A critical element to you help you decide whether it's best to take a plane, a car, or a bus is knowing your destination at least a little bit. Some places in Brazil don't have international airports, or any near airport whatsoever, which would automatically narrow down your options.
On the downside, it's not easy driving around in a city you don't know very well, especially in big cities with heavy traffic. So, if you're not any good with directions, taking a travel bus or charter an Uber (or a yellow cab) to take you to your destination would be much more preferable.
There are a few destinations in Brazil that can neither be accessed by plane nor by travel buses, making you depend solely on renting a car or hiring the services of a driver.
Gather as much information as you can about your destination, as it will make some decisions a whole lot easier. For example, while you may be able to get to a certain location by bus, moving around without a car could become a bother, so maybe renting a vehicle in the first place could be the best choice.
High and Low Seasons
The time of the year you're planning on traveling can greatly influence your decision to make the trip by land or sky. During the low season periods, you'll be able to find much affordable and reasonable plane ticket prices, which could almost match the costs of travel bus passes or renting a car.
Those last two options are little influenced by the low season in regards to your finances, but since the high season of most places in Brazil is during the Summer (December to February – coinciding with year-end school vacations), it makes the traffic much more intense, as well as there's a considerable increase in road car accidents.
The Distance Between Locations
The distance between the places you plan on going is also something to be considered before hitting the hammer on how you'll be moving around. Although obviously faster, sometimes getting on a plane may not be the most practical option depending on your schedule.
You have to check-in, dispatch your luggage, go through airport security, and that's just while in the process of boarding the plane. Not to mention the time you will waste if the flight makes stopovers, which will definitely make you waste a lot of time.
So, if you're making a short trip, it's best to travel by bus or car, avoiding all these bureaucracies and bothers. Giving you a more practical example, if you consider the time all the pre-flight procedures take, going from Goiania to Brasília by car could take just as much time as if you'd make that trip by plane.
Number of People Traveling With You
If one person's plane ticket can already be too pricey, imagine that same value multiplied by all the people who will be joining you on your trip. Although the price is justifiable, traveling by plane with a large number of people could represent a huge expense on your budget.
If you consider the same trip by car, everyone in your party could share the car rental and gas expenses, which could make your trip much more inexpensive and a lot more fun. I mean, who doesn't love a good ol' road trip.
So, if you're on a budget (which will bring us to our next topic) as has the possibility of sharing the car-related expenses with your friends/family, don't hesitate to do so.
Travel Budget
If you're looking to make your trip schedule more inexpensive, it's time to put the calculator to work and consider all possible costs in order to make the best decision on your way of transportation.
If we first go over the expenses involved in traveling by plane, we're talking about boarding fees, luggage rates, and the costs of requesting an Uber or a yellow cab to take you to and from the airport, which depending on where's located, could represent a relatively large sum of money.
On the other hand, the expenses involved on a car trip go well beyond the gas money. You have to worry about the daily rental fees, toll fees, be prepared for any kind of unexpected events (flat tire, changing oil, etc.), and of course, consider if the car is strong enough to handle the destination you're going to.
Which Way of Transportation Is The Best in Brazil?
As you may have noticed, choosing between taking a ´plane, a car, or a bus while you're traveling inside Brazil is entirely up to you. It's important to consider all the aforementioned topics, drawing an accurate comparison of each of their pros and cons, and making your decision based on what fits your trip best.
To further help you in making that decision, we're going over all the advantages and disadvantages of each main way of transport in Brazil:
Traveling Around Brazil By Travel Bus
Taking a travel bus to get to a far location is probably the most popular transportation method in Brazil, given the high prices of domestic flights in the country. While that can indeed be a drawback, it can work out for the best in some situations.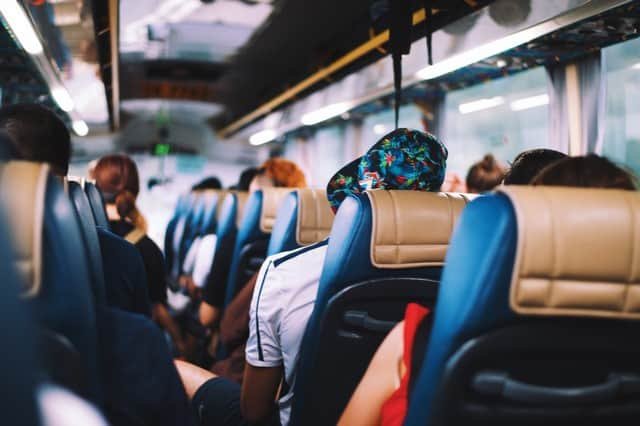 Pros of Traveling By Bus In Brazil
Bus Terminals Are Much More Accessible
As we briefly mentioned earlier, most Brazilian airports are somewhat distant from the city's downtown, which could be a real bother. But on the flipside, Travel Bus terminals are way easier to get to, given their locations being more central.
Depending on your destination, you may even be able to find an integration system between the travel bus and the location's public transportation, facilitating your transfer. Some bus terminals even count on mini-buses and vans, ideal if you're traveling with a group of people.
Regarding the bus terminal infrastructure, products and general items are sold at much less expensive rates than at airports. However, the prices are still largely criticized and labeled as abusive by the general Brazilian population.
Less Expensive Travel Tickets
Fishing for plane tickets at a good price is often an arduous process, and if you don't plan ahead, there's a good chance you won't be able to purchase them for the date you want.
Taking a travel bus to move around in Brazil could be way more inexpensive since travel bus tickets have little price variations and don't suffer from the same annual readjustments as plane tickets do.
The differences between the plane ticket fares are often related to the type of seat you want. Most Brazilian Bus companies have the following options:
Conventional
The conventional bus the most simple in the category, having the cheapest tickets. The seats are cushioned, and semi-reclining in general guidelines, and the bus may or may not have an air-conditioner. This type of bus is ideal for short trips or if you really want to save up on transportation.

Executive
The main difference between the Executive and Conventional bus categories is regarding their comfort levels. Buying an Executive seat could give you a little more space to travel (as the bus seats are a little more separate in comparison to the Conventional), and the seats recline more than the other.
Executive buses are very convenient if you're facing a 5+ hour trip, as the inclusion of minifridge and television/radio makes for a much more comfortable trip.

Semi Bed
Even more comfortable than the Executive Bus, the Semi Bedmodality has more spacious seats that can be reclined almost all the way. The companies also provide clients with blankets and pillows, which can come in very handy if you're making a long trip and wants to take a quick rest.
Luxury
Obviously the most comfortable (and expensive) modality, this is like the first-class option for travel buses. Seats will recline 180º, and given its size and comfort; it's almost like laying on the bed.
It also has the same features as the Semi-Leito modality with a few upgrades like DVDs, snacks, and individual TV/Radio sets. These conveniences obviously don't come in cheap, but it's worth it if you're spending a lot of time on the road.
Easier Ticket Purchase and Boarding
Most (if not all) bus line companies in Brazil enable you to purchase your travel tickers online in order to guarantee your spot on the travel bus. You'll still need to print them or retrieve your physical ticket once you arrive at the bus station, but you'll be able to do it with much more ease, as there are no bureaucracies such as luggage dispatch or check-in.
Cons of Traveling Around Brazil by Bus
The time you may spend on the road is definitely the major disadvantage of traveling by bus. If the trip is considerably long, it can take even more time, as bus companies predict pitstops in this situation. If there's no way around it, don't forget to bring your charger, or a book to pass the time while you're stuck on the road.
Traveling Around Brazil By Plane
Plane tickets in Brazil are generally pricey, and if you don't plan ahead and buy your airfare in advance, you'll either end up paying a fortune or end up having your travel plans ruined. Here's a brief list of the pros and cons while traveling around Brazil by Plane: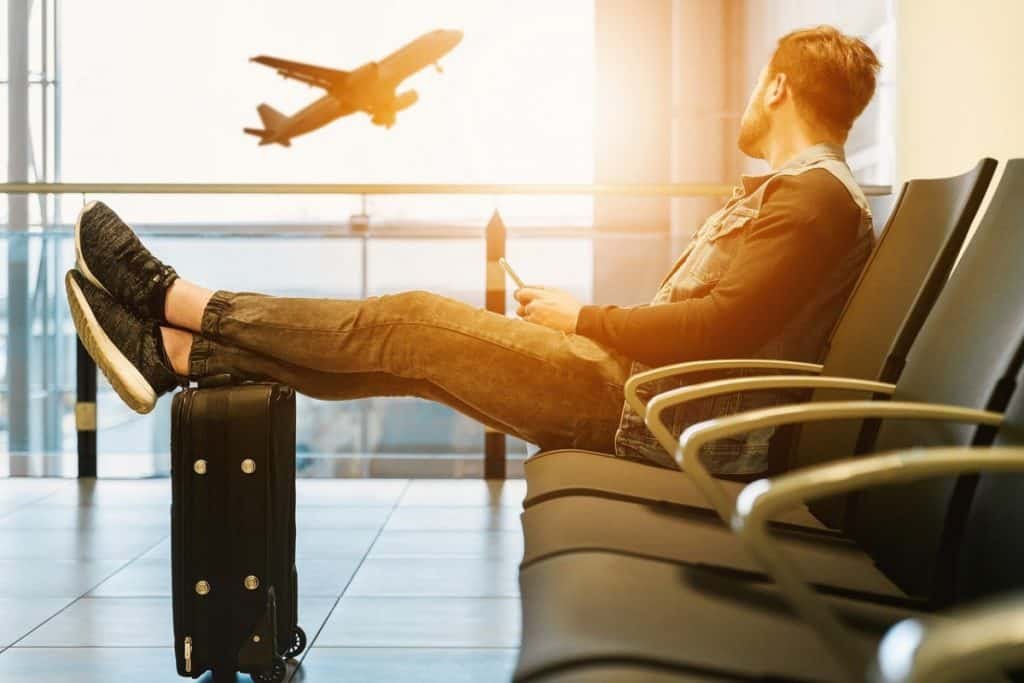 Pros of Traveling Around Brazil By Plane
Fast Trips
Even having to show up at the airport 1 hour in advance before boarding, traveling by plane is still the fastest way to travel. Usually, I think that any distance under 300 miles is bearable to withstand on a bus, but if you don't have that much time to spare, getting on a plane is always the best choice.
More Variety in Destinations
Let's face it, traveling by plane allows you to visit a number of places that wouldn't be possible by land, especially if we're maybe talking about traveling to other countries in South America. While buses can only get you so far, boarding a plane can get you almost anywhere, or at least, to the majority of tourist cities and places across the Brazilian territory.
Airport Structure
Even though located mostly afar from the urban centers, most Brazilan airports have a pretty neat infrastructure, with lots of choices on restaurants, leisure, and fresh facilities, like restrooms and nurseries.
These are certainly superior to those found in bus stations across the country, especially since the daily number of people that visit the latter is much higher than in airports. Oh, as we said before, prices are considerably higher too!
Cons of Traveling Around Brazil By Plane
High Ticket Prices
Obviously, the biggest con of traveling by plane is that the airfare is one of the biggest expenses of the trip, alongside accommodations. Even local flights in Brazil are expensive, which is why local citizens do their best to plan their trips ahead, as you can get way better prices by buying your tickets earlier.
Luggage Limitations
While traveling by bus or car allows you to bring a much larger amount of luggage, boarding a plane could make you want to pack lighter.
The dispatching rules in Brazil have changed in the last few years, limiting the passenger to board only with a handbag, which must weigh 22lbs (10kg) or less. If it exceeds the weight limit, it will be dispatched and charged separately.
Traveling Around Brazil By Car
Although flying is indeed necessary to come to Brazil, a lot of people aren't keen on the idea of boarding in and out of planes every time they visit a new location. Aside from that, there are a few locations that are only accessible by car, so depending on the kind of trip you're planning, renting one can be the best way to transport.
Before we move on to our topics, don't forget to take a look at our Ultimate Guide for Driving in Brazil, as we highlight all laws, documentation requirements, and the major details you must know in regards to driving in the country.
Pros of Traveling By Car in Brazil
Passenger Control
Having only familiar people or acquaintances in the car is a major advantage for me, as it makes the trip much more personal and fun. It's also a far cry from the ordinary bureaucracies at the airport or even at the bus stations, like standing in line to board or dispatching your luggage.
Still touching on the Covid-19 subject, traveling by car is also the safest way to travel nowadays, as you're able to keep control of the people who'll be joining your trip, as you can all agree to quarantine before hitting the road.
Autonomy
Not depending on a company with predetermined schedules to take you to places can really have its perks. You can make as many pitstops as you like, you can bring as much luggage as you like, and you won't depend on Ubers or cabs to get you around once you arrive at your destination.
Driving can make your trip much more flexible, allowing you to explore your points of interest anytime your want.
Cons of Traveling By Car in Brazil
Higher Risk of Accidents
Car accidents are amongst the top 3 causes of death in Brazil, and while on the road, things can sometimes get uglier than in the big city. That is because some drivers disregard the traffic safety rules, exceeding way over the speed limit or try to surpass slower drivers.
Aside from that, the pitstops are not always very welcoming, depending on where you are, so make sure to check for safe stops on your route before you hit the road.
Road Condition and Traffic
Another thing that could bother you driving is the condition of the road you'll be taking to get to your destination. Some of the roads are in pretty bad shape, which could slow down your pace, and consequently, ruin some of the trips.
We went through the best roads to drive in Brazil in this post, so make sure you check more on that if you're interested in learning more about where the best and safest roads are located in the country.
The traffic is another annoyance that you may face, Sometimes the most simple accident could lead to miles and miles of traffic, so be prepared for everything and have those emergency playlists ready just in case!
Driving Can Be Very Tiresome
Getting behind the wheel and driving for 3+ hours maybe a piece of cake for some, but many people find spending too much time in a car very discomforting. Generally speaking, people are mostly OK with traveling distances like 300 miles or less, but anything over that is considered too much.
If you have more people with valid driver's licenses joining you, this becomes way less of a burden, as the driver not only gets physically tired from steering the wheel for too long but also mentally and visually exhausted from paying attention to the road for that many hours.
That was it for our guide on the main ways of transportation in Brazil! While planning your trip, take all the topics we just went by under consideration and choose whatever works best for you!
While you're here, I think we might interest you with these:

5 Vacation Ideas In Brazil For All Kinds Of Travelers – Interested in the tips of a local on how you can enjoy your vacay in Brazil? Look no more!

9 Off-The-Beaten-Path Places To Visit In Brazil – Tired of the same suggestions? We've got just the right list for you!

10 Historical Places In Brazil You Need To Visit – Everything you need to know about the most prominent historical places to visit in Brazil!
Cover Photo Credit: Flickr | Trey Ratcliff
Related Questions
Is it possible to travel in Brazil by train?
No, traveling throughout the Brazilian territory is not possible. The country's train lines only meet the purposes of carrying the local population to destinations within that region, so it's not possible to reach different cities or states by train as it is in Europe for example.