An extended backpacking trip through South America is on many people's bucket lists, and with good reason. South America, and especially Brazil, is famous worldwide for its excellent backpacking and stunning, unique natural and cultural beauty.
There are a few essential steps required to plan a successful backpacking trip through Brazil or anywhere else.
Budget
Supplies and Clothes 
Plot Your Itinerary 
Planning For Safety 
Visiting a new country provides an opportunity not only for relaxation and recreation, but it also allows a view into a different culture and way of life. By planning the trip to the last detail before you leave, you can avoid running out of money or finding yourself stranded on your adventure through Brazil. 
Keep reading for tips on how to prepare for a backpacking trip through Brazil so that, once you're there, you can soak up the beauty of a new environment!
How Long Should Backpacking Trips Be? 
Backpacking across Brazil can be as time demanding as it is rewarding. Most experienced backpackers agree that at least two months are required to backpack through all of Brazil. Shorter trips, however, can still be rewarding and more practical for some tourists. 
Extended backpack trips--when travelers hike from destination to destination and have the opportunity to replenish supplies throughout the journey–require different planning than shorter trips. Packing your bag with everything you'll need to survive and enjoy two months or more of hiking through the natural splendor of Brazil can be a tricky task.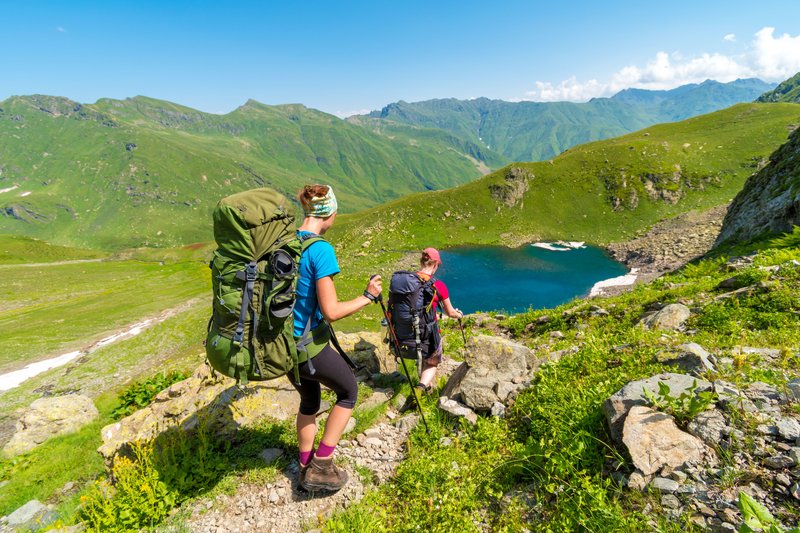 Plan Your Trip's Budget
Money makes the world go around, even the world backpacking. Formulating an all-inclusive budget for your trip will help you get organized and travel through Brazil without breaking the bank. Backpacking is significantly cheaper than most other forms of tourism. 
Average cost of backpacking 
Backpacking cross-country can be an affordable way to tour Brazil as well as an opportunity to engage with the landscape on a personal level. These factors together make backpacking through Brazil popular for young people with solid muscles but weak bank accounts. 
As a general rule, backpacking in Brazil requires roughly USD 1,000 per month. However, that number may vary depending on the rate of exchange and the individual's activities.
The day-to-day cost of backpacking in South America varies slightly depending on what country you're in. Here's a breakdown of the average cost of backpacking in South America by country, based on data from Indie Traveller. 
| | |
| --- | --- |
| Country | Average Cost of Backpacking |
| Argentina | $30-$50 per day |
| Bolivia  | $20-$35 per day |
| Brazil  | $40-$60 per day |
| Chile  | $50-$70 per day |
| Ecuador | $25-$35 per day |
Brazil is slightly more expensive to travel in than other countries in South America such as Bolivia and Ecuador, however, it is more affordable than Chile, for instance.
What Makes Up Daily Expenses?
The advantage of backpacking through Brazil is that you can carry food and belongings with you, which allows you to live cheaply and extend the life of your trip. However, some daily expenses must be considered to enjoy and experience the country you're visiting correctly. 
There are a few different factors that will make up most of your day to day spending while you're backpacking through Brazil: 
Accommodations — Hostel-hopping is a popular way to travel through Brazil on the cheap. The average price for a single hostel bed in Brazil is roughly $9 USD, or 47 BRL per night. 

Local Food and Drink — Part of the experience of traveling through Brazil is taking in the unique local cuisine. Backpacker's budgets should allow for street food and local drinks if not daily, at least at every destination point. 

Activities — Sightseeing is another essential element of backpack touring. While some sightseeing can be done for free, others require tickets or fees. Allowing $10-$15 per day for sightseeing and local activities will make sure you don't miss out on Brazil's greatest views and features.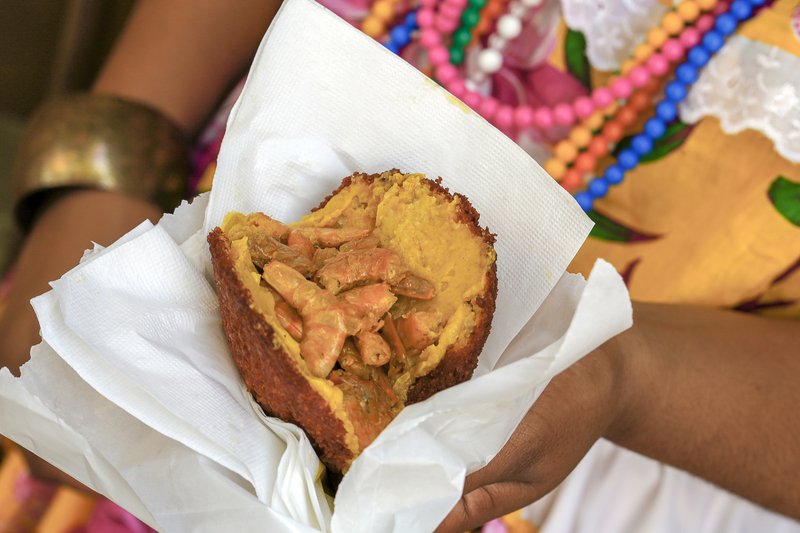 Know the Local Currency
An essential part of budget planning is knowing the exchange rate and general cost of living in the country you intend to visit. 
The rate of exchange is  5.17 Brazilian Real (BRL) = USD 1.00 as of 9/1/21.  Unlike many Latin American nations, prices in Brazil are roughly on par with those in the United States. As of 2021, the Brazilian Real is devaluing against the US Dollar, however.
At the current trajectory, the Brazilian Real is not bound for recovery from its massive devaluation, which may be related to economic pandemic relief efforts in Brazil or other internal political issues, according to Latin American Business Stories. 
Know The Area 
Some areas of Brazil are more expensive than others to visit, even on foot. For example, northern Brazil is generally cheaper to backpack than other areas, according to Indie Traveller. Many backpackers, however, opt to extend their trip through other countries by trekking through southern Brazil into Argentina or Paraguay and circling back to Rio de Janeiro. 
Although the northern area is more affordable within Brazil, the cheaper cost of living in neighboring countries to the south can help backpackers offset the higher prices of backpacking in Southern Brazil. 
The southern municipality of Rio de Janeiro, specifically Zona Sul, is known for being the home to many expat communities. An expat is someone living in a country, although they're not originally native. Knowing where expat communities are can be helpful for travelers, as you can find an expat community from your own country.
We have this very informative post on where expats like to live in Brazil, so make sure to check it out if you want to know more info about it. This may be helpful if you've been struggling with a language barrier or even if you are just a little homesick. 
Supplies and Clothes You'll Need For Backpacking 
Brazil has a wide variety of activities and exciting features to offer tourists. Therefore, packing to accommodate outdoor backpacking gear and clothes and suitable outfits for city living and nightlife is difficult but essential.
Food 
If you're hostel-hopping around Brazil, you won't have to pack much food. Experiencing the food and drink of Brazilian culture is part of the reason to go. So don't miss the opportunity to taste world-famous Brazilian barbeque and the other unique dishes the country is known for, like Feijoada and the Brigadeiro dessert.
However, it is a good idea to bring light, nonperishable snacks to keep you fueled during the day and to mitigate the amount of money you spend on meals. 
Foods like trail mix, foil-packaged tuna, and dehydrated foods are popular among backpackers because they are filling, nutrient-rich, and will not spoil in an unrefrigerated backpack. 
Backpackers food, such as Backpacker's Pantry, consists of dehydrated dishes stored in vacuum-sealed bags. Backpacker's food is famous for wilderness backpacking. In addition, backpacker's food can be an excellent addition to your supply list as an emergency backup meal, as it is light and will not spoil. 
Backpacking food requires only water and is ready to consume within a few minutes, which makes it perfect for quick, nourishing meals while you're on the trail.
Take a look at the prices of groceries in a supermarket in the south zone of Rio to know what to expect. Prices can vary in other cities and supermarket chains:
Clothes 
From the world-famous Carnival party scene to hikes through the Amazon rainforest, Brazil has something for everyone and everything for someone. But, of course, you'll need multiple kinds of clothes to enjoy everything Brazil has to offer. 
Active Wear 
For the hiking and actual backpacking portion of your trip, you'll need to pack activewear suitable to the weather. Brazil has a tropical, humid climate. Temperatures ranges in the 70-80s℉ (21-26 °C) and usually will only get as low as 60℉ (15°C) at night. 
You won't have to carry around heavy winter clothes as you hike through Brazil, which is a lifesaver when it comes to packing. According to Under 30 Experiences, here's the kind of clothes and garments that you will need on your trip:
Swimsuit — Choose a swimsuit that will survive cliff diving and beach parties with equal elegance. If possible, choose a bathing suit that is comfortable for hiking as well. 

Water shoes or slides — Water shoes are important for protecting your feet when swimming in natural bodies of water, as well as guarding against athlete's foot and similar fungal infections common in public hostel showers.
 
Hiking boots — Make sure your hiking boots have proper ankle support. An ankle or foot injury halfway through a backpacking trip would be detrimental to the adventure as well as physically painful. 

Hiking socks — Proper hiking socks should be made of wool or designer material. Using thick hiking socks can help prevent blisters, lifted toenails, and other uncomfortable issues that can arise from long hikes. 

Lightweight pants — Although the temptation will be to wear shorts while you're hiking to keep your legs cool, hiking pants provide protection against UV rays and sunburn. Hiking pants should be made of light material and allow for a full range of motion. 

Hats — Outside of looking stylish, hats are also important to shield your face from sun damage. A wide-brimmed sun hat is a helpful addition to your hiking outfit. 
Casual Day Wear
Days of hiking through nature will be broken up by nights of festivities as you journey on foot through Brazil. For this reason, it's also essential to bring along a few outfits that you can wear around town. 
To keep your pack light, only bring a few outfits. Do laundry at the hostels over the course of your trip to keep yourself dressed for any occasion you come across throughout your backpacking excursion. 
Gear 
Beyond what clothes to wear on your trip, it's also essential to create and adhere to a supplies checklist. 
Water bottle/bladder — No matter where you are, staying hydrated is crucial. Many backpackers favor using water bladders, which are essentially skin bags stored in the backpack with a straw and nozzle allowing hikers to drink while they walk. CamelBak is a popular brand of water bladder among hikers. 

Daypack — Depending on the kind of hiking you're doing, how many days between destination points, etc, the size of the backpack required can change. If you can pack everything you need into a lightweight daypack instead of a traditional mountaineer's pack it will make the journey easier on your back and joints.

Sunglasses — The right pair of shades will help you protect your eyes against UV rays while you hike, as well as keep you looking cool as you tour the country. 

Sunscreen — Long days in the sun, even filtered through overcast clouds, can damage your skin. Make sure to bring sunscreen and reapply every few hours to avoid getting sunburned or long-term skin damage. 

Rain jacket — Although it doesn't tend to get too cold in Brazil, backpackers may encounter some rain. Having a light raincoat or poncho that can be stored compactly will save you a good deal of discomfort in case of a surprise downpour. 

Bug Spray — Insect repellent is a must for backpackers, especially in warm, humid climates like Brazil. Mosquitos in Brazil pose a health risk as well as an itchy annoyance, as the Zika virus is commonly spread by mosquito bites. Use bug repellents with higher deet content are generally more effective. 

Towel — Keeping a small, quick-dry material towel is a good idea whenever you're traveling. Aside from getting dry after a swim or shower, towels can take on many other uses for backpackers. Use a shammy or similar material towel because they are lightweight, effective, and dry faster than other materials. 
Plot Your Itinerary
A backpacker's itinerary is essentially an outline of the places they will visit and the trails they will use to get there. An itinerary is also helpful for setting the pace of hiking, as you will know ahead of time how far the destination is and how long you need to get there. 
Planning your course is crucial to a successful backpacking trip. Your itinerary should be created with your budget in mind. Plan your trip based on where you can afford accommodations, then budget your spending based on the attractions and activities in those areas. 
Popular Backpacking Destinations in Brazil 
Southern Brazil is the popular option when backpackers are creating their travel itineraries. The popularity of backpacking in the southern municipalities is with good reason. However, don't miss out on the beautiful beaches and natural landscapes to be found in the North. 
Rio de Janeiro — Rio de Janeiro is likely the most famous city in Brazil. Aside from being the capital and home of the world-renowned massive Cristo Redentor (Christ the Redeemer) statue, it is also the center of the Carnival celebration and hub of Brazilian life and culture. Rio offers nature enthusiasts excellent sand beaches and green mountains. 

São Paulo — This city is known for being more urban and densely populated than other Brazilian cities. It is a popular decision for travelers seeking exciting nightlife. São Paulo does not have the spectacular natural beauty or historical relevance that draws so many enthusiasts to other destinations, however, it offers a more modern and urban way to enjoy Brazil. 

Paraty — This is an interesting area for its historical relevance. Paraty is a well-maintained colonial relic, drawing history buffs and architecture enthusiasts. Paraty is a relatively quiet, non-lively destination in comparison with other Brazilian cities and if you want to know more about it, click here to check out 9 reasons on why you should definitely visit!

Trindade — Renowned for its gorgeous beaches, Trinidade is a popular destination for travelers seeking to lounge on the sand and soak up some rays. There are over 50 beaches in Trinidade, and the thriving beach tourism supports a variety of food, drink, and accommodation industries.

Ilha Grande — This is an island off the shores of Angra dos Reis. The island has managed to avoid major commercial development, making it a paradise escape and a highly recommended addition to your backpacking itinerary. 
We also have 15 reasons on why you should include Ilha GRande on your itinerary, make sure to check it out!

Amazon Rainforest — Famous around the world for its lush jungle and multiplicity of wildlife, the Amazon Rainforest provides an opportunity for adventure. Hiking through the Amazon is both laborious and dangerous, however, so many travelers choose to charter a boat and traverse the Amazon River in order to experience the wonders of the rainforest.
More itineraries and details about each destination point can be found from The Broke Backpacker.
Hidden Gems 
There are a few less frequented areas of Brazil which merit attention. Backpacking through less popular sites can allow travelers to experience a more authentic, less commercial version of life in Brazil. 
Ilha de Marajó
This is a fluvial island, which means it is in a river rather than the ocean. Don't be deceived, however, as the Ilha de Marajo is actually quite large. It is a place of natural beauty and home to a wide variety of wildlife, including wild water buffalo.
Tourists less frequently travel this paradisial island. However, it is still famous for its bathing beaches, making it a great spot to spend a few days relaxing before continuing your backpack journey through Brazil.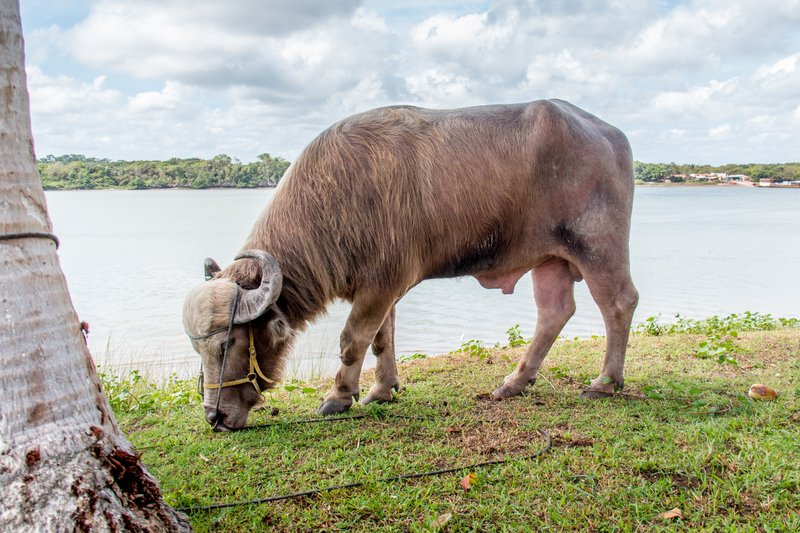 Rio Bonito
This nature area is densely forested and lush with life. It's located relatively close to Rio de Janeiro and can provide a relaxing and refreshing change of pace for travelers after the bustle and liveliness of the capital.
Popular activities in the Rio Bonito area are hikes through the forest, visiting waterfalls, and experiencing the broad spectrum of plant and animal life thriving all around.
Make a Plan For Backpacking Safely Through Brazil 
Whenever you're traveling to a new country, it's essential to take steps to ensure your safety. This can range from getting properly vaccinated against viruses specific to certain localities to knowing and avoiding high crime or not-tourist-friendly areas. 
Learn Important Phrases In Portuguese
The ability to communicate with locals is beneficial when traveling in a foreign country. Being able to understand directions is just as important as being able to ask for them. 
Portuguese is one of the five Romantic Languages, meaning it is based in Latin. If you already speak French or Spanish, you may be able to communicate due to the similarities in the languages. Although a shared Latin origin can assist your understanding of the Portuguese language, it's important to remember that they are not the same languages.  
Some locals may take issue with the inaccurate assumption that all South American countries are Hispanic, and a tourist's address in Spanish could be offensive. Try to use as much Portuguese as you can, and get started learning the language long before you leave. 
If you don't already speak one of the Romance Languages, however, learning some phrases before you start can come in handy while you're on the road.
Here are a few common phrases and their Portuguese translations that might help you along the way:
Where is the hostel? — Onde está o hostel?
Right — Direita
Left — Esquerda
Is it safe? — é seguro? 
How far to ___? — A que distância do ___?
You can also use translator apps to ensure you can communicate or a Portuguese-English dictionary if you're old school. Software such as Google Translate or Reverso Context is helpful for accurately translating in real-time.
This will help with finding destinations and making essential purchases and allow travelers to engage with the residents and culture in a more personal way. 
Common Dangers Of Backpacking/Traveling in Brazil 
Gov.UK warns that Brazil is recognized as a high crime country, with increasing rates of violent crime and common theft. 
Theft
Pickpocketing is a common issue for tourists traveling abroad. Therefore, travelers are advised not to wear flashy or expensive clothes and jewelry to reduce the likelihood of attracting unwanted attention. 
Phones get stolen! Try to keep your phone stowed safely out of sight in a zippered pocket or bag while in public. Losing your phone while in another country can be just as debilitating as losing your wallet or passport. 
Don't carry your passport, important travel documents, or personal valuables around with you. Whenever possible, lock your belongings in a secure place such as a storage locker or safe. Hostels are frequently burglarized, so storing your valuables in your hostel is not a safe plan. 
Violent Crime
Tourists are advised to stay away from quiet, unlit areas and not to carry large sums of cash, especially at night. The Brazilian slums, called "Favelas," can be dangerous and unpredictable. 
Violent crime is an issue in Brazil, and tourists are advised to remain in highly-traveled areas for their own safety. For this reason, travelers should avoid going to the beach after dark. This will help reduce the likelihood of mugging or assault. 
Fraud
One of the most common crimes for tourists to be victims in Brazil is financial or credit card fraud. Card cloning at ATMs and other fraudulent practices can compromise the security of your bank account. Therefore, keep an eye on your bank and report any unusual activity on your account as soon as you notice it. 
Mosquitos 
Bug bites are annoying no matter where you are, but when you're traveling to Brazil, mosquitos pose a serious, sometimes even fatal, threat. Mosquitos in Brazil are often carriers of diseases like Zika, Malaria, and Dengue Fever. 
Because most hotels are run on a cheap budget, mosquitos will likely be able to get into your room at night, which can be dangerous. Therefore, using bug spray and mosquito is advisable to prevent getting devoured by parasitic insects while you sleep. 
We have everything you need to know about mosquitoes in Brazil in this post, so make sure to check it out!
Get Vaccinated Before You Leave
Whenever you're visiting a new country, it's essential to make sure you're vaccinated against the local strains of the disease. Different countries naturally harbor different strains of conditions, so it's critical to make sure that your immune system is ready to handle a foreign environment. 
The Center for Disease Control and Prevention (CDC)  recommends that everyone who travels to Brazil should be vaccinated against the following illnesses:
Hepatitis A 
Hepatitis B
Typhoid 
Yellow fever
Rabies
Measles 
Polio 
Mumps 
Rubella (MMR)
Tetanus 
Chickenpox
Influenza 
Shingles
Pneumonia 
COVID-19
Make sure that your vaccines are all up to date, and check with your doctor about any other health-related concerns about backpacking through Brazil.
COVID-19 in Brazil 
As of late November/early December, cases of Covid-19 in Brazil have exponentially dropped after a massive vaccination campaign, but health authorities have a new fear for the Omicron variant. So if you plan on going to Brazil, you must be fully vaccinated.  
Aside from personal safety, the COVID-19 pandemic may also logistically affect travel plans. Tourists traveling during the pandemic are likely to encounter border closures, travel restrictions, and a nightlife that is severely dampened by stay-at-home orders. 
While there are still plenty of natural features outside of the nightlife party scene to draw tourists to Brazil, tourists visiting the country while many of its citizens are in lockdown may feel that they have missed out on a critical part of Brazilian life and culture. 
Travel.State.Gov, where this information is sourced, also warns about the dangers of violent crime in many Brazilian cities and neighboring localities. 
Conclusion 
Backpacking through Brazil can afford travelers a new way of experiencing the world. From the vibrant culture to the stunning scenery, Brazil has no shortage of things to offer. Planning your trip, what to pack, and where to go can be a challenge, but with some organization and insight from the experts, you can plot out a safe, exciting adventure through the lush, liberation landscape of Brazil.
While you are here, I think we might interest you with these:
Broader South America: Where Should I Go After Visiting Brazil? – Now that you have backpacked through the whole country, it is time to expand to the rest of the continent! Click here to find where you should go next!
Where To Go From Rio: 19 Places for Amazing Short Trips – Short trips are perfect for backpackers and if you are in Rio de Janeiro, you'll have 19 excellent choices to extend your trip a bit!
Brazilian winter: how cold does it really get? – Scared that the cold might spoil your backpacking plans? Take a look at this post to find out everything you need to know about the cold in Brazil!
Cover Photo: trakkers at Chapada da Diamantina, in Bahia – Credit: ID 97124371 © Caio Acquesta | Dreamstime.com