Ilha Grande, which loosely translates as "Big Island", is a hidden gem of Brazil's travel attractions. With a population of less than 5k and its lack of development, it's the closest thing you can get to a secluded tropical beach getaway in Brazil. 
Below you'll find some of the best reasons to choose Ilha Grande as one of your destinations for your next Brazilian vacation. From the delicious South American food to the epic vistas, you're sure to find plenty to bring you back. 
1. Ilha Grande Provides Easy Access to the Mainland
Even though Ilha Grande feels like a faraway island, it's actually very close to the major mainland attractions of Brazil such as Paraty, Angra Dos Reis, and Rio. Ilha Grande has tons of stuff to do on the island, but the proximity of it to other Brazilian attractions makes it well worth the time to stop and take it in. 
How Long Does it Take to Boat from Ilha Grande to the Mainland? 
The trip to Ilha Grande takes only thirty minutes to an hour and forty minutes by boat (depending on the size of the boat you're on), which makes it the perfect place for a great weekend or day trip from the mainland.
It also means that you can easily take a break from your island getaway to plan some things to do back on the mainland if you're spending the majority of your vacation at Ilha Grande. 
How Do You Get to Ilha Grande From the Mainland?
The best way to get to Ilha Grande is by arriving at Rio de Janeiro's International Airport (Galeão), taking a bus (or rent a car) to Conceição de Jacareí, and then complete the rest of the trip by taking the boat there.
There are two types of boats available, a ferry (which makes for a slower ride) and a speedboat (that takes fewer people but get to the island a lot faster).
There are also options to take private boats from the mainland to Ilha Grande. However, these private excursions tend to be a little more expensive than taking the ferry. 
2. Enjoy Miles and Miles of Beautiful Beaches
By far the most popular attraction on Ilha Grande is the great extent of beautiful beaches to be enjoyed. Unlike Rio, the beaches at Ilha Grande are both clean and relatively uncrowded in comparison to beaches on the mainland. 
Here are some of the best beaches to experience on Ilha Grande: 
Parnaioca Beach: This popular Ilha Grande Beach offers plenty of tree cover from the scorching Brazilian sun, so it's a great spot for those who want to chill in the shade as much as they want to play in the water. Local camping spots are offered by Marta's camping along with three offered meals a day.


Lopes Mendes: Lopes Mendes is the type of postcard-perfect beach you think of when you think of Brazil – crystal blue waters and piercing white sands. While there are a few people offering drinks and snacks for sale here, it's recommended by experienced travelers to bring plenty of your own snacks (and your own trash bag!)


Santo Antonio Beach: If you're looking for a beach on Ilha Grande that is slightly off the beaten path, you need to check out Santo Antonio. This beach is reached by taking a diversion trail past the main trail leading to Lopes Mendes. This beach isn't as good for swimming as some of the others on Ilha Grande, but it's one of the most secluded.


Dois Rios Beach: Like Santo Antonio, it takes a short jungle walk to reach this isolated wild beach, but it's well worth the trip. This beach lies on the path to get to Candido Mendes, the historical prison ruin on Ilha Grande, so it's a great beach day trip if you want to take in both attractions at once. 

These are just a handful of the pristine beaches available on Ilha Grande. You'll have to visit yourself to figure out how to find the rest! 
3. Take in Ilha Grande's Undeveloped and Wild Landscapes
Unlike the mainland of Brazil, which is both highly developed and populated, there are areas on Ilha Grande that are still relatively untouched. 
For example, both the East and South beaches of Ilha Grande are closed to development and tourism. These pristine parts of the island are only open to scientific research. While you can't visit them, you can see them from the water on a boat tour. Since they're undisturbed, they're a great place to spot native wildlife and birds.
While it might be a bit of a disappointment to know that there are parts of Ilha Grande you can't explore, never fear! Leaving parts of the island undeveloped helps preserve Ilha Grande's natural charm in the areas where travelers are allowed to visit. 
4. Follow the Witch's Trail
If you're interested in some of the most beautiful hiking on earth, Ilha Grande is definitely the place to go. One of the most popular hiking trails on the island is called Trilha da Feiticeira, or "The Witch's Trail."
There isn't much local historical explanation for the name of this enchanting hike other than that a witch once lived in the area who was known for being a healer or dealing with black magic, depending on who you ask. There is also a "Witch's Fall" (Cachoeira da Feiticeira – which we'll see more of in a following topic) and "Witch's Beach" (Praia da Feiticeira) in the area named for that same mysterious witch.
Spooky history aside, this high trail offers some of the most beautiful top-down views of the rest of the island and the surrounding waters. 
5. Stay at a Forest House on the Beach
Even though Ilha Grande is relatively untouched compared to other parts of Brazil, that doesn't mean there aren't places you can stay there overnight. There is a selection of elegant pousadas, or beachside inns, that you can choose from on Ilha Grande. 
One of the nicest of these is the Bonito Paraiso Beach and Forest House. The perfect combination between a cabin in the woods and a cottage on the beach, this pousada manages to be both rustic and romantic at the same time. 
The staff at this pousada speaks both English and Spanish, which makes for an inviting atmosphere for Western travelers who may be intimidated communicating in a foreign language. The inn also comes with its own private beautiful beach, making for a magical experience if you're looking to get away from it all. 
The Forest House is also only a short and safe twenty-five-minute walk from town, so it's the perfect place to stay if you want to enjoy some low-key hikes to nearby Abraao. The delicious breakfasts and dinners are also a popular draw for out-of-towners.
6. Eat Delicious Brazilian Food
If one of your favorite things to do on vacation is take in some of the world's best international cuisine, then Brazil's Ilha Grande will be a treat for you. The town of Abraao offers a variety of different eateries offering everything from pizza to some of Brazil's most authentic dishes. 
Here is just a sampling of the excellent food that you can find on Ilha Grande: 
Caipirinha: A cocktail made of sugar, lime juice, and a liquor called cachaça, caipirinha is Brazil's national drink and is one of the most popular beverages ordered in the country. The Caipirinhas found in Ilha Grande's restaurants are known to be especially good, like the ones at Kiosk Bistro for instance.
  
Moqueca: Moqueca is a Brazilian fish stew made of sea bass that has been slowly simmered in coconut milk broth with cilantro and other spices. This satisfying bowl is commonly found on Ilha Grande since it takes advantage of Brazil's fresh seafood trade. The restaurant on Ilha Grande that is best known for moqueca is Rei do Moqueca.

Picanha: Picanha is a unique cut of beef found in brazil that includes a top portion of the rump roast along with the fat cap. This cow's muscle doesn't see much use, which means it is one of the most tender parts of the animal. One of the best places to get a good picanha in Ilha Grande is at Restaurante Pizzaria Rei da Picanha.


These Brazilian dishes and more can be found at the eateries on Ilha Grande. Keep in mind that the operating hours and availability of local restaurants might have changed recently due to COVID restrictions, so be sure to check ahead for reservations, dietary restrictions, and other accommodations. 
7. Relax in a Car-Free Zone
One of the unique things about Ilha Grande as a tourist destination is that this island is a car-free zone. Since the only ways to reach the island are by boat and small ferry, there are no vehicles or roads on the island.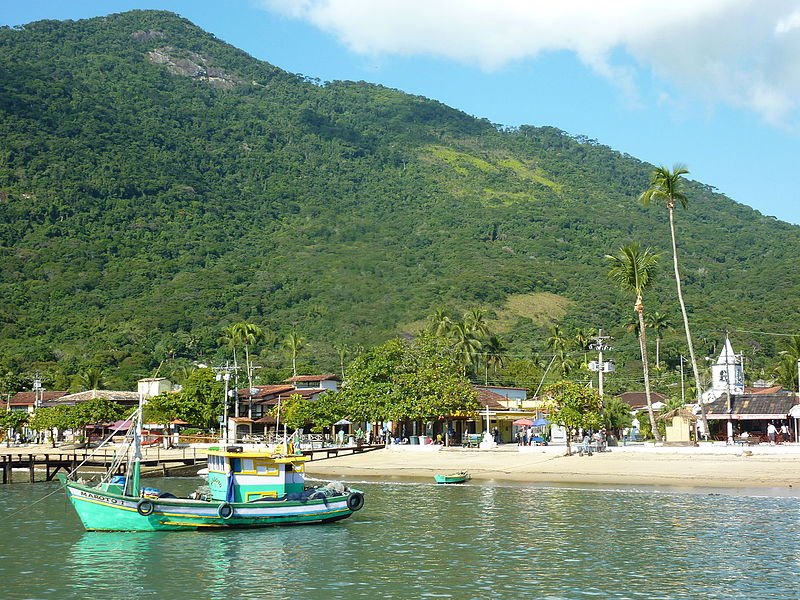 Even though it may take anywhere from ten to thirty minutes to walk from one area of the island to another, these walks aren't painful. There are plenty of easy and clearly-marked trails to lead people from one island attraction to the next. 
There's also plenty of things to see in the surrounding jungle as you make your way around, such as beautiful foliage and native wildlife. Take your time and enjoy the view while you stroll!
8. Feel the Need for Speed with a Speedboat Tour
Most of the attractions around Ilha Grande are relatively slow-paced compared to the atmosphere in the rest of Brazil, but that doesn't mean there aren't opportunities to get your adrenaline pumping. If you're looking for some action, one way to indulge on the island is to rent a speedboat tour. 
A speedboat tour at Ilha Grande is a great way to see several of the island's attractions at once, since some of the tours make a point to hit several popular spots per trip, such as Lagoa Azul or offshore at one of the island's more secluded beaches. 
Go On an All-Day Yacht Tour
If speedboats aren't your speed, you always have the option to rent a slightly slower vessel. There are plenty of all-day yacht tours available around Ilha Grande that can take you to some of the best spots on the island. An advantage of many of these tours is that they offer hotel pickup, so you don't have to worry about getting down to the pier at a certain time.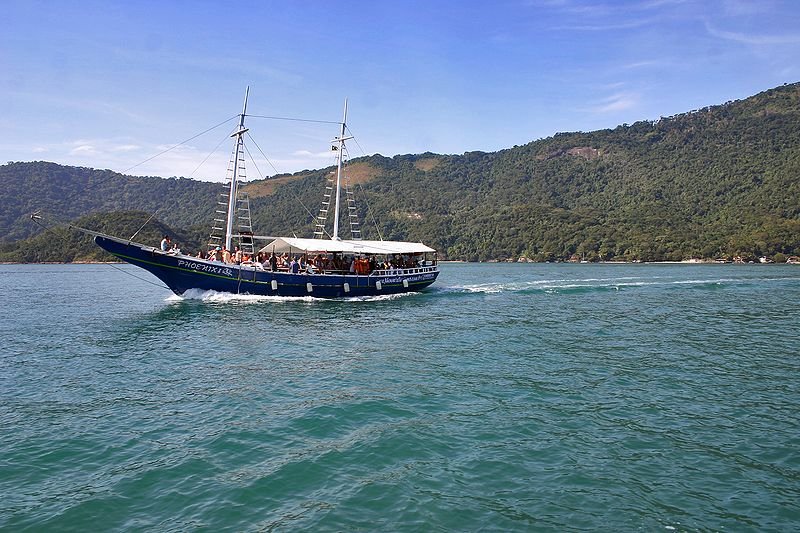 Many of these yacht and schooner tours also offer amenities like onboard meals, live music, and other entertainment. 
Visit the Night Trail to Pico do Papagaio
Pico do Papagaio, or "Parrot's Peak", is the second-highest point in Ilha Grande. On clear days, you can see all the way to Rio de Janeiro from the top. However, one of the best ways to experience this hike through the Atlantic Forest is to do it at night. 
This night hike is one of the more advanced hikes you can undertake on the island, so it's not an attraction for everyone. However, if "watch a sunrise from the top of a mountain" is anywhere on your bucket list, you couldn't go with a more beautiful spot to do it.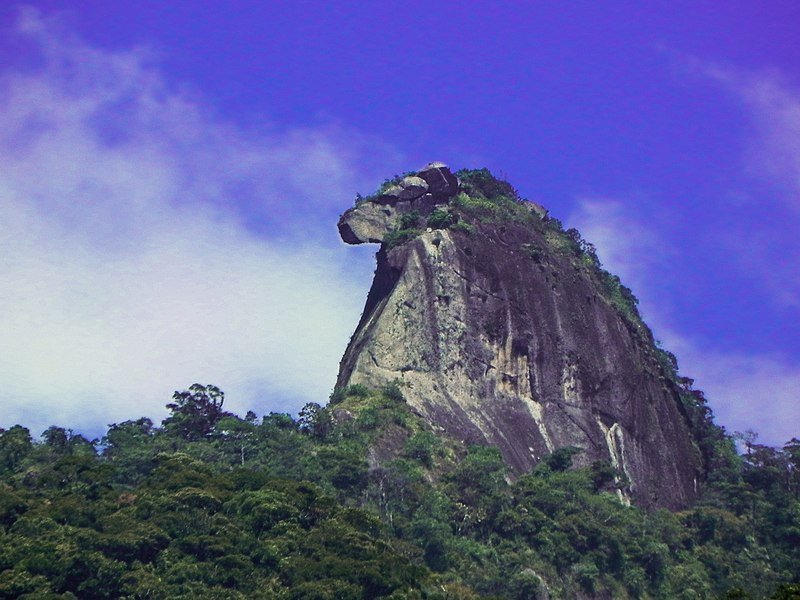 The hiking after dark also gives you the chance to glimpse nocturnal wildlife you wouldn't normally see during day hikes. Here are some of the other attractions you can enjoy on a night hike to Pico do Papagaio: 
Cozy once-in-a-lifetime sunrise: Take the night hike to the mountain's peak where you can enjoy cuddling up with some soft blankets, hot coffee, and confectionaries after your strenuous trip.

Knowledgable guides: The idea of going hiking in the Brazilian jungle at night may seem daunting to some visitors, but the guides who run the night hikes to Pico do Papagaio know the paths to and from the top of the mountain like the back of their own hands. Their ease and confidence in the environment will quickly make you relaxed too.

Native wildlife: The night hike to Pico do Papagaio is one of the best ways to see one of the island's noisiest inhabitants – the howler monkey. The hooting calls of these primates will echo in the trees above you as you make your way through the jungle. (Source: Inspirock)

You need to be at least a little fit to make the trip to the top. But if you're willing to hike all night to get there, the views from the peak are the best in Ilha Grande. 
Go Camping in Paradise
For those guests not interested in spending their evenings in a pousada or inn, another option on Ilha Grande that isn't available in many other vacation spots in Brazil is the option to go camping. Whether you prefer to camp in wooded areas or you want to pitch a tent right on the beach, there are multiple areas where you can set up your spot. 
Along with offering idyllic places to pitch a tent, these campgrounds around Abraao are also conveniently located to other island attractions such as Ilha Grande's downtown area. Most of them also have access to amenities such as barbecue stations or free WiFi Internet access. 
Get a Beach Massage
If you're sore from tramping around on Ilha Grande, one way to unwind after a long day's hike is to hit up one of the beach massage therapists or wellness centers that you can find on the island. One of the best places on the island to get your spa on is Namaste Terapias Corporasis. This wellness center offers the following spa services: 
Therapeutic massage
Ear acupuncture
Brazilian waxing
Reiki palm healing
Aromatherapy
Ilha Grande is already a totally relaxing place, but if you're looking for a tranquil spot to slow your roll, one of the island's spas or beach massage parlors is definitely the way to go. 
See the Cachoeira da Feiticeira Waterfall 
The Cachoeira da Feiticeira Waterfall is only accessible by a wooded hike, but don't let that stop you from seeking out this secluded jungle gem. This fifteen-meter waterfall is a major draw for both hikers and visitors who are interested in repelling to the bottom. 
While this isn't one of the larger waterfalls in Brazil, the Cachoeira da Feiticeira waterfall provides a picture-perfect place to pull off the beaten path and swim in the jungle. It's a beautiful hike, but there's also a way to reach Cachoeira da Feiticeira waterfall by boat if you've got mobility issues or just don't want to hike for an hour and a half. 
Even though this area of Ilha Grande is relatively isolated, it is still located near a beach where you can get refreshments like lime cocktails, coconut milk, and roasted peanuts. The walking trail to the waterfall is considered one of the best on Ilha Grande since it is relatively short and not very steep compared to some of the island's other jungle trails.
Go Snorkeling at Lagoa Azul
Lagoa Azul, or "Blue Lagoon", is one of the most famous snorkeling and diving areas on Ilha Grande. Lagoa Azul is the perfect place to get up close and personal with some of Brazil's gorgeous marine wildlife such as sea turtles, stingrays, and tropical fish.
In this lagoon, much of the coral reef is located in the shallows, which makes it easy to access beautiful schools of fish without having to use scuba gear. The waters in this area are also crystal clear for the highest visibility in waters around the island. 
The best way to experience the Lagoa Azul while also beating the crowds is to book a private tour. This allows you to get out into the lagoon before all the boats start to show up. This is one of the most popular spots on the island for swimming and snorkeling, so it isn't quite as secluded as some of the other areas you might visit. Try scheduling a trip here before or after the daily rush.
Go on a Jungle Safari to See Brazilian Wildlife
For tourists who are interested in seeing some of the most interesting animals that Brazil has to offer, Ilha Grande is a great place to find them. The island is home to thousands of different species of birds, mammals, and marine life. 
Here are some of the unique animals that you have the chance to come across on Ilha Grande: 
Magellanic penguins: Penguins may not be a bird you associate with Brazil, but you'd be wrong! These small black-and-white birds are endemic to South America and can often be found strolling the golden beaches of the island.

Maned sloth: The maned or three-toed sloth is an iconic resident of Brazil's bountiful rainforests. These slow-moving animals spend the majority of their lives in the jungle canopy, so be sure to check overhead while hiking on Ilha Grande for the chance to glimpse one of these laid-back animals.

Argentine black and white tegu: Tegus are just one of the many different kinds of lizards you're likely to see while visiting Ilha Grande. These reptiles come in a wide variety of patterns, colors, and sizes, and some are even bold enough to sneak into the patios of the pousadas on the island.

Nine-banded armadillo: Armadillos can be seen in many parts of the world, but since they're nocturnal this is a good animal to keep an eye out for if you go night hiking on the island. These shy animals don't see well, so it's easy to come up fairly close to them before frightening them away. 

The best times of year to see native wildlife are in early spring (January) or high summer (July). Be aware that Brazil experiences a rainy season from October all the way through late March, so the weather may cause problems with camping, hiking, and other wildlife-watching activities. 
Ilha Grande Is a Beautiful Brazilian Secret
Most tourists who visit Brazil know about the more popular attractions in the country such as Rio, but Ilha Grande is relatively untouched compared to the rest of the country. Even though it has an air of calm isolation in many areas, this island still contains plenty of tourist amenities and conveniences that will make you feel right at home.
While you are here, I think we might interest you with these:
Top 10 Safest Beaches In Brazil: Crime, Sharks, Waves – if you want to make sure you can lay down on the beaches in Brazil and not worry about a thing, we got the perfect post for you right here!
Capitolio, MG: The (Secret) Beach Away From The Coast – looking for an off-the-beaten-path beach location to relax and unwind? Capitólio could be your dream destination then!
9 Best Places to Swim with Dolphins in Brazil – How about a wild vacation in Brazil swimming alongside some beautiful dolphins? Click here and find out all about it!
Cover Photo: aerial view of Ilha Grande – Credit: WikiCommons | Governo do Rio de Janeiro