If you're looking for a truly unique travel experience, swimming with dolphins in Brazil is something to consider. The Amazon River is a breathtaking sight that winds its way through the jungle from Peru to the Atlantic Ocean. It is brimming with wildlife, the most spectacular of which is the Amazon River Dolphin. Their pink hue is something to marvel at and take photos of!
Dolphins in Brazil are the largest freshwater dolphins in existence, reaching an average of 7 feet long and 200-300 pounds. They are known for their curiosity and have been reported to play with sticks, bump against fishing boats, and hold on to fishing oars. These dolphins are slow swimmers but are still acrobatic and have been seen jumping out of the water, much like bottlenose dolphins.
Can You Swim with Dolphins in the Amazon River?
You can swim with pink dolphins in the Amazon River in a variety of places. There is no shortage of tour companies who will take you on a boat tour along the river where you can see the dolphins playing alongside the boat. Most tours will also stop for a bit and allow tourists to jump in and swim.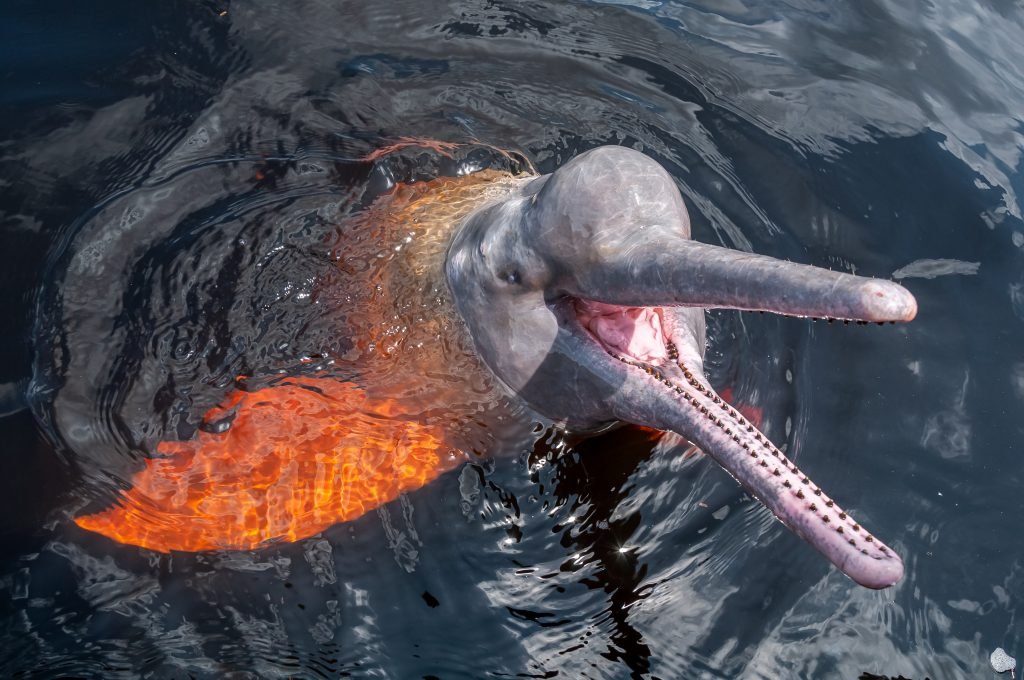 It's important to note that dolphin sightings are not generally guaranteed. If the tour company is truly being respectful of the environment, they will take you out to a swimming spot but will not entice the dolphins to come out. Instead, they will allow the dolphins to swim up to the boat of their own free will. Since Amazon River dolphins are so curious, this may not be an issue during your tour.
What are the Best Places to Swim with Dolphins in Brazil?
When it comes to swimming with dolphins in Brazil, you've got tons of choices! Here, we've done the research for you and put together a list of some of the top places to swim with dolphins. Check them out and find the one that works best for you, your family, and your level of adventure!
1. Lo Peix
Lo Peix is one of the highest-rated tour companies in the Amazon region of Brazil. They feature a variety of jungle tours and excursions, the majority of which include swimming with dolphins. They are known for booking small groups of travelers, which adds to the intimacy of the experience.
The tours you can book with Lo Peix range in length from a single day to six full days on the water. There are a variety of tours available with different activities, so be sure that you choose a tour that includes swimming with the pink dolphins. 
Unless otherwise noted, all of their tours include: 
Food
Lodging 
Transportation within the country
A unique aspect of the Lo Peix tour company is their use of sustainable energy in their fleet. All of their boats are designed with renewable energy sources that are better for the environment. Using renewable energy helps them protect the ecosystem while delivering amazing tour experiences to their travelers.
Lo Peix Contact Information

Phone Number: +55(92) 98182 4793
Website: www.lopeix.com
2. Ney Eco Adventures
This is a super cool company for a thrill-seeker because it's basically a build your own adventure process. They do offer a one-day tour that is already planned out for you, but it's a tour of the city. Instead of giving you a list of pre-planned adventures, they allow you to customize your experience to exactly what you're looking for.
If you enjoy making your own decisions, this is a great feature. You can literally call or email them and tell them exactly what you want to experience. The list can include: 
Swimming with dolphins
Fishing
Taking a boat tour
Hiking in the jungle 
You name it! 
They have been touring in the Amazon for quite some time, so they know the lay of the land.
Many of their former clients praise them for their knowledge of wildlife. Ney and his crew are well-versed in the language of the Amazon River and all that it holds. Be sure to ask lots of questions about the dolphins and other wildlife you encounter!
Ney Eco Adventures Contact Information:

Phone Number: +55(92) 99212 2338
Website: www.amazontourmanaus.com
3. Amazon Forest Tours
This company offers a variety of excursions lasting from a single day to several days. They are located in Manaus and have been conducting tours for several decades. The owner of the company was born and raised in the Amazon and has a rich knowledge of its history.
Amazon Forest Tours offers boat tours that include swimming with the dolphins. Most of the days tours include lunch at various local spots, depending on which tour you choose. However, if you really want the full experience, they recommend at least a two-day tour.
Touring with Amazon Forest Tours is a sure way to see the Amazon River through the eyes of a native. They will spend time teaching you about the river, the wildlife, and the culture. They will also stop along the way and introduce you to local fishing villages where you can see the dolphins playing in the water and the locals enjoying their day.
Amazon Foresr Tours Contact Information:

Phone Number: +55(92) 98806-4952
Website: http://www.amazonforesttours.com/
4. Gray Line Brazil
If you want to get "off the beaten path" and explore a different side of Brazil, check out Gray Line Brazil. They have boat tours that will take you around the Fernando de Noronha Archipelago, with several swimming stops along the way. This also includes a dip in Baia Sancho, where the marine life is plentiful, and the waters are a beautiful turquoise blue.
The Fernando de Noronha Archipelago is a UNESCO World Heritage site formed by volcanic peaks from an underwater chain of mountains in the South Atlantic. It is about 340km off the coast of Brazil and is only accessible by boat. There is a marine reserve there that is a critical part of sustainability for a variety of species, including:
This is a tour that will feel completely different than the Amazon River tours we've discussed so far. If you have enough time on your visit to Brazil, you may want to try both! It will give you a deeper perspective on everything Brazil has to offer.
Gray Line Brazil Contact Information:

Phone Number: +55(21) 3586 8687
Website: https://graylinebrazil.com/
5. Noronha Tour
Another way to swim with dolphins at the Fernando de Noronha Archipelago is with full-day and multi-day tours here. This company offers a huge variety of water sports, including: 
Swimming with dolphins
Snorkeling
Boogie boarding 
And more 
Almost all of their tours include lunch, and most also include transportation to and from your hotel.
Noronha Tour has been in business for 26 years and has a ton of experience in this area. Their guides are well-versed in the history of the Archipelago, so you'll have a blast and learn a ton! In fact, their guides are accredited by the Chico Mendes Institute for Biodiversity Conservation (ICMBio).
All of their tours practice eco-friendly protocols and place the conservation of nature and the safety of their visitors at the top of their priority list. They recently upgraded all of their fleet vehicles, and they have top-of-the-line equipment for use during your tour.
Noronha Tour Contact Information:

Phone Number: +55(81) 3619 1134
Website: https://noronhatour.com.br/
6. Boto da Amazonia
If you're looking for a quick, one-day tour that allows you to swim the dolphins, this is a great choice. While they offer a variety of tours, their dolphin tour is the bread and butter of their business. You will experience several local phenomena on this trip.
It begins with a tour down the Rio Negro, where you will witness the "Encontro das Aguas," or "meeting of the waters." This is where the waters of the Rio Negro and the Rio Solimoes meet but do not mix. From there, you'll grab lunch at a local spot and then head off to meet the dolphins!
Your tour guide will anchor the boat to allow guests to enter the waters of the river and experience the dolphins for themselves. In many cases, the tour guides will bring treats for the dolphins to encourage them to emerge. Guests have the luxury of swimming with and petting the dolphins while in the water.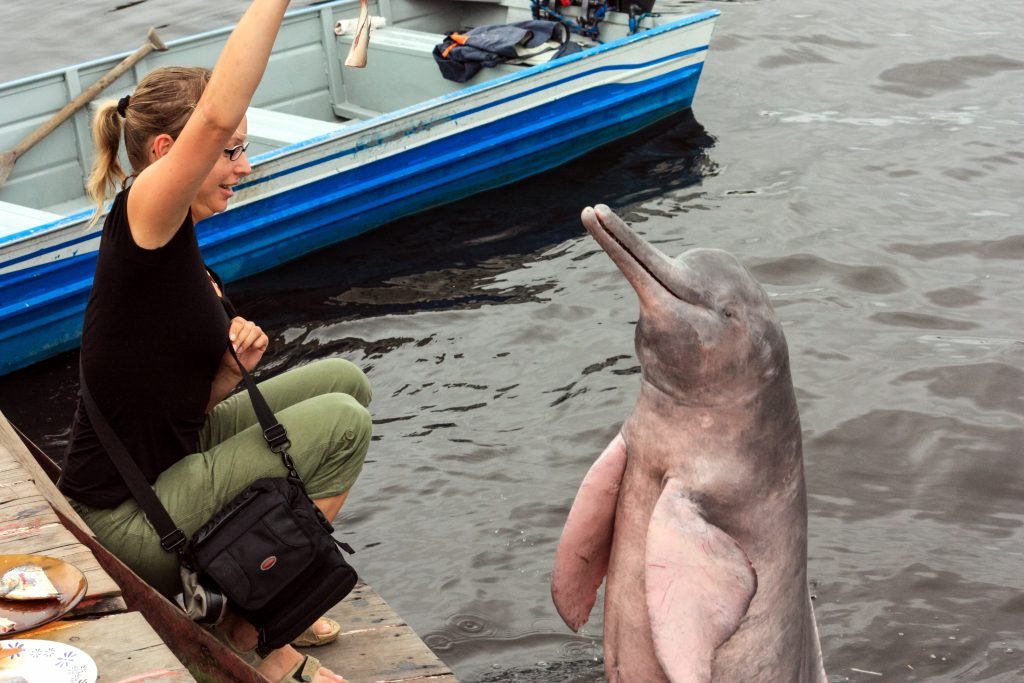 Boto da Amazônia Contact Information:

Phone Number: +55(92) 99299 4956
Website: www.botodaamazonia.com.br
7. Amazon Backpackers Tours
The Amazon Backpackers is a company that was built by local tour guides who have been in the business for decades. They decided to go out on their own, start a company, and combine their experience for the ultimate adventure tours. If you want an adventure on your way to swim with the dolphins, this is the company to choose!
The packages available with Amazon Backpackers range from one day to seven days and include a variety of options. Swimming with dolphins requires a minimum of one eight-hour day tour but can be significantly enhanced if you opt for a longer tour. The longer tours will offer a host of other activities, aside from swimming with the dolphins.
Have a look at the website for this tour company to see all that they offer in terms of: 
Their tours are well-planned, and the descriptions online will give you an overview of each itinerary. The bottom line is that you'll get way more than dolphins on these trips!
Amazon Backpackers Contact Information:

Phone Number: +55(92) 99414 9813
Website: https://www.amazonbackpackers.com/
8. Amazon Prime Ecolodge
This is such a cool property to visit due to its location! It is a floating lodge that sits atop the waters of the Urubu River. This adventure company offers: 
Day fishing trips 
Jungle trekking
Day tours, which include swimming with dolphins
There are five rooms available in this secluded floating lodge. They can accommodate a total of 10 guests, which makes for an extremely intimate setting with an opportunity to get to know one another during your stay! The day tour includes a stop in the Amazon that allows you to swim with the dolphins and observe them as they swim and play together.
In addition to swimming with dolphins, this lodge offers a few water sports such as fishing and kayaking. Once you've had your time with the dolphins, you can switch gears and do something completely different. Former guests of this property rave about the food, drinks, and amenities available in such a quaint location.
mazon Prime Ecolodge Contact Information:

Phone Number: +55(92) 99148 0728
Website: www.amazonprimeecolodge.com/en/
9. ED Transporte e Turismo
This Eco Tour Agency is conveniently nestled along the Rio Negro on the Northwest side of Manaus. It's close to the airport, which makes it easy to get in and out. Like most other agencies, they offer a variety of tours, including the opportunity to dive with pink dolphins.
If you book a multi-day tour with them, you'll have the opportunity to swim with the dolphins more than once in a variety of locations. You will also be able to interact with various wildlife on a jungle trek and experience some gorgeous waterfalls. Their adventures are all-inclusive and top-notch.
ED Transporte d Turismo has been in business for about 10 years, and their guides are all locals to the area. You can easily book a tour through a feature on their Facebook page, which is a little bit different than the other tour companies we've discussed. They have a unique ability to offer tours almost 24 hours per day, so this is a great choice if you need a flexible schedule.
ED Transporte e Turismo Contact Information:

Phone Number: +55(92) 99380 6225
Facebook: www.facebook.com/EDTransporteETurismo/
Are Dolphins Aggressive?
In general, dolphins are not aggressive towards humans. Male dolphins can be aggressive towards one another and become more so as they age. You will often see scars on the skin of male dolphins, which are the result of biting one another.
Depending on where you decide to swim with dolphins in Brazil, you will see different species. The pink river dolphins of the Amazon River are different from the marine dolphins in the Atlantic Ocean at the Archipelago. Here's a closer look at their differences:
Pink River Dolphins
The freshwater dolphins who inhabit the amazon river are not aggressive towards humans or other animals. They are elusive and spend most of their time either alone or in small groups of two to four. These dolphins are shy and secretive, often staying underwater for the majority of the day.
Despite being extremely shy, pink river dolphins are extremely curious about humans. They are also accustomed to a lot of human activity due to the amount of tourism in the Amazon. If you take an Amazon River tour, it is highly likely that you'll see them approaching your boat or playing around in the water near your group.
Marine Dolphins
Marine dolphins in the ocean, also called bottlenose dolphins, are less curious than the pink river dolphins. Although they are playful and sociable, they are not likely to approach your boat or your tour group. Instead, you may see them jumping in the wake of your boat or jumping out of the water at a distance.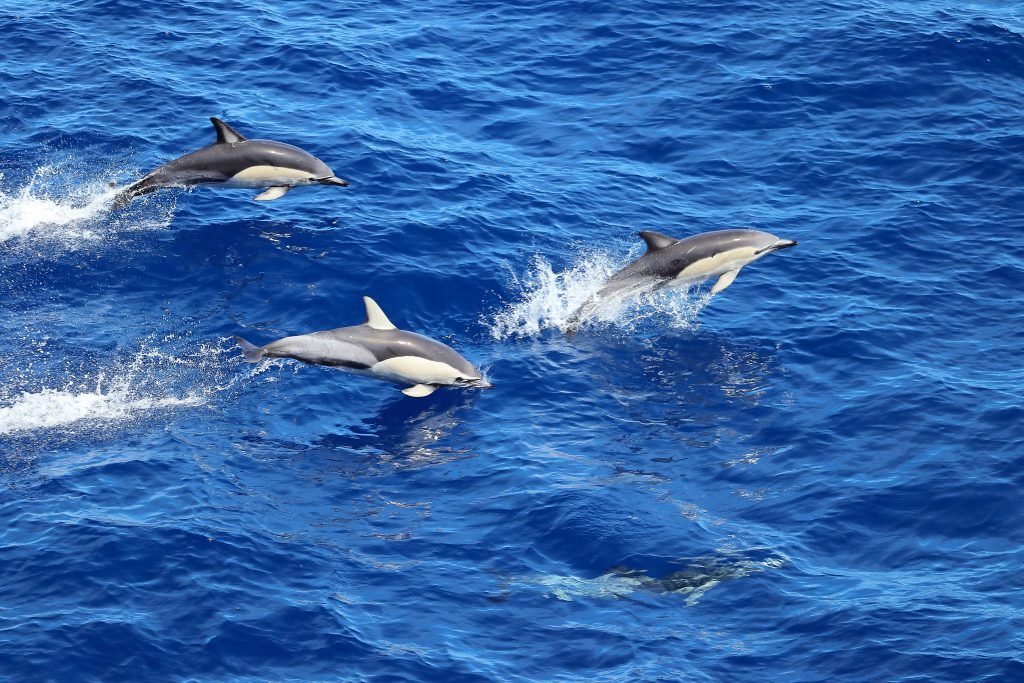 These dolphins often travel in small groups but can be seen in larger pods from time to time. They spend the majority of their day traveling from one area to the next in search of fish, squid, crustaceans, and other meals. Bottlenose dolphins are highly intelligent creatures with an affinity for various sounds that are used for hunting and attracting others.
Are Pink River Dolphins Mythical Creatures?
There are tons of myths about the pink river dolphins that have been passed down through generations of families in the Amazon region. Many Indian tribes consider them to be sacred creatures and avoid contact with them at all costs. Others believe they are evil creatures and can bring bad luck to anyone who encounters them or looks them in the eyes.
One legend of the pink dolphin claims that they are shapeshifters. The story says that the pink dolphins become handsome young men at night who come ashore. Their mission is to find young women and impregnate them.
There is another story that warns against swimming with the pink dolphins. This story claims that they will kidnap you and take you to a magical underwater city called Encante, which means "love, enchantment, and charm." This story was likely created by a concerned parent who was trying to keep her children from swimming in the river at night.
When you go to Brazil, be sure to ask your guide about the legends of the pink river dolphins. Hearing the stories told by a native is a truly fascinating way to learn. Although these stories are obviously not true, it's still fun to listen because they are essentially Brazilian fairy tales!
Conclusion
Swimming with dolphins in Brazil is an experience you will not soon forget. If you have the opportunity to do it, we highly recommend it! Not only will you experience the playfulness of the dolphins, but you will also see the breathtaking landscape of Brazil.
Depending on the length of your trip, you may want to try both the Amazon region, as well as the Atlantic beaches and Archipelago. They are completely different ecosystems because the Amazon is freshwater, and the Atlantic is saltwater. This will provide you with a variety of marine life and freshwater creatures to explore and interact with.
While you are here, I think we might interest you with these:
Capybara: All You Need to Know About the Chillest Animal on Earth – Have you heard about the Brazilian Capybara AKA the chillest animal on Earth? Well, we gathered everything there is to know about it right here, take a look!
Brazilian National Animal (It Is Not The Jaguar) – Just like the US has the bald eagle, Brazil also has a animal representation of the country, except it is not the jaguar as many seem to think! Click and find out what it is!
Broader South America: Where Should I Go After Visiting Brazil? – Have you been up, down, and all around Brazil? Well, then I guess it is time to visit all the other major South America locations! Take a look at out list and start planning your next trip!
Cover Photo: local villagers feeding the Amazon Pink Dolphin