Located on the south coast of the state of Rio de Janeiro, Paraty is a charming district with a layback vibe that infects all kinds of people, especially the gringos (how Brazilians refer to tourists from abroad), who are always gobsmacked by so much culture, good food, and wonderful landscapes. So now you must be wondering: is it worth visiting Paraty?
Yes, It is very worth including Paraty in your next travel itinerary in Brazil. You will be amazed by the beautiful beaches, have a lot of fun with the city's nightlife, visit some interesting historical sites, and even try the locally famous cachaça, a traditional drink manufactured in the city.
In this post, we are going to give you 9 good reasons on why you should include Paraty on your travel itinerary next time you come to Brazil! We'll go over topics such as food, the main activities you can do in the city, all the major places you need to visit, and much more, so stick around till the end to catch up on some tips from a local as well!
1. The City's Historical Center Is Absolutely Beautiful
I mean, come on, who doesn't love historic centers? The narrow streets, old architecture, stone pavements, all of this add up to the experience of walking the streets in downtown Paraty. The overall architectural style comes from the Brazilian colonial period when Paraty was home to the main gold exporting harbor in the country.
As you would expect from one of the city's main points of interest, the city's downtown area is very well preserved and the exterior design remains pretty much the same. In addition to getting enchanted by the charming streets, it is worth visiting the following spots:
Igreja Matriz de Nossa Senhora dos Remédios
Contact Information and Social Media: Website
Address: Matriz Square (Praça da Matriz) – Centro Histórico, Paraty
Opening Hours: from Monday to Friday – 9 AM to 12 PM and 1 PM to 5:30 PM
Saturday – 8 AM to 12 PM and 1 PM to 4 PM
closed
Admission: BRL 3,00 / USD 0.60
Good For: seeing to local architecture, taking pictures
This historical building has an interesting story. In the mid-17th century, Paraty resident Dona Maria Jácome de Melo donated part of her land for the construction of the village that would become Paraty, demanding in exchange the construction of a chapel dedicated to Nossa Senhora dos Remédios.
As the city began to grow and its population increase by number, however, this church began to feel a little bit small to be able to house the entire population, so the city residents got together to build a new church. The work was pretty ambitious and was delayed several times due to a lack of funds.
To complete it, another Paraty resident (named Dona Geralda Maria da Silva), funded the project and managed the construction, which was concluded and open to the public in 1873, even though the bell towers were not yet totally done. Dedicated to the city's patron saint, the monument has a neoclassical style and it is a beautiful place to visit and take a couple of pictures as souvenirs in Paraty.
Casa da Cultura de Paraty
Contact Information and Social Media: Website | Instagram | Facebook
Address: Dona Geralda street, 194 – Centro Histórico, Paraty – RJ
Opening Hours: from Wednesdays to Sunday – 11 AM to 6 PM
Admission: no charge
Good For: watching art exhibitions, learn about local art
The Casa da Cultura Câmara Torres building is a clear highlight among so many beautiful colonial constructions in Paraty's downtown area. The "casarão", as it is locally known, has now become an integral part of the social and cultural life of the city.
The building went through a recent revitalization process that resulted in a construction that incorporates new elements to the traditional Colonial architecture. The rescue and support of Paraty's culture and the preservation of its history are the foundations of the place, which is also dedicated to promoting the production, development, and dissemination of all forms of cultural and artistic expression, especially the local ones.
Museu de Arte Sacra de Paraty
Contact Information and Social Media: Website | Facebook |
Address: Santa Rita Square (Largo de Santa Rita), Centro Histórico de Paraty – RJ
Opening Hours: from Wednesdays to Sunday – 9 AM to 12 PM and 2 PM to 5 PM
Admission: no charge
Good For: watching art exhibitions, learn about local art and history
Paraty's Museum of Sacred Art is located at the Church of Santa Rita (which was built in 1722) and houses an impressive collection gathered by the churches of Nossa Senhora dos Remédios, Nossa Senhora do Rosário, and Nossa Senhora das Dores, in addition to the many smaller chapels located in the countryside.
The collection is mainly composed of pieces dating from the 18th, 19th, and 20th centuries, being an important testimony of the old religious groups that participated in the city's religious temples. It's a really interesting place to learn more about the city's history and take a look at some of the art pieces.
As a matter of fact, if you would like to learn more about Brazilian Art, then you definitely need to check out this post we made on the subject, as we briefly go over every major art movement in the country!
2. Paraty Is Famous For Its Artisanal Cachaça!
Have you ever heard about the famous Brazilian cachaça? It is a very well-known alcoholic beverage in Brazil, made out of sugar cane, and it is also a pretty big deal in Paraty. It is believed that, after the 16th century, the drink began to be sold in Paraty, and even though the city wasn't really a pioneer in its production, it became the most important sugarcane producing region in Brazil during colonial times.
The cachaça that was made in Paraty was so famous for its quality, that according to Monsignor Pizarro and other historians, it used to cost more than all the others brands sold in the country. The socio-economic importance of the beverage was so great that it ended up having its own name (Paraty) as a synonym for "cachaça" until the middle of the 20th century.
Out of the over 100 cachaça producers that operated in the city from the mid-1700s onwards, Paraty now has only 7, which are:
Coconut Cachaça
Cachaça Corisco
Maria Izabel Cachaça
Cachaça Paratiana and Mulatinha
Cachaça Pedra Branca
Cachaça Maré Cheia
Engenho D'Ouro Cachaça
And here are a few bars in which you can taste these delicious beverages:
Armazém da Cachaça
Address: Comércio Street, 162
Opening Hours: from Monday to Sunday, 9:30 AM to 8 PM
Empório da Cachaça
Address:  Dr. Samuel Costa street, 22 – Centro Histórico
Opening Hours: from Monday to Thursday, 9:30 AM to 10 PM
Fridays – 09:30 AM to 11 PM
Saturdays – 09:30 AM to 12 PM
Sundays – 09:00 AM to 10 PM
Alambique Paratiana
Address: Estrada da Pedra Branca, Km 1, 1100 – Zona Rural
Opening Hours: from Monday to Sunday, 09:30 to 5 PM
Cachaçaria & Bar Cana Da Praça
Address: Cadeia street, 373 – Centro Histórico
Opening Hours: from Monday to Saturday – 9 AM to 3 AM
closed on Sundays
Cachaçaria Cana Caiana
Address: Comercio street, 100 – Centro Histórico
Opening Hours: from Sunday to Thursday – 9:30 AM to 10 PM
Friday – 09:30 AM to 11 PM
Saturday – 09:30 AM to 12 PM
3. The Beaches At Trindade Are Breathtaking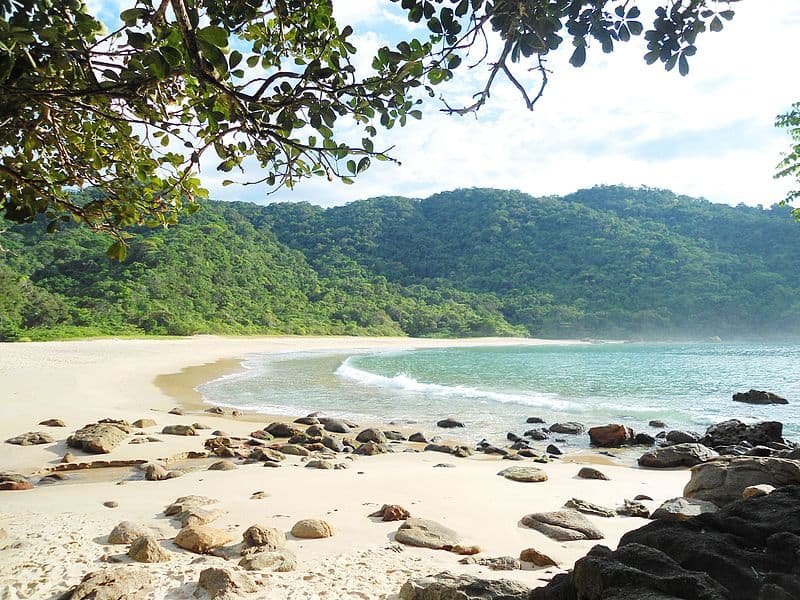 The Trindade village is still part of Paraty, but it has a totally different vibe from the rest of the city, as it still retains that small fishing village charming atmosphere. The beaches in Trindade have a large sand strip (which usually makes them less crowded) and are the most beautiful in the city in my opinion!
Here are some of the beaches you will be able to visit in Trindade:
Praia Brava
Praia Brava is the most isolated wild beach in Trindade, and it usually has good waves for surfers. On the days when the tide is calmer, it becomes a great place for snorkeling, so if you are a fan of any of these, Praia Brava is your place to be. The beach also has several shady spots if you want to escape the sun and a beautiful waterfall right next to the beach.
The access to Praia Brava can only be done by boat or by trail. The beginning of the trail is pretty close to Praia do Cepilho (which we will check in the next topic) and has spaces for three or four cars if you are planning on driving there. The descent to the beach takes around ten minutes, but due to the inclination, the climb is a little heavy for those who are not used to trekking.
Praia do Cepilho
The Cepilho beach is an off-the-beaten-path location at the Trindade village, and therefore, it is usually quieter and less crowded than the other shores in the region. This little paradise has everything you could ask for: fine white sand, an incredible view with large and beautiful rocks where the sea flows, and a bar with good food and cold drinks.
Praia de Fora
The sea at Praia de Fora is a little less agitated than at Cepilho, which should please beach-goers who are not exactly fans of the sport. The water is usually light blue and very inviting for bathing, which of course, is a must at this beach.
There is a local market near Praia de Fora and there are always lifeguards are present (especially in the summertime, when the beach gets more crowded). Many tourists also love to engage in the nightly events at Praia de Fora, to both admire the full moon and enjoy the parties.
The sunrise at Praia de Fora is also pretty popular amongst tourists and locals, don't if you happen to party until dawn, make sure to grab a seat in the sand and watch the show. The Praia dos Ranchos beach is also pretty close by, and there are a few bars, kiosks for the visitors who prefer a place with a bit more infrastructure.
Oh, and don't forget to enjoy the region's culinary specialty, the seafood, as Praia de Fora is one of the main fishing spots in Paraty.
4. The Boat Tour Is Absolutely Beautiful
Although there are indeed many beaches in Paraty that are easily accessible, the most beautiful shores in the region are those that can only be reached by boat. There is a great number of boat tours in the city, and each of the agencies makes their own tour package with the main points of interest.
Here are a few of the most beautiful places to visit on the boat tour:
Baía de Paraty
Housing dozens of beaches and islands, the Bay of Paraty is over 110 miles long, has a well-defined coast and a calm sea, without major tide changes, which makes boat trips much easier and enjoyable. The landscape around the Bay is incredible and well-diversified.
In the southern portion, you will be able to see the Serra do Mar mountains, covered by the Atlantic Forest, medium and large trees, and inhabited by countless animal and plant species. In the northern portion, what predominates is a large plain that separates the sea from the mountains.
The Paraty Bay is part of Rio de Janeiro's Costa Verde shoreline, which was elected one of the most beautiful regions on the planet according to Lonely Planet.
Praia da Lula
Praia da Lula has everything you would expect from a tropical paradise: the intense green tone of the forest blends with the deep color of the sea and the whole scenario turns into something really beautiful. The only thing that interrupts the harmonious landscape is the beautiful strip of white sand that cuts the scene between the sea and the forest.
Oh, it's important to note that there are no restaurants or food vendors at Praia do Lula, so if you want to spend the day on a private boat tour, it's important to bring drinks and food with you. And if you are worried about getting sunburned, don't worry, there are plenty of natural shades provided by the trees, which makes the beach very proper for relaxing and meditating.
Lagoa Azul
Known for the deep-blue tone of the water, Lagoa Azul is easily the most famous boat stop in Paraty. The place, which is surrounded by rocks formations and lush green forests, is a large natural pool, filled with marine life.
For the tour in Lagoa Azul, the ideal thing is to bring diving goggles and, if you have, a waterproof cell phone, as you will most likely want to take as many pictures as possible due to the amount of fish in the waters. If you want to take the tour more slowly, you can rent a private boat at the Paraty harbor zone and head towards Lagoa Azul and its neighboring beaches. The entire region is beautiful and the tour will certainly be worth it.
Other Great Beaches To Visit in Paraty:
Praia do Jabaquara
Praia de São Gonçalo.
Praia de Paraty Mirim.
Praia Grande do Saco do Mamanguá
Praia Vermelha
Praia da Conceição
 Praia da Akita
Praia do Engenho
Praia de Jurumirim
How The Boat Tour Works
There are basically two different itineraries for schooner trips in Paraty, as well as a third tour that can be made in a smaller boat. In each tour option, you can visit a set of beaches, and usually, the boat tour agencies divide the tours like this:
Boat Tour #1
This is arguably the most famous schooner ride in Paraty. It usually lasts about 5 hours, in which you will be pit-stoping at the following beaches and islands of Paraty:
Praia do Lula
Praia Vermelha
Lagoa Azul
Ilha Comprida
Boat Tour #2
In case you want to explore the beaches of Paraty more thoroughly, then schooner ride #2 is the one for you. This route is usually less crowded but the scenario is equally beautiful. These are the places you'll be stopping by:
Praia da Conceição
Ilha da Cotia
Saco da Velha
Ilha do Algodão
BoatTour #3
This tour is usually done on a smaller boat (a speedboat to be exact) and it takes around 4 hours to conclude. This tour stops by at the following locations:
Praia do Engenho
Praia do Costa
Ilhote do Mamanguá
5. The Praia do Sono Region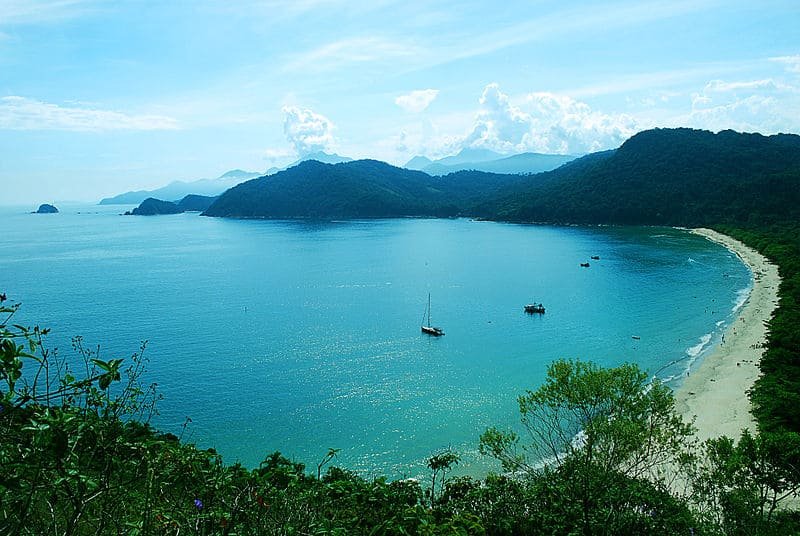 Check out this video about beach etiquette in our YouTube Chanel to enjoy it like a local:

Praia do Sono is a beach area in Paraty located a bit far from the city's downtown area (17 miles to be more exact). The place is quite dear to everyone that visits, mainly because it is located in an almost untouched environmental preservation area, so expect nothing but amazing landscapes.
Another reason why Praia do Sono is so locally famous is that to get there, you will need to make a little bit of a quest, as part of the course cannot be accessed by car. But being a bit difficult to access has its perks, as the location is less crowded and much more quieter than the others.
On the other hand, if you have enough time on your trip schedule, you could choose to stay a couple of days in the region to enjoy all of what Praia do Sono has to offer. We will get to that on a future topic.
How To Get To Praia do Sono
Leaving the city's downtown area, you need to follow the signs pointing to Trindade, the fishing village we spoke of in the previous topic. Arriving on the road that leads to Trindade, you need to turn left, and you will arrive at a condo named Condomínio Laranjeiras.
This is how far your car will get you, as for the rest of the trip, you will need to decide whether you should take a taxi boat or venture on the 2 miles trail that leads to Praia do Sono.
The Taxi Boat – it costs around USD 8.00 and it will take you about 10 minutes to get there
The Trail – you could say the trail has a medium difficulty level, as there are some mudded spots and a few climbs, which makes it a bit harder. But overall, it is actually a pretty fun trail, especially if you are joined by your friends!
Where To Stay At Praia do Sono?
So, if you choose to spend a couple of days at the Praia do Sono region, the main way to accommodate yourself is by camping. As this is an environmentally protected area, there are no hotels or inns in the place, so people usually bring their tents to the campsites and spend a few days in the region.
There are a few campsites scattered around the beach, but if you want peace and quiet, I would suggest you to choose the ones more distant from the bars that play music until dawn. There are also a few residents who rent their whole houses or just a room to tourists, so make sure to check on that if the idea of camping doesn't please you.
What To Do At Praia do Sono
There are a few beaches you could visit at the Praia do Sono region, and here are the highlights:
Praia de Antigos
At the end of the Praia do Sono coast, you will come across the location where the Sono River meets with the ocean. You will also be able to spot a sign indicating the trail to Praia dos Antigos, which once again, will require some physical preparation, as the path is quite steep. But once you get there, I highly doubt you won't feel rewarded once you lay for a few minutes at the natural pool!
Praia de Antiguinhos
From Praia dos Antigos, you will be able to access another beautiful location, and yeap, you guessed it: you will also need a trail to get from Praia de Antigos to Praia Antiguinhos. Luckily, this time the path is very short and simple.
The main difference between the Praia de Antiguinhos and the other beaches is that if you don't like cold water – even in the Summer, this is the beach for you, as the waters are usually very warm and calm. It is a permanent preservation area, therefore, you can expect rigid measures in regards to cleanliness.
Praia da Ponta Negra
Continuing on our tour through the Praia do Sono coast, you can also get to another mesmerizing beach from Praia de Antiguinhos. There is a 50-minute light trail that will take you directly to the Ponta Negra beach, where you will find lots of emerald green waters and snow-white sands. There is also another river that flows out this beach, which makes the place even more exciting.
Jacaré Waterfall
Why not cool off in fresh water as well? The Jacaré Waterfall is only 20 minutes away from Praia do Sono, which means that if you are planning on staying a couple of days at the Praia do Sono region, you must take a dip in the waterfall. Getting there is very simple, just follow the trail that starts from the church on the beach.
A Few Tips If You're Going to Praia do Sono
as you can see, Praia do Sono is a pretty isolated and remote place, with a quiet vibe that allows for a lot of contact with nature. To make the trip even more special, it is important not to forget 3 items that will be crucial at all times: a good pair of sneakers (for the various trails), bug spray and a water bottle.

get ready to be disconnected from all your social media and messenger, as the phone signal at the Praia do Sono region is pretty terrible. Even electricity, at certain points, is hard to find, so get ready to go offline for a bit!

it is advisable to bring cash to Praia do Sono, as you may need it to spend at the local bars and vendors. Even if they do have a credit card machine, the signal could not work, so it is best to be prepared and carry some cash with you.
6. There Are Plenty Of Festivals Throughout the Year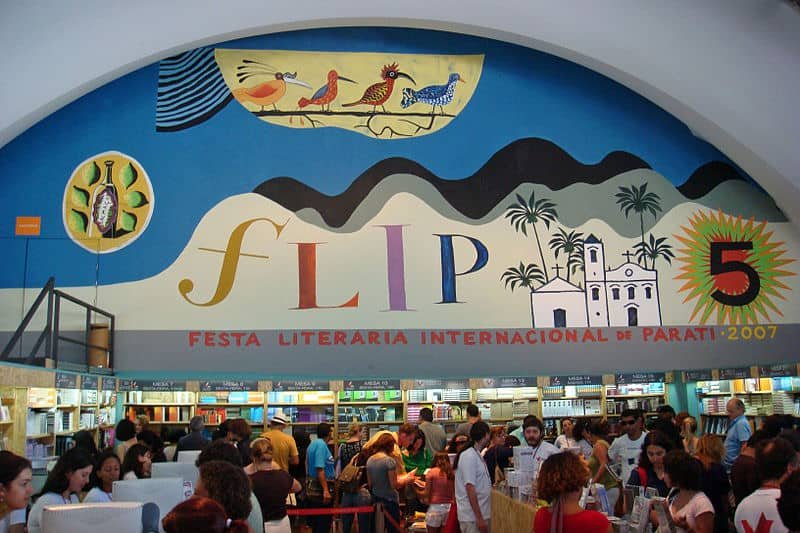 Paraty International Literary Festival (FLIP)
The Paraty International Literary Festival (Festival Literário Internacional de Paraty – FLIP) is a literary festival created in 2003 considered one of the main literary festivals in Brazil and South America. In addition to lectures, discussions, and literary workshops, the festival also houses special events for children (Flipinha) and young teenagers (Flipzona).
The festival was conceived by English publisher Liz Calder, from Bloomsbury, (who lived in Brazil and managed several Brazilian authors) who shaped the Paraty Literary Festival in a similar fashion to the Hay-on-Wye Festival, in the United Kingdom.
The Paraty Literary Festival is highly associated with other events of the same nature, such as the International Authors Festival in Toronto, and the Festivaletteratura Mantova in Italy. Every year, the festival pays tribute to a Brazilian author, having had big names such as Clarice Lispector and Vinicius de Moraes as a few of the honorees.
FLIP 2021
According to the festival's official website, FLIP Festival has confirmed the dates of its 19th edition:
Flipinha – the educational segment dedicated to children's literature will take place from November 22nd to 27th
Main Program – the main festival featuring national and international authors will take place from November 27th to December 5th
Bourbon Festival Paraty
The Bourbon Festival is an international jazz/blues/r&b/soul event in Paraty, being recognized as one of the most important music festivals in Brazil. The Festival has already brought to the city names such as Stanley Jordan, Gary Brown, Jacques Morelenbaum, Stanley Clarke, and many other fundamental names in jazz, blues, soul, and R&B from Brazil and the world.
Usually, the Bourbon Festival takes place in the historic center of the city, which houses the event's two stages. Aside from that, the event also contemplates an area for street artists and you will also be able to see the Orleans Street Jazz Band circulating through the streets of the Historic Center.
7. The Nightlife In Paraty
Historic cities are often had as calm and peaceful places, and while Paraty indeed has that vibe, it also has a pretty busy nightlife. The city's downtown area houses several bars and restaurants which offer all kinds of cuisine.
There are some places that feature live music, others with outdoor tables, menus with traditional pub food, or establishments that specialize in international cuisine, you name it. Paraty has a little bit of everything, for all tastes and all budgets.
Here are a few suggestions on the places you can go to:
Sarau Bar e Restaurante
Opening Hours: from Sunday to Thursday – 11 AM to 1 AM
Fridays and Saturdays – 11 AM to 1 AM
closed on Sundays
Admission: around USD 5.00
Address: Marechal Deodoro street, 241.
Located on one of the busiest streets in Paraty's downtown area, Sarau Bar e Restaurante is a great suggestion for those who want to enjoy a night out with friends or even get to know new people while listening to good music.
The bar is a big fan of music from the 70s and 80s, as well as for current hits, and also has a nice food menu, with items ranging from snacks to exquisite dishes. One of the menu highlights definitely is the handmade hamburger, whose recipe includes Italian bread, artisanal meat, red onion caramelized with honey, Dijon mustard, and a small touch of black pepper, as well as lettuce, tomato, and arugula. Yum!
Paraty 33
Opening Hours: from Sunday to Thursday, 12 AM to 1 AM
Friday and Saturdays, 12 AM to 4 AM
Admission: USD 5.00
Address: Maria Jacome de Mello street, 357
Paraty 33 is arguably the most famous bar in the city since 2002, mainly because of the excellent quality live music and also for its old tavern-style decoration. The place also draws a lot of compliments on TripAdvisor for its service and also for being located right at the center of downtown Paraty.
Paraty 33 is honestly a great option whether you are looking to dinner with the family, going out for drinks with friends, or enjoying a happy hour. But if you are single, be aware that the bar only starts to get crowded after 12 AM, so in the meantime, why not order a seafood entree and a delicious drink?
Cervejaria Caborê
Opening Hours: from Wednesday to Friday – 5 PM to 12 PM
Saturdays and Sundays – 12 AM to 12 PM
Admission: free of charge
Address: Octávio Gama Avenue, 420
The Cervejaria Caborê bar is the main brewery in the city, also famous for being open to the public and offers guided tours. It is one of the main symbols of the city, as it is known for producing artisanal beers and cachaça. Aside from the many types of beer, the drink menu also features many drinks and wine brands, as well as non-alcoholic beverages.
The food menu is also a highlight, with many options if you are either looking to have a full meal or just nibble on a few delicious treats while enjoying a drink with your friends!
Che Bar Paraty
Opening Hours from Monday to Friday, 6 PM to 12 PM
Admission: free of charge
Address: Marechal Deodoro street, 241.
Che Bar (or just Che as it is known in the city) is one of the most famous bars in Paraty, mainly for being the only one that is dedicated to Latin music. In addition, it also draws attention to being housed by an old mansion from Colonial times, carrying some of the histories of the region's glorious and rich times.
This bar is divided into three sections: a lounge with sofas, a garden, and a terrace with tables. From the outside area, you have a clear view of the city's historic center, which is actually another reason why this place is so popular. A great tip is to get there early and secure your table outside the bar, otherwise, Che Bar may become too crowded for you to enjoy the view.
And here are a few restaurants worth visiting when you get hungry:
Restaurante Paraty
Cuisine: specialty varied, a la carte
Address: Maria Jacome de Melo street, 432
Restaurante Captain Folk Frutos do Mar
Cuisine specialty: seafood
Address: Sete de Abril street, 637
Quintal Verde Restaurante
Cuisine specialty: varied, a la carte
Address:  Domingos Gonçalves de Abreu street, 198
Restaurante Banana da Terra
Cuisine: specialty: seafood
Address:  Dr. Samuel Costa street, 198
Bendita's Restaurante
Cuisine specialty: seafood
Address: Dr. Samuel Costa street, 267
Quintal das Letras
Cuisine specialty: Brazilian
Address: Ten. Francisco Antonio street, 362
Restaurante e Pizzaria Punto Divino
Cuisine specialty: Pizza
Address: Mal. Deodoro street, 129
Restaurante Caminho Do Ouro
Cuisine specialty: various
Address: Mal. Deodoro street, 236
8. There Are Amazing Destinations Just Around The Corner!
There are several great locations near Paraty that are sure worth taking a little time on your schedule to visit, or maybe even spending a few days! Here are a few of them:
Ubatuba
Ubatuba is a small town located about 45 miles away from Paraty. Both cities have a very similar vibe, as Ubatuba is also a region with a great variety of beaches (from the most popular to the most deserted ones), preserved nature, and a lot of peace and tranquility on its sands.
The city also has a historic center with beautiful old buildings that makes the overall landscape even more beautiful. Whether you are looking to surf on the high tides or chilling while soaking up the sun, Ubatuba certainly will have a beach for you.
What To Do In Ubatuba
Visit The Lagoinhas Ruins

For those who love to learn about the history of a place, the ruins of Lagoinha are a very interesting places to visit in Ubatuba. The site is part of the remains of the structure of an old plantation and also of the first glass factory in Brazil.

The old buildings that make up the ruins were made of stone and whitewash, and were built approximately in 1828. Among the tours in Ubatuba, this is one of the most interesting due to its historical importance. Upon arriving at the site, you will be able to spot the ruins hidden in an green area surrounded my trees, leaves and roots, a beautiful setting that definitely deserves good photos!

Visit The Beaches

The beaches in Ubatuba are absolutely beautiful, most of them surrounded by the Atlantic Forest and with the ocean water varying in ​​different shades of green and blue. In the region, you can find most popular beaches (such as Praia Grande), as well as the more wild ones, like Praia de Itamambuca (great for surfing).

Lázaro Beach, on the other hand, is a destination that appeals both to tourists who want to stay near the kyosks and vendor, as well as to the ones just looking for some peace. The truth is, that there are plenty of beaches in Ubatuba in which one of them will fit your trip profile, wheter you are looking for a place to spend time with the family, with a group of friends, or even for a romantic trip for two.

Other beaches to visit in Ubatuba: Domingas Dias, Prumirim, Grande do Bonete, Puruba, Brava do Camburi, Almada, and Engenho.

Visit The Local Waterfalls

The beaches in Ubatuba are indeed breathtaking but the city's natural attractions go far beyond them. Surrounded by the Atlantic Forest, the city also houses areas of beautiful forests and several waterfalls, most of which are located near the Serra do Mar State Park.

One of the most famous waterfalls in the region is called Cachoeira da Escada, located onear the Rio-Santos highway. The waterfall's design is very peculiar, with the water running down a rock formation that looks like the steps of a ladder.

The Prumirim Waterfall is also a delicious place to spend a hot day at, as its got crystal clear waters that are incredibly inviting for a swim.

Other waterfalls to visit in Ubatuba: Discover the Água Branca, Renata, Água Branca, Serra, Laje and many other waterfalls.
Angra dos Reis
Angra dos Reis (or just Angra) is a famous destination in Rio de Janeiro, located about 59 miles away from Paraty. Just like Ubatuba and Paraty, Angra also has an incredible variety of beaches that appeal to all types of tourists, from the more hype ones to those who are looking to relax in the midst of nature.
What To Do In Angra dos Reis
Visit The City's Historic Center

Angra dos Reis is one of the oldest cities in Brazil, and walking through the streets of the downtown area really feels like a trip back back in time. There are many architectural landmarks such as the Carmo Church and Convent and the Nossa Senhora da Conceição Church (one of the first churches in the country).

Pretty much everywhere you go you will notice that the overall design of the city preserve the memory of the times of Portuguese Colonization. Another important point of interest is the Almirante Tamandaré Square, where a traditional fish and seafood trade called Mercado Redondo is located.

Other attractions near the downtown area: Convento São Bernardino de Sena, Igreja da Piedade, Igreja de Nossa Senhora dos Remédios, Mercado Municipal

Take the Boat Tour Around the Islands

If you want to visit the islands close to Angra dos Reis, you can do that on a very comfortable and modern boat that will take you to the most beautiful spots. This boat tour is really mandatory if you are in the region, as some of the landscapes almost look unreal.

The boat tour itinerary starts at Praia da Piedade, and then passes by Ilhas Botinas, mandatory pit-stop for those who want to dive in the crystal clear waters and go snorkeling. Then the tour heads to Praia do Dentista, where you will fresh shrimps at Jango's bar, which is a boat located on the beach that serves fresh seafood such as shrimp, squid, fish, octopus and lobster!

Visit The Marina Costa Verde farm and go scallop tasting

Have you ever thought about getting to know the entire mariculture process of a scallop? It is one of the tastiest seafood dishes in the world and one of the most sought ingredients by many great chefs. Its shell is shaped like a fan and its meat has high levels of protein, containing also vitamins and minerals that are good for health – especially for the heart.

During the tour, you will learn about the entire process of creation, reproduction and the necessary care to grow the scallops. At the end, you will be able to taste the prepared scallops and see for yourself if their flavor is really up to all the hype!
Cunha
Cunha is a charming small town located in between São Paulo and Rio de Janeiro, and it should take you a little over an hour to get there from Paraty. Although the city does not have a beach, the nature is very abundant everywhere, as well as the tranquility and fresh air that emanates from the mountains. You will also be able to spot rural properties, lavender fields, ceramic workshops and charming inns while you venture in Cunha.
What To Do In Cunha
Go To the Lavender Fields

Probably the most popular and charming attraction in Cunha, you will be able to feast your eyes (and nose) in an immense field covered by several species of lavender, similar to those already very famous in the region of Provence, France.

The field looks like a purple sea of perfumes, being a very romantic setting. Aside from contemplating, you can also learn about plant cultivation and preservation and even visit a French-style shop, where you can buy various products and try lavender teas or ice cream while having a beautiful view of the valley.

Go Shopping At Cunha's County Market

Visiting Cunha's county market is a very peaceful, cultural and gastronomic experience. The market is the ideal place for getting to know and tasting the city's typical delicacies and even buy different types of products, like breads, fresh fruits and vegetables, pastries, homemade honey, pine nuts, drink mixtures, artisanal cheeses, pottery arts, rural tools, leather shoes, I mean, they have everything!

In addition to that, the county market also still carries historical importance, since its colonial-style building is one of the oldest in the city, having been inaugurated in 1913 on top of the ruins of an old chapel.

Dive At Cachoeira do Pimenta Waterfall

This is not only the most beautiful waterfall in Cunha, but also one of the most beautiful in the countryside of São Paulo, attracting tourists from everywhere. It is actually composed by several waterfalls, which can be seen from the access road.

All the waterfalls meet at a dam (which belonged to an old hydroelectric plant) and flow out to create a deep natural well, perfect for you to take a dive. To get to the well, you can either drive down the road and go directly to the base of the waterfall, or leave your car up there on the road and walk down a very short and easy trail to see the waterfalls from above.
9. Paraty Is Very Backpack-Friendly!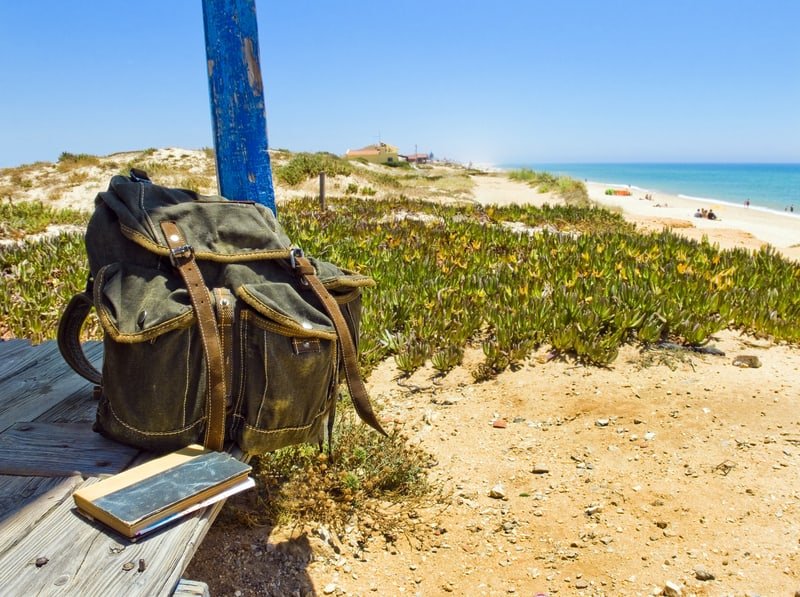 In case you didn't know, Paraty is also one of the most sought after destinations by both Brazilian and foreigners backpackers. In addition to the large number of hostels and inns in the region, what attracts people to coming to Paraty is the cosmopolitan atmosphere of the city.
This mixture of the old with the modern, the refined with the rustic, the "untouched" and wild lactions with the touristic spots, all of this makes Paraty the perfect combo not only for backpackers but also for all types of visitors.
Here are a few of the best hostels and inns in the city:
Pousada Centro Histórico
Pousada Capitão
Casa de Hospedagem Paraty
Pousada Acquarela
Macabea Hostel & Pousada
Hospedagem Mixirica
Pouso Coco Verde
Maracujá Hostel
Hospedagem Casa De Familia
Hostel Sereia do Mar
Now that we have given you enough reasons to visit Paraty, I think it would be a good idea to give some important details, like what is the best way to get to the city and give you a quick beach guide around town!
How To Get To Paraty?
The best way to get to Paraty is by traveling to the city's closest airport, which is the Galeão Airport (Antônio Carlos Jobim Airport – GIG), located in Rio de Janeiro. From there, you can go by car, on a journey that takes approximately 4 hours, by bus, or by Uber. To help you figure out some of the expenses, here is what we could gather:
Getting To Paraty By Car
If you want to have more autonomy during your trip to Paraty, renting a car is your best choice. If you are traveling with friends, you could share the expenses, which should make your trip more budget-friendly as well.
To help you get an estimated price, here are a couple of top-rated car rentals companies in Brazil:
Rent Cars
Website: rentcars.com

Language: English and others

Payment: if you're paying in BRL, you can divide the payment into 10 installments. Otherwise, you can pay with your credit card at the car rental dealership.

Cancelation Policy: free of charge if the payment is not made in advance using your credit card. If the payment was made in advance, a 5% fee will be charged based on the total value.

Average Prices: according to the general user reviews, prices are a little bit higher than other rental companies,
but it already includes all coverages.
Expedia
Website: expedia.com
Language: English and others
Payment: there are no advanced payments. You make your rent through the Expedia portal and pay the moment you take the car.
Cancelation Policy: free of charge up to 72 hours before the day you're taking the car.
Average Prices: usually higher than the average, but there are always special sales on the website, so keep an eye out for those
If you want to check out other car rental companies in Brazil (as well as getting to know more about driving in the country), make sure to check this post we made! We cover everything from the main traffic laws to the necessary documentation to be able to drive in Brazil, so don't miss out on that!
Getting To Paraty By Bus
If you want to get to Paraty by bus, then you will need to make your way to Rio de Janeiro's Novo Rio Bus Station. The company that makes the trip to Paraty is called Costa Verde, and it takes from 3:30 to 4 hours to get there and most of the whole trip is absolutely beautiful. If you want to know more about bus schedules and prices, you can check out Costa Verde's website right here.
Getting To Paraty By Uber
Now, if you want to get to Paraty by car but don't want to go through the trouble of driving there, you could request an Uber service to take you there. A one-way Uber ride to Paraty costs around USD 80.00, which could become even cheaper if you are sharing this expense with a couple of friends.
Paraty Beach Guide
The beaches in Paraty are really something else, so I thought it would be a good idea to give you a quick guide on the location of each of the main coastal areas in the city.
Oh, it is important to know that, despite having many beaches to visit, the accommodation options in Paraty are kind of limited to a few of them. In addition to the city's downtown area, the most recommended region to accommodate yourself in the city is between Praia do Pontal and Praia do Jabaquara, as you'll have easy access to the main points of interest from there.
Neither one of the beaches are as amazing as the others around town and they are also not the best for swimming, but they are great for a stroll when the sun is setting. As you will probably be staying near the Historic Center or on one of these two beaches, take the opportunity to enjoy the scenario, as the coast is beautiful nonetheless.
Beaches Close to Paraty's Downtown Area
Pontal Beach

The Pontal beach is located right next to Paraty's downtown area. Despite not being the most suitable for bathing (because it receives organic matter from the mangroves and the water is pretty dark), it is full of kiosks, vendors, bars, and restaurants.
There are a lot of deck chairs in the sand and the beach is pretty agitated, mainly because in this region there are several hostels.
Jabaquara Beach
Right past Pontal Beach, you will arrive at Praia do Jabaquara. You will notice that the coast is much more extensive and has fewer kiosks, which makes it less crowded than Praia do Pontal. This beach is very suitable for water sports, as the ocean here is pretty calm.
And despite being dark and muddy because of the mangrove, the water in this part of the coast is clean. There are also some hotels and inns in this region if you are looking to accommodate yourself a bit further away from Paraty's downtown area (but still be close enough).
How to get to Jabaquara Beach – both beaches are very close to the Historic Center and are accessible on foot: you will walk about half a mile to get to the Pontal Beach and a little under a mile to get to Praia do Jabaquara.
Beaches Only Accessible By Boat
As we said earlier in the post, the most beautiful beaches (and islands) in Paraty are usually only accessible by schooner/boat ride. We brushed by a few of them earlier on the post (like Praia da Lula and Lagoa Azul), so I'll focus on the ones we didn't mention earlier.
You can only get to these beaches by taking the boat tour, so check the boat itineraries we went over on topic 4!
Praia Vermelha
Praia Vermelha is pretty similar to Praia do Lula, being bathed by a beautiful emerald green ocean. The major difference between them is that the sand strip at Praia Vermelha is slightly longer and it is also usually less crowded than Praia do Lula. It also has some kiosks, in case you want to get drinks or snacks during your visit.
Ilha Comprida
Another paradisiac location perfect for a swim. What makes the Ilha Comprida island stand out is the fact that it has no sand strip, being a type of natural pool where you can snorkel at will. Most boats rent diving equipment, but it's always worth checking beforehand so you won't miss out.
Cotia Island
Out of all the islands in Paraty, Ilha da Cotia is the one that houses one of the most beautiful landscapes. With crystal clear and calm waters, thanks to the rock formations around it, it is an excellent place to relax. There are two beaches on this island, which are connected to one another by a short 1-minute trail.
Saco da Velha
In addition to the delicious waters for bathing, the Saco da Velha island has only one house, where the friendly resident will be more than happy to lead the way to the observatory, which will give a chance to see the incredible sea of ​​Paraty from a different perspective.
The resident is also the one who explains how to get to the cave at the edge of the beach. The Saco da Velha island feels like a small piece of hidden paradise, a must-see beach for those who like to go hiking, exploring, and discovering new places. Make sure you have your cell phone charged for pictures!
Ilha do Algodão
With clear and deep waters, Ilha do Algodão is another ideal location for those who want to practice snorkeling. The island is a beautiful place where visitors can swim peacefully and amongst the fish that inhabits the waters.
If you are thinking about coming to Ilha do Algodão with the boat tour, be aware that the boat doesn't harbor on beaches, which means you will be diving in the open sea. Ilha do Algodão is the largest island in the region and if you want more time to get to know it better, you can hire a private tour as well.
Praia do Engenho
Praia do Engenho offers visitors a much different and more exclusive experience than the rest of the beaches. This beach is ideal if you want to spend the whole day at the beach with almost no one around, so make sure to bring some drinks and snacks if you are considering it.
In the middle of the white sand strip, you will come across a large almond tree and a small house, making it a pretty interesting scenario (especially for a picture). Walking a little further inside the beach, it is also possible to find the remains of an old sugarcane mill.
Praia do Costa
This beach has a little bit of a local fame mainly because it houses a place that served as the setting for one of the Twilight saga films (it is worth saying that this house already existed before the film and was built in a preservation area).
It is also on this beach where the Pico do Pão de Açúcar mountain is located, which is only accessible through a 1-hour long trail (so make sure you have the stamina to go all the way!)
Ilhote de Mamanguá
If you are looking to meet unique places, then you must take the opportunity to discover the Saco do Mamanguá fjord (a very common formation in Scandinavia), which is when the sea advances through the mountains, forming a beautiful setting.
The whole area is very interesting and picturesque, housing a set of more than 30 beaches and different communities from Caiçara, the local native people. If you want to enjoy a beautiful panoramic view of Saco do Mamanguá, then you just need to take a very short trail and guarantee lots of pictures of one of the most beautiful scenarios on this tour.
Well, those were our 9 reasons on why you should include Paraty on your next trip to Brazil ASAP! As you can see, Paraty is a beautiful place with a lot of different things to do and places to go, and whether you are traveling with friends, family or by yourself, you will surely have a great time in the city!
While you are here, I think we might interest you with these:
Where To Go From Rio: 19 Places for Amazing Short Trips – are you done discovering all the wonders of Rio de Janeiro? Then how about visiting some amazing close-by cities? If you are up to it, click here and check our 19 suggestions on short trips you can make from Rio!

Top 10 Safest Beaches In Brazil: Crime, Sharks, Waves – if you are looking to sunbathe peacefully, without worrying about anything, we got just the post for you! Click here and check out 10 of the safest beaches in Brazil!

Capitolio, MG: The (Secret) Beach Away From The Coast – have you ever heard about a beach away from the coast? Well, although not a coastal state, Minas Gerais houses one of the most beautiful beaches in Brazil: Capitólio. Come and learn all about it!
Cover Photo: the colonial architecture of the Santa Rita Church in Paraty seen from the ocean : Credit: ID 28927383 © Alexandre Fagundes De Fagundes | Dreamstime.com