If you've never been to Brazil before and plans on flying there for the first time, there's much to learn and understand before even getting on the plane. I mean, we all know there are tons of beautiful beaches, samba, and Carnaval, but do you really know all the essentials before you set your feet in Brazil?
To plan the perfect Brazilian vacation, you need to be on top of getting the proper Visa, knowing your basic Brazilian geography to plan the best itineraries, search the market for good airfare and accommodation deals, and learn how to stay safe while visiting the country.
In this post I'm going to help you properly prepare to your trip to Brazil. We're gonna go over Visas, main ways of transportation around the country, best time to visit, as well as a culinary mini-tour on the main dishes around the country regions.
Disclaimer: all values and prices stated in this piece were calculated based on the exchange rate of the day the article was written (USD 1.00 = BRL 5,71). So depending on when you do your research, you may find some discrepancies in regards to that.
Brazil 101: All The Essentials You Need to Know
In addition to all the popular facts you may be familiar with, Brazil is the largest country in South America, also ranking as the #1 economy in the continent. The country packs paradisiac landscapes of all kinds, from the majestic beaches on Brazil's coastline to the Pantanal wetlands and the Amazon's rain forest.
Being a country of such gigantic proportions (it is almost the same size as the US), there is a lot to learn and understand so you can be able to plan your trip in the most efficient and enjoyable way possible. First things first, you need to know all the basics of Brazil. To give you a quick brief, I prepared this board of contents:
Brazil in A Nutshell
| | |
| --- | --- |
| Currency | Real (BRL) |
| Main Language | Brazilian Portuguese |
| Capital | Brasília (Distrito Federal – DF) |
| Current President | Lula (elected in 2022) |
| Average Climate | predominantly tropical and subtropical |
| Timezone | GMT −5 to GMT −2 (official: GMT −3) |
| Geography | Territory divided into 5 regions (South, Southeast, North, Northeast and Central-West) |
How is the Brazilian Territory Oficially Divided?
Brazil is officially divided into 5 portions, which are categorized as follow:
South Region – Paraná, Rio Grande do Sul & Santa Catarina
Southeast Region – Rio de Janeiro, São Paulo, Minas Gerais & Espírito Santo
North Region – Tocantins, Pará, Amapá, Roraima, Amazonas, Acre & Rondônia
Northeast Region – Bahia, Ceará, Maranhão, Paraíba, Pernambuco, Piauí, Rio Grande do Norte & Sergipe
Central-West – Brasília, Mato Grosso, Mato Grosso do Sul & Goiás
Each of the regions are culturally very different from one another, each of them having it's own peculiarities and features. That means that Brazil is a very culturally rich country, which you'll be able to observe for yourself as you visit and get to know the destinations in each region.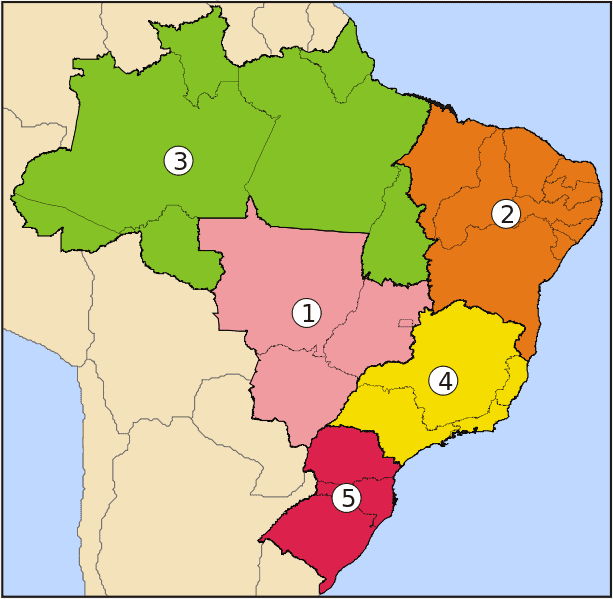 How Do The 4 Seasons Work In Brazil?
There's a popular saying here in Brazil that goes, "there are only 2 seasons in Brazil, Summer, and Winter"; which is a take on how Summer, Fall, and Spring are very similar to one another during those periods.
Although that is partially true for most regions, the 4 seasons still affect the average humidity and weather differently, which can impact the type of trip you're planning to take. So let's take a look at the general features for each of the seasons:
Winter in Brazil
Winter in Brazil starts at the end of June and extends till the end of August. In most of the territory, Wintertime is not that harsh, given the country's location regarding the Equator line. The south region of the country is especially cold during the winter, with some states hitting negative temperatures occasionally.
Although we go deeper on the subject on our post on hold cold doest it really gets during winter in Brazil, just as a curiosity; the state of Santa Catarina has registered one the coldest temperature in the country's history in 1996, a chilling -16 °C.
And, if you're curious about how a winter vacation in the country would be like, don't miss our post on the real south of Brazil, where we cover all the main destinations you can't miss if you're looking to visit the region!
Spring in Brazil
Spring in Brazil begins at the end of September and ends in late December. This season in Brazil (just like the Fall) is extremely enjoyable since the weather is very pleasant and mild throughout all of the regions.
Although not a rule, the temperature during Springtime gradually elevates as the months go by, which also increases the humidity levels. For that reason, this season in Brazil is pretty well-known for occasional rainstorms, especially towards December.
Summer in Brazil
Summer in Brazil starts at the end of December and extends till the end of February. It mostly coincides with the year-end school vacations in Brazil, which is a crucial factor in why the beaches get so crowded during this season, not only by tourists but also by residents.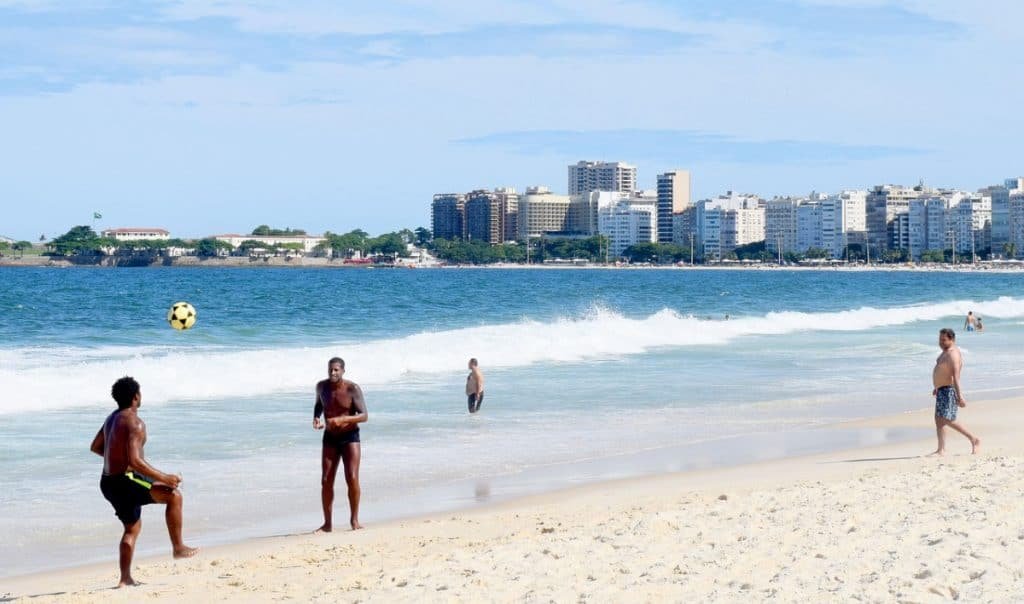 Although Summertime is pretty intense in most of the country, it is scalding hot in Brazil's north region. The maximum temperature in this region can get to a staggering 31°C (91,4 °F), with a thermal sensation of over 50°C (122 °F).
Fall in Brazil
In Brazil, the Fall season begins at the end of March at the end of June. Like Springtime, this season is mostly pleasant throughout the regions, with the advantage of fewer chances of raining.
The effects of Fall on the climate are mainly noticed in the South, Southeast, and Central-West regions of Brazil, which can experience sudden temperature drops as the day passes (hot days and cold nights).
It's important to note that each of the 5 Brazilian regions is affected very differently by each of the seasons, not only in terms of weather but also budget-wise. That is because tourism increases exponentially during the summer, mainly because of the favorable beach weather and the fact that Carnaval takes place during this season.
So that will directly affect the costs of your trip, from plane tickets (if you leave it to the last minute, it gets even worse) to accommodations and leisure; everything gets way more expensive during the high season. But since that "Brazil only has Summer and Winter" is sort of correct for most of the country, you'll be able to enjoy good weather throughout most of the seasons depending on where you are.
Brazilian Visa Orientation
Okay, so now that you know the basics of Brazil, it's time to get practical and talk about Visas. To be able to set foot in Brazil, you need to have a valid passport and the right Visa for the type of trip you're planning to take, but there are some exceptions.
Citizens from the countries listed below don't need a Visa to enter Brazilian territory, as long as they have a valid passport (for at least 6 months) and onward return ticket and proof that you can pay for your stay while in the country. Here are the countries that don't need a Visa to enter Brazil:
Andorra, Argentina, Australia, Austria, Bahamas, Barbados, Belgium, Bermuda, Bolivia, Canada, Chile, Colombia, Costa Rica, Denmark, Ecuador, Finland, France, Germany, Greece, Japan, Island, Ireland, Italy, Liechtenstein, Luxembourg, Monaco, Morocco, Namibia, The Netherlands, Norway, Paraguay, Peru, Philippines, Portugal, San Marino, South Africa, Spain, Surinam, Sweden, Switzerland, Trinidad and Tobago, United States, United Kingdom, Uruguay, and Venezuela.
Now, if you're not from any of the countries listed, you're going to need a Visa to set foot in Brazil. We're going to briefly go through the main Visa types so that you can get a better sense of what each one of them applies to. If you want more information on any of them, like fees and processing time, just click on the links next to the Visa category.
Brazilian Tourist Visa (VITUR)
The Brazilian Tourist Visa (VITUR) is applied:
to tourists who want to come to Brazil for leisure or visiting friends/family;
to attendees (scientists, professors, or researchers) in cultural, scientific or technological events (seminars, conferences);
to participants in athletic and sports events;

Note: bearers of the VITUR cannot engage in any paid activity in Brazil, as there is a specific type of VISA for working purposes. The full length of the Visa is determined by the Brazilian Government and it is usually good for multiple entries.
Brazilian Temporary Visa I (VITEM – I)
The Brazilian Temporary Visa I (VITEM – I) is applied:
to scientists, researchers, teachers, and attendees of scientific or technological events;
to scientists, researchers, teachers, and attendees visiting through inVITEMternational programs;
interns, trainees, scholarship and exchange students;
to amateur athletes participating in sports training programs

Note: VITEM-I holders can receive payment from a Brazilian entity once authorized by the Brazilian Ministry of Labor. This Visa is given when the tourist needs to stay for a period longer than 90 days. If you're staying for less than that, you'll be able to enter Brazil with a Tourist Visa (VITUR).
Brazilian Temporary Visa IV (VITEM – IV)
The Brazilian Temporary Visa IV (VITEM – IV) is applied:
to students – undergraduates, graduates, grade schools, or study abroad programs

Note: The VITEM-IV is given when the student is expected to stay for a period longer than 90 days. If you're staying for less than that, you'll be able to enter Brazil with a Tourist Visa (VITUR).
Brazilian Work Visa (VITEM – V)
The Brazilian Work Visa (VITEM – V) is applied:
to tourists who are engaging in work activities sponsored by a Brazilian entity,

Note: the process to obtain the VITEM-V must be initiated by the applicant's employer in Brazil, and the VITEM-V can only be submitted after the Brazilian Ministry of Labor's approval.
Brazilian Religious Activity Visa (VITEM – VII)
The Brazilian Religious Activity Visa (VITEM – VII) is applied:
to priests, mediums, monks, missionaries, or any other type of religious entity who wants to engage and speak as a religious authority in Brazil

Note: VITEM – VII applicants cannot engage in any type of religious activity in indigenous areas without the authorization of FUNAI (Brazil's National Indian Foundation). Applicants also cannot engage in any type of paid activities.
Brazilian Volunteer Service Visa (VITEM – VIII)
The Brazilian Volunteer Service Visa (VITEM – VIII) is applied:
to individuals who want to engage in volunteering in Brazil with a Non-Governmental Organization or foreign government-sponsored organization

Note: VITEM – VIII applicants cannot engage in any type of paid activities, and the Visa is only applied when the applicant is expected to stay for more than 90 days in the country. It's staying for less time than this, you'll be able to enter the country with a Visitor's Visa
Planning Your Trip to Brazil
Aside from the Visa and Passport costs (which you can check out here), there's much to consider budget-wise while planning your trip to Brazil. And while I strongly advise you to dedicate and spend a little time browsing for the best prices on airplane tickets and hotels, here are some pointers that I think will be able to help out:
Plane Tickets & Airfare to Brazil
If you aren't parting from anywhere in South America, you're probably going to fly to Brazil. While Brazil isn't exactly a cheap plane ticket to purchase, it's certainly not impossible to get some good deals if you do your time management right and plan in advance.
To find cheaper plane tickets to Brazil, here's what you can do:
Book Your Tickets in Advance
Starting to browsing for airplane tickets and purchasing them around 2 to 3 months before the date of your trip is definetely going to be much easier on your wallet than if you leave it to the last minute. That is because ticket prices are usually less expensive when you buy them in advance, so it's best to stay sharp and don't procrastinate.
If you're planning on visiting Brazil during the high season (for Carnaval or New Year for example) or on a date near any national holidays, be aware that it can also increase the average prices, due to the high demand.
Clean Your Browser Cookies
Have you ever noticed that if you look up for something on Google (let's say a pair of jeans), that subject start to feature on several ads while you're browsing the internet from then on? That is because your internet browser history can say a lot about you, and companies detect those searches in order to put up more efficient ads.
Airline companies use that to increase the price of the flights you may be interested in. So clean your cookies or do your research while on incognito mode.
Accommodations in Brazil
Along with airline tickets, the expenses on accommodations usually represent a big chunk of your budget. Brazil has pretty much the same standards as any other country in the world, you have your resorts and five star hotels, you have AirbnB, hostels, motels, Couchsurfing hosts and etc.
Essentially, it's just a matter of determining how much of your budget you're willing to dedicate to accommodations and pick the most convenient choice amongst the options you dig up on your research. Of course, there are some variables that must be considered, like for instance, if you're joined by friends, it's cheaper to share a private room in a nice hostel.
To help you make the best pick, here are some tips that may not just make your job easier, but also save you some money:
Check Well-Known Pages for Safe Deals
Have you ever looked up for something on Google and ran into this unbelievable deal from an unknown company with a much smaller price than the average? Well, while there are a lot of reliable good deals around the internet, it's best to keep your market search just amongst well-known pages like Booking.com, Airbnb, and Hostel World.
You'll be amazed at how many people are tricked into paying for something that either does not exist or is completely different from the ad. And even if you do manage to get your money back, it is always better to avoid this situation, especially if you've just had your travel plans ruined.
Know The Location's High and Low Seasons
Traveling during the high season sure has its benefits, especially weather-wise. But on the other end, accommodations fees increase exponentially during those periods, which could pose as you going way over your intended budget.
So if you're not looking to go on a specific high-season occasion (like Carnaval or New Year, for example), try looking for housing during the destination's low periods. Sometimes you can find prices almost half of what you'd pay during high season.
Transportation in Brazil
If you're planning on coming to Brazil, getting to know all the places you've only seen pictures on the internet sound like the perfect idea, especially since it's easy to get all hyped up about getting to a destination you've never been before.
But in order to tour around different places under the best circumstance, it's necessary to take the time to make a clear schedule on your points of interest and think about how you'll be getting from one point to another.
Short Distance Transportation
Regarding moving around in your destination, aside from Uber and yellow cabs, you can choose to use the city's public transportation system. Each place has its own peculiarities, but in general guidelines, buses, trains, and subways usually work better in big cities (such as São Paulo for instance). Here are a few considerations in regards to short distance ways of transportation:
Bus
Buses are usually very convenient ways of transportation, but they are also the least safe in my opinion. In cities like São Paulo or Minas Gerais for example, I would take the bus if I needed to, but I wouldn't advise the same for Rio de Janeiro, as there are always cases of robberies and theft inside of bus lines. My advice is: only take the bus if you know for certain it's safe.

Subway / Train
The safest way to move around in any city in Brazil using the public transportation system in my opinion. Although not every city in the country had subway lines (few actually do), I'd strongly advise you to take the subway instead of the bus for example.

Not only you'll have a more accurate notion of where you'll be staying, but it's also safer in regards to criminality rates.

Uber / Yellow Cab
The best choice to make if you're unfamiliar with the place you're visiting or if you're not good with directions. Uber rides in big cities are usually pretty inexpensive and the general fees and prices are very competitive when compared to bus or subway tokens.

Just make sure they're the best choices in regards to traffic, and if you're taking the yellow cab; I strongly advise you to only use app car services such as 99 Taxi, as it's not exactly safe to call one out on the streets in some destinations.


Long Distance Transportation
If you're planning on coming to Brazil, getting to know all the places you've only seen pictures on the internet sound like the perfect idea, especially since it's easy to get all hyped up about getting to a destination you've never been to before. You can maybe fly from one location to the other, take a travel bus or even rent your own car to have the tropical road trip of your dreams!
But since Brazil is a country of big proportions, it's necessary to take the time to make a clear schedule on your points of interest and think about how you'll be getting from one point to another. Choosing the best way to move around in Brazil depends on a series of factors, as each way of transportation has its pros and cons.
The ideal thing is getting to know the features in each of them before you make your choice, which will provide you with a much better experience. We've prepared a full guide on the pros and cons of each long-distance ways of transportation right here, so make sure you give it a read to have a better idea on what to expect.
Here are some pointers to consider:
The Distance In Between Locations
The distance in between the places you plan on going is also something to be considered before hitting the hammer on how you'll be moving around. Although obviously faster, sometimes getting on a plane may not be the most practical option depending on your schedule.

You have to check-in, dispatch your luggage, go through airport security, and that's just while in the process of boarding the plane. Not to mention the time you will waste if the flight makes stopovers, which will definitely make you waste a lot of time.

So, if you're making a short trip, it's best to travel by bus or car, avoiding all these bureaucracies and bothers. Giving you a more practical example, if you consider the time all the pre-flight procedures take, going from Goiania to Brasília by car could take just as much time as if you'd make that trip by plane.
Number of People Traveling With You
If one person's plane ticket can already be too pricey, imagine that same value multiplied by all the people who will be joining you on your trip. Although the price is justifiable, traveling by plane with a large number of people could represent a huge expense on your budget.

If you consider the same trip by car, everyone in your party could share the expenses of the car rental and gas, which could not only make your trip much more innexpensive, but also a lot funner. I mean, who doesnt' love a good ol' road trip, right?

So, if you're on a budget (which will bring us to our next topic) as has the possibility of sharing the car-related expenses with your friends/family, don't hesitate to do so.
The Food In Brazil
I often think that one of my main concerns about living outside Brazil is "giving up" on our traditional food. I know I'm biased to say this, but I really do think our everyday food is one of the best in the world, mainly because not only it's very nutritional, but also sooooo good and varied!
So if you're thinking about coming to Brazil, it's only fair that you know in advance what types of delicious meals and treats await you, right? We picked the main dishes we think you should try when you get to Brazil, as well as some tips on what to do to spend less on food but still eat well if you're traveling on a budget.
The typical Brazilian everyday meal
Rice, beans, a piece of steak, french fries, and/or farofa (fried breadcrumbs with seasons) is probably the easiest dish you can find in Brazil. While it gets reinterpreted throughout the country according to the local culture, I cannot think of a better representative of the traditional everyday Brazilian food than this.

It's pretty common to find this course being served in restaurants and bars throughout the country for a relatively small price. It is served in bars and restaurants as a PF (Prato Feito) which is the local slang for an a la carte meal.

Typical Dishes from the South of Brazil
Brazilian Steakhouses
Brazilian steakhouses are a thing all over the world, but if you happen to be in Rio Grande do Sul, you're at the birthplace of the traditional Brazilian barbecue. If you're thinking of going to a steakhouse in Brazil, save all of your appetite for the occasion, as there will be tons of different things for you to try. We've written a full guide on Brazilian steakhouses on this post, make sure to read and check out the feast we had!

Arroz de Carreteiro
This is a course that is part of the Rio Grande do Sul history and culture. Back when the only way of available transportation were the days pulled by mules, the drayman (carreteiro in Brazilian Portuguese) created the recipe by using jerky and rice as the basis, which were simple available ingredients that wouldn't spoil during their long trips.

You can also find versions of this dish using beef instead of jerky, or even leftover meat from a traditional Brazilian southern barbecue.
Typical Dishes from the Southeast of Brazil
Feijoada
You may have heard of this one, as it is also a very prominent dish in Brazil. Feijoada is a mix of black beans cooked with pork pieces like tails, sausage, bacon, and dried meat. It's usually served with torresmo (it's like cracknel, but fresher and yummier), rice, and braised cabbage with garlic.

Have a shot of caipirinha (a traditional Brazilian alcoholic beverage made out of sugar cane) before feijoada, it's very traditional mainly in Rio de Janeiro!


Moqueca de Peixe (Fish Stew)
One of the most popular dishes in coastal cities, the fish stew in Brazil is absolutely delicious. Traditionally, the fish is supposed to be cooked along with the vegetables in a clay pot, which is still carried mainly in the state of Espírito Santo. As a side dish, a course of pirão is usually served, which essentially is cassava flour with seasoned broth.

Typical Dishes From the North of Brazil
Maniçoba
Maniçoba is a very traditional dish especially in Sergipe, originated with the native Indians that lived in the region back in the colonial times. Its main ingredient is the cassava leaves, which after being grinded and cooked for a week (to remove the poisonous compounds on the leaves), are mixed with pork and cow meat and served with white rice, cassava flour, and pepper.

Peixada
Another delicious fish course on our list, the Peixada is a very famous dish in Tocantins. The fish is cooked with coconut milk, garlic, onions, parsley, and carrots. It is usually served with white rice and farofa (made with butter), and it's the perfect food for a night out by the beach.
Typical Dishes From the Northeast of Brazil
Acarajé
This is a traditional course from Bahia and one of my favorite Brazilian dishes. Acarajé is a (usually) big scone made out of feijão fradinho (black-eyed beans and pepper, stuffed with shrimp and vatapá (a dough made with breadcrumbs, chili pepper, peanuts, cashew nuts, onions, tomatoes, and other seasonings). After the scone is prepared, it is deep-fried in dendê olive oil (palm oil) and served. Y-U-M.

Baião de Dois
The baião de dois is a very typical dish in the Northeast of Brazil that has its roots at the time when the people in that region faced any hardships in regards to poverty, hunger, and thirst. Born out of the necessity to use every leftover food (since pretty much everything was scarce), the baião de dois is made with rice, a type of Brazilian bean called feijão de corda, rennet cheese, and beef jerky. So good!

Typical Dishes From the Central-West of Brazil
Arroz com Pequi
Another typical dish that traces back to the native Indigenous, this meal makes an unusual combination of rice and pequi, which is a local Brazilian fruit with a very distinct and peculiar flavor and smell. The course is seasoned with garlic, onions, parsley and fresh chilly pepper.

Caldo de Piranha (Piranha Broth)
Very traditional especially in the state of Goiás, the Piranha Broth is prepared in a similar fashion as the Peixada dish, but uses different ingredients like green and red bell pepper, cilantro, and chive. Since the piranhas are rich in phosphor (which stimulates libido), there's a popular belief that this dish is afrodisiac.
Other Popular Brazilian Dishes/Delicacies You Need to Try Out
Aside from the amazing courses, Brazil also has its own delicious finger food and sweets that will most definetely blow your mind. Just to make your mouth water a little bit, take a look at this video of people trying out Brazilian food and delicacies for the first time:
Pão de Queijo
Brigadeiro
Tapioca
Beijinho
Coxinha de Galinha
Açaí
Pudim de Leite Condensado
Cocada
Bananada
Goiabada com Queijo
Doce de Leite
Paçoca
Safety in Brazil
It's safe to say that Brazil is unfortunatelly equally known for its safety issues as it is known for its paradisiac landscapes and beautiful people. So if you're thinking about coming to Brazil, there are definitely issues that need to be addressed beforehand, so you can try to avoid unpleasant experiences while you're in the country.
Having topped Forbes 2019's list of the most dangerous locations to live in, Brazil has continuously shown up at the same list's top spots for a few years now. While Latin America as a whole is considered the most violent region in the world, Brazil manages to emerge as the most notorious example of that.
Here is how you can try to make your trip safer:
Try To Blend In
One of the first things you need to do is learn how to blend in with the locals. Criminals observe everything from mannerisms to your looks, and if you stand out in any way, you might become a potential target. So the best advice I can give you is to try to learn as much as you can about the local culture and try to emulate some of it, making it less likely for you to be noticed by criminals.
Know Your Surroundings
It's very easy to get distracted by Brazil's natural beauties, and I know you'll probably want to register all you can with pictures and footage. But unfortunately, there's little room for mistakes in Brazil, so be very mindful of your surroundings at all times. Watch out for speed robbers and pay attention if someone is observing you.
Avoid Public Transportation and Prefer To Uber
Using public transportation is not an easy task in Brazil. Here in Rio de Janeiro, for example, it's been quite a few years since I've last used the bus lines, as there are hundreds of reports every year of people being mugged and stolen on a daily basis.

And although the subway is a much safer option as we previously saw, sometimes the price you pay to use it is almost equivalent to paying for an Uber ride, depending on the distance.
We have reached the end of our post! I hope we were able to give you all the information you were looking for in order to plan your ultimate vacation to Brazil! This is a vast country that deserves more than one visit, so get to plotting your itineraries and come visit!
While you are here, I think we might interest you with these:
Brazilian Business Etiquette As Per Brazilian Citizens – Is this your first time attending a business meeting in Brazil and you don't know exactly the local habits and culture? Look no further cause we've got your back!
Is it possible to travel to Brazil for free? – There are many ways in which you can make your trip much more budget-friendly, but can you travel to Brazil 100% for free? We've got the answer right here!
Top 10 Safest Beaches In Brazil: Crime, Sharks, Waves – What's better than uniting beauty and safety? Take a look at the most paradisiac and safest beaches throughout the Brazilian coast!
Related Questions
What Is The Best Month To Visit Brazil?
Well, that depends on what type of trip you are planning on and what is your estimated budget for that trip. In general, the best time to visit Brazil would be during September and October (which is Springtime in the country), as the weather is most favorable in all the country regions, and the prices and fees are also more budget-friendly. But if budget is not an issue (and neither is Brazil's cruel Summer heat), December through March is also a pretty decent choice, despite the high season's pricier wages on accommodations and plane tickets.
Is it safe to vacation in Brazil?
Mostly, yes. While the country does have many issues in regards to public safety (you can read more on this article we wrote), the majority of the tourist spots and destinations are safe for spending your vacations. Of course, there are the basic steps you can take in order to make your trip safer (which we have discussed more thoroughly in the article mentioned above), but you'll most likely be just fine.
If you're concerned about beach safety, you can also read this other post we made on the Top 10 Safest Beaches in Brazil!
Cover Photo: the great Brazilian Amazon River | Credit: Flickr – CIAT