The South American country of Brazil offers so many beautiful places for all kinds of fishing; from the Atlantic coast to the Amazon jungle, you can partake in lake and river fishing and sea fishing. With so many excellent opportunities to fish, where you decide to fish and what you want to catch might prove challenging!
We've been researching fishing in Brazil and came up with the best of the best adventures and are sharing them here for you to consider for your next fishing trip in this wildly unique country. So keep reading to learn about the most exciting "fishing holes" in the diverse county of Brazil.
1. Pantanal Conservation Area
The Pantanal, or the "Jewel of Brazil," is the largest natural wetland in the world. This area is rich in biodiversity and is home to 12 sub-regional ecosystems. There are over 400 species of fish, 9000 kinds of invertebrates, 159 mammal species, 1000 birds, 480 reptiles, and 53 types of amphibians in this region, and scientists are continually discovering and identifying new species. Therefore, you are guaranteed to find a lot of different fish in this vast tropical conservation area.
The Pantanal is a popular destination for tourists, not only for its astounding biodiversity but also because there's so much area to spread out, explore, and truly experience a remote and wild fishing experience. 
Notable Fish to Catch in the Pantanal Conservation Area
Many avid anglers are drawn to the area because the Pantanal is home to the famed Peacock Bass, or the Tucunaré, as it is known locally. It is one of the most sought-after species in the Pantanal and is renowned for its aggressive nature when hooked. 
Another popular and highly sought-after fishing experience in Brazil is catching Piranha. Who hasn't heard of this fierce freshwater fish with razor-sharp teeth that attacks in packs? There are many species of Piranha; catching them and consuming them is also an experience not to be missed while you are here. 
Many recreational fishing enthusiasts enjoy the Pantanal for its many other aquatic inhabitants, such as the: 
Dourado – A beautiful fish and thrilling to hook and catch, the Dourado is another big reason many come to the Pantanal to fish. 
Pacu – A plentiful and interesting fish prevalent in sport fishing; Pacus are interesting because they have a set of lower teeth that look very much like ours.

Pintado – This is a large shovel-nosed catfish with excellent meat quality and an important regional food source.
The variety of types of waters in the Pantanal lends itself to many fishing techniques, and there is plenty of fish to pursue. Keep in mind the area has both a "wet" season and a "dry season," so you'll need to research when the best time is to experience the best fishing Pantanal has to offer.
2. Cabedelo
Cabedelo is on the most extreme eastern point in South America. From here, you are only 25 miles to where the continental shelf drops off, and you are right where you need to be to fish for large pelagic fish. Being closer to the shelf means more time to fish. 
Sea fishing off-shore along the coast and in Brazil's territorial waters takes place all year long, but the peak season is October through May.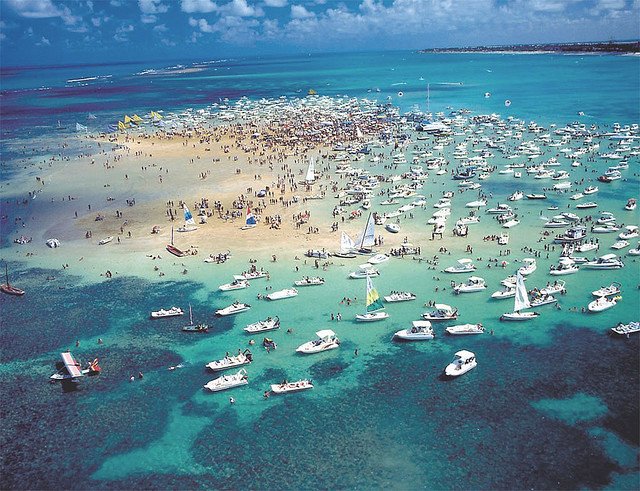 Notable Fish to Catch in Cabedelo
The off-shore species that you can fish for are:
Tuna – Fishing for Yellowfin tuna off Cabedelo is highly variable, and the season runs from September through March. Yellowfin tuna is the most colorful of all tuna and one of the fastest and agile fish in the ocean. Hooking one is a thrilling sport; landing one means a tasty meal!

Wahoo – This fast, sleek, beaked-type fish with impressively sharp teeth can be fished from September through March. The season is closed the other months of the year. 

Sailfish – Also known as a billfish, the Sailfish is a magnificent fish with a sharp bill and is very challenging to catch. There is no closed season for Sailfish: the high season is September through March; low season is April through August.

Mahi – Also known as a Dolphin, or Dorado, you can fish for Mahi year-round, but the best time frame to catch Mahi off the coast of Brazil is September through February. This fish makes surface runs and changes directions; paired with acrobatic moves, the Mahi makes for a one-of-a-kind ocean fishing experience. 

Blue Marlin – The Blue Marlin is considered the "king of all fish" for its size, power, and impressive and lengthy battles when hooked. When hooked, the surface displays are phenomenal—this species is one that many angles often target to catch. 
Cabedelo makes a superb choice for those wanting to be close to the open water for some excellent off-shore fishing. 
3. Cagarras Islands National Monument
If you find yourself in Rio de Janeiro and want to head out beyond Guanabara Bay and into the Atlantic Ocean to fish, just off-shore is a craggy, uninhabited archipelago called Ilhas Cagarras or the Cagarras Islands.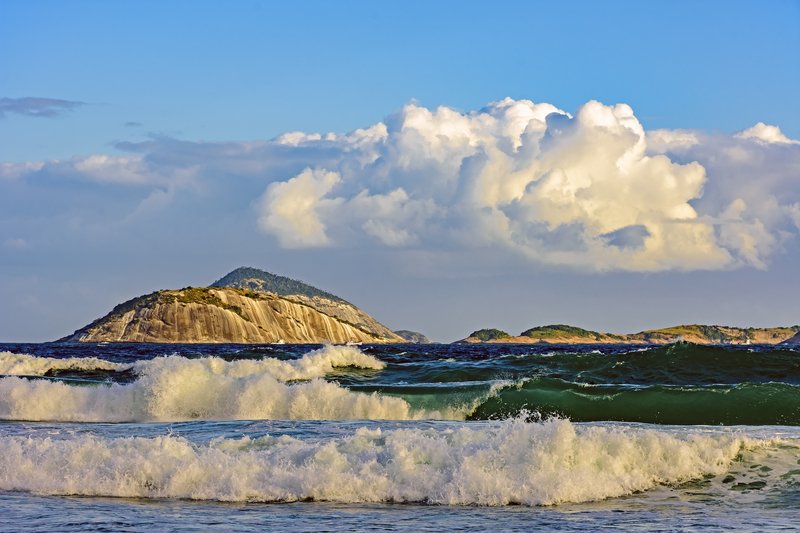 The Brazilian government designated these islands a national natural monument in 2010. Activities that disturb the wildlife or the ecosystems on or around the islands (within 10 meters or 33 feet) are prohibited. However, that doesn't mean you can't fish near them—the rocky bottom is the ideal home for many reef fish. 
Notable Fish to Catch in Cagarras Islands National Monument
This ocean bottom is the exact type of environment the Brazilian Bluefish favor year-round because the water conditions are stable, and bluefish prefer hanging out near rocky shorelines and islands. Fishing for blues here is quite the adventure and a popular sport here. 
Other popular reef fish in Guanabara Bay and around the Cagarras Islands are:
Snook – An inshore fish that's easy to find but difficult to actually catch—the reward for catching one makes for a delicious meal. 

Weakfish – Another small coastal species that is entertaining to catch but is not considered a fish for a meal. 

Ladyfish – A slender inshore fish that is fun to target and catch. Most caught are between 1 to 3 pounds. The Ladyfish is caught for sport, not for dinner. 

Dusky Grouper – The Grouper is a very mild and tasty reef fish, preferring a rocky bottom and found from shallow waters to depths of 300 meters. 

Barracuda – A true predator of the seas, sought after for sport and trophy, rather than a meal. It is speedy and aggressive, known to chop larger prey in half with its sharp teeth and powerful jaws. 
The range of depth for this area is 10 feet to 120 feet, and the various bottom structures of mud, rock, sand and gravel make Guanabara Bay and the Cagarras Islands an excellent choice for reef fishing just minutes away from Rio. 
Reef fish like those mentioned above can be found all along the Atlantic coast, where you find a bottom similar to that of Guanabara Bay and the Cagarras Islands. 
4. Manaus 
Manaus is the largest city in the Amazon Rainforest and is situated where the Rio Solimoes (light brown) and Rio Negro (black) rivers meet—appropriately called the Meeting of the Waters or "Encontro das Águas." This confluence is the start of the mighty Amazon and is well worth a visit if you use Manaus as the site to begin your river fishing excursion.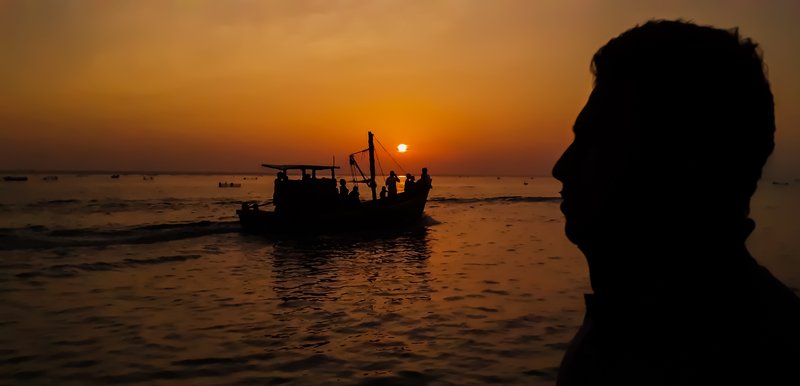 From Manaus, you can choose to fish upstream or downstream, and you should plan your trip during the dry season. The flooding in the wet season causes the fish to scatter, making them hard to find. 
Downstream, you'll want to choose June through October and upstream September through March. 
Notable Fish to Catch in Manus
Many anglers attracted to fishing these rivers are angling for the Peacock Bass; this fish provides quite the challenge once you hook it. We featured this species in the above section about Pantanal Conservation Area, but it's hard not to mention this fish when talking about freshwater fishing in Brazil. 
Of course, there is plenty of other fish to pursue here; other species include:
Payara – Also known as the vampire fish for its ferocious-looking under-bite, the Payara puts up a very aggressive fight to start but tires quickly. This fish originated in the Amazon Basin but is now found in many South American locations. The Payara is a relative of the Piranha.

Arapaima – This prehistoric-looking fish is a very challenging fish to catch. Arapaima can grow up to 7 feet and are a protected fish in these rivers to protect the resource. 

Piraiba Catfish – Also known as the goliath catfish, the Piraiba is an essential food source for the communities along the rivers. 

Arowana – Often, the Arowana is caught as a by-catch when anglers are seeking the famed Peacock Bass. This feisty fish puts up quite a fight when hooked and makes quite a delicious meal. 

Piranha – It's hard to mention fishing in South America without mentioning the small but fierce Piranha. There are at least 30 species that fall within the Piranha family, and it's a fish worth mentioning again due to its abundance in the rivers and streams in Brazil and its place on most folks' fishing bucket lists. 
The Amazon is also home to the River Dolphin, also known as a "boto" or pink river dolphin, and is a spectacular sight to see due to its pink coloration. However, not all river dolphins are pink; the unusual color is generally seen in mature males. 
The River Dolphin is not a sport fish and is controversial because it has been hunted and caught as bait to catch catfish. The River Dolphin is currently protected by Brazilian law, and it is illegal to kill, hunt, and possess one. If you hook one, you'll want to release it immediately or face severe fines or other consequences. Check with the local laws and regulations about how to help keep the boto safe.
Also, you can learn more information about the best places you can swim with dolphins in Brazil right here, so don't forget to check it out!
5. Parque Nacional da Serra da Bocaina
There is an emerging fly-fishing scene for Rainbow Trout in the Serra da Bocaina National Park, a ​​mountainous region between Rio de Janeiro and São Paulo. With rivers historically devoid of fish despite optimum conditions, Rainbow trout were introduced to the region in 1949 and has since flourished.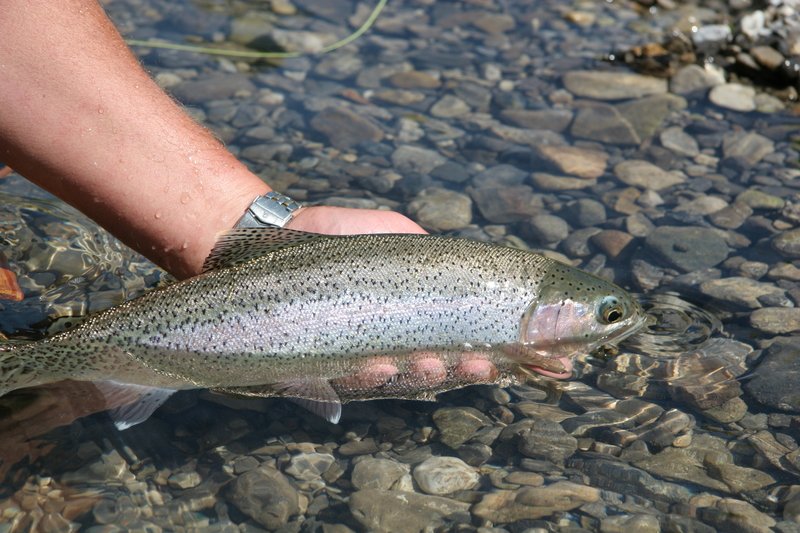 There are accounts that fly-fishing in rivers, streams, ponds and lakes in the area is phenomenal and, as of now, is a well-kept secret.
Notable Fish to Catch in Bocaina National Park 
The Rainbow trout is a non-native fish species that have adapted well to the area; the fly-fishing scene here is on the upswing, and you'll enjoy casting for Rainbow trout on the rivers and streams throughout the area. 
When you tire of fly-fishing for Rainbow trout on the tributaries in the region, there are many other things to experience in the park; Parque Nacional da Serra da Bocaina is protected and has a diverse ecosystem, with unique animal and plant life. Besides fly-fishing for trout, there are beautiful vistas, waterfalls, and hiking trails to enjoy. 
Are Fishing Licenses Required in Brazil? 
With all these fantastic places for fishing in Brazil, you may be wondering whether a fishing license is required to access and fish these areas. 
According to the IBAMA, or the Instituto Brasileiro do Meio Ambiente E Dos Recursos Naturais Renováveis, "Fishing licenses (licença de pesca) in Brazil are required for anyone fishing with a rod, from a boat or underwater."
Many Brazilian fishing expeditions and outfits make it easy for you to get a fishing license as part of a fishing package— a great reason to enlist the service of a fishing guide or an expedition. IBAMA provides more information on getting a fishing license in Brazil; click here to learn more. 
Conclusion
In summary, Brazil offers so many different fishing spots that provide unique opportunities to catch fish; choosing where you want to fish and what species you want to target may prove difficult. Hopefully, this guide is an excellent resource to help decide where you'll travel to in Brazil for your next big fishing adventure.
While you are here, I think we might interest you with these:
12 Small Amazing Cities to Visit in Brazil – Big cities like Rio de Janeiro and São Paulo are super fun to visit while in Brazil, but have you heard that the best things come in small packages? Click here to find out more!
South Brazil Itinerary: travel through the REAL South – Need help putting together the ultimate trip throughout the South of Brazil? We have all the info you will need, so click right here!
5 Vacation Ideas In Brazil For All Kinds Of Travelers – 5 very different ideas for 5 very amazing types of trip! Take a look at out suggestions on where you should consider going next time you come to Brazil!
Cover Photo: fishing boat with the Brazilian flag painted on it | Credit: ID  36178313  © Lazyllama | Dreamstime.com