Even though Brazil's Real (the country's currency) has been hitting all time new lows on the market ever since May 2020, there are still ways you can make your trip there even more budget-friendly.
You can look into travel packages in order to spend less with plane tickets, look into when are the low season periods for better lodging fees, eat at smaller places instead of "tourist" restaurants to save on food, and even get a lot of cheap tips by friendly locals.
In this post, I'm going to help you with 19 valuable tips on how to make your trip to Brazil much more economical, going over the things you can do to save money, and some common mistakes tourists usually make that end up increasing the bill.
How to Spend Less With Plane Tickets in Brazil
Aside from the accommodations, the value of the airfare is the most expensive item on a trip. Depending on the period you're going or the location you'll be landing on, you could be looking at spending a lot just getting to your destination.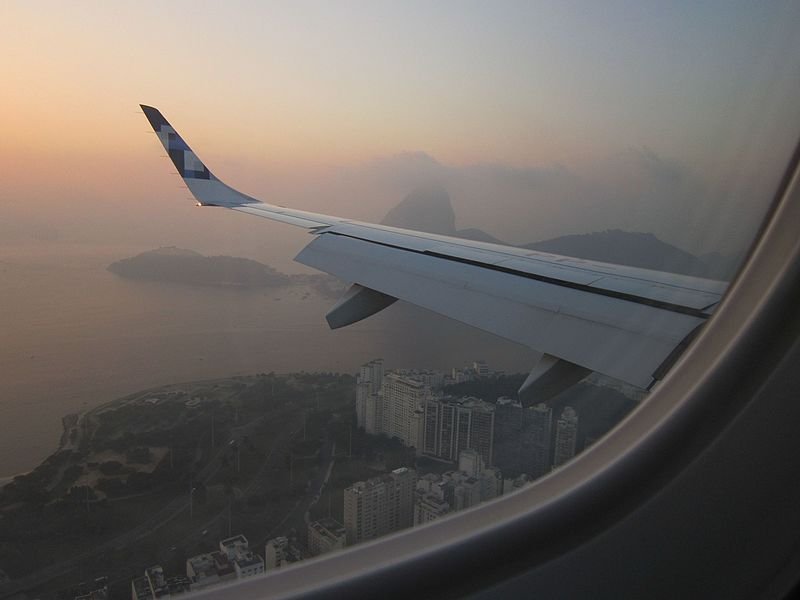 Still, there are a few things you can do to decrease plane ticket costs and get much sweeter deals while purchasing them:
1 – Plan Ahead and Buy Your Tickets in Advance
Getting your plane tickets 60 to 90 days prior to the date of your trip could save you a lot of money. Even if you're planning on traveling to Brazil during the high season, you can get much better deals if you don't leave it to the last minute.
Try searching for a date that's not near any national holidays in Brazil. Air traffic gets intense in the country during holiday seasons, which also means airfare prices will be higher than on regular dates.
2 – Compare Prices and Clean Your Browser Cookies!
Airline company's plane ticket prices can vary A LOT from one another, so taking your time to compare prices is always a good idea. Take a look at the ratings of the major companies that fly to Brazil, and check which of them offers the best prices.
You can also use websites such as FareCompare and Skyscanner to do all the work for you; they will provide you with the best results based on the filters and options you enable in the search engine.
Also, after clean your computer cookies! Your computer's search history can say a lot about you, and airline companies use that to increase the price of the flights you may be interested in. So clean your cookies or do your research while on incognito mode.
3 – Sign Up for Better Deals and if Possible, Purchase a Travel Package
Everybody is looking for cheap flights, and keeping track of every possibility can be both exhausting and sometimes frustrating. To make things easier, sign up to receive exclusive offers by e-mail, avoiding the task of having to keep up with the variation prices.
Also, stay alert on the airline company's social media accounts. Facebook and Instagram are often used for lighting sales, and there are always pretty great deals that you will not be getting anywhere else.
Looking for travel packages is a pretty interesting thing to look at as well. Although it can somewhat restrict some of the things you'll be doing while in Brazil, you could be looking at paying much less than you would by arranging everything yourself.
4 – Make Alternative Routes
Sometimes, flights to specific locations in Brazil can be a pretty hard hit on your wallet, and one way of dribbling that is making alternative routes to get there.
For example, if the flights to your destination are too expensive, check if it's worth flying to a different airport and taking a travel bus to get to where you're going. Depending on where you'll be going in Brazil, you could even look at landing in neighboring countries, such as Argentina or Paraguay.
Lastly, connection flights are a pain, I know. But they are sometimes also cheaper, which could make an impact on your budget, especially if you're traveling with more people. If the connection waiting time is bearable, definitely consider this as an option.
2 – How to Spend Less With Accommodations in Brazil
Moving on to the second significant expense in every travel, accommodation fees can be rough, especially if you don't know much about the city you're looking to travel to.
Details like closeness to touristic spots, service fees, and even the district in which your hotel is located can all make your bill exponentially more expensive, so here's what you can do to lower those costs:
5 – Check Well-Known Pages for Safe Deals
Have you ever heard the saying "you get what you paid for"? Always suspect if you spot travel package deals or ads that are a little too good to be true, as you could be a victim of false advertising.
There are a lot of sketchy websites that promise excellent travel arrangements for a trifle. If you've never heard of a particular website, search the web for reviews and see if anyone else has had any experience with it.
You'll be amazed at how many people are tricked into paying for something that either does not exist or is completely different from the ad. And even if you do manage to get your money back, it is always better to avoid this situation, especially if you've just had your travel plans ruined.
So my advice is: stick to know-known travel search engines like Booking.com, Airbnb, and Hostel World. You'll find the best prices and will not risk falling into a trap.
6 – Know The Location's High and Low Seasons
Traveling during the high season sure has its benefits, especially weather-wise. But on the other end, accommodations fees increase exponentially during those periods, which could pose as you going way over your intended budget.
So if you're not looking to go on a specific high-season occasion (like Carnaval or New Year, for example), try looking for housing during the destination's low periods. Sometimes you can find prices almost half of what you'd pay during high season.
Now, if you're worried about the weather ruining your trip, don't worry. The weather throughout most of Brazil is pretty consistent, and in case you're looking for a beach vacation, for example, the Fall and Spring seasons in Brazil are mostly warm and sunny as well.
7 – Check For Extra Fees and Rates
If you've caught our guide for tipping in Brazil, you are probably aware that most hotels and inns charge an extra 10% fee on top of your final bill. This is a standard practice in the country to gratify the staff and employees for their services.
Depending on the place you're staying at, that could represent a significant increase in the total amount you'll be paying, so try to make a simulation of how much you'll be spending more or less before closing the deal on your accommodations.
If the predicted value goes over your intended budget, it's time to look for alternate options, like the ones in our next topic.
8 – Consider Alternate Lodging Options
Staying at a hotel is often the best option, but if the daily rates are too overwhelming, you can look into alternate options, like hostels, or even staying at a local's house.
Hostels
Hostels are the perfect option for those looking to travel for cheap. The daily rates are considerably lower in comparison to hotels, and depending on how many people will be joining you on your trip; you can share rooms, which is always fun.
If you're looking to spend some time in your destination of choice and depending on what kind of trip you're looking for, you could even try to negotiate to exchange work for free accommodations in a hostel, as many tourists do this to lower their travel expenses.
CouchSurfing
If you're the easy-going type and have no qualms about sharing space with a stranger, CouchSurfing at a local's place is also a very efficient method of lowering your vacation costs.
On websites like WorkAway, Worldpackers, and the aforementioned CouchSurfing, you may find many lodging options with excellent prices (and some even free of charge), so it's just a matter of choosing which fits your trip better.
Just remember that these experiences are not only for you to save money but also for you to experience the daily everyday life of a local citizen. So make the most of your host, and ask for all the good tips they can share.
How to Spend Less With Food in Brazil
Working as a nutritionist here in Brazil, food is obviously an essential subject to me. Not only do I think it's a bad idea to live off McDonald's and other cheap fast-food for obvious reasons (even on vacation!), but it is very much possible to get a nutritious and also delicious cheap meal in Brazil.
During a trip, sometimes coordinating eating well with eating cheap is a challenge within itself, but with that in mind, here are some tips you could follow to achieve both:
9 – Have a Daily Meal Expense Limit
Keeping a meal expense limit as a guideline for how much you'll be spending on a daily basis is an excellent way of maintaining your budget in check without going overboard.
Stipulate what would be the ideal amount you're looking to spend per day (or per meal, whatever works best for you), and you'll be able to get a better notion of how much you're spending per day.
10 – Make Your Own Meals Whenever Possible
Eating out in restaurants is often way more costly than preparing the same meal at home; that's a given, right? And depending on the place you choose, that price can be almost 140% more expensive than eating at home.
If you have the necessary means (and culinary skills), you could prepare a simple meal at home and save up on the extra cost you'd have while eating out. You can call the hotel's kitchen and check if they can fix you some hot water for noodles or any other simple thing you may need.
If making your own food is not possible, try getting easy items like loaf bread, cheese, peanut butter, some fruits, and canned tuna, for example. While they don't make up for a full meal, they could be an ace up your sleeve for quick snacks at a low price.

Check the prices of a supermarket in the south zone of Rio to get a sense of the prices:


11 – Don't Order Food at the Hotel
If you're staying at a hotel, chances are you may feel tempted to order something from their menu, given how practical it is to just order in when you're too tired to head back out.
But although functional indeed, hotel meal prices and fees are way more expensive when compared to other restaurants, so all that easiness can definitely cost you a whole lot more if you're unaware.
If the place you're staying at has no policies against ordering from outside the hotel (as most don't), you can check on apps such as iFood or Uber Eats to find better prices and more options for you.
12 – Visit Local Open Markets
Many places throughout Brazil have open markets on determined days of the week, and not only you'll be able to taste many local flavors in them, like fruits and delicacies; but you'll probably be spending way less than on regular markets.
Mainly a place for you to buy fresh groceries, a lot of open markets also have options for you to grab a bite on the spot, with local dishes like pastel (fried pie stuffed with various fillings), cane juice, and assorted sandwiches being the favorites amongst local citizens (at least here in Rio de Janeiro).
Not only that, but most vendors even give out free samples of the products they're selling, so make sure to do a proper taste-test before you go grocery shopping!
Look at what a traditional street market (the farmer's market known as feira livre in Portuguese) on this video below:


13 – Ask Locals for Tips on Cheap Places to Dine
Local citizens will always be your best source for finding good places to eat in which you won't be spending a fortune. Besides using food apps like those we previously mentioned, asking the local people you meet for cheap tips is pretty useful.
As you're probably well-aware, the majority of the population in Brazil is made of poor citizens. For that reason, it's not unusual to find an a la carte meal (which we refer to as Prato Feito here in Brazil) for $2 or $3 bucks, depending on the exchange rate, of course.
There are several bars and small restaurants that can offer you a pretty decent meal (usually consisting of rice, beans, a piece of meat, and some french fries or farofa – one of my favorite local dishes), so you'll be able to get a nutritious meal for a modest price.
14 – Eat Like A Local
Most "touristic" restaurants undoubtedly have impeccable service and exquisite takes, and fancy versions of the local cuisine, but it's pretty much known that these come at a very high price.
Choosing smaller establishments will not only be considerably cheaper (like the places mentioned on the previous topic) but will also provide you with the real, local experience, serving the food as we locals all know and love.
Also, many restaurants have special prices during lunchtime, mostly because of the people who work nearby, so you can also ride on that to refrain from spending too much on food.
General Tips on How To Spend Less in Brazil
Now that we've gone through the three main expenses while on a trip, let's move on to some more general tips you could follow in order to make your trip to Brazil cheaper:
15 – Take Public Transportation Whenever Possible
Getting an Uber while on vacation is always convenient, but if you don't have some control over how much you're spending, those cheap rides can easily add up to be a pain in your wallet.
While taking the bus can sometimes be risky in some cities, riding the subway is always a cheap and safer option to ride around the city, and depending on the traffic, it will get you to where you're going faster than taking an Uber.
16 – Search For Free Touristic Attractions
You can do a lot around a place without spending a dime. If you're any good with directions, visiting public spaces and touristic attractions on your own can sure ease your expenses on leisure.
Asking the locals if they have any suggestions for special free or inexpensive places around the region is always a good idea, as some spots are only known by residents and won't be found on most tour guides.
Just remember to check for safety if you're planning on making a tour on your own, especially in high-risk places like the favelas in Rio de Janeiro, for example.
17 – Get Your Priorities Straight
Getting to a place you've never been before can be a lot to take in sometimes. You finally get to meet all these beautiful locations, tourist attractions everywhere, tons of places to visit, I mean, it's a lot!
But if you don't have a clear notion of the places you're most looking forward to visiting, you could be looking at some unexpected expenses. Keeping your top priorities places to visit in check is very important to keep your trip more organized and cheaper.
My advice would be for you to make a schedule of the main places you want to visit, try to check which of them are closest to each other so that you can save both on money and travel time.
18 – Spend More Time in One Destination
Moving in between locations in Brazil can be pretty costly by plane, especially because domestic flights aren't exactly cheap, even for local citizens. So if you're planning on visiting more than one location in Brazil, that could pose a threat to your budget.
If you're unable to move from one place to the other by cheaper ways of transportation like travel buses, for instance, spending more time in just one destination could be a way of not going nuts on your costs.
19 – Keep Track of Your Expenses
Even if you're not a spreadsheet fan (I know I'm not), keeping a tab of your expenses during the trip is also a great way of refraining from spending too much and ending up flat out broke by the end of the trip.
You can use whichever is easier for you to keep control, from your cellphone's notepad to apps such as MoneyWise. I know it sounds like a chore, but you'll be amazed at how much you could save just by being a little organized.
We're down to the end of our post and I hope those tips can be useful to you if you're planning on coming to Brazil. Spending little or not, just remember to have balance and you'll sure have a great time while you're here!
While you're here, I think we might interest you with these:
Is it possible to travel to Brazil for free? – Short on cash and wonders if there's even a small possibility of this happening? Come find out!
Rio in 2020: How much spending money do I need? – Thinking of taking a trip to Rio but not sure on how much you should bring? We got you!
Thinking Of Going To Bonito? Go To Nobres, MT Instead – Is Bonito too expensive for you right now? Come read all about Nobres then!
Cover Photo Credit: The Blue Diamond Gallery