Are you planning a trip to the South American gem of Brazil? With its tropical and subtropical landscapes and claim to most of the Amazon River basin, Brazil is the fifth largest country in the world and definitely worth a spot on your bucket list. However, to make the most out of a trip, it's good to know the best and not-so-best times to visit this vast region.
As a general rule, the best time to visit Brazil is between November and March during the country's summer months. This wet, humid season brings warmer weather with average temperatures between 80°F and 89°F in most parts of the country.   
When it's time to book flights and hotels or scout out what to do, make sure you choose the best time to go for what you want to experience. Read on for more info on the best and not-so-best times to visit Brazil.
When is the Best Time to Visit Brazil?
Most guidebooks will tell you that the best time to visit Brazil is during its summer months of December to March. There is a lot to do, and the weather cooperates nicely throughout the country.
But that doesn't mean Brazil is a no-go at other times of the year. It's really a year-round destination.
| | | |
| --- | --- | --- |
| Season | Months | Travel Popularity |
| Winter | June – September | Low Season |
| Spring | September – November | Shoulder Season |
| Summer | December – March | High Season |
| Fall | March-May | Shoulder Season |
When you should visit Brazil depends a lot on where you're going and what you want to do during your visit. And, as with any destination vacation, several factors play into choosing the best time to visit:
Weather
High or low season
Things to do
Cost of travel
Below, we'll talk about visiting Brazil during high, low, and shoulder seasons and the pros and cons of each. 
Pros of Visiting Brazil During the High Season
The Brazilian summer is the country's high season, which means Brazil puts on a show for visitors and residents alike. The atmosphere is hot, both in temperature and in attitude. As a result, festivals abound in various locations and for all kinds of reasons.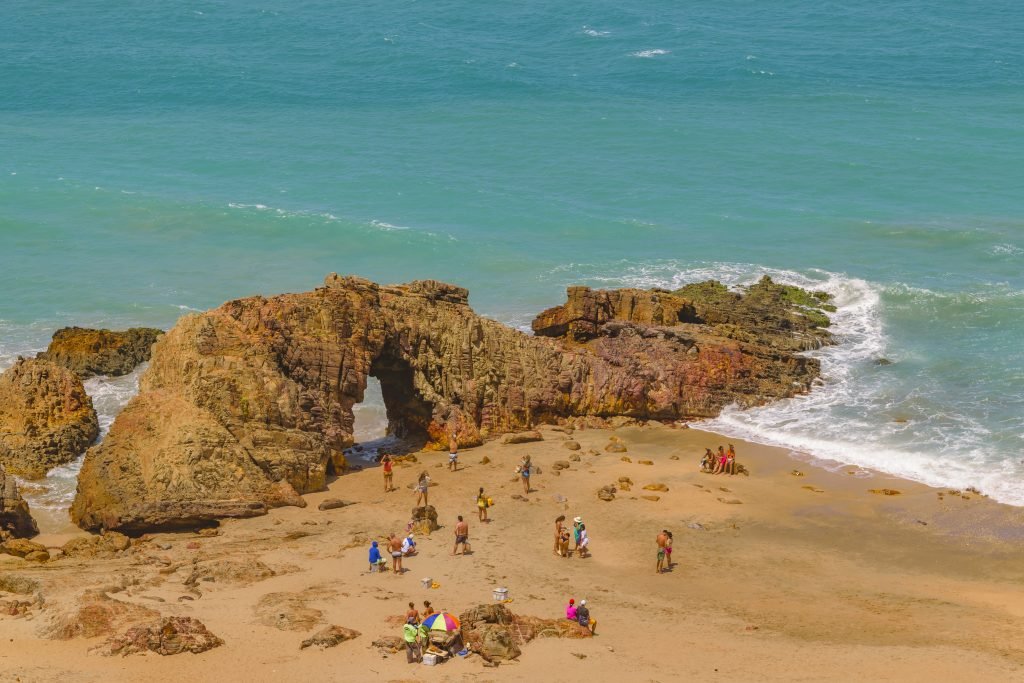 Brazil's weather seasons are at opposite times from what they are in the United States and Europe. But its travel seasons are similar to ours: everyone wants to go when the lure of events and activities outweighs any negatives of weather or cost.  
Weather
Summer in Brazil coincides with sunny but wetter months. It's rainy year-round in much of Brazil, but summer sees an uptick in precipitation in many areas. (Daily afternoon showers can keep things a bit steamy.) The warmest temps of the year are bearably hot, typically averaging between 80°F and 89°F. However, along the coast, you'll find everything from subtropical Sao Paulo's 76°F to Rio's soaring 104°F.
For those wanting to escape the cold and snow of a northern hemisphere winter, the Brazilian summer months from December to March are the perfect time to visit Brazil, particularly the coastal regions.
And if you happen to be in Rio during rainy weather, these are some suggestions of what to do when it rains in Rio, on our YouTube channel:

Things to Do
Brazil comes alive during the high season. Across the country, event calendars are chock full of festivals and religious and cultural celebrations. Then, starting with Carnatal (an off-season Carnival) in December, things stay lively until the Holy Week of Easter.
The Granddaddy of all celebrations, the world-renowned Carnival, is usually held in February or March, depending on when Lent begins. While Carnivals are held in many places in Brazil, the Carnival in Rio de Janeiro is the most famous and most visited of them all. Parades, elaborate costumes, and 24/7 music, drinking and dancing beckon visitors and Brazilians to cut loose and party.
Other events of note include:
Reveillon: Upwards of two million partiers dressed in white crowd at Copacabana Beach in Rio to welcome the new year.

Lavagem do Bonfim: Salvador's festival of washing the church steps includes all-night dancing and revelry.

Sommerfest: A summer repeat of Blumenau's famous Oktoberfest has visitors enjoying brews and brats.

São Paulo Restaurant Week: São Paulo invites everyone to experience the best in Latin dishes by offering great deals and special menus. 

By the way, you can check out more of what to do in Salvador in this video right here:
Cons of Visiting Brazil During the High Season
While visiting Brazil during the high season has its benefits, there are downsides to this time of year. For most people, these aren't deal-breakers but are definitely worth considering before making travel plans.
Crowds
A few rain showers don't deter the crowds from gathering on the beaches and in the cities to enjoy the warm weather and exciting events. Statista.com estimates that Rio's Carnival in 2020 alone attracted 7 million visitors to its festivities: about 5 million locals and 2 million international guests. So if crowds aren't your thing, find another time to visit!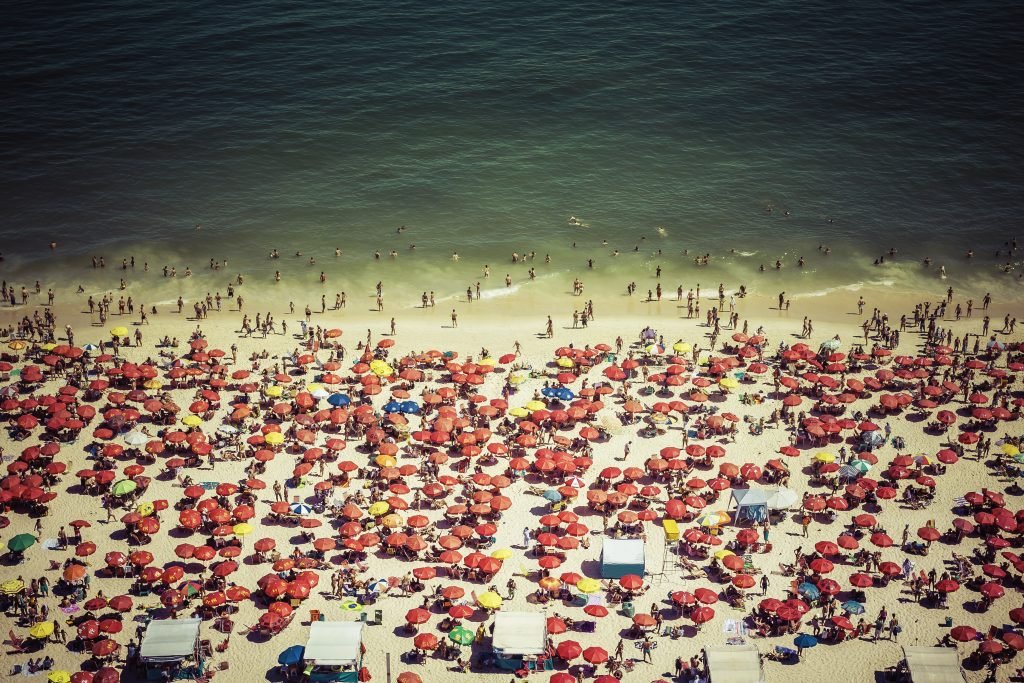 However, if you do decide to go to Brazil during high season to enjoy the beach, check out this video about beach etiquette on our YouTube channel:
Travel Costs
Because of these huge crowds, the principle of supply and demand comes into play. Hotel rooms are in short supply, which means higher rates. High season can also mean that hotels may require a minimum number of nights for a stay. Therefore, longer stays coupled with higher rates increase the overall cost of your trip during this time.
If you're headed to Carnival, you'll likely find flights to Brazil costing much higher as you get closer to the event. Some travel publications recommend booking flights and hotels several months in advance—even up to a year ahead for international visitors.
Pros of Visiting Brazil in the Low Season
The low season in Brazil is winter. Winter in Brazil runs from June through September and is the least popular time for a visit. This is most likely because far fewer festivals and celebrations attract local and international tourists. For some, though, that can be a good thing.
While Brazil's low season rarely makes the list of best times to visit, it does have a lot going for it that will entice many visitors. For one thing, Rio will be quieter and less crowded for those who want to admire the history and partake of its culture and food scene.
It isn't easy to pin down Brazil's climate due to the size of the country and the diversity of its various regions. But winter, for the vast majority of Brazilians, is a welcome relief from the heat and humidity of summer.
Weather
Winter in the northern hemisphere may evoke images of snowbound vehicles and frigid temps for days on end. Brazil's winter offers mild and dry weather in most of the country. Different cities see different temps, so it's good to check your itinerary against the expected weather.
Rio de Janeiro: Expect sunny days with highs around 75°F and chilly nights with lows into the 60s. There is very little rainfall.

São Paulo: June is the coldest month, but even then, temps only average in the mid-60s.

Brazilia: Daytime temps are a pleasant 77°F – 82°F year-round, although nights can dip into the 40s. Winter days are sunny and dry. 

Salvador: Pleasantly warm year-round; the temps here hang between low 80s and mid-90s. Occasional rain showers cool things off.

The Amazon: Often called "summer" by locals, the official winter months include unpleasantly high temps that stay in the 90s but often rise above 100°F. June through August is drier, but significant rainfall occurs all year.

The Pantanal: Temperatures can drop below 70°F, a welcome relief after sweltering heat and humidity during "winter."
Things to Do During the Low Season
Partygoers might find the low season a bit boring compared to the amped-up vibe that overflows from December to March. Still, there are plenty of exciting activities to do and places to see during the low-key winter months:
São Paulo Pride: The largest gay pride parade in the world happens in early June.

Festival Nacional de Forró: Ten days of music concerts and dancing revs up Itaúnas.

Festival Internacional de Pesca: Nearly half a million fishermen descend on Cáceres, Mato Grosso, to try and earn bragging rights for their catch.

Festival de Gramado: This film festival highlights the best films from Brazil and Latin America.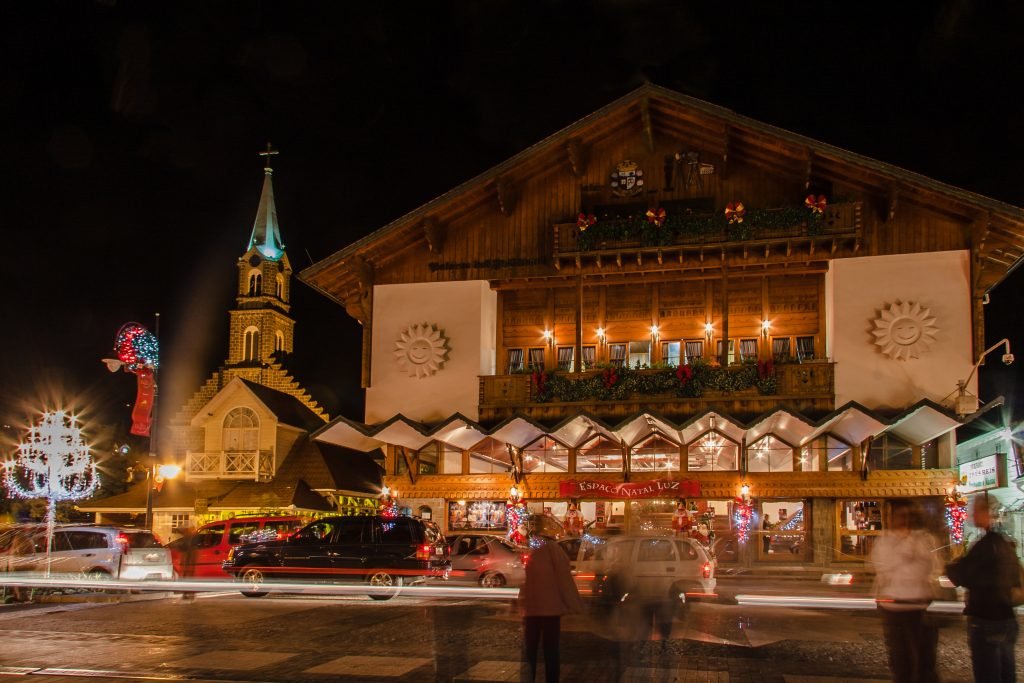 Brazil is home to two of the world's most unique ecosystems: the Amazon River basin and the Pantanal. Both draw visitors to explore their wild and scenic beauty with boat rides and hikes that provide chances to see wildlife in its natural element:
The Amazon: The dry season is the best time to visit the Amazon. Receding water reveals hiking trails and concentrates animals like pink dolphins into smaller areas, making them easier to spot. Visitors can explore further into the rainforest on the dry trails and enjoy canopy climbing and ziplining in the jungle.

The Pantanal:  The Pantanal is the world's largest tropical wetland. It's best to visit the Pantanal during the dry winter months because much of the wetland is flooded and inaccessible during the rainy summer months. Cooler temperatures prevail but seldom drop below 68°F. 
Once the rainy season waters have receded, wildlife emerges from the more remote parts of the Pantanal in search of waterholes. Wildlife viewing is at its best during these dry months.
Travel Costs
Without the crowds of visitors vying for hotel rooms and flights into Brazil, prices are typically at their lowest during Brazil's winter months. 
One exception may be the costs of traveling to the Amazon or Pantanal. Since winter is a popular time to visit these natural wonders, properties may charge slightly more. Unlike Carnival, though, the difference is not significant.
Cons of Visiting Brazil in the Low Season
There's no downside to visiting Brazil during its winter months of June through September. Sure, the weather may be a bit cooler, but in most places, it's still not low enough to impact the quality of your vacation. Still, there are a couple of points to consider if you want to head to Brazil during the low season.
Limited Services
In some parts of Brazil, the low season may bring limited services for visitors. Local or regional transportation may not be easy to come by. The number of flights or inter-regional bus services within the country may limit travel options once in Brazil.
In the larger cities like Rio de Janeiro or São Paulo, you won't see this as you might in smaller towns and more remote parts of the country.
School and Vacation Holidays
While not as busy as Rio during Carnival, July and August do see an uptick in the number of travelers throughout Brazil. According to Frommers, schools and universities in Brazil take their winter break for the whole month of July, and many Brazilians indulge in vacation travel. As a result, cities and must-see sites can be crowded.
The Brazilian winter coincides with the European and North American summer. With school out for the summer in those parts of the world, people tend to hit farther-away vacation spots to take advantage of the unencumbered time.
Pros of Visiting Brazil in a Shoulder Season
Shoulder seasons bridge the time between the high (summer) and low (winter) seasons. For Brazil, spring begins towards the end of September and goes through November. Fall lasts from the end of March through May. In general, spring and fall are wonderful times to visit Brazil. 
Spring and fall are much less crowded times throughout Brazil.

Cooler temps flow into many parts of the country in the fall, but it's still warm enough to enjoy days on the beach along the coast.

In the spring, crowds are still smaller than in the high season.

Many airlines and hotels offer off-season deals to entice visitors to plan a trip to Brazil.
For spring and fall, the number of tourists still remains low, as do the prices of hotels and travel costs.
Cons of Visiting Brazil During a Shoulder Season
Of course, like with any other season, there are a few notable cons to visiting Brazil during this window: 
In autumn, rains are still heavy in the Amazon and Pantanal, making travel there tricky and a lot of places virtually inaccessible.

The Holy Week of Easter (usually at the end of March or early April) draws considerable crowds to festivals and celebrations. As a result, travel costs increase for this timeframe.
Final Thoughts
Brazil is truly a year-round destination. While the general rule of thumb says the best time to visit is between December and March, there are certainly compelling reasons to stay at other times.
Plan your trip to Brazil based on what you want to do and what works for your schedule. Then, no matter when you go, you'll come away already dreaming of your return to this South American jewel.
While you're here, I think we might interest you with these:
Brazilian winter: how cold does it really get? – If you're planning on visiting Brazil during wintertime, then maybe you'll need more than a light coat! Check out and see how cold it really gets where you're going!
A Backpackers Guide To Brazil – When you're planning a backpacking trip in Brazil, there is a lot to consider in order to make the perfect trip. Luckily for you, we have the ultimate guide right here!
12 Small Amazing Cities to Visit in Brazil – Sure Rio de Janeiro and São Paulo are lovely, but you'll be amazed by these 12 charming small cities we listed for you to visit in Brazil!
Cover Photo: crowded Copacabana beach – Credit: ID 51749005 © Dabldy | Dreamstime.com