When people think of visiting a destination such as Rio de Janeiro, they hardly ever think about the fact that the rain could spoil some of your plans. But what is there to do in the city of wonders when there are no paradisiac beaches to visit, and the open-air touristic attractions are put on hold?
On a rainy day in Rio, you can visit historical places like the Candelária Church, go to museums like CCBB, Museu de Arte do Rio and, MAM, eat delicious food at Cafeteria Colombo, and even go on a charming cableway ride through the streets of Santa Teresa.
In this post, we're going to take a look at all the activities you'll be able to do in Rio de Janeiro if you happen to visit the city during a rainy period. We'll discuss all the well-known attractions you can still go on even when it's raining, as well as talk about some off-the-beaten-path things that will surely keep you occupied.
We have just started a brand new YouTube channel! We featured some of the below attractions in this video:
Get that raincoat on; we are going to Rio!
Note: all the prices and values stated on this piece were calculated based on the exchange fee of the day the article was written (USD 1.00 = BRL 5,30), so you may find some discrepancies in regards to that when you do your own research.
1. CCBB (Centro Cultural Banco do Brasil)
Address: Primeiro de Março street, 66 – Centro (downtown)
Best way to get there: Subway – Uruguaiana Station
Opening hours: from Wednesday to Monday – from 12 am to 6 pm
Ticket: free, some exhibitions are paid, and prices vary accordingly. All visitations must be scheduled through this link, as there is no box office at the museum.
Great for: watching free art exhibitions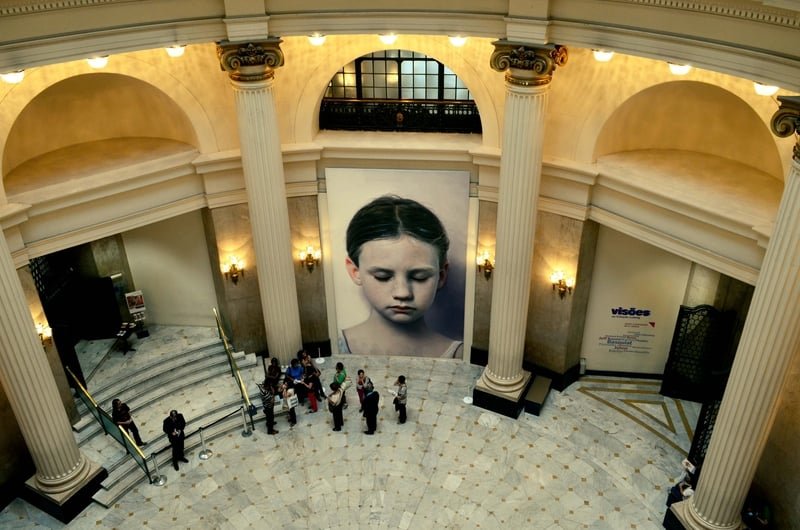 Our first tip of what to do on a rainy day in Rio de Janeiro (but also a great place to visit even it isn't raining!) is the CCBB museum, located in Rio's downtown. This cultural center is sponsored by Brazil's first-ever bank, called Banco do Brasil, which was founded in 1808 and hence, has 210 years of history in the country.
First serving as a commercial association, the 115-year-old building was turned into a cultural center in 1989 and has ever since housed some of the best and most famous art exhibitions in town. Amongst the many showings, we can highlight expositions from names such as Dreamworks, fashion designer Yves-Saint Laurant and Brazilian artist Aleijadinho.
In 2017, the CCBB museum was pointed out by British magazine The Art Newspaper as one of the most visited cultural institutions in the world, staying in the 18th position of a ranking led by the French museum The Louvre in Paris.
After the Covid-19 pandemic took the world by storm, the museum reduced its opening hours in order to avoid further spread of the disease but debuted a very cool virtual tour to compensate. The current online exhibition revolves around ancient Egypt and can be accessed through this link.
Aside from the art exhibitions, the CCBB building also houses a restaurant called Lília Café, in which you can sit down and relax over a cup of coffee or grab a bite to eat.
2. Candelária Church
Address: Praça Pio X (at the end of the Presidente Vargas avenue – Centro
Best way to get there: Subway – Uruguaiana Station
Opening hours: from Monday to Friday – from 7:30 am to 4 pm
closed on Saturday and Sunday
Ticket: free
Great for: meditating, learning more about the city's history, marvel at the architecture
Right next to the CCBB museum, you'll find one of the most beautiful architectures around Rio de Janeiro, namely, the Candelária Church. Originally built in 1609 at a much smaller scale, the church suffered subsequent restorations throughout the centuries but still maintains its original front, which was designed by Portuguese military engineer Francisco Roscio.
Although suffering a few alterations throughout its history, the Church's insides were designed and sculpted by Mestre Valentim, a renowned Rococó artist from Rio de Janeiro (which we have previously talked about in this post). Some of the intricate details of Mestre Valentim's work can still be marveled at through the church's altars and nave, for example.
The Candelária Church also houses a sacred museum (which periodically hosts photography and art showings regarding Candelária's history, and a library that was inaugurated in 2001. All of this should keep you a little busy on a rainy day in Rio, right?
3. Confeitaria Colombo
Address: Gonçalves Dias, 32 – Centro
Best way to get there: Subway – Carioca Station
Opening hours: from Monday to Friday – from 11 am to 6 pm
Saturday – from 11 am to 5 pm
closed on Sundays
Ticket: free
Great for: eating, learning more about the city's history, watch the architecture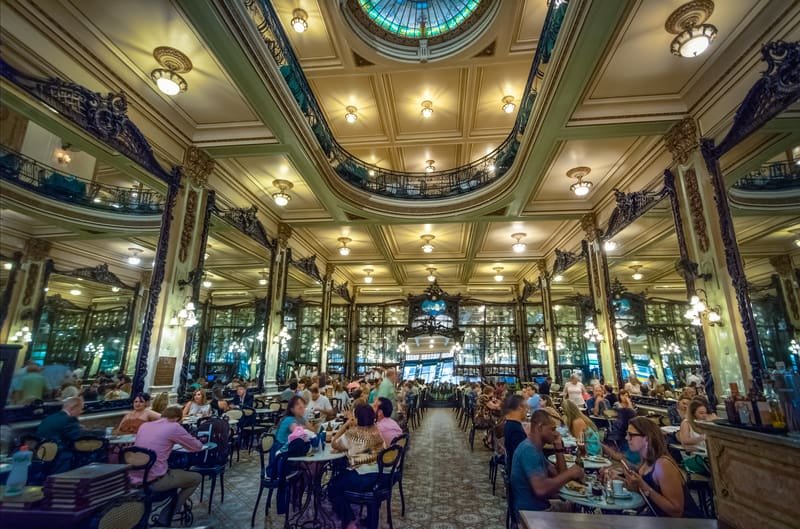 Continuing on our tour through Rio de Janeiro's downtown, let's move on to a subject that is a sure crowd-pleaser: places to eat! But not just any place! We're talking about eating at Confeitaria Colombo, another historical building in Rio de Janeiro that has been operational ever since its opening in 1894.
The café has an exceptional breakfast buffet and afternoon tea service, in which you'll be able to try many Brazilian delicacies and finger food. Unfortunately, as of May 2021, both services are temporarily suspended due to the effects of the Corona Virus pandemic, so if you're planning on visiting, take a look at the schedule on their website to check the service availability.
Aside from filling your tummy with delicious treats, the Confeitaria Colombo building is also a feast to the eyes: the architecture and decoration of the place are truly amazing, which should grant you some very Instagrammable pictures. The massive mirrors and the opulent chandeliers are my favorite things here; they are truly beautiful.
4. Teatro Municipal
Address: Praça Floriano – Centro
Best way to get there: Subway – Cinelândia Station
Opening hours: depends on the event
Guided Tour visiting hours are as following:
Tuesday to Friday – 12 am, 2:30 pm, and 4 pm
Saturday and holidays – 11 am, 12 am, and 1 pm
closed on Sundays and Mondays
Ticket: USD 4.00
Great for: learning more about the city's history, watch plays and musicals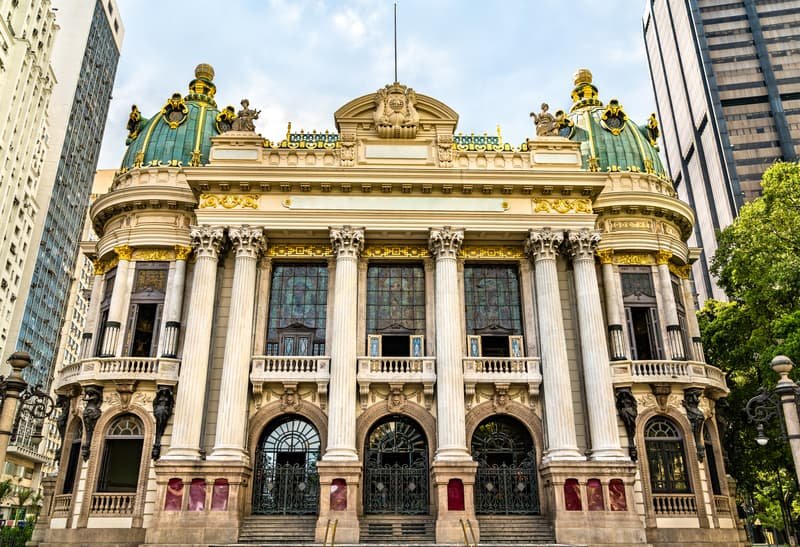 Continuing our rainy day tour in Rio de Janeiro, we'll move on to one of my favorite buildings in the city, the Theatro Municipal. Opened in 1909, Rio de Janeiro's Theatro Municipal is one of the main concert halls in Brazil and Latin America, having served as background for several national and international big names in music, opera, music, and the performing arts.
The theater's design is a combination of the projects of two different architects, namely, Brazilian Francisco de Oliveira Passos and French Albert Guilbert, who both ended up in a tie while competing for the theater's design. The final product was a beautiful and sumptuous design inspired by the French opera house Théâtre National de l'Opéra de Paris.
Ever since the 1930s, Rio's Theatro Municipal maintains an artistic board of its own, being the only Brazilian institution that has a choir, a symphonic orchestra, and a ballet company simultaneously. My last experience at the Theatro Municipal was the symphonic orchestra's homage to Michael Jackson, in which they performed a live version of the late singer's Thriller album in its integrity. Needless to say, it was absolutely amazing.
Throughout the years, the theater has gone through several architectural improvements, in which not only important areas and features have been restored (such as the opulent golden eagle that sits at the top of the building), but historical treasures have been discovered; like an original panel designed by Italian artist Eliseu Visconti.
Aside from the spectacles and concerts, Theatro Municipal also offers a guided tour to visitors who want to learn more about the theater's history. Unfortunately, the tour has been currently put on hold due to the Covid-19 pandemic restrictions, but you can visit the theater's website to check on its availability.
5. Catedral da Lapa
Address: Chile Avenue, 245 – Centro
Best way to get there: Subway – Carioca Station
Opening hours: Monday to Sunday – 7 am to 5 pm
Ticket: free
Great for: learning more about the city's history, observe the local architecture, take pictures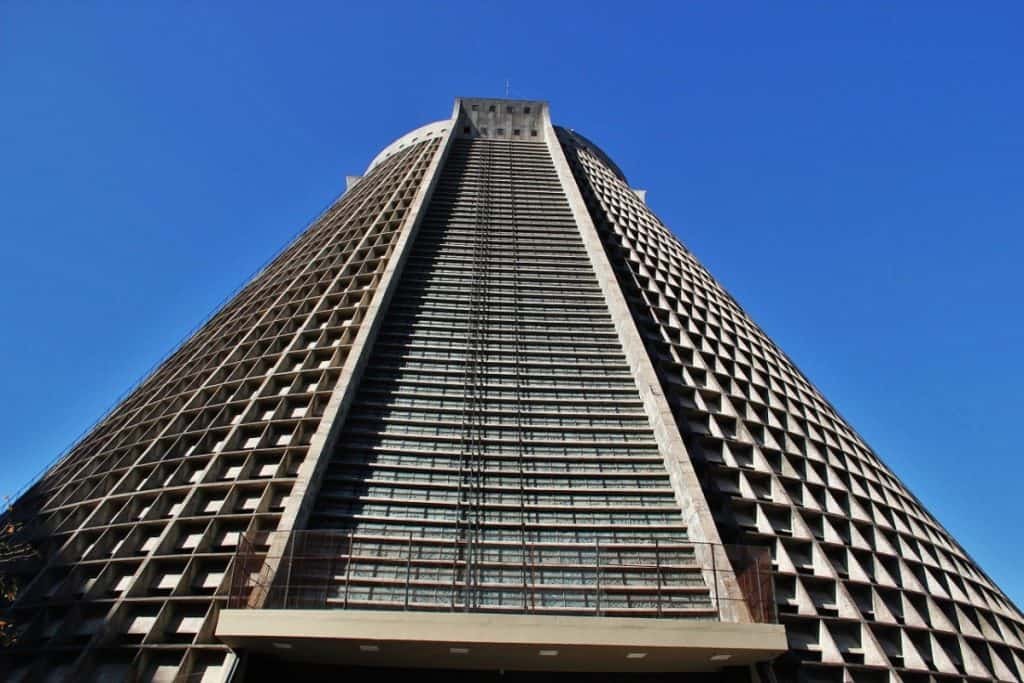 Another place you could include on your rainy day tour in Rio de Janeiro is the São Sebastião do Rio de Janeiro Cathedral, also known as Catedral Metropolitana do Rio de Janeiro – or just Catedral da Lapa due to its location.
The cathedral was inaugurated in 1979, serving as background for many important religious moments, such as a mass celebrated by Pope John Paul II in 1980. With the construction led by architect Edgar Fonseca and engineered by Newton Sotto Maior and Joaquim Correia, the Lapa Cathedral can house over 20.000 people in its 86k+ square feet.
The layout of the Lapa Cathedral is what makes it so special, as its modern and sophisticated design contrast with the usual gothic aesthetics that are usually found in older buildings. The main inspirations behind the church's project were Nasa's Apollo project (which took the man to the moon in 1969) and the Mayan pyramids.
The cathedral's interiors were designed by priest Paulo Lachen Maier, and most of the sculptures you'll be able to see were made by Humberto Cozzo, who also participated in many other projects throughout the city of Rio de Janeiro. The massive main portal that leads to the inside of the cathedral has bronze reliefs, forming a design inspired by "faith."
6. Biblioteca Nacional
Address: Rio Branco Avenue, 219 – Centro
Best way to get there: Subway – Cinelândia Station
Opening hours: Monday to Friday – 10 am to 5 pm
Saturday – 10:30 am to 3 pm
closed on Sunday
Ticket: free
Great for: learning more about the city's history, observing the architecture
The last stop of our rainy day tour through Rio de Janeiro's Centro district is the National Library, which is another historical building in the city. It is considered by UNESCO (United Nations Educational, Scientific and Cultural Organization) as one of the 10 biggest national libraries in the world and the biggest in all of Latin America.
Founded in 1810, Rio de Janeiro's National Library is the oldest cultural institution in Brazil, responsible for collecting, keeping, preserving, and propagating the country's intellectual production. To guarantee the maintenance of the almost 3 million volumes housed by the library, the institution has conservation and restoration laboratories, as well as bookbinding workshops and digitalization and photography centers.
On the opposite way of most of the buildings that constitute the important local architectural and cultural ensemble, the Biblioteca Nacional has a Neoclassic style, which was designed and projected by military engineer Francisco de Souza Aguiar. In addition, the library's front was restored in 2018, which granted the building a fresh look.
The exquisite entrance hall is naturally illuminated by a skylight with stained glass, colored by an art nouveau design. There are 3 other huge skylights throughout the library, all of them with different designs and patterns. In addition, on the library's third and fourth floors, you can marvel at panels designed by renowned Brazilian artists such as Eliseu Visconti, Henrique Bernadelli, and Rodolfo Amoedo.
Amongst the many treasures visitors are able to see are the smallest book in the world (with less than half of an inch in terms of length), original paintings by Debret, original books painted in gold that date back to the Middle Ages, and manuscripts from important Brazilian authors like Clarisse Lispector, Euclides da Cunha, and Machado de Assis.
Due to the Covid 19 pandemic, Rio de Janeiro's National Library has currently suspended touring, so if you're planning on paying a visit, check the library's website beforehand.
7. Mosteiro de São Bento
Address:  Dom Gerardo street, 68 – Centro
Best way to get there: Subway – Cinelândia Station
Opening hours: Monday to Sunday, from 6:30, am to 06:30 pm
Ticket: free
Great for: observing the local architecture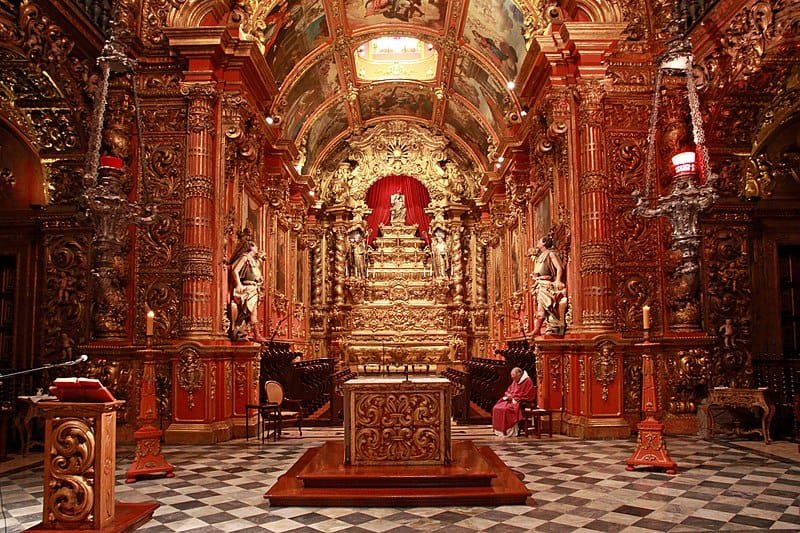 Another fantastic place to visit during a rainy day in Rio de Janeiro is the São Bento Monastery, also located in the Centro district. The monastery was founded back in 1590, only 24 years after the city of Rio was founded. The two monks who founded it established the second religious order to set place in the city, only after the Jesuits that arrived in the country with the Portuguese invasion.
The main attraction here definitely is the beautiful architecture. The exterior still showcases the original Mannerist design, with a central body with three entrance arches and a triangular pediment. Two towers crowned by pyramidal pinnacles flank the entrance. Passing the entrance arches is a porch with tiles and 19th-century iron gates.
The interior of the church is very sumptuous, fully lined with carvings ranging from the late 17th-century Baroque style to the 18th-century Rococo style (by the way, if you want to know more about Brazilian art, check out this post we made).
8. Museu do Amanhã
Address: Praça Mauá – Centro
Best way to get there: Subway – Uruguaiana station
Opening hours: closed from Monday to Wednesday
Thursday to Sunday – 10 am to 4 pm
Ticket: USD 5.00
Great for: learning more about the city's history, observe the local art, watch concerts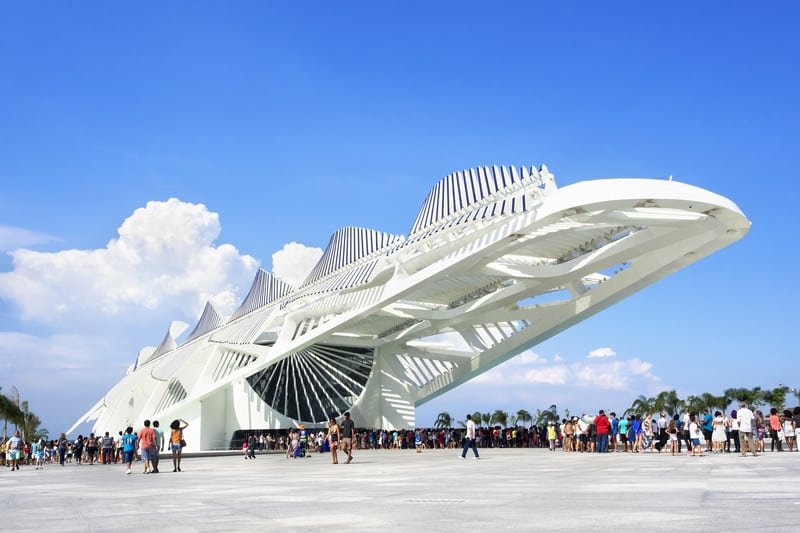 Museu do Amanhã (loosely translated as Museum of Tomorrow) is a museum designed by Spanish architect Santiago Calatrava. It was built next to Praça Mauá, in the port area of Rio de Janeiro, which had been recently revitalized. It's also a great place to spend a few hours, especially on a rainy day in the city.
The former disused pier is now home to a post-modern, organic, and sustainable construction that has become an icon of the local and cultural identity of the city of Rio de Janeiro. The institution aims to be an arts and sciences museum, in addition to having exhibits that warn about the dangers of climate change, environmental degradation, and social collapse.
The building has solar spines that move along the skylight, which were designed to adapt to the changes in the environmental condition. The main exhibition is mainly digital and focuses on concepts rather than objects. The museum has partnerships with leading Brazilian universities and global scientific institutions and collects real-time climate and population data from space agencies and from the United Nations.
One of the main goals of building the museum was to strengthen the cultural and international identity of the city of Rio de Janeiro. Rio has always been well-known for its beaches and events, such as the carnival, but there was a need to strengthen its cultural heritage.
Therefore, including the Museu do Amanhã in your rainy day itinerary in Rio de Janeiro is an absolute must!
9. Museu de Arte do Rio (MAR)
Address: Praça Mauá – Centro
Best way to get there: Subway – Cinelândia Station
Opening hours: closed from Monday to Wednesday
Thursday to Sunday – from 12 am to 6 pm
Ticket: pending on the exhibit
Great for: learning more about the city's history, observe the art shows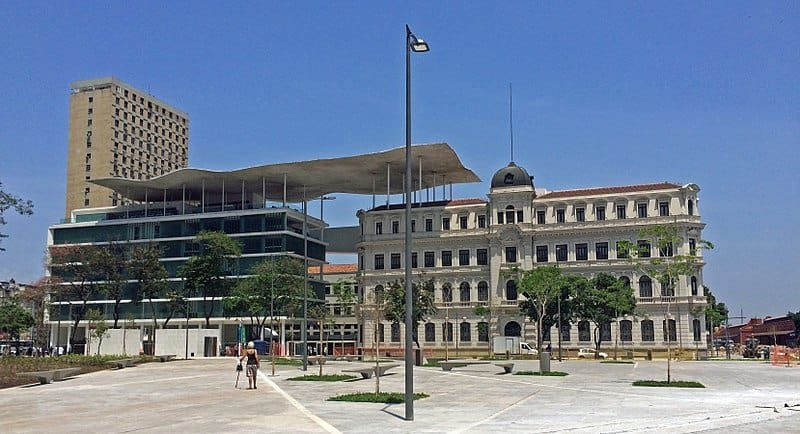 Located about 5 minutes away from Museu do Amanhã, the Museum of Art of Rio (also know as MAR) consists of two large buildings in different styles that are interconnected, resulting in an amazing architectural design. In the eclectic building is the Exhibition Pavilion, which houses eight large rooms dedicated to short and long-term exhibitions.
The other building is called Escola do Olhar, where several courses and activities are held with a focus on educational training. The MAR museum's main goal is to promote innovative ways to dialogue with the public, always promoting the interaction of people with the city's history, art, and daily life, as well as encouraging reflection and all forms of artistic expression and cultural manifestations.
All exhibitions are temporary and, among the works shown, there are those from its own collection, which consists of 12 thousand pieces. The idea involves building a connection with the spectator, who will find, through their own perception, elements with which they identify and insert them in that context.
The exhibitions are creatively presented, and their authors are artists who focus on Brazil or are passionate about Rio. In fact, the third floor of the pavilion is entirely dedicated to the City of Wonders.
Accessibility is an issue heavily focused at MAR, and there are always studies to improve and implement new ideas to benefit people with special needs. In addition to the basic items already available, there is a tactile model of the architectural complex and specially trained guides to show you around and clarify any doubts.
And if that wasn't enough, the MAR museum also houses an amazing library of art books open to the public Tuesday through Friday. And when you get tired and hungry after seeing everything, there are a few places you can grab a bite or a cup of coffee, such as the Novo Desenho store and the Café, Restaurante Mauá, and Bistrô Cristóvão, on the ground floor.
Oh, and last but not least, at the museum's top floor, you will find great options for buying souvenirs and gifts, making snacks, or having lunch. Not to mention the terrace's breathtaking visual panorama, which has already become a point for instagrammable selfies for groups of tourists who love to register this wonder of the city.
10. AquaRio
Address: Muhammad Ali square – Gamboa
Best way to get there: Uber
Opening hours: Mondays to Friday – from 9 AM to 4 PM
Saturday and Sunday – from 9 AM to 5 PM
Ticket: around USD 25.00 per person
Great for: learning more about the marine life, taking the kids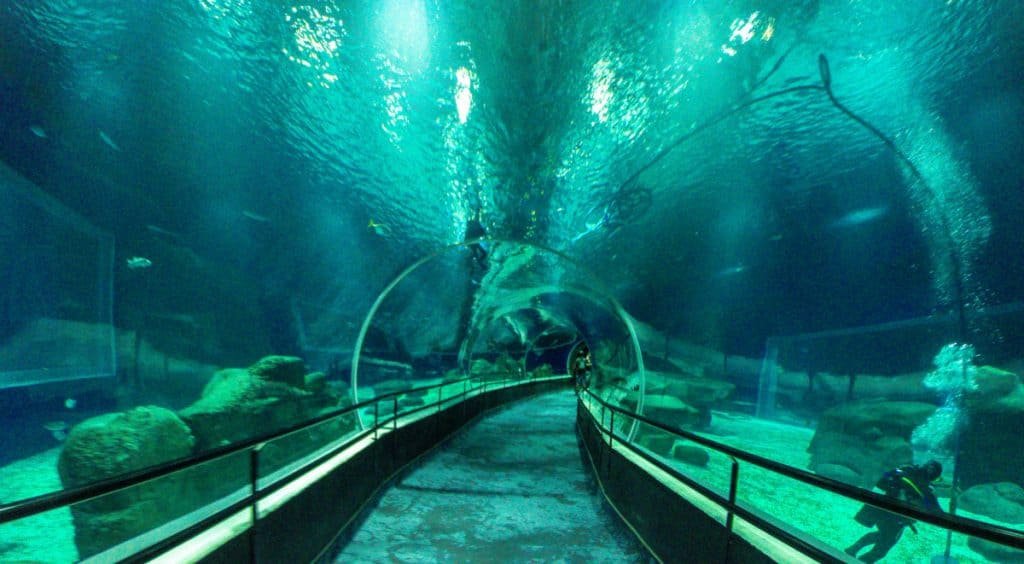 AquaRio is Rio de Janeiro's first ever aquarium, being also located in the same area as Museu do Amanhã and Museu de Arte do Rio. It has over ​​26 thousand m², with five floors and 28 tanks that add up to 4.5 million liters of salt water, the largest in Brazil and South America.
There are about three thousand animals from 350 different species that can be seen in the most diverse marine ecosystems. One of the main highlights certainly is the Recinto Oceânico area, containing 3.5 million liters of water and seven meters deep, where the public has the chance to cross the tank through an underwater tunnel.
Another great attraction is the so-called "touch tanks," which offer a unique opportunity to get even closer to aquatic beings and touch rays and other fishes. For the even braver, you may even dive in this tank, swimming closer to the sharks.
Last but not least, there are two little museums inside AquaRio:
The Science Museum has permanent and temporary exhibitions on subjects related to the marine and aquatic environment;

The Surf Museum presents the trajectory of the sport in Brazil. There is also a behind-the-scenes tour for those who want to go further and get to know the entire structure of AquaRio and how it works
With all that, I think it's guaranteed that you'll be spending more than a couple of hours here and forgetting all about the rainy day outside, right?
If you want to take a 360 look at what the main tank in the aquarium look like, take a look at the video below and scroll around to see it from all angles:
10. Parque das Ruínas & Santa Teresa's Cableway Ride
Address: Murtinho Nobre street, 169 – Santa Teresa
Best way to get there: Uber
Opening hours: closed from Monday to Wednesday
Thursday to Sunday – from 9 AM to 4 PM
Ticket: depends on the event, usually free
Great for: observing the city's landscape, taking pictures, watching shows and concerts
Parque das Ruínas is a cultural space located in Santa Teresa, one of my favorite areas in Rio de Janeiro. The building finished being constructed in 1902 and served as the home of Laurinda Santos Lobo, a patron in the Carioca (if you don't know what that is, take a look at this post we made) cultural scene.
The whole area was renewed in 1997, with an award-winning project by architects Ernani Freire and Sonia Lopes, which maintained the structure of the ruins, adding contemporaneity to the house during the renovation works. In addition, the ruins of the old mansion underwent a thorough restoration and waterproofing process.
The place has a varied cultural schedule, with concerts, plays, and recitals. It also features a panoramic view of Guanabara Bay on one side and Rio de Janeiro's downtown area on the other side. This is one of my favorite spots in Santa Teresa mainly because you get to see almost the entire city and understand its geography.
The park has an exhibition hall, an auditorium for 100 people, an 88 square meter stage, and a cafeteria. Although the area is open, if there are any events scheduled on a rainy day, rest assure they will most likely provide coverage so people can shelter from the rain, so don't worry about it spoiling your plans!
Santa Teresa Cableway Car Ride
Address: Lélio Gama street – Centro
Best way to get there: Subway – Carioca Station
Opening hours: Monday to Friday, from 9 AM to 5 PM
Ticket: USD 4.00
Great for: observing the city's landscape, taking pictures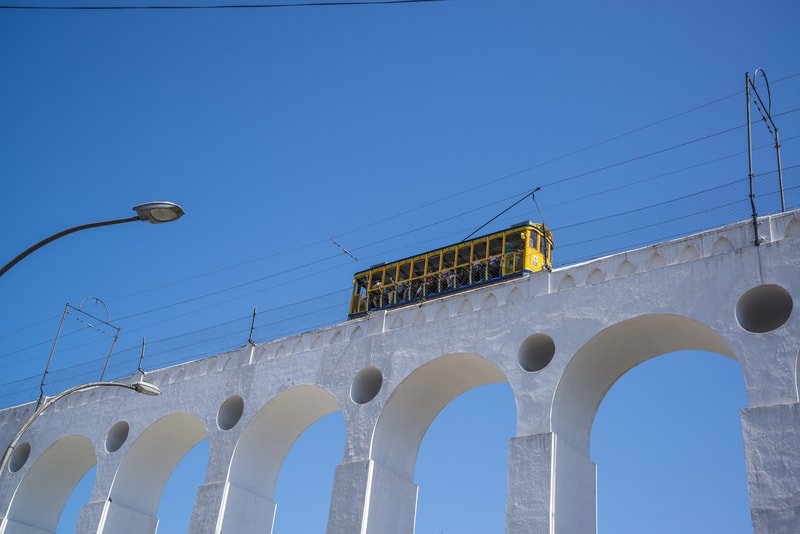 This one deserves its own special mention, as the Cableway Car ride from Santa Teresa to Lapa is one of Rio de Janeiro's most emblematic sceneries. If the rain isn't so bad on the day you're visiting Santa Teresa, then you must take this ride to see part of the city from a different perspective.
The cableway car departures at Lélio Gama street, next to the Carioca subway station in Rio de Janeiro's downtown area, and it travels all the way up to Santa Teresa. There are cableway cars departing every 20 minutes, and the round ticked costs around USD 4.00.
So if you want to make it to the aforementioned Parque das Ruínas, why not take the Cableway Car there? You are sure going to take some incredible pictures along the way!
11. Real Gabinete Português da Leitura
Address:  Luís de Camões street, 30 – Centro
Best way to get there: Subway – Cinelândia Station
Opening hours: Monday to Friday – from 10 AM to 4 PM
closed on Saturday and Sunday
Ticket: free
Great for: learning more about the city's history, observing the architecture, taking pictures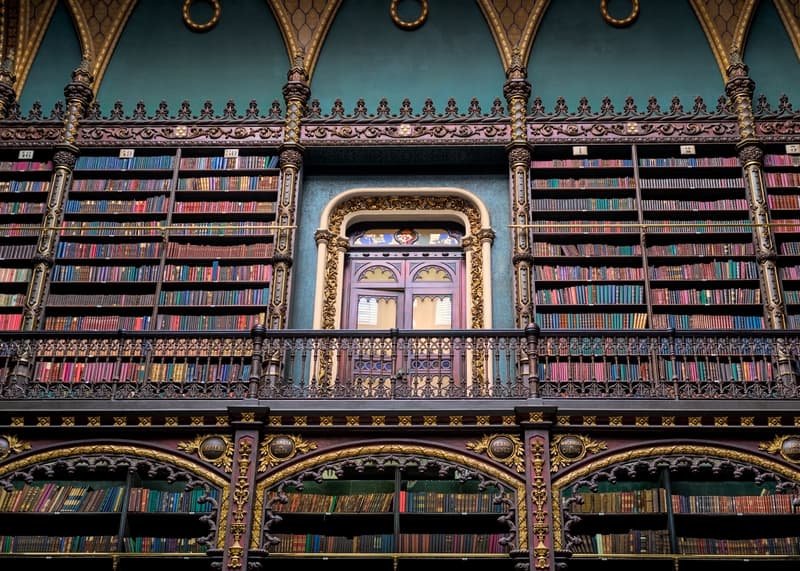 Being the largest collection of Portuguese literal pieces outside Portugal, the Real Gabinete Português de Literatura (which can be loosely translated to Royal Portuguese Literature Office) has nearly two centuries of very rich memories. Undoubtedly one of the most beautiful buildings in the city, this is a great place to spend a few hours away from the rain in Rio de Janeiro.
In 1837, a group of 43 Portuguese emigrants decided to create a library to expand the knowledge of its members and give opportunities to Portuguese residents in Brazil. About 50 years later, the Royal Portuguese Reading Office was done being built, and the rest is history.
The attractive building was designed by Portuguese architect Rafael da Silva e Castro, influenced by the architectural style of neo-Manueline. It evokes the exuberant Gothic-Renaissance style in force at the time of the Portuguese discoveries, called "Manueline" in Portugal because it coincided with the reign of King Manuel I (1495-1521).
The building's exterior was crafted by Portuguese sculptor Germano José Salle in limestone while still in Lisbon and later on brought by ship to Rio de Janeiro. The inspiration for the front of the building came from the Mosteiro dos Jerónimos de Lisboa.
In 2019, the Real Gabinete Português de Leitura ranked in number 4 in Forbes' list of Top 20 Most Beautiful Libraries in the World. The list also includes other historic buildings such as the former Trinity College Library in Dublin, the Alexandria Library in Egypt, the famous New York Public Library, among others.
12. Maracanã Tour
Address: Pres. Castelo Branco Avenue – Maracanã
Best way to get there: Uber
Opening hours: Monday to Sunday – from 9 AM to 5 PM
Ticket: around USD 15.00
Great for: learning more about the soccer history in Brazil, getting to see the stadium
I live less than 10 minutes away from the Maracanã stadium, and although I'm not particularly a soccer fan, I've been to a few games in my life. But I had never really heard about the Maracanã Tour until a friend from England came to Rio and asked me to take her there. I thought the whole thing was going to be kind of a dud, but boy, was I wrong.
It was very exciting to step on the actual field where so many historical soccer matches happened. After all, the Maracanã stadium hosted two World Cup finals and also the Olympics, so it is kind of a big deal (especially for Brazilians, no doubt).
This video below is a quick 360 video, that you can scroll around and look at nay direction you might want
The whole tour lasts around 40 minutes, starting in the lobby where there is a big collection of uniforms and personal items from soccer idols such as Zico and Mané Garrincha, the goal net in which Pelé scored his thousandth goal in 1969, and other historical memorabilia.
If the weather is not that bad, you can also simulate penalties at one of the goals and play soccer-themed pinball in one of the machines available.
Take a look at this video where Ana and I went to visit Maracana museum on a day without matches, so you can tell what to expect from such a tour:


13. Museu Histórico Nacional
Address: Marechal Âncora Square – Centro
Best Way To Get There: Subway – Carioca station
Opening Hours: Tuesday to Friday – from 10 am to 5:30 pm
Saturday and Sunday – from 1 pm to 5 pm
closed on Monday
Ticket: around USD 2.00
Great for: learning more about the city's history, taking pictures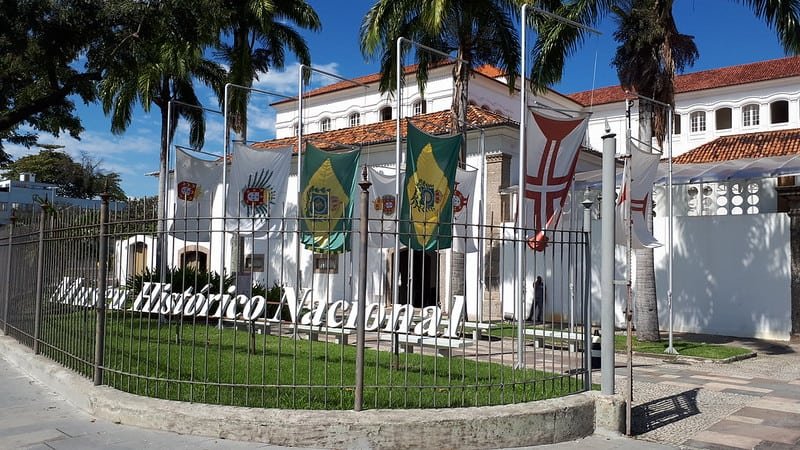 Our last stop at our rainy day tour in Rio de Janeiro is at the National Historical Museum, a building that was raised in the late 1500s. In the initial phase of the colonization of Brazil, the Portuguese invaders built several forts along the visited coast to protect their lands from foreign attacks. The building grew bigger in the next 300 years until it was finally turned into a museum in 1922.
Today, the museum has a rich collection that is open to the public in permanent and temporary exhibitions. The numismatic collection stands out, with its 127,000 pieces, the largest in Latin America. Its library has more than 57,000 titles, including rare pieces from the 16th, 17th, and 18th centuries. And there are also around 50,000 manuscripts and iconographic documents in the museum's historical collection.
In addition to being a reference for the history of Brazil, the National Historical Museum is an important knowledge creator and disseminator. The museum hosted the first Museology course in the country and is now considered a reference for training professionals dedicated to Brazilian museums.
General Tips For Rainy Days in Rio de Janeiro
If you've never been to the city (especially during a rainy day or season), I thought it'd be nice to share a few tips on how to go about in town when it happens. As I lived here my whole life, I know the issues you may be facing should you decide to venture out on a rainy day, so it's important to get a few points across before you throw your raincoat on:
Beware of Floodings
So, the first you should know about Rio de Janeiro's draining system is that it absolutely sucks. Honestly, ever since I can remember, the everyday lives of the Cariocas (don't know what that is? Take a quick look at this post we made about it) are heavily affected by the floodings that hit Rio when there are heavier rainstorms.
It comes to a point where you need to decide between facing the rising water (I've had situations in which I've had to walk home with water up to my knees) or waiting a few hours until the water goes down and you can safely get to wherever you intend on going (if the rain does stop that is!).
So my first tip would be for you to get all the info you can in regards to flooding possibilities in the location you're staying and the destination you intend on visiting. I mean, it's one thing to face a little bit of rain, but having to endanger yourself isn't really the best idea, especially if you're on a trip trying to relax and have fun, amirite?
And speaking on facing the rain, that leads us to our second tip:
Wear Proper Shoes
Even if you don't exactly experience flooding in Rio de Janeiro (which I hope you don't!), you'll still be facing lots of puddles that form due to the unevenness of most of the average sidewalks in the city. Rio has indeed been going through several improvement constructions in the past few years, but there are still locations that need a lot of work, some of which you'll most likely visit on a rainy day (like Rio de Janeiro's Centro district).
So, you don't exactly need to bring a galosh with you on your traveling suit, nor worry about purchasing one if you're in town on a rainy day. Instead, wear a sturdy shoe that is water-resistant, and that can protect your feet from eventual puddle stepping.
Bringing an extra pair of dry socks in your bag is also a good idea; I mean, there's nothing worse than having to walk around with your feet wet (not to mention you could also catch a cold and ruin the rest of the trip!)
Whenever Possible, Take the Subway
Not only in Rio de Janeiro, but almost anywhere in the world, the average traffic gets very chaotic on rainy days. Aside from the troubles caused by the rain (like the eventual floodings we have just gone over), people also tend to drive to their destinations instead of taking public transportation (as it is much more comfortable and convenient), which alone already take a heavy toll on the city's traffic.
For that reason, if you're thinking about heading out on a rainy day in Rio de Janeiro, take the subway whenever possible. I know, it sucks to walk around with an umbrella (I know I hate it), but you will also get to where you want much faster and cheaper, even if you take an Uber instead of the usual yellow cabs (which are pricier than Uber rides).
If you're worried about taking public transportation in Rio de Janeiro, take a look at our Safety In Rio post, as we discuss, amongst other important subjects, the safety measures you can engage while riding the subway in Rio.
No Umbrella? No Problem!
Bringing an umbrella on your trip to Rio isn't really something you need to do, as you'll most likely be able to purchase a new one in town for a very small price. However, there are several street vendors in Rio de Janeiro that parade around town selling umbrellas and plastic raincoats when it is raining in town, so you should easily bump into one.
The umbrellas are usually sold from USD 1.00 to $ 2.00 (depending on the size), and the plastic raincoats can be purchased from USD 3.00 to USD 4.00. If you're with a larger group, informal street vendors usually oblige in making a special discount, so keep that in mind if you're any good at bargaining and fishing for better prices.
So, that was it for our list of things to do on a rainy day in Rio de Janeiro! Although the city's forté really are the outdoor activities and the touristic attractions that are in the open air (like visiting the Corcovado, for example), there's a lot to do in town even with bad weather!
While you're here, I think we might interest you with these:
Swimming In Rio Beaches: The Do's And Don't's – If it's your first time swimming in the paradisiac beaches of Rio de Janeiro, we've got a few pointers for you on what to do and what to avoid while having fun at the ocean!
Where To Go From Rio: 19 Places for Amazing Short Trips – Already familiar with the city of wonders? How about going an extra few miles and taking a look at our guide for visiting some of the nearby cities surrounding Rio de Janeiro!
Rio Carnival: Instruments Used And How It Is Organized – Have you ever seen an official Brazilian Escola de Samba parade during Carnaval? Although it all seems fun and light, there's a lot of work involved! Come read all about it!
Cover Photo: rainy clouds and rainbow rolling above the Ipanema beach in Rio de Janeiro – Credit: ID 109332865 © Aleksei Todosko | Dreamstime.com