Traveling to a new country can be very exciting, but you also need to be prepared for it. Countries require specific documentation to show you are able to enter and exit them safely. Brazil is no different, and it's important to have each document required to avoid issues while traveling.
The entry and exit document fees in Brazil all add up to about USD 160.00 for United States Travelers. There also might be extra fees depending on how long you stay there and if you bring products from the country into the United States.
The following article is an in-depth description of the documents you will need and how much it costs to get one. It also includes a brief guide on how to get the required travel documents.
Documentation Expenses 
On average the required documents you need to get into Brazil cost between $50 and $100. The most expensive document will be a passport, at $110 with an execution fee of $35. Other documents, such as visas, are about $60. 
The documentation expenses might vary depending on other factors, such as getting the passport renewed or the visa level you need. But they are all important for safe entry and exit into Brazil.
What Documents Do I Need to Enter Brazil?
The required documents you need to enter Brazil include: 
A valid passport 
A visa card 
An entry card
If you are missing one of these documents or one of them isn't properly updated, you won't be allowed to enter the country.
According to Brazilian law, travelers must carry their passport or a certified photocopy of their passport at all times. Most travelers prefer to carry a photocopy of their passport and leave the actual document safely locked in their hotel. A certified photocopy of your passport is a copy that has been confirmed as original by a certified notary or attorney from your country. If you do get a notarized copy, then you will need to pay a fee of $5 to $10.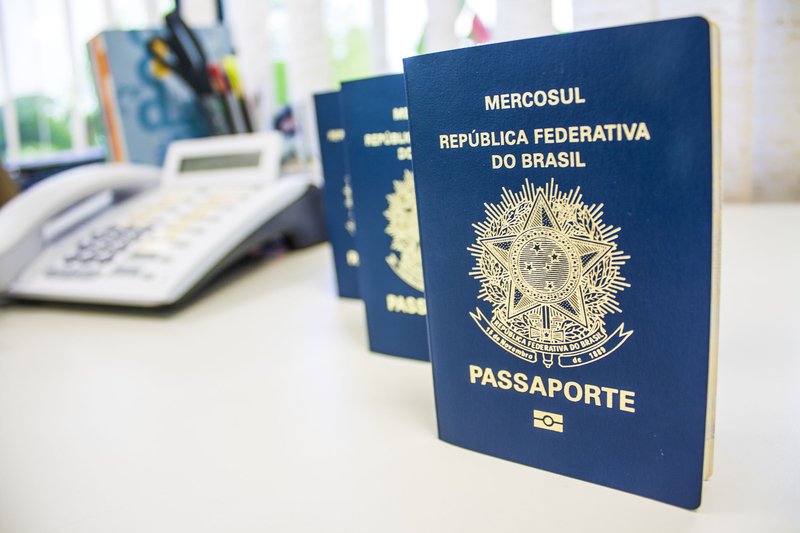 A visa card is required for citizens from a few countries, but not from others. If you live in one of the following countries, you are required to have a visa card:
The United States
Australia 
Canada 
Japan
But if you live in these countries, you do not need a Visa:
New Zealand
France
The United Kingdom 
Germany
You can also check your status at the Brazilian embassy or consult your home country to see if you need a visa or not. They usually cost USD 40.00 to get, along with a USD 4.25 online service fee if you fill out the application online.
Also, if you are thinking about working in Brazil, you must read this. There is a specific type of Visa you need to apply to in order to be able to work in the country, so don't forget to check our post in order to get the main info on that matter.
Lastly, an entry card is something you fill out upon arriving in Brazil. Once it's filled out, the immigration office will keep one half of the card, while you keep the other. You will then present that half of the card and the other documents to the immigration officials when you leave Brazil.
What Documents Do I Need to Exit Brazil? 
The documents you need to exit Brazil include: 
A stamped passport 
A visa 
An exit card 
As long as you have all of the required documents, you will be able to leave the country safely.
The immigration officials will stamp your passport upon your arrival to Brazil. The stamp indicates that you are allowed to stay in the country for 90 (ninety) days. If you need to stay longer than the legally allowed period, then you'll have to request an extension with the Brazilian Federal Police prior to your arrival. The agreed upon length of stay will then be written on your passport when you arrive.
A visa is also still required for leaving the country if you are from another country that requires it. You can refer to the list above or the Brazilian embassy to see if you need a visa or not.
The final document you need to leave Brazil is the half of the entry card given to you when you arrived. That half of the card is now your exit card, and you must present it to the immigration officials when you leave the country. The card serves as proof that you went through all of the legal customs when you arrived, so you should not lose it while staying in Brazil.
Where Can I Get All of The Required Documents? 
The best places to get a passport and a visa are the official websites for your country. They provide all of the necessary services and steps to get the required travel documents.
The official passport application site for your country will walk you through every step of the process. The most common application steps for getting a passport include:
Filling out the application form, online or in person 
Submitting an approved passport photo 
Showing proof of your identity 
Paying the passport application fee 
Getting the passport processed and delivered
The entire process can take up to 18 weeks to complete, so you'll want to make sure you have plenty of time to get your passport before you leave. If you need to get your passport fast, then you can pay an extra $60 to expedite it through the United States postal service.
To get a travel visa, you can fill out an application on the United States visa application site or schedule an appointment to fill one out. Once the form is filled out and sent to the consulate, it will take about 3 to 5 weeks for the application to get processed and the visa card mailed. A traveling visa costs about USD 160.00 and lasts for about six months.
Final Thoughts
Getting all of the required documents to travel to Brazil can rack up on price fast. But the payment is worth it to have a safe and fun traveling experience. If you get the correct documents well in advance of your trip and keep track of them, you won't have any trouble getting into and out of the Brazil.
While you are here, I think we might interest you with these:
Shipping To Brazil: Guide, Problems, Costs, Scams and Providers – Thinking about sending a gift to friends and/or family in Brazil? Then click here, as we got all the major info you need to know before heading to the post office!
Do I Need Travel Insurance While Traveling to Brazil? – In some countries, travel insurance is mandatory for foreign visitors, so if you want to know if that is the case with Brazil, take a look at this post!
One Way Tickets: Am I Allowed In Brazil Without A Return Date? – Not sure on how long you are planning to stay in Brazil? Well, then maybe you need to take a quick read on this post, as we got some important info to share with you!
Cover Photo: sunglasses and documentation for travelling – Credit: ID 55514420 © Neirfy | Dreamstime.com