Iguazu Falls is a series of waterfalls on the Iguazu River in South America, running along the Argentina/Brazil border. The breathtaking, one-of-a-kind display of Iguazu Falls makes it one of the world's most popular tourist attractions each year.
Nonetheless, given the falls' sheer dimensions, many people visiting Brazil for the first time have no idea how to optimize their experience viewing this treasure of nature. With that said, the following guide is here to answer all of your questions and tell you everything you need to know before visiting Iguazu Falls. 
What Should I Pack for Iguazu Falls?
For most of the year, the weather at Iguazu Falls is hot and humid. As such, the following items are must-haves to pack:
Shorts
T-shirts or tank tops
Waterproof sandals or similar footwear
Hat
Sunglasses 
Sunscreen
In addition, it is essential to remember that genuinely experiencing Iguazu Falls will require you to get a little wet. Therefore, while you will definitely want to take a lot of pictures, it is almost mandatory to invest in a water-resistant cell phone case so that your phone does not incur water damage. You will also want a waterproof bag to protect your valuables.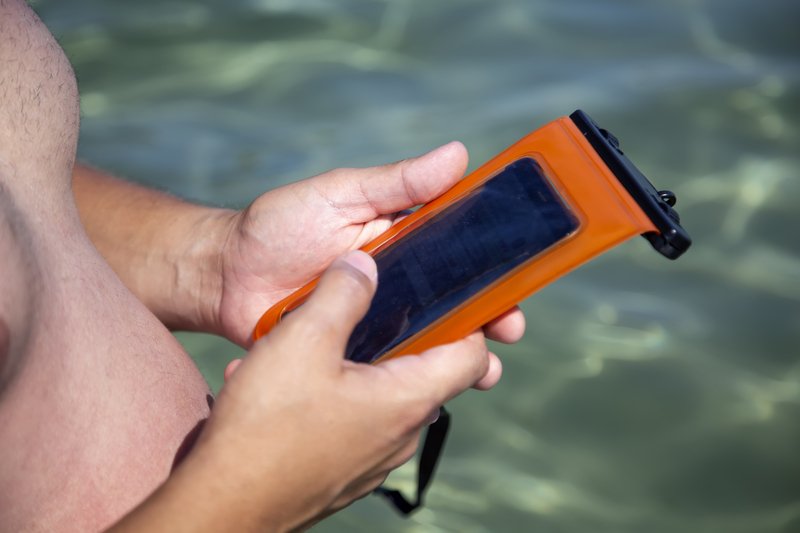 Finally, the bugs in Brazil's tropical climate around Iguazu Falls may be quite a nuisance, so make sure to pack plenty of bug spray. As a matter of fact, if you want to know more about some of the Brazilian mosquitoes, take a look at this piece.
Do You Need a Tour for Iguazu Falls?
A guided tour is not a requirement for experiencing Iguazu Falls, as many people can discover plenty of breathtaking views simply by walking the boardwalk on their own. However, a tour can offer unique angles of the falls, with experienced tour guides giving a more in-depth insight into the history of the areas you observe.
Tours are offered by land, boat, or helicopter, with the following being some of the most popular tour packages:
The Macuco Safari boat ride gives passengers a thrilling, up-close look at Iguazu Falls. Passengers will experience a first-rate adrenaline rush as they get splashed admiring one of the natural wonders of the world.

A helicopter tour over Iguazu Falls allows you to see the water's natural beauty from the top down. This is a favorite tour of photographers looking to capture the falls from all angles.

Standard bus and minivan tours allow you to experience Iguazu Falls from the passenger seat while professional guides take the guesswork out of where to go next.  
What Is the Best Time of Year to Visit Iguazu Falls?
In short, there is really no wrong time to visit Iguazu Falls. The weather is favorable most of the year, and the splendor of seeing one of nature's most breathtaking displays is a can't-miss experience regardless of when you have time to book a trip.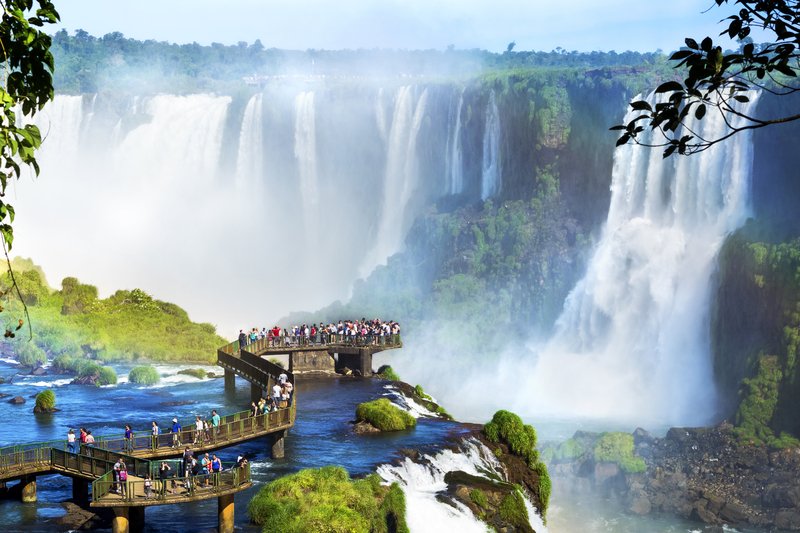 With that said, it is always most enjoyable to book your trip when the weather is perfect and the park is not crammed with tourists. So let's take a look at the various seasons at Iguazu National Park and how they affect climate and tourism:
Winter (June – August) – For many, this will be the best weather for visiting Iguazu. The climate is not as humid as during the other months, and the highest temperatures max out at the upper 70s. It is also considered the low season at Iguazu in terms of tourism. The only two drawbacks to visiting in winter are that the days are short, and during the last two weeks of July, the park is packed with Argentinian visitors on winter break.

Spring (September – November) – The weather warms up considerably in the spring, with many humid, rainy days. Although people visiting the waterfalls likely expect to get wet, you may want to pack a little extra rain gear when visiting during the spring. On the plus side, the days get longer, giving visitors more time to explore the park.

Summer (December – February) – Temperatures start to reach the 90s during the summer, and the park begins to get overrun by tourists from the northern hemisphere looking to escape cold weather. However, the days are long, and it can make a refreshing boat ride all the more enjoyable.

Fall (March – May) – Fall is considered the dry season in Brazil, so the lack of rain will make the falls seem less dramatic as the Iguazu River subsides. The weather is generally humid and in the mid-80s. It is considered a shoulder season for the park, meaning that crowds are moderate, except during Semana Santa and Easter, when tourism surges.
How Long Should I Spend at Iguazu Falls?
You could spend a lifetime observing Iguazu Falls and not discover every secret that the park has. However, most people are on a time budget, so it is crucial to estimate how long you should plan to see all that you need to see.
If you only plan to visit the Brazil side of the Iguazu Falls, then two days can be an ideal length of time for a visit. This will allow you to spend one day exploring the boardwalk on your own and capturing some of your favorite images while dedicating the other day to taking a tour and seeing the spectacle from a different view.
If you want to experience both the Brazil and Argentina side of the falls, extending your visit an extra day would be good.
Can You Swim in Iguazu Falls?
Swimming is prohibited in Iguazu Falls. The force of the falls hitting you could be catastrophic, and the current of the river as it exits the falls is too strong for even the most skilled swimmers. There is also a wide array of dangerous reptiles and marine life waiting in the Iguazu River.
If experiencing the river and getting as wet as possible is a high priority, some boat tours will allow you to get splashed by the falls, so bring some wet gear. Just remember that, for your safety, the tour guides will not allow you to swim, regardless of what kind of gear you bring. 
Conclusion
As the longest chain of waterfalls in the world at 1.7 miles in width, Iguazu Falls has been dubbed one of the world's seven natural wonders. If you plan on visiting this spectacle for the first time, it can be a bit overwhelming trying to plan your visit and see everything worth seeing. By considering the helpful guide listed above, you are taking a necessary first step in optimizing your time seeing one of Brazil's most famous landmarks.
While you're here, I think we might interest you with these:
A Backpackers Guide To Brazil – Thinking about backpacking throughout Brazil? Well, you're sure going to need some tips from a local, and we got everything you need to know right here!
15 Reasons Why You Should Visit Ilha Grande on Your Vacation to Brazil – Ilha Grande is definitely a place you must visit if you're around Rio de Janeiro, and if you don't believe us, here are 15 reasons why you should include it in your itinerary!
Tips On What Gear To Wear When Scuba Diving – If you're a fan of scuba diving, then you should definitely take a look at these tips before you get underwater in Brazil!
Cover Photo: the Iguazu Falls – Credit: ID 41849680 © Stine Fossheim | Dreamstime.com