When visiting São Paulo, you might be aware of the main attractions: Ibirapuera and Villa-Lobos Parks, Paulista Avenue, Oscar Freire Street, the Downtown district, Augusta Street, and so on.
What all of the above have in common is that they are mostly enjoyed outdoors. What should you do when there is rain or a gloomy, cold day that is not so fun to be going to the park for a picnic, for example?
Aside from the numerous museums and art galleries in the city, there are theme bars you can go to, indoor touristic spots to visit, restaurants and cafés to try the delicious Brazilian delicacies, and many other activities you can comfortably engage in on a rainy day.
We suggest below a few options for what to do in São Paulo if you are caught in one of those not-so-sunny days. At the end of the article, I will add some of the must-see (indoor) attractions that you might already be aware of (but I am adding it here if you need a refresher).
São Paulo is known as the "drizzle land" or "terra da garoa" in Portuguese. From October to March, there might be a lot of rain in the city, whereas during the other months, you might find yourself in one of those gloomy days that are not appealing for outdoor activities.
During fall and winter (the dry season in São Paulo), from April to September, the temperatures will be on average around the high 50's/low 60's (19C – 22C). Honestly, this is not too bad for winter! A light jumper or jacket should keep you warm.
And in case you do find yourself in the unfortunate position of needing to face the rain, umbrellas are sold easily everywhere for around R$10 ( approx. USD 2). We'll go more into detail in regards to the general tips for facing a rainy day in São Paulo in this post's last topic.
Feel free to check on the map below where each of these places is so that you can plan your day accordingly. Now, get your umbrella, and let's check these out!
Note: all the values stated on this piece were based on the exchange rate of the day this article was written (USD 1.00 = BRL 5,16). You may find some discrepancies in regards to that depending on the exchange rate's fluctuation.
Note #2: since many of these activities are in closed spaces, we suggest you take a look at the location's website and social media to find out more about capacity due to the Covid-19 Pandemic. We will indicate the contacts on our yellow boxes in each of the topics.
1. CCSP – Centro Cultural de São Paulo
Centro Cultural de São Paulo at a glance

Address: Vergueiro Street, 1000 – Liberdade
Best way to get there: Subway – Blue Line – Vergueiro Station
Opening hours: everyday – 9 AM – 10 PM (public spaces)*
Ticket: free, some exhibitions are paid, and price vary accordingly
Contact: website | Instagram | vimeo
Great for: working or studying in the library, watching free art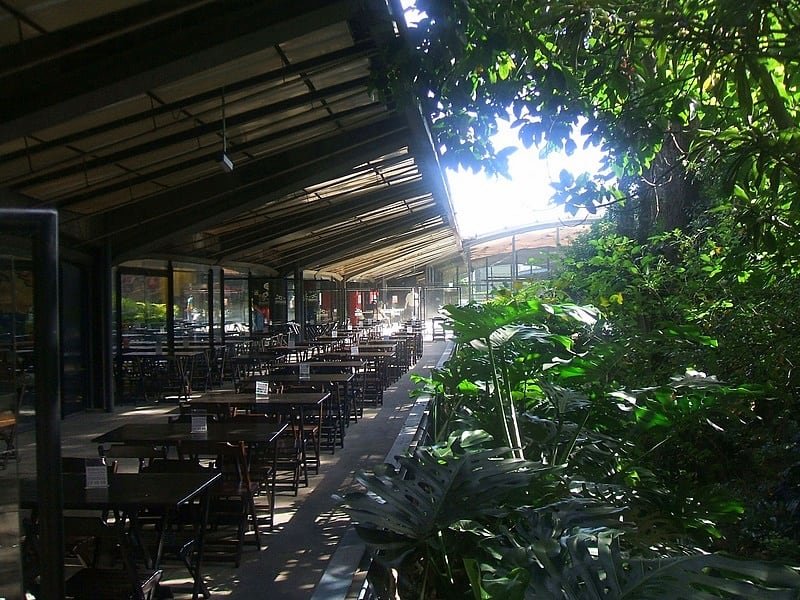 The CCSP (São Paulo Cultural Center) is a famous artistic space in the city that allows for many types of artistic manifestations in its territory. There, you'll be able to find dancing rooms, movie theaters, and art workshops, as well as cafés and places to eat, for example.
They also have a big book collection, with over 120 thousand volumes that can be borrowed and used for studying purposes in the CCSP's study room. There are also over 900 thousand audio and visual documents on many areas of interest, like architecture, graphic design, TV and radio, Photography, Literature, and Music. In sum, if you're looking for anything art-related, the CCSP probably has it.
The CCSP space also features a "comics-library," Art Gallery, open spaces for sitting, cafes, shops, a communal herbs garden (you can get some herbs if you want), and an open suspended garden.
On top of the building, there's a big terrace covered by a beautiful garden with benches, to accommodate the people looking for a little bit of fresh air. It is indeed a very nice place to relax, unwind, and meditate, as the peace and quiet up there are really refreshing.
Built in the '70s and opened in 1982, the Centro Cultural de São Paulo or CCSP in short (São Paulo Cultural Center) is easily accessible by subway through the blue line, Vergueiro Station.
This is a public space and, as such, several things you might not be used to in other places are allowed in here. Some examples:
Dancing, theater rehearsals, singing, and other artistic manifestations
Walking barefoot
Wearing bathing suits for taking sunshine (or rain shower if you feel like it)
Taking pictures (except for the presentation rooms)
Taking your bicycle in (but not riding it)
Public displays of affection (just keep it family friendly for Brazilian standards)
Picnics
Listen to and compose music
Run and play (if you have kids with you)
*The libraries, ticket booths, and Information Stand have different working hours. Please check their website for further information.
2. Ludus Luderia Bar
Ludus Luderia at a glance

Address: Rua Treze de Maio, 972 – Bela Vista
Best way to get there: Subway: Line 1 – Blue (São Joaquim station) or Line 2 – Green (Brigadeiro station)
Opening hours: Saturdays and Sundays from 3 PM to 21 PM
Ticket: no ticket
Contact: instagram | facebook
Great for: playing games, having a drink, eating thematic food
Imagine being stuck at a hotel with your friends on a rainy day in São Paulo. If you were at home, maybe you could dig up some board games to have some fun and help pass the time, but being in another country, it's impossible to do something like that right? Well, wrong!
If you are into board games, there's a special place in São Paulo just for you. The Ludus Luderia bar is located in the Bela Vista district and has a gigantic collection of board games for you to enjoy yourself in the company of your friends and family.
There are over 1200 board games available to play, in which amongst old and new titles, you'll be able to find:
Monopoly
War
Trivial Pursuit
Game of Life
Dixit
Catan
Ticket to Ride
Carcassone
Potion Explosion
Mysterium
And if you're worried about not knowing enough Brazilian Portuguese in order to be able to play these games, don't worry: there are several imported titles with no translation to Portuguese, so you'll most likely be able to find a board game in your original mother tongue.
Aside from the extensive board game collection, clients can also order delicious treats prepared by chef Lena Gomes, who came up with some very interesting snacks that are not only very tasty but also play along with the bar's fun theme.
The "Jenga Gigante" appetizer, for example, is a french fry bucket with salsa golf sauce that comes in two sizes; 1,1 lbs or 2,2 lbs, depending on your hunger and on the size of the party you're with. And if you're into deep-fried chicken, you must try out the "Hey, that's my chicken" course, which consists of artisanal chicken fingers with sesame sauce.
The bar also aims to be as inclusive as possible, so vegans, no need to worry about the food menu, as Ludus Luderia got you covered with a whole page worth of options for you. The "Floresta Encantada" sandwich is one of the most requested items, consisting of a delicious tofu burger on falafel bread, onions, tomatoes, pickles, and vegan mayo.
The bar also has a very extensive drink menu, from which you'll be able to order some delicious drinks (alcoholic or not) as well as beers from all over the world. Just make sure not to let the alcohol buzz get to your head and ruin your chances of winning game night!
3. Cafe Colombiano no Centro Cultural Oswald
Cafe Colombiano at a glance

Address: Rua Três Rios, 363 – inside the Centro Cultural Oswald de Andrade building
Best way to get there: Subway – Line 1 (Blue) – Tiradentes station
Opening hours: Monday to Friday, from 12 AM to 4 PM
Ticket: no ticket
Contact: Instagram | facebook
Great for: reading a book, trying Colombian coffee and food, watch the arts,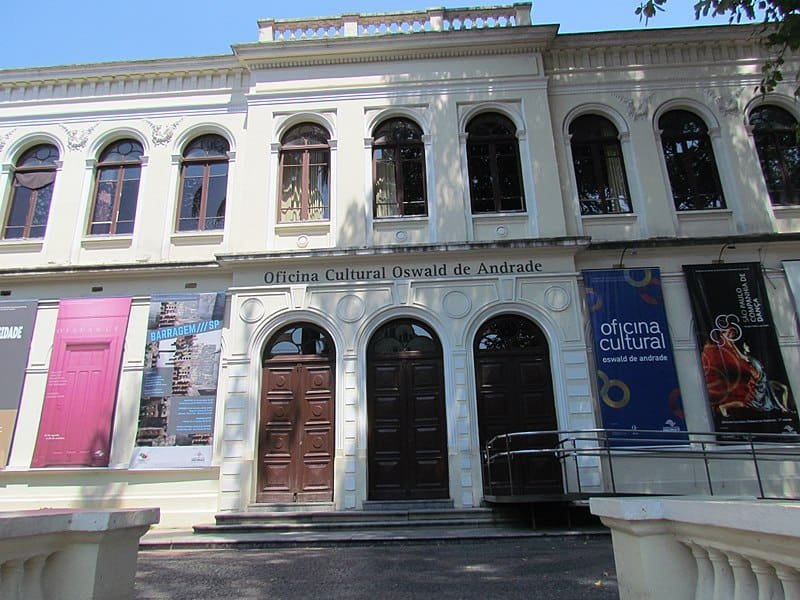 Located at a historical building from the early 1900s at the Bom Retiro district in São Paulo, the Oficina Oswald de Andrade workshop has been educating students and human resources in many art-related fields, such as the visual arts, movies, dancing, graphic design, photography, literature, music, theater, and even comic books.
Its innovative methodology for training its students regarding their cultural knowledge was a trailblazer in the country, developed by artists, technicians, and researchers. All of their efforts aim to create seminars, courses, and focus groups that are able to both educate and prepare students for the labor market.
Even if you can't find any classes taught in your mother tongue, you can still take part in many of the workshops provided by Oficina Oswald de Andrade, such as the photography lessons provided in the Ateliê Livre de Gravura, which is dedicated to the preservation and continuity of the traditional visual art techniques.
To top it all off, you can sit at the charming Café Colombiano restaurant, located inside the same building. The menu is beyond ordinary, in which you'll be able to taste test several delicious delicacies in a buffet made out of cakes, pies, and snacks. Aside from the famous Colombian coffee, you'll also be able to try the following traditional treats:
arepas (bread made out with ground corn);
patacones (made with fried green bananas);
yam chips;
aborajados (fried banana dough with Colombian cheese filling);
empanaditas
To help wash all of these delicious treats down, the Café Colombiano restaurant offers, aside from the world-famous Colombian mojito, several national and international beer brands, as well as fresh pressed juices and other non-alcoholic beverages.
4. Reserva Cultural
Reserva Cultural at a glance

Address: Paulista avenue, 900 – Bela Vista
Best way to get there: Subway – Line 2 (Green) – Trianon/MASP station
Opening hours: depends on the movie, check the schedule here
Ticket: USD 13.00 (full ticket) – USD 7.50 (students)
Contact: instagram
Great for: watching movies
Tired of only having the same blockbuster movie options in the regular movie theaters? Then you must come to visit the Reserva Cultural movie complex in São Paulo. Different from most movie theaters, the Reserva Cultural complex bets on alternative weekly showings, mixing blockbusters, documentaries, cult movies, and even some Copywrite titles that you wouldn't normally find in any theaters.
With over 15 years of existence, the Reserva Cultural movie complex is a very nice pit stop to include on your rainy day tour throughout São Paulo! Aside from the weekly movie showings, the complex also houses the Reserva Bistrô, which is a charming little restaurant that adds a little more flair to the place.
That is because, on top of drinking a nice cup of coffee or grabbing a quick bite in between sessions, the Reserva Bistrô also disposes of a book and CD session dedicated to the arts, in which you can find rarities and imported copies that you wouldn't be able to find easily.
Not São Paulo related, but Rio de Janeiro's neighbor county, Niterói, also has a Reserva Cultural, which features 5 movie theaters (instead of 4 in São Paulo), and also houses a Reserva Bistrô restaurant.
5. Galeria do Rock
Galeria do Rock at a glance

Address: São João Avenue, 439 – República
Best way to get there: Subway – Line 1 (Blue) – São Bento station / Line 3 (Red) – República station
Opening hours: Monday to Friday – from 9 AM to 7 PM
Saturday – from 9 AM to 6 PM
Ticket: no ticket
Contact: Instagram | website | facebook
Great for: shopping, having a drink at the rooftop garden, watching an indie concert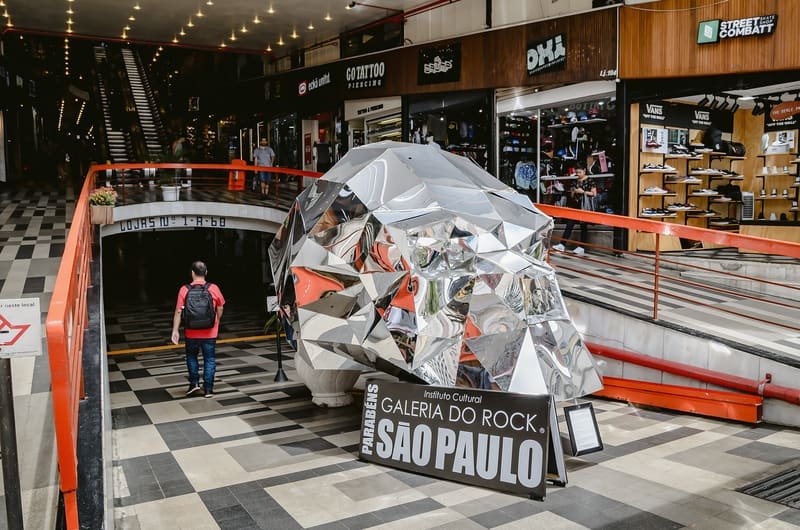 Located at the very center of São Paulo, Galeria do Rock is one of the city's most famous hotspots for tourists and locals. Although the same suggests that this 7-floor gallery goes well beyond rock. The many stores housed by Galeria do Rock have a ton of pop culture items, as well as albums, clothes, and collectibles.
The gallery was indeed a favorite hangout place for fans of the rock genre since its opening in the early '60s, and to this day, the gallery still hosts many shows for independent bands and artists. Many of the stores ended up expanding their business to sell other products than rock-related items, but you are still able to find a lot of places with great and rare rock and metal memorabilia.
Built in 1963, one of the most eye-catching aspects of Galeria do Rock certainly is its design, as you cannot pass by the building without staring at it for a little while. Designed by architect Maria Bardello, a big fan of natural daylight, the layout of the gallery allows you to glance at all of its floors, even from the outside, almost as if you could see the many layers of a cake.
The fact that its design differs so much from any other place in the city makes this a remarkable and unique spot to visit in São Paulo, as well as a very Instagrammable place to take a few pictures. And a little shopping doesn't hurt as well, right? You'll certainly be able to find many trinkets and gems to bring home as souvenirs.
There's also a very nice garden on the top floor of Galeria do Rock, in which you can hang out and have a drink at the local bar. It's a pretty chill spot to take a break from visiting so many stores!
6. Museu Catavento
Museu Catavento at a glance

Address: Mercúrio Avenue – Dom Pedro II Park
Best way to get there: Subway – Line 3 (Red) – D. Pedro II station | Line 1 (Blue) – São Bento station
Opening hours: Wednesday to Sunday – from 11 AM to 4 PM
Ticket: USD 2.00
Contact: Instagram | facebook | website | youtube
Great for: learning new things, taking the kids to do something different
Housed by one of the most important historical buildings in São Paulo, called Palácio das Indústrias, the Catavento Museum is an interactive space for general knowledge, arts, and science, something far different from any experience you'll have around town. You could literally spend a full day here without getting bored.
Its many showings revolve around themes such as the smallest insects on Earth, the biggest planet on the Solar system, the laws of physics, biochemical reactions, environmental protection, and many others. The people are able to experience these and other presentations in a very ludic and playful way, making the process of learning something new a joyful experience.
The Catavento Museum is divided into four big sessions, namely; the Universe, Life, Machine, and Society. Each of the sessions hosts installations that can, for example, reproduce the Moon's soil when astronaut Neil Armstrong stepped on it. Or, in another session, comprehend how static electricity makes your hair stand up, or how our brain can get confused when faced with certain scenarios.
In 2014, the museum opened a new space of over 10k square feet in which you could visit a new exposition area in the building's underground, something that wasn't accessible to the general public until then. I mean, just walking in the underground tunnels of a building that was built back in the early 1900s sounds like an awesome thing to do by itself, right?
So if you're looking for something a little surprising from the city of São Paulo, paying a visit to the Museu do Catavento is definitely a must. Don't forget to bring your kids if you have any; they will surely be very into it!
7. JK Shopping Centre (Iguatemi)
JK Shopping Center at a glance

Address: Pres. Juscelino Kubitschek Avenue, 2041 – Vila Olímpia
Best way to get there: Subway – Line 9 (Emerald) – Vila Olímpia station
Opening hours: Monday to Saturday – from 10 AM to 9 PM
Sunday – from 2 PM to 8 PM
Ticket: no ticket
Contact: website | instagram
Great for: shopping in exclusive stores, having lunch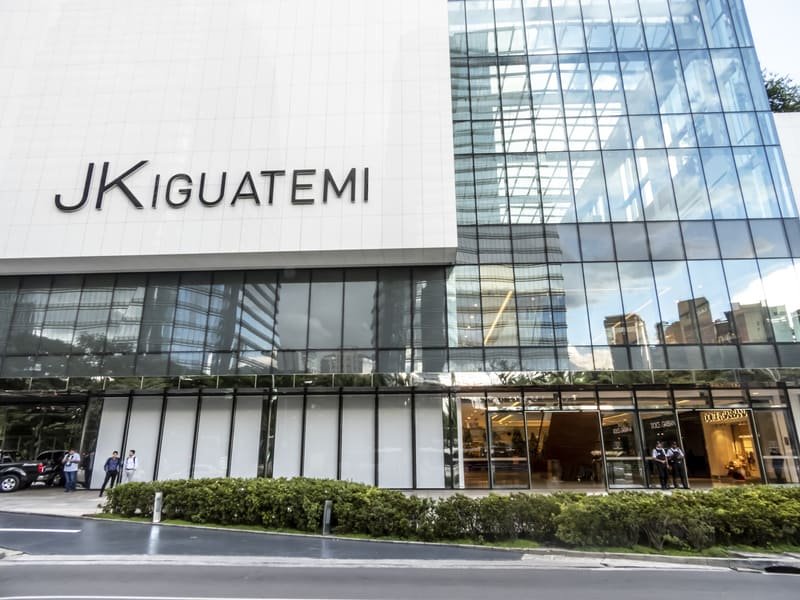 Being the biggest metropolis in Brazil grants São Paulo the title of the Brazilian city that most consumes high-end products. With that in mind, the JK Iguatemi shopping mall was inaugurated in 2012, being the newest and biggest place for luxury items to residents and visitors.
With a modern architectural design and lavish decoration, the JK Iguatemi mall aims to grant you an A-list shopping experience. Amongst some of the international brands, you'll be able to find at the mall:
Chanel;
Christian Louboutin
Dolce & Gabbana
Burberry
Prada
Goyard
Gucci
Ermenegildo Zegna
Bvlgari 
Aside from the stores, you'll also find many places to eat at the JK Iguatemi top floor, which is a nice mix of expensive A-list restaurants and casual and average fast-food chains. There are also many great desert stores, my favorite being the Bacio di Latte ice cream.
And at last, after you're done shopping, how about watching a movie at one of the mall's movie theaters? Aside from the 3D, 4D, and IMAX movie rooms, you can also have an exclusive VIP experience at the Cinépolis Vip, with first-class seats, customer service, and luxury eating and drinking items you won't find in regular movie theaters!
8. Edificio Italia
Edificio Italia at a glance

Address: Ipiranga Avenue, 344 – República
Best way to get there: Subway – Line 3 (Red) – República station
Opening hours: depends on the activity, check their website for more information
Ticket: depends on the activity, check their website for more information
Contact: website |
Great for: visiting art galleries, having lunch, watching a movie, taking pictures at the rooftop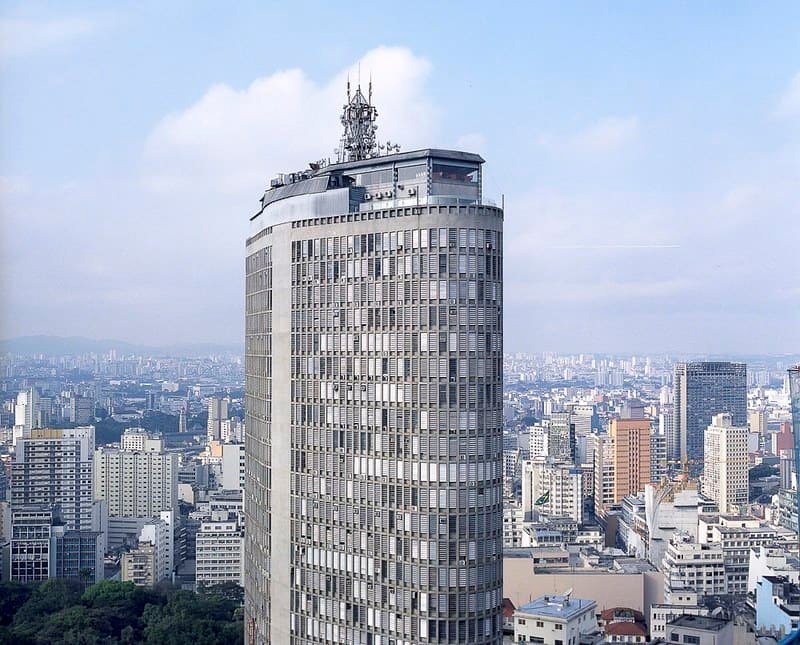 Officially called Circolo Italiano but popularly known as Edifício Itália, this very tall building is located at Avenida Ipiranga and is the second-highest building in the city of São Paulo (and one of the highest in Brazil), with over 540 feet high.
Aside from the majestic struture, the Edificio Italia building slo features two restaurants in which you can enjoy a delicious meal or a few drinks:
Restaurante do Circolo & Salão Nobre Bar

Located on the ground floor of Edificio Italia, the Circolo Italiano San Paolo restaurant is a great place commonly known for housing events and special date celebrations. Right next to the restaurant, there's the Salão Nobre Bar, which makes and serves all the drinks in their extensive drink menu.

There is also a game room, a reading lounge, and a billiard room available to customers on the restaurant's second floor, expanding the experience that the Circolo Italiano San Paolo aims to provide.


Teatro Itália

Also, next to the Circolo restaurant, you'll find the Italia Theater, which was once voted as one of the most luxurious theaters in São Paulo. While currently there haven't been many events due to the Covid-19 pandemic, the Italia Theather has a little under 300 seats and was the stage for many great plays and productions.


Galeria Biganti

Still on the Edifício Italia's ground floor, there's a small art gallery called Galeria Riganti, named after Italian artist and co-owner of the building, Edmondo Biganti. At the gallery, you can find many of its pieces, as well as from other famous artists.


Edifício Italia Rooftop

Being so high, you can only imagine that one of the Edificio Italia building's main attractions is its rooftop view, right? Located on the top floor of the building, you'll find the Terraço Italia restaurant, which allows you to get a clear panoramic view of the whole city of São Paulo, making it one of the most searched hotspots in the city.

The restaurant's luxurious structure and high-end gastronomy quickly made it a very famous place for celebrities and big names in the city. Still, it is also very requested by tourists and visitors who want to get a 360 view of the city. The fact that the restaurant's walls are made of glass certainly makes your meal much more enjoyable, even on a rainy day!

9. MASP – Museu de Arte Moderna de São Paulo
MASP at a glance

Address: Paulista Avenue, 1578
Best way to get there: Subway – Line 2 (Green) – Trianon/MASP station
Opening hours: Wednesday to Friday – from 12 AM to 6 PM
Saturday and Sunday – from 10 AM to 6 PM
Ticket: USD 9.00 (only available for online purchase here
Contact: website | Instagram | facebook | youtube
Great for: watching the art, visiting the exhibitions, relaxing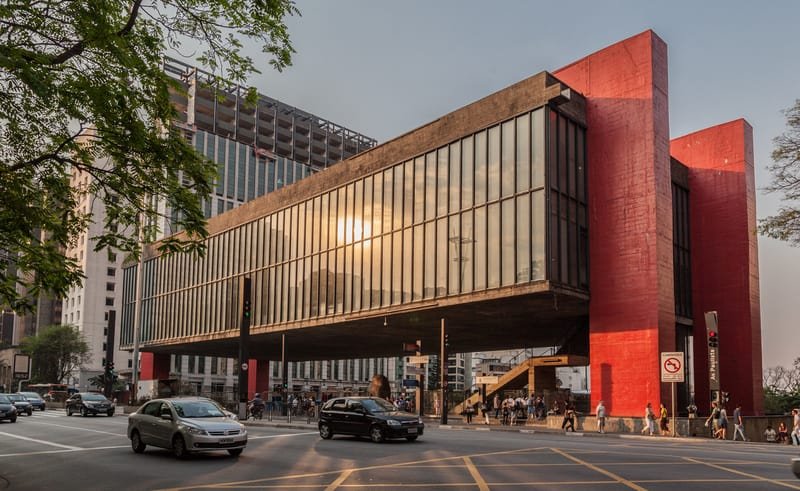 Well, you have probably heard of the São Paulo Art Museum, or at least seen a picture of its famous architectural structure. Founded in 1947 by late entrepreneur Assis Chateaubriand, MASP became the first modern museum in Brazil.
Considered today as the most important holder of European art in the southern hemisphere, the MASP museum houses over 10 thousand art pieces like paintings, sculptures, photos, videos, and clothing pieces from various moments in history.
Regarding the museum's gorgeous architecture, its project was designed by Italian-Brazilian architect Lina Bo Bardi, who aimed for a construction that was a perfect mix of rough and lightness. The rugged surfaces contrast with the levity suggested by the glass walls, evoking a feeling of transparency and suspension.
Aside from the temporary exhibitions, the museum also has permanent pieces which you can marvel at any time you go. There are also public programs developed by the museum's staff, which include international seminars, workshops, courses, and activities regarding many different art-related subjects.
As of May 2021, the São Paulo Art Museum has been slowly returning to its new art showing activities and is predicted to host part of Dutch painter Vincent Van Gogh's collection, slated to be exhibited in 2025.
10. Pinacoteca de São Paulo
Pinacoteca at a glance

Address: Praça da Luz, 2 – Luz
Best way to get there: Subway – Lines 1 (Blue) and Line 4 (Yellow) – Luz Station
Opening hours: Wednesday to Monday – from 10 AM to 6 PM
Closed on Tuesdays
Ticket: no ticket
Contact: website | Instagram | facebook
Great for: watching modern art, learning about the city's cultural movements back in the day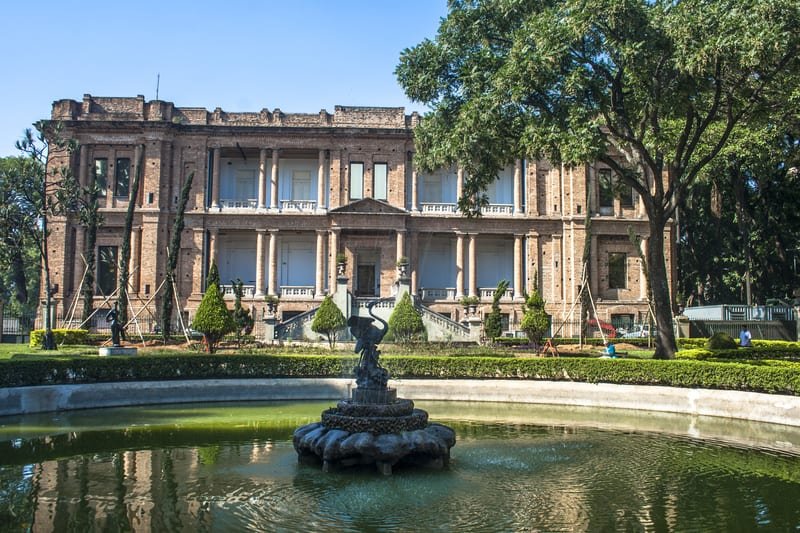 Located at the heart of São Paulo, the Pinacoteca is a visual arts museum that mostly curates Brazilian productions from the 19th century to the actual times. It the oldest art museum in the city, being built in 1905, at a time São Paulo was rapidly on a cultural and economical level due to the growing coffee business.
The Pinacoteca's layout was designed by born and based in São Paulo architect, Francisco de Paula Ramos de Azevedo. The project ended up being a collaboration with Italian architect Domiziano Rossi, who also, as we've seen a few topics back, worked on the city's County Theater (Teatro Municipal de São Paulo).
Aside from the art showings, marveling at the building's Neorenassance architecture is a trip back in history by itself, mainly because a lot of the original features have been maintained and preserved. The museum's front and the apparent brick masonry have all been conserved by using special cleaning that wouldn't alter the original aspects, as well as neutralize agents that deteriorate the construction.
And regarding the art housed by the Pinacoteca, there are over 4 thousand art pieces from local artists such as Almeida Junior, Pedro Alexandrino, and Oscar Pereira da Silva. But you'll also find many familiar and representative paintings from Cândico Portinari, Anita Malfatti, and Tarsila do Amaral as well, which were all crucial in Brazilian art history (we've gone over these arts on our Brazilian Art post, don't forget to check it out).
11. Football Museum
Football Museum at a glance

Address: Praça Charles Miler – Pacaembu
Best way to get there: Subway – Line 3 (Green) – Clinicas Station
Opening hours: Tuesday to Sunday – from 10 AM to 6 PM
Closed on Mondays
Ticket: USD 1.00
Contact: website | facebook | instagram
Great for: learning more about the history of soccer in Brazil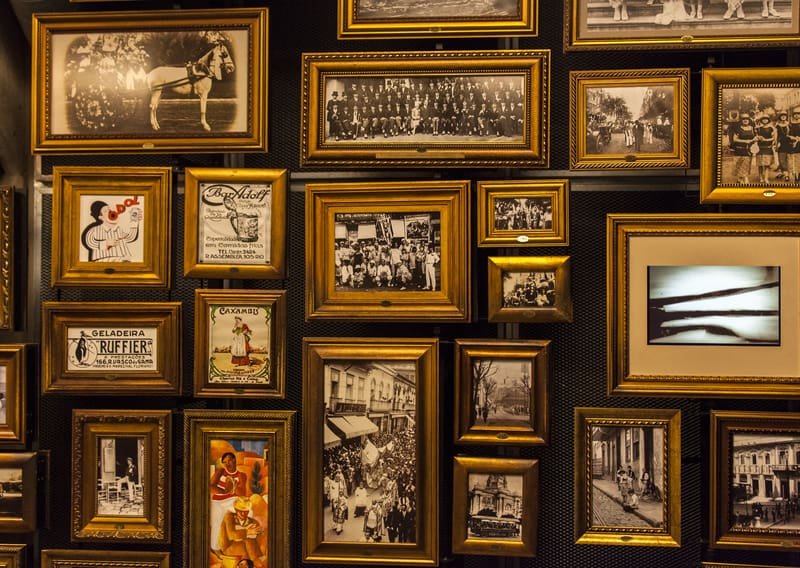 If you're a soccer fan, then you know that soccer is known in Brazil as a national passion. But even if you're not really a fan per se, it's impossible not to have fun at the Football Museum in São Paulo. The museum is located inside the Pacaembu stadium, one of the most well-known sports centers in Brazil.
The reason why the Pacaebu statium was chosen to house the Futebol Museum back in 1940, was that it was the first big Brazilian soccer stadium (Rio de Janeiro's Maracanã would only be built 10 years later), so it held a significant importance to the sport that was starting to take off in the country.
The Futebol Museum tour takes you on a wild ride through its 15 showrooms, each of them providing a different type of experience. There are giant panels showing important characters and moments in Brazilian soccer, as well as memorabilia from these times.
Some of the showrooms also focus on the crowd experience, recreating the emotion and excitement in a few of the most famous goals in the history of the sport in Brazil. This is an experience for all ages, so bring your whole family with you to the Futebol Museum in São Paulo!
If you want to get a little taste before vising the actual museum, you can take a look at their virtual expositions right here.
12. Portuguese Language Museum
Portuguese Language Museum at a glance

Address:Praça da Luz, Gate 1 – Centro
Best way to get there: Subway – Lines 1 (Blue) and Line 4 (Yellow) – Luz Station
Opening hours: Every day from 10 AM to 6 PM
Ticket: USD 1.00
Contact: website | Instagram | facebook
Great for: learning more about the Portuguese language, observing the architecture
The Portuguese Language Museum (or Estação Luz da Nossa Língua) is an interactive museum located at the Estação da Luz building, at the north of São Paulo. Aside from marveling at the architecture, the museum is also the best place to go if you want to know more about the Portuguese language.
There are many aspects of the Brazilian Portuguese language that are still unknown even to Brazilia locals, so the main goal of the Museu da Língua Portuguesa is to create a space in which you can learn more about how the language came to be, as well as be an updated source for studies.
The museum's collection is almost entirely virtual and interactive, proving a different experience from what you'd get in other museums. The showrooms features videos, objects, sounds and projected images that will enhance your experience, so you'll most likely be entertained for hours.
The historical building was hit by a big fire in 2015, which destroyed two entire floors. Still, the original structure can still be seen, and since most of the collection is virtual, there weren't many damages in regards to the cultural heritage carried by the Portuguese Language Museum.
Amongst the many installation rooms in the building, we can highlight:
Beco das Palavras (Etymology Game)

Considered one of the most fun places in the museum, the Etymology game involves the visitors moving images that contain fragments of words, in which the final goal is to form full words. When the goal is reached, the projection panel transforms and shows animations and movies about the word that was formed.

Kids absolutely LOVE this game, not to mention it's a great way of learning without feeling like you're stuck in a boring classroom!


Crosswords

Also refered to as "Lanternas das Influências," this space features 8 multimedia totems, each of them representing the languages that helped shape Brazilian Portuguese. There are 2 totems dedicated to African languages, 2 to native-Indigenous languages, one for Spanish, one for English, one for French, and the last for the Portuguese languages around the world.

The goal is to show how culturally rich the Portuguese language is, as well as to show how each of the aforementioned cultured helped to create the Brazilian identity as we know it today.
General Tips For Rainy Days in São Paulo
Before we go into the places you can visit on a rainy day in São Paulo, I thought it'd be nice to share a few tips on how to go about in town when it happens. There are a few issues you may be facing should you decide to venture out on a rainy day, so it's important to get a few points across before you throw your raincoat on:
Beware of Floodings
So, the first you should know about São Paulo is that a lot of the streets that branch out from big avenues (such as Avenida Paulista) almost become like a river when there are heavier rainstorms, due to the heavy flow of water and the leveling of the pavements.
So my first tip would be for you to get all the info you can in regards to flooding possibilities in the location you're staying and the destination you intend on visiting. I mean, it's one thing to face a little bit of rain, but having to endanger yourself isn't really the best idea, especially if you're on a trip trying to relax and have fun, amirite?
And speaking on facing the rain, that leads us to our second tip:
Wear Proper Shoes
Even if you don't exactly experience flooding in São Paulo (which I hope you don't!), you'll still be facing lots of puddles that form due to the unevenness of the average sidewalk in the city. São Paulo indeed has the best infrastructure in Brazil, but there are still locations that need some work, some of which you may pass by while on your rainy day tour through the city.
So, you don't exactly need to bring a galosh with you on your traveling suit, nor worry about purchasing one if you're in town on a rainy day. Wear a sturdy shoe that is water-resistant, and that can protect your feet from eventual puddle stepping.
Bringing an extra pair of dry socks in your bag is also a good idea; I mean, there's nothing worse than having to walk around with your feet wet (not to mention you could also catch a cold and ruin the rest of the trip!)
Whenever Possible, Take the Subway
Not only in São Paulo, but almost anywhere in the world, the average traffic gets very chaotic on rainy days. Aside from the troubles caused by the rain (like the eventual floodings we have just gone over), people also tend to drive to their destinations instead of taking public transportation (as it is much more comfortable and convenient), which alone already take a heavy toll on the city's traffic.
For that reason, if you're thinking about heading out on a rainy day in São Paulo, take the subway whenever possible. You can get to almost everywhere in the city using the subway lines, so you should have no trouble getting to where you are going.
Just make sure you stop and ask for directions if you are unsure to where you should be going or which line you should be taking, as the variety of stations and train lines can be a bit overwhelming if you're not used to it. Being from Rio de Janeiro and having a subway system that is maybe 3x smaller than São Paulo', I always get a little bit lost when riding the subway lines.
No Umbrella? No Problem!
Bringing an umbrella on your trip to São Paulo isn't really something you need to do, as you'll most likely be able to purchase a new one in town for a very small price. There are several street vendors in the city that parade around town selling umbrellas and plastic raincoats when it is raining in town, so you should easily bump into one.
The umbrellas are usually sold from USD 1.00 to $ 2.00 (depending on the size), and the plastic raincoats can be purchased from USD 3.00 to USD 4.00. If you're with a larger group, informal street vendors usually oblige in making a special discount, so keep that in mind if you're any good at bargaining and fishing for better prices.
So that was it for our tips on what to do on a rainy day in São Paulo! These tips we have just gone over are indeed great to do on a rainy day but don't leave them out of your schedule just because you have a clear sky!
While you're here, I think we might interest you with these:
7 Things to do in the state of São Paulo – Already visited all the tourist spots in the city of São Paulo? Well, if you are willing to go the extra mile, check out our guide for 7 things to do in other parts of the state!
Brazilian winter: how cold does it really get? – When you think of Brazil, the last thing that comes on to your mind is feeling cold right? Well, then maybe you'd be surprised to see how cold it gets in some parts of the country! Click to find out!
Thinking Of Working In Brazil This Summer? Read This – working abroad is always a great experience, but there are a few things you may need to know if you're looking to get a summer job in Brazil. Just click to read all the details!
Cover image: Shopping Center Grandes Galerias (AKA Galeria do Rock) – Wikicommons – Arte Fora do Museu