Carnival in Brazil (known in the country as Carnaval) is recognized as one of the biggest parties in the world, but there's a lot more than just glitter and samba if you're not aware. Carnival is celebrated in many ways around the country, and you would actually be amazed by a few of them.
Carnaval in Brazil has attractions for all tastes and budgets, from the traditional samba schools in Rio de Janeiro to the parade of giant dolls in Olinda (Pernambuco) and even to the rock-fueled parties in São Paulo. Safe to say that you'll have a blast pretty much anywhere you go.
In this post, we're listing the 5 best ways to enjoy Carnaval in Brazil, as well as giving you some inside information on how to have a really good time in each of them! Oh, and stick around to the end of the post, as we're putting 2 extra destinations on the list!
Disclaimer: with the Omicron variant spreading rapidly around the world, most Carnival festivities in Brazil are either being canceled or having their capacity downsized in 2022. We will try to keep this post updated as much as we can on the subject, so check back to see any changes!
1. Enjoy The Samba Schools at Rio de Janeiro (RJ)
Rio de Janeiro is where it's at, you know it! I have to say, my hometown honestly has the best Carnaval in Brazil, and I've been to many of them! The Samba School parade in Rio de Janeiro is a very popular and touristic event, so if you have the chance to hit the Sambódromo (where the parades take place), don't think twice!
The parades officially take place on Sunday and Monday, with the winning Samba School being crowned on Wednesday and then parading again on the Saturday after. Around 6 schools parade per night, each having 75 minutes to cross the Sapucaí runway.
Despite the Covid-19 pandemic, the Carnival festivities at the Sambódromo are still happening. We have all the details on how the Rio Carnaval is organized, so take a look at the post if you want to know more!
UPDATE: The Carnaval festivities in Rio de Janeiro have been postponed to April 2022. We'll keep this post updated as more information comes out.
2. Dance Along the Music Trucks (Trio Elétricos) in Salvador (BA)
Also known all over the world, the Carnival festivities in Salvador require a lot of stamina. You'll be facing 6 whole days of parties, more than 25 km of avenues filled with more than 2 million people. However, for those who have the energy to spare, Salvador's Carnival is the perfect option to meet new people (especially if you're single) and dance a lot to the sound of the trios elétricos and axé (a very famous Brazilian genre).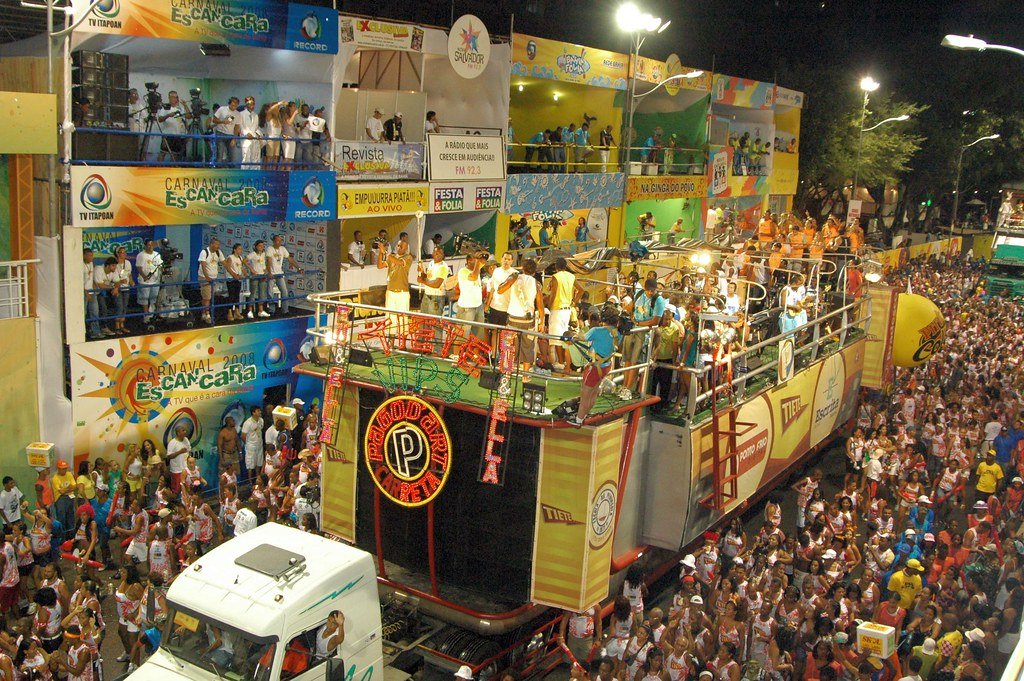 Salvador's carnival is divided into circuits spread across different areas of the city. The main circuits are: Dodô, in Barra/Ondina; Osmar, in Campo Grande; and Batatinha, in Pelourinho. But there are others, such as Riachão, Orlando Tapajós, Mestre Bimba and Sérgio Bezerra, which are also very popular.
In Salvador, you receive an abadá, which symbolizes the trio elétrico you are following. If you want something a little more exclusive and have some extra bucks to shell out, there are also the Salvador carnival boxes, which offer a buffet structure, open bar, DJs, among other perks.
You can check more on what to do in Salvador in this video we did over there:
3. Enjoy the Street Parties at Recife (PE)
The official opening of Recife's carnival takes place at the city's famous ground zero. The party days in the city are internationally known thanks to Galo da Madrugada, one of the largest carnival groups in the world.
In Recife, you'll find a great variety of things to do. Whether you want to party at the street carnival or enjoy the many live music shows, you will definitely find the ideal vibe for you here. In addition, you can enjoy the lively carnival in Olinda, also in Pernambuco, and enjoy the festivities even more.
Olinda's Carnival is also very famous for the giant dolls that parade around town, if you're interested in learning more about them, take a look at this video we did in Olinda:
During Carnival, the frevo is a very popular dance style in this region in Brazil, so if you want to check out some moves to start rehearsing, take a look at this post we made on 7 Brazilian dances you must know.
And if by any chance you'd like to take a break with the festivities and enjoy some peace and quiet, take a look at this amazing place we visited in Recife:
4. Party At the University City of Ouro Preto (MG)
Carnival in Minas Gerais has become increasingly popular, with cities such as Ouro Preto being the main destination for many young people around the country. That is because Ouro Preto has over 300 student republics, so the student atmosphere is definitely the highlight here. Each republic promotes its own carnival itinerary, with a differentiated schedule for tourists who buy the packages in advance.
Most of the time, the package consists of open bar access, concert tickets, food (like barbecue, breakfast, and lunch), accommodations, themed parties, abadás (the shirts we mentioned earlier that represent the blocos you'll be following), a steel mug (so you can use it during Carnival), and other perks.
5. Go Big at the São Paulo Street Carnival (SP)
Last but not least, the biggest metropolis in Brazil is also great and easy to get to the destination to enjoy Carnival, especially since São Paulo houses the main international airport in the country (Guarulhos – GRU). Therefore, the São Paulo Carnival festivities are very similar to the one in Rio de Janeiro.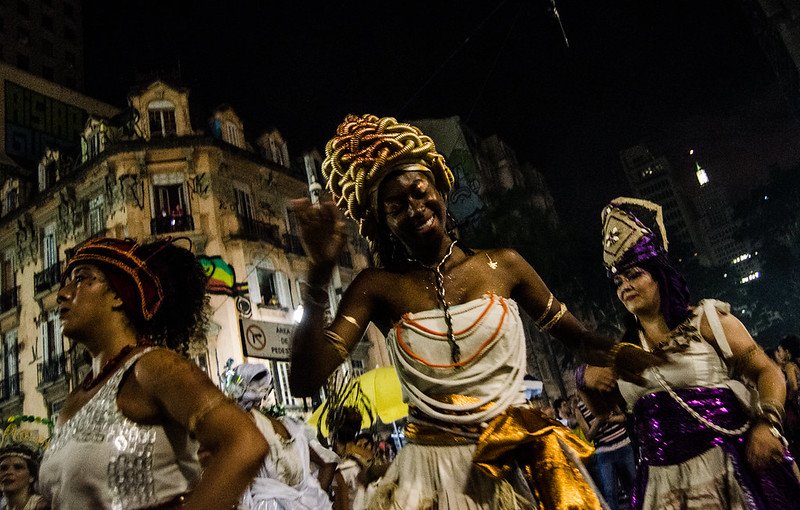 You can check out the float parade at the city's Sambódromo and, in addition, enjoy the ton of street parties (also known as blocos) in the city's downtown area south zone. For those who don't like Samba, São Paulo offers a lot of alternative options so you won't feel left out. There are 80's theme parties, video games and nerd-related gatherings, and even get-togethers for heavy metal and rock fans!
UPDATE: The Carnaval festivities in São Paulo have been postponed to April 2022. We'll keep this post updated as more information comes out.
Bonus: 24-Hour Street Parties and All-Nighters in Rio de Janeiro!
Of course, Rio de Janeiro had to get one more entry in our list, mainly because the street Carnival in Rio is very different from the Carnival you see on TV with the Samba Schools and the big floats we mentioned earlier. The street parties can go on for hours, and a few of them even play for 24 hours straight while roaming the city (like the famous Boi Tolo bloco).
For those who can't take the heat (and I mean HEAT since Carnival in Rio happens during Summertime), there are also street parties at night, although I wouldn't advise you to go without really knowing if it's safe. And if you're not really a fan of walking around for hours, there are also blocos that remain in one place while they play.
Although the Carnival at Rio's Sambódromo is still happening, the street Carnival was cancelled as a measure to control de Omicon variant.
Bonus: Get To Know A Very Traditional Carnival in Manaus (AM)
Although not as famous as our previous entries, the carnival in Manaus houses a great variety of attractions, like street parties (blocos), band performances, samba school parades, balls, costume contests, and the Carnaboi. The latter is a very traditional celebration that mixes the folklore of the Amazon with the tunes of the Bois-bumbás (if you don't know what that is, we explained on our 7 Brazilian Dances You Must Know post, so take a quick look).
The bands and street parties spread across different areas of the city. The float parade of the local Samba schools takes place at the Amazonas Convention Center, also known as the Sambódromo, with free admission to the stands. Those who want to parade in schools can buy costumes, in advance, with the associations for each school.
Other Important Info You Should Know
As you can only imagine, this is a very disputed time of the year in terms of hotels and plane tickets, so plan your trip in advance as much as you can and don't leave anything to the last minute, as that could spoil your trip!

Unlike other traditional holidays, Carnaval does not have a set date every year. The Carnaval starts 46 or 47 days before Easter (which is celebrated on the first Sunday after the first full moon that occurs after the spring/autumn equinox). So for example, in 2022, Easter Sunday takes place on April 17th, which sets Carnival for February 25th to March 5th.

Carry with you only the necessary: money, ID, and a spare cell phone if you have one. You can put it inside a money belt and keep it hidden, so you won't lose it or get robbed.

Keep it hydrated! It's easy to forget about drinking water during Carnival, but try to do it as much as you can. And also, don't save up on the sunscreen, the Sun can be brutal at times!
So, what did you think of our list? Carnival is celebrated all over the country in many different ways, as you can see, so no matter where you go, you'll most likely find something fun and exciting to do in Brazil!
While you are here, I think we might interest you with these:
Rio de Janeiro on a rainy day: 12 things to do (3 unexpected ones!) – Afraid that the rain might ruin your plans of getting to know the city of wonders? Don't worry, my friend, we got you!
Travel to Brazil for cheap: 19 tips for a budget-friendly trip – If you're on a budget but still want to enjoy the most of your trip to Brazil, we got 19 amazing tips for you right here!
NYE in Rio: A Complete Guide – Aside from Carnival, NYE in Brazil is also a big party, so we gathered all the main details you should know about it in this guide right here.
Cover Photo: Unidos da Tijuca Samba School parade down the Sambódromo – Credit: ID 40326700 © Celso Pupo Rodrigues | Dreamstime.com