São Paulo is undoubtedly the biggest metropolis in Brazil, and as such, it houses many neighborhoods that are not only safer but also filled with many interesting things to do (some of which we've previously gone through in our 12 things to do on a rainy day in São Paulo).
Amongst the best neighborhoods in São Paulo are the Morumbi, Itaim Bibi, Liberdade, and the Butantã districts. But there are other A-list neighborhoods such as Saúde, Vila Olímpia, and Tatuapé, which are also in the city's top 12 best places to stay.
In today's post, we're gonna provide you with a full São Paulo neighborhood guide, showing you what are the best districts in the city. We'll highlight all the best places to visit in each of them, as well as give you some pointers on where to eat, where to go to have fun, and also talk about some of the São Paulo neighborhoods to avoid.
1. Morumbi

Located in a privileged portion of São Paulo's West Zone (we'll go more into how the city is divided into later topics), the Morumbi district is one of the city's best locations. Its many sumptuous manors and luxury apartment buildings are often located in green-covered streets, which makes the neighborhood very pleasant to the eyes.
Leisure
Overall, the Morumbi neighborhood houses many types of entertainment options, such a the Jardim Sul Shopping mall if you feel like doing some shopping, or the Burle Marx and Alfredo Volpi parks, if you're up to something more outdoorsy.
The district is also packed with general services options such as drugstores, supermarkets, and stores, which can be most easily accessed by foot. And while the Morumbi stadium isn't allowing expectators to watch any of the games, you can still hang around at the arena's dependencies, as there are bars, stores and even restaurants in the region.
Gastronomy
To those interested in diverse culinary, the Morumbi district is filled with nice restaurants that will most likely please every public. There is the romantic and cozy Chalezinho Morumbi, which specializes in fondue all-you-can-eat buffets, and the traditional Japanese food restaurant Flying Sushi.
If you're looking for a big ol' burger, the Burgue Ville Bar is one of the most hyped places in the neighborhood, as well as the Bandarô restaurant located inside the Morumbi Shopping mall, which specializes in Brazilian cuisine.
But if you're in the mood just to have a few drinks, here's a list of the best bars in Morumbi according to baressp.com:
Bar do Urso
Bar em Nome do Pai
Bar Nossa Senhora
Bendito Bar
Boteco do Portal
Com Cerveja
Distrito Urbano
Safety
The low level of criminality in the Morumbi district is what makes it one of the best locations in São Paulo. These levels are even lower than other more privileged areas in São Paulo, making it appear at the 32nd position in terms of neighborhoods with most theft (according to data provided by SSP (Secretaria de Segurança Pública do Estado de São Paulo).
Acessibility
The Morumbi district is located 15 km (9,3 miles) from downtown São Paulo, which makes it a little distant. But no worries, the city's subway company has recently expanded the lines in the neighborhood by creating Line 17-Ouro, often referred to as the "monotrilho" (monorail).
The new line aims to connect the Jabaquara Station to the Congonhas Airport (Linha 1-Azul) and to the São Paulo-Morumbi Station (Linha 4-Amarela), facilitating the lives of the Morumbi residents depending on public transportation.
2. Liberdade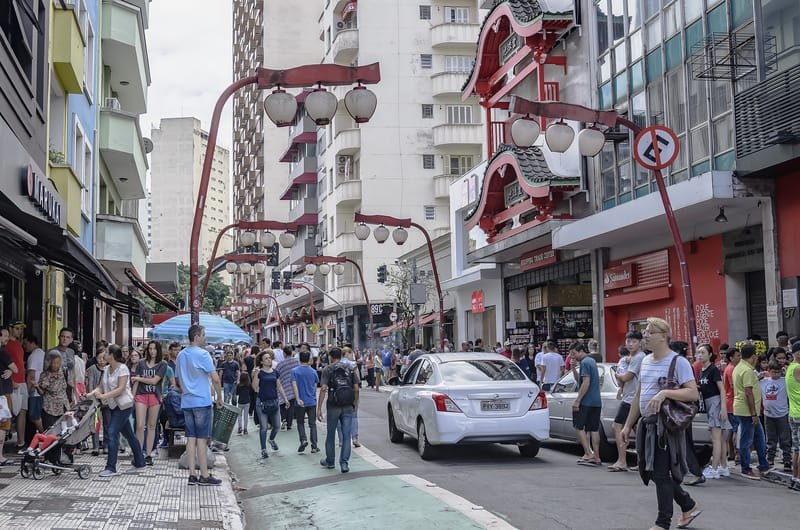 Undoubtedly one of my favorite spots in the city, the Liberdade district, is, in my opinion, one of the coolest neighborhoods in São Paulo. Its history dates way back to 1908 when Japanese immigrants arrived in Brazil and settled in the region, hence the huge number of Japanese descendants living in São Paulo (over 400 thousand).
The Liberdade district is the result of years of the Japanese culture slowly shaping this part of the city, heavily influencing its gastronomy and architecture.
Japanese Culture
Being so vital to the local culture, the Liberdade district houses the Japanese Immigration Historical Museum, located at the Bunkyo building, which is the Brazilian Society of Japanese Culture and Social Assistance. If you want to know anything (and I mean anything) regarding the Japanese immigration in São Paulo, this is the place.
There are over 97 thousand items that once belonged to the Japanese immigrants, ranging from paintings, diaries, objects, and much more. It is a great opportunity to get a clear perspective of how the Liberdade districted was shaped by the Japanese immigrant culture.
Gastronomy
As you can imagine, the Japanese culinary is Liberdade's main gastronomy options. Amongs the many options you'll easily locate, are the Espaço Kazu restaurant (one of the local faves) and the Hinodê restaurant, that specializes in tratditional Lamen.
If you're just looking for a quick bite, there's a charming café called Hachi that sells crepes with a Japanese twist, making this a very insteresting (and delicious) snack.
Leisure
There are many activities to do around Liberdade, most of which revolve around the local Japanese culture. The Feira de Arte, Artesanato e Cultura da Liberdade (also known as Feirinha da Liberdade) is a local street fair that has been in the district's history ever since 1975.
It features many stands that sell traditional Japanese food and delicacies, as well as clothing, decoration, and even beauty products. It's also a great place to buy small trinkets and souvenirs.
Safety
Having once ranked at number 7 in the list of most violent neighborhoods in São Paulo, the Liberdade district has been slowly moving further away from the top spot. A lot of local residents still complain about the theft and drug traffic in the region, but police force have been reinforced in the major points of interest around the area.
Acessibility
The Liberdade district is easily accessed through its three subway stations, namely Liberdade, São Joaquim, and Vergueiro. They also help you to connect to the main touristic spots in the area and throughout São Paulo, since they branch out pretty far out in the city. There are also many bus lines that circulate the district on a daily basis.
3. Brooklin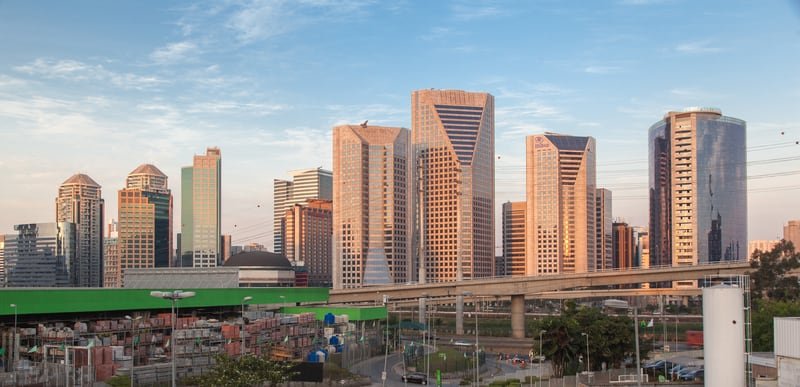 Brooklin is another distinct and privileged neighborhood in São Paulo, mainly due to its closeness to the city's major business centers. It features a rich infrastructures in terms of services and commerce, which makes it one of the favorite spots for living in São Paulo.
Leisure
São Paulo's Brooklin has two main shopping centers, which are Market Place and the Morumbi mall. Both of them have loads of options in regards to restaurants, stores, and leisure, making them a practical choice if you're looking to save time by doing all your errands in the same place.
If you're looking for some outside activities, the Severo Gomes and the Cordeiro parks are the favorite green areas amongst local citizens, being mostly used for the practice of physical activities. There are tracks you can use to go for a jog and even an area dedicated to pets (if you're thinking about bringing your best friend with you, take a quick look at this post we wrote on how to bring your pet to Brazil).
Local German Culture
If Liberdade is like an extension of Japan in São Paulo, then Brooklin must be the city's Germany. Due to the German colonies that inhabited this part of the city in previous centuries, the Brooklin still has a lot of roots in the country.
Every year the neighborhood hosts two German festivals, the Brooklinfest and the Maifest. Both events are famous for its delicious regional culinary and the variety of original German draft beer. There are also many stands and performances during both festivals, so don't forget to check it out if you're in town.
Gastronomy
Aside from the traditional German culinary, the Brooklin district is a multicultural place for restaurants and places to eat. For example, if you want some Mexican, head down to Mexicaníssimo, but if you want something more Brazilian traditional, Bar do Juarez is your best pick.
In the Italian department, we have the Vicolo Nostro restaurant, which serves many excellent traditional dishes and if you're feeling like eating some spicy Indian food, the Tulsi Indian Cuisine is surely fit to host you.
Acessibility
The Brooklin district houses 3 different subway stations, namely the Brooklin, Borba Gato, and the Alto da Boa Vista stations. They all belong to the Lilac Subway Line (we'll go more in-depth about the city's subway line ahead), which directly connects to the Blue and Green lines (connecting the city's south zone to the north and downtown areas).
FIY
The Brooklin district houses one some the biggest modern Brazilian architectures, such as the Estaiada Octávio Frias de Oliveira bridge, and the United Nations and World Trade Center buildings, two of the most luxurious business centers in São Paulo.
4. Butantã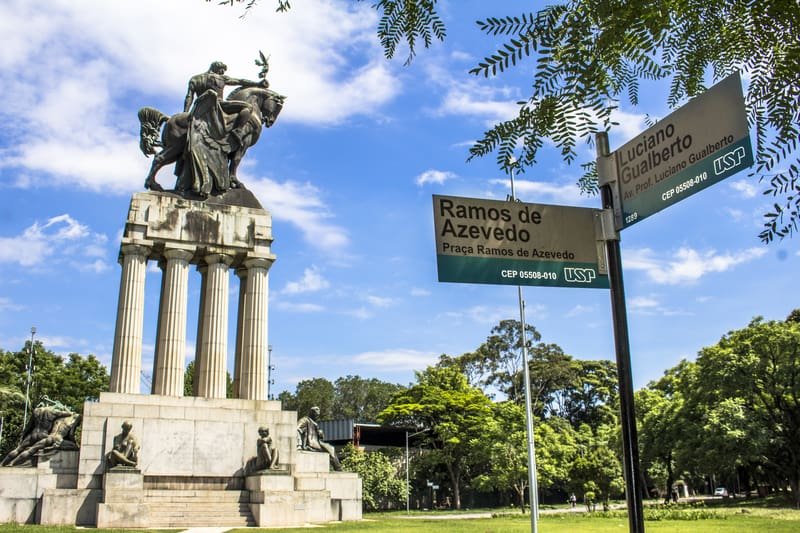 If you thought of São Paulo as a total concrete jungle, then you must come to visit the Butantã district. Its most striking feature definitely is its extensive green areas, mainly dominated by USP (São Paulo University) and Instituto Butantan (a famous bio-research company in Brazil). The amount of green makes the temperature pretty mild and pleasant even on Summer days.
Leisure
The Butantã district, despite housing USPs large university complex, isn't really known for having an agitated night life. There are indeed many bars and restaurants that are able to serve the local demand, but don't expect all-nighters and 24 hour service.
Other than that, the green areas and parks are the highlight of the neighborhood, which also has a shopping mall (Butantã Shopping) if you should need anything.
Gastronomy
In regards to the different types of cuisines you'll be able to choose from the restaurants in Butantã, we can highlight the Inkahouse Butantã, which is a Peruvian restaurant, and the Kadô Sushi Bar if you're interested in Japanese food.
The district used to have a food truck park that unfortunately closed in July 2020 due to the impacts caused by the Covid-19 pandemic in the country. Still, some of the restaurants are still available for takeout on apps like iFood and Uber Eats.
Acessibility
The Butantã features its own Subway station, which is part of São Paulo's Yellow Subway Line. The station also integrates with SPTrans bus terminal, which allows you to reach places you wouldn't easily access by just taking the metro.
Safety
The Butantã district is considered one of the safest in São Paulo, with criminality rates below the average in the majority of the city. In the list of the safest districts in São Paulo, Butantã ranks at number 3.
5. Saúde
Aside from the fact that the Saúde neighborhood is located in one of the best spots in São Paulo, the district also houses all kinds of stores and general commerce, making it a very practical place to live. There's no need to take out your car to get something, a lot can be done just by walking a few miles.
The Saúde district is also surrounded by green, with lots of trees and squares that make the neighborhood looks welcoming and pleasant.
Acessibility
The reason why I said that the Saúde district is well located is mainly due to the fact that it borders with neighborhoods such as Vila Mariana, Moema and Campo Belo, which are also considered privileged and structured spots in São Paulo.
Another reason why its location is so well considered is because Saúde is very close to the Jabaquara district, which houses the Bus Terminal. Aside from that, the neighborhood also counts on one subways station, namely the Saúde Station which branches from the Blue Line.
Leisure
The fact that the Saúde subway station was one of the first that opened back in the 70s allowed for the local commerce and infrastructure to expand and grow, given the easy access to the neighborhood. Aside from the street and flea market, we have previously mentioned, there's also de Plaza Sul shopping mall, with over 214 stores and a movie theater.
Aside from that, Saúde is very close to the Ibirapuera city park, which is one of São Paulo's most famous green areas. Its a great place to do some exercise, as well as sunbathe while laying on the grass.
Gastronomy
As expected, you'll have no trouble finding whatever type of cuisine you're in the mood for in Saúde. Aside from cultural inspired gastronomy (such as the Argentinian Casa Porteña and the Thai Food restaurant), you'll also find many pizza parlors, from Pizza Hut to Charles Pizza (artisanal dough).
Segurança
The fact that the Saúde district has been under exponential growth in the past couple of years is mainly what guarantees the safety of living in the neighborhood. In 2020, the local newspaper Estadão ranked Saúde amongst the top 10 safest neighborhoods to live in São Paulo.
6. Santana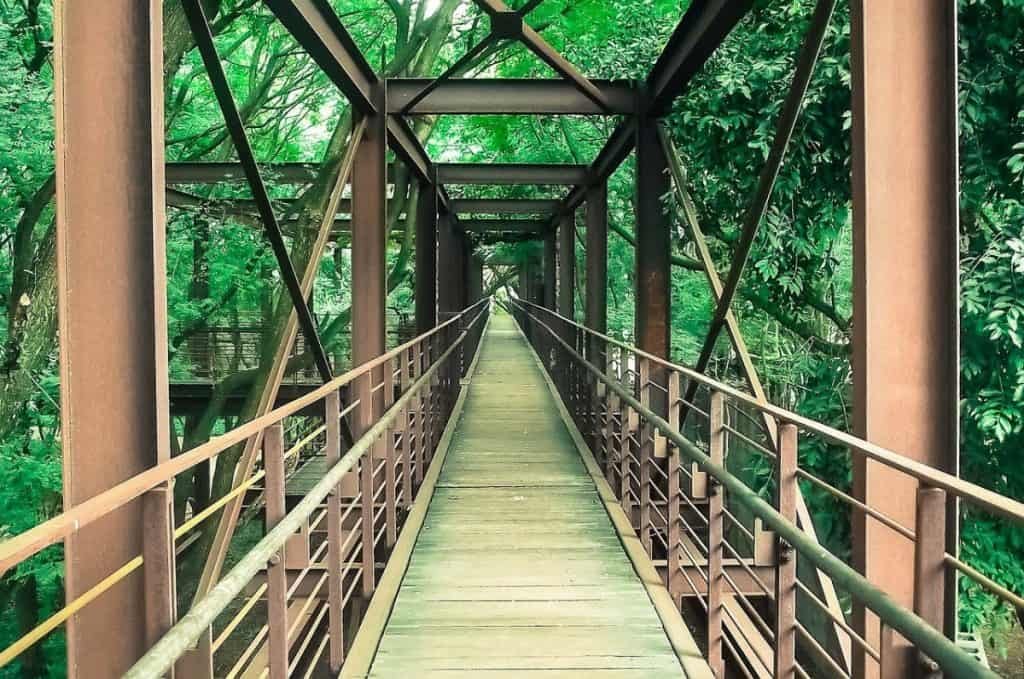 Santana is one of the main districts in the North Zone of São Paulo, mainly because its infrastructure and options on things to do are so vast. The neighborhood has been a favorite amongst locals for ages now; you'll definitely be staying in a very nice spot of the city whether you decide to accommodate in Santana.
Leisure
The Santana district houses the biggest event center in Latin America, namely, the Anhembi Complex (Complexo do Anhembi). This is one of the main reasons why the local economy does so great here, as this complex alone creates a lot of job opportunities in terms of local commerce and services.
There are also two parks in the Santana district. The Juventude Park holds a very interesting story, as it has totally changed the landscape in São Paulo's North Zone. The park sits today where the Carandiru Penitentiary Complex used to be, putting a lighter perspective to a dark past (there was a massacre at the penal institution back in 1992).
The other park is called Linear da Braz, and it's a charming place for chilling and maybe doing something nature-related, like exercising or having a picnic. If you should ever need anything, the Center Norte shopping mall will surely be able to provide you with whatever you need.
Gastronomy
There are many places to choose from in Santana, such as Bar do Luiz (make sure to try their meat dumplings, it's the bar's specialty) and Adega Original, which is a Brazilian country (or música sertaneja as we call it) theme bar. If you're into live music, the Aldeia da Vila bar often features pop-rock bands; just don't forget the check the bar's schedule to see when there will be live performances.
But if you're interested in a different experience at Santana, head down to the Campo de Marte airport and look for the Brahma AeroClub Bar, in which you'll be able to taste many different types of beer while watching the planes at the hangar.
Acessibility
The Santana subway station is part of São Paulo's Blue Line (Line 1), which connects the North of the city to the South. The neighborhood also houses many bus lines, which are great alternatives if you want to reach downtown and the Congonhas airport for example.
Safety
Being a key neighborhood in the city of São Paulo, expect to feel safe around the streets of Santana. The district often makes the top 10 in many lists of São Paulo safest neighborhoods, so you'll most definitely be staying in one of the city's most protected spots.
7. Tatuapé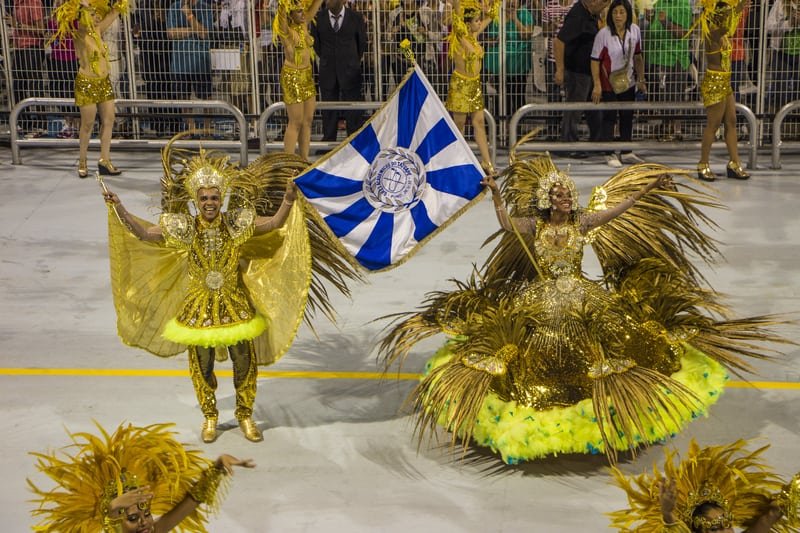 When it comes to growing infrastructure, the Tatuapé district has been an essential spot in São Paulo's industrial development throughout the 20th century. Today, the neighborhood reaps what it has been sowing for many years now, as it is packed with historical buildings, sophisticated restaurants, and great places to stay.
Aside from being very easily accessed (we'll see more on that later in this topic), the Tatuapé district features many entertainment options and three big shopping centers, as well as easy access to convenient establishments such as bakeries, drugstores, and markets.
Leisure
If you're a fan of the outdoors, staying in Tatuapé will have you very close to 3 different parks:
Anália Franco Park (Guandu street, 44) – features a big playground for kids, pools and sports courtas, as well as a rugby field.

Sampaio Moreira Park (Monte Serrat street, 230) – features soccer and basketball courts, pools, and tracking lanes.

Piqueri Park (Tuiuti street), 51 – features a lot of green and is the perfect place to have a little daytime picnic with your friends
As for the previously mentioned shopping malls, the Tatuapé district houses the Metrô Tatuapé Mall (Domingos Agostim street, 91), the Metrô Boulevard Mall (Gonçalves Crespo street, 78) and the Anália Franco Mall ( Regente Feijó Avenue, 1739)
Gastronomy
As you would expect, there are tons of places to choose from regarding bars and restaurants in the neighborhood. According to The Fork (owned by Trip Advisor), amongst the top 10 best restaurants in the Tatuapé district, there is the Friendship Burger House, Maria Fuleira (which specializes in tapioca, a Brazilian snack made with cassava flour) and La Pergogetta, an Italian restaurant.
Safety
According to São Paulo's Military and Civil Police experts, the Tatuapé district is very much safe, as its criminality rates are considered to be ideal. I actually have a friend who lives in Tatuapé, and she always said she felt very safe because of the police patrol.
The fact that the real state market in the neighborhood has expanded in the last few years is another positive factor in this, as the city hall has been investing in structural maintenance, lighting, and cleaning, which all increase the sense of safety.
Acessibility
The neighborhood is also contemplated with its own homonymous subway station, which is part of São Paulo's subway system Red Line (also referred to as Line 3). It is integrated into shopping centers Metrô Tatuapé and Metrô Boulevard.
8. Vila Olímpia
The Vila Olímpia district is one of the main financial centers in São Paulo, which instantly makes the neighborhood one of the most privileged in the city. Aside from being an agitated business district, Vila Olímpia also has a pretty agitated nightlife, as well as some of the best parks and shopping malls in the city.
Leisure
The main two green areas in the city are the Ibirapuera and the Villa-Lobos parks, which are both 15 minutes away from Vila Olímpia. The Ibirapuera Park is arguably the most famous common area in the city, having over 157 hectares and a lot of infrastructures.
The Villa-Lobos Park is equally beautiful, having sports courts which you can use to play soccer, volleyball, and basketball, and even an open amphitheater capable of sitting 750 people. After the Covid-19 pandemic is under control, expect the park's schedule to be filled with activities and live concerts, which used to be recurrent.
Acessibility
The Vila Olímpia district has many transportation options, which includes an homonymous train station. It easily connects you to other cool neighborghooods to visit in São Paulo, like previously mentioned Brooklin, Pinheiros, and Morumbi.
There are also several bus lines that can be easily reached from the subway and train lines; just make sure you know exactly which line you're supposed to take, as there are many of them. Oh, and some of the best malls in São Paulo (like Cidade Jardim and JK Iguatemi – which we've previously gone through on our 12 things to do on a rainy day in São Paulo post) are just minutes away if you're staying at Vila Olímpia.
Safety
Being one of the city's financial epicenters sure also makes Vila Olimpia one of the safest districts in São Paulo. Most residents aren't keen on the idea of moving from the neighborhood, as it is safe and very convenient to live in.
Gastronomy
Vila Olimpia is also one of the main gastronomic cores of São Paulo. Aside from the many options inside the neighborhood's malls, you can find all types of cuisines in the district. There's the Italian Pecorino, the Argentinian Varanda JK and the Arab Hassan, amongst others.
It's also worth mentioning the many types of bars in Vila Olimpia, ranging from the romantic and French-inspired Ruella Bistrô to the traditional Brazilian barbecue buffets at Jardineira Grill. But if you're looking for the best everyday and traditional Brazilian food, head down to Xopotó, and you'll have one of the best feijoadas in the city, not to mention an icy draft beer (how Brazilians like it).
9. Mooca
Throughout the 20th century, the Mooca district played a pivotal role in the city's development, as the neighborhood housed the first industries, which attracted a lot of immigrants (especially Italians). While there are still a few industries, the district is mostly residence for São Paulo's middle class.
The strong Italian influence can still be noted, especially in regards to the local cuisine. So in sum, Mooca is the place to go if you want to eat some traditional Italian food in São Paulo, so we'll give you a few options on a further topic.
Acessibility
The Mooca district has a very privileged location, as it is very close to major access roads such as Avenida Radial Leste (in which many bus lines transit). So if you need to take a bus somewhere, you'll most likely find a line which will take you to where you need to go.
Other than that, the Bresser-Mooca subway station is also a great option should you need to take the city's public transport. The station will grant you access to subway line 9 (Emerald).
Leisure
One of the things I was most surprised in seeing in São Paulo (or in any other major capital for that matter) was an authentic (and functioning) steam train. At the Mooca district, you'll be able to hop on the train in a 25-minute ride, which should give you some pretty memorable pictures.
The Juventus soccer stadium (officially called Estádio Conde Rodolfo Crespi) is also located in the Mooca district, so if you're a soccer fan, make sure to pay them a visit and maybe even watch a game!
Gastronomy
Having such strong Italian background, the Mooca district has tons of traditional Italian restaurants and canteens, so eating well surely won't be a problem. Amongst the many choices, we can highlight Don Carlini, Pizza da Mooca, Cantina San Marco, and Bravo Bistrô. For a little Italian-style dessert, there are plenty of sweets at the Confeitaria Di Cunto.
But, if you're tired of eating pasta and drinking wine (does anyone get tired of eating pasta and drinking wine?), Mooca still has your back. Stop by Juventus for the best esfihas (Arab-inspired snack) or Cadilac BBQ for an original American-style barbecue.
Local Culture
Like a few of the neighborhoods we went through earlier, the Moocca district also has a very strong background with an outside culture since the region was popular amongst Italian immigrants. If you want to learn more about the history of the Italians in São Paulo, you can visit the Immigration Museum, where you'll be able to see a lot of memorabilia and historical data.
Safety
According to the city's Public Safety Office, the Mooca district is one of the safest neighborhoods in São Paulo. There were no murder cases in 2020, and the district also presented one of the lowest robbery ratings in the city that year.
10. Pinheiros
Pinheiros is another very good neighborhood in São Paulo, known for being able to unite the comfort of having a little bit of everything (in terms of leisure and conveniences) but still keeping the calm residential vibes. That does come with a price though, as Pinheiros is also one of the most expensive districts in São Paulo.
Pinheiros also borders with Vila Madalena and Cidade Jardim (amongst others), so whatever you can't do or find in Pinheiros, you'll surely find next door.
Acessibility
The bus line system is very effective and convenient, since many important routes pass through (or are located near) Pinheiros, such as the Brigadeiro Faria Lima Avenue and the locally famous Marginal Pinheiros.
It also houses 2 subway stations; Faria Lima and Pinheiros, both of which are part of the system's Line 4 (Yellow). There are also three train stations in the neighborhood, namely the Cidade Universitária, Hebraica Rebouças and Pinheiros.
Sure enough, you won't have trouble getting to places if you decide to stay in Pinheiros!
Gastronomy
There are many interesting restaurants and bars around the Pinheiros districts. To highlight a few, we suggest Enosteria Vino & Cucina (Italian), Coco Bambu Conceito Eldorado (located inside the Eldorado Mall and one of the best restaurants in the neighborhood according to The Fork), and Bananeira Restaurant if you are craving some fresh seafood.
But if you're just looking to have a few drinks, the Benzina bar is one of the district's hotspots, mainly because it specializes in many types of drinks. If you want to try some artisanal draft beer, make sure to stop by at Goose Island Brewhouse, they have over 15 types of beer they manufacture on their own.
Leisure
If you like outdoor activities, there are 50 parks scatered around the Pinheiros district for your enjoyement. To highlight some of them, we can name the Villa-Lobos Park and the Panamericana and Victor Civita squares, which are all very nice green areas.
There are also plenty of galleries and cultural centers around Pinheiros, such as Casa da Xiclet and Fortes Gallery, which are very nice for a little stroll and watching the art exhibitions. And if you're looking to visit some museums, the Sound and Image Museum (MIS) is a very cool place to visit, as well as Tomie Ohtake Institute.
Safety
Considered "the coolest neighborhood in São Paulo," Pinheiros is definitely a safe place to visit or to accommodate yourself while you're visiting the city. The police force is very present throughout the district's territory, which makes Pinheiros a very disputed location for living
11. Itaim Bibi
Located at the West of São Paulo (we'll go a little more in-depth in regards to the city's regions in the next topic), the Itaim Bibi district is mostly known for housing the upper classes of the city's population. You can say this is a A-list neighborhood of São Paulo, so expect it to be safe, clean and packed with everything you'll need.
Gastronomy
Last time I went to São Paulo, I went to this very good Japanese restaurant called Maza Japanese Cuisine, it was honestly very very good. I've also been to the Marilyn Brewpub for drinks, I highly recommend it if you're looking for a warm-up place for you night out in the city.
Other than that, according to The Fork, you can also have a real feast at Consulado Mineiro (the Minas Gerais state cuisine is probably my favorite type of regional food), try all types of sandwiches at Between Buns, and even go easy on your diet at Be Fresh, a very well-rated healthy restaurant.
Acessibility
The Itaim Bibi neighborhood doesn't have any subway stations, but it houses two train stations, namely the Vila Olimpia and the Berrini stations. According to SPTrans, there are over 90 bus lines that cross the district, so easy mobility won't be an issue even without the subway.
The Itaim Bibi district also borders Vila Olimpia (which is the closes subway station) and Jardim Europa, two other privileged neighborhoods in São Paulo. It is also located in a very strategic spot in the city, granting easy access to almost anywhere you want to go.
Leisure
The Parque do Povo (also known as Mário Pimenta Camargo Park) certainly is one of the highlights of visiting the Itaim Bibi district. The park is absolutely beautiful and even features a giant chess board in which you can move the giant pieces and play with your friends and family.
And if you're into escape games, you must visit the Fugativa Escape Games space. Since 2015, they've been experts in creating challenges and riddles that involve horror, suspense, mystery, and of course, a lot of detective work. So if you want to get your Sherlock on and do something outside the box, now you know where to go.
Safety
The Itaim Bibi district is included in the top 15 safest neighborhoods in São Paulo, so if you decide to stay or live here, you won't have to worry much about protection.
12. Moema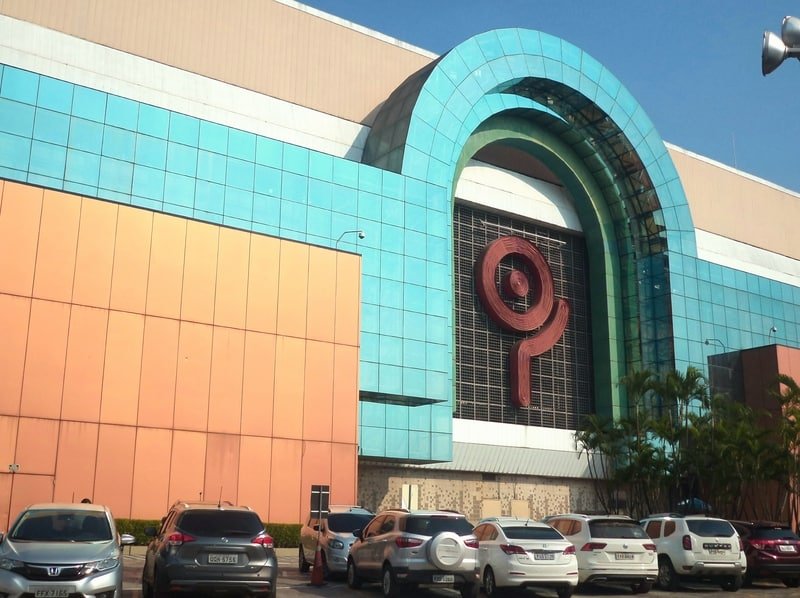 Moema is a very cozy and welcoming neighborhood in São Paulo, also being part of the group of the A-list districts in São Paulo alongside Campo Belo, Vila Olímpia and Itaim Bibi, which we've previously gone through in previous topics.
A curious fact about the Moema district is that some of its streets are named after birds and some have indigenous names, preserving a little bit of the neighborhood's strong cultural background.
Acessibility
Aside from the numerous bus lines that cross the Moema district, you can also count on the Moema subway station to connect you to other lines and places in the city. The station is part of the city's subway system line 5 (Lilac).
Gastronomy
Do you know those days when you want to eat something delicious but don't know exactly what that thing is? Well, if that's the case, just head down to Alameda dos Arapanes in Moema and you'll be able to find options from all over the world.
From Japanese food (Aoyama Restaurant) to Mediterraneum cuisine (Casa Manzano), you won't have any trouble finding a good place to eat. And if you're craving some junk food, you can opt between having a burger at Burguer Lab Experience or getting a hot dog at Stop Dog, amongst other fast-food and artisanal food chains.
Leisure
There are tons of things to choose from if you're looking to hang out in Moema. If you're looking for something outdoor, you can visit the Moema Square (Praça de Moema), which houses a charming street market of handicraft items and delicious delicacies during some days of the week.
And if you are into stand-up comedy, don't forget to pay a visit to the Beverly Hills Comedy Club, which was the first comedy club ever in Brazil. The club opens every Monday from 7 PM to 12 PM and since the house is still operating with a limited capacity due to the Covid-19 pandemic, make sure to get there early.
Safety
Moema is a very safe neighborhood in São Paulo, one of the reasons being that it houses two headquarters of the Military Police force in Brazil. The city hall also heavily invests in the district's lighting and overall maintenance, which expands the sense of security.
13. Perdizes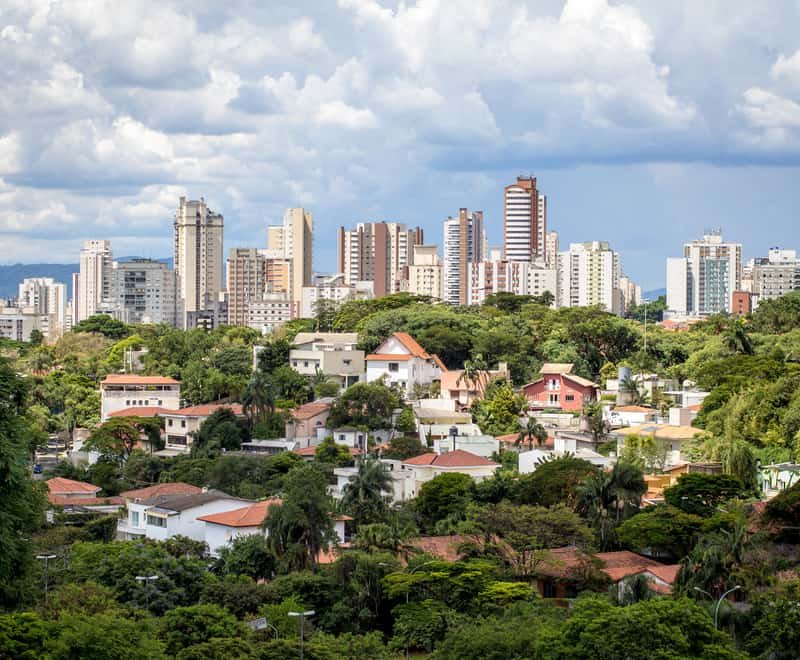 Assim como o Alto de Pinheiros e Higienópolis, Perdizes tem o perfil de bairro tranquilo e arborizado, muito procurado por quem deseja desacelerar da correria do trabalho. É possível encontrar tanto apartamentos de alto padrão quanto construções antigas preservadas, que adicionam charme às ruas da região. 
The Perdizes district is often associated with its neighbor district, Pompéia. The two of them almost feel like the same place, so whatever you're unable to find in Perdizes, you'll surely be able to do in Pompéia.
Acessibility
Perdizes tem uma vantagem incrível no que diz respeito à locomoção de pessoas. Apesar das grandes ladeiras, o bairro conta com inúmeros pontos de ônibus, os quais levam aos mais diferentes pontos da cidade.
Também conta com duas grandes estações de Metrô na Linha 2 – Verde: a Sumaré, que fica acima da Avenida Paulo VI e tem uma saída na Rua Oscar Freire, e a Clínicas, que fica perto de um dos maiores polos hospitalares da capital e próximo à Rua Teodoro Sampaio. A estação Consolação, da mesma linha, faz integração com a Linha 4 – Amarela e as estações Paraíso e Ana Rosa com a Linha 1 – Azul.
Gastronomy
Although mainly a residential area in São Paulo, the gastronomic cneter in Perdizes is pretty big and varied. O Quintal do Espeto for example, features cmusical bem variada, animando a galera com samba, sertanejo, MPB e pop rock, while customers enjoy their meals in an outside area, its all very chill and relaxed.
If you want to make a quick trip to Rio's bohemian night life, the Boteco Redentor is the place of choice. O bar traz o clima do Rio de Janeiro para o bairro de Perdizes, com decoração e cardápio 100% cariocas. Burger houses are also very common in the Perdizes district, like Mito Burger, No Bones, and Bullguer to mention a few.
For desert, don't forget to pass by  Ice By Nice, sorveteria é conhecida pela sua inusitada feijoada de sorvete, que leva gotas de chocolate, salame de chocolate, farofa doce, sorvete e muita calda de chocolate.
Leisure
Mas quem vai amar o local, no entanto, são os apaixonados por futebol. Perdizes abriga uma quantidade enorme de torcedores e alguns dos centros de treinamentos dos maiores clubes de São Paulo. Está a poucos minutos do Allianz Parque, nova arena multiuso do Palmeiras, e do tradicional estádio do Pacaembu, o qual acolhe o Museu do Futebol, inaugurado em 2008, que defende e mostra o futebol como uma manifestação cultural brasileira.
O bairro também se tornou um local onde as artes têm se destacado. O Teatro Tuca, pertencente à PUC-SP, está na região desde 1965. O Teatro Bradesco é um dos maiores palcos para apresentações desde 2006, quando foi inaugurado, e se consolida como uma forte frente do Shopping Bourbon.
Mas quem gosta de áreas verdes e contato com a natureza também acha seu lugar no bairro. Perdizes conta com o Parque Água Branca, que tem playground, aquário e área de leitura, por exemplo, e o Parque Zilda Natel, o preferido dos skatistas da região, justamente porque conta com obstáculos, minirrampas e até equipamentos de ginástica.
Safety
O bairro de Perdizes se situa entre os maiores índices de desenvolvimento humano (IDH) de São Paulo. Trata-se de um bairro nobre, arborizado e repleto de ruas asseguradas por câmeras e segurança privativa. For that reason, Perdizes is considered a very safe neighborhood to live or stay in São Paulo.
Basic São Paulo Geography and Regions
Now that we have taken a look at the best neighborhoods in São Paulo, I thought it would be nice to briefly discuss how the city is organized, just in case you want to visit or stay in a different district than the ones we just went to through.
Basically, São Paulo is divided into 5 big regions, Centro, Zona Sul, Zona Norte, Zona Oeste and Zona Leste; each of them being very different from one another in terms of safety and life quality.
Downtown (Centro de São Paulo)
São Paulo's downtown area is the oldest region in the city and has a lot of historical background. There are plenty of art-decó-style buildings, as well as constructions that date all the way back to 1554 (like the Pátio do Colégio building).
After the 1970s, this region went through a long period of degradation, which explains why this part of the city isn't exactly an example of safety and life quality. Even though, it is currently under a heavy regeneration process, which has prompted a few of its neighborhoods to be considered some of the best places to live in São Paulo (such as the Liberdade and República districts.
São Paulo's Downtown districts:
Bela Vista
Bom Retiro
Cambuci
Consolação
Higienópolis
Liberdade
República
Santa Cecília
Sé
North Zone
The North Zone of São Paulo can be split into 2 different sub-regions with two very different profiles: The Northeast is very well developed, having a strong and solid infrastructure in terms of life quality. Districts like Santana, Serra da Cantareira, and Jardim São Bento are just a few examples of such.
On the other hand, the Northwest lacks in the same aspects, housing districts that are still under urbanization, like Tucuruvi and Perus.
São Paulo North Districts:
Anhanguera
Brasilândia
Casa Verde
Cachoeirinha
Freguesia do Ó
Jaçanã
Jaraguá
Limão
Mandaqui
Perus
Pirituba
Santana
São Domingos
Tremembé
Tucuruvi
Vila Maria
Vila Medeiros
Vila Guilherme
South Zone
The South of São Paulo definitely has been experiencing an exponential search for houses and apartments, mainly because of the presence of privileged districts such as Itaim Bibi and Moema, which we've seen in our previous list.
Unfortunately, there's also a part of the south zone of São Paulo that still needs a lot of work in terms of basic infrastructure and safety, which can be easily noticed if you visit some of its not-so-great districts, such as Marsilac and Capão Redondo.
São Paulo South Districts:
Campo Belo
Campo Limpo
Capão Redondo
Cidade Ademar
Cidade Dutra
Cursino
Grajaú
Itaim Bibi
Ipiranga
Jabaquara 
Jardim Ângela 
Jardim São Luís
Marsilac  
Moema Pássaros
Moema Índios 
Morumbi
Parelheiros 
Pedreira 
Sacomã 
Santo Amaro
Socorro
Saúde
Vila Andrade
Vila Mariana
Vila Olímpia
East Zone
São Paulo's East Zone can be considered the most culturally diverse area in the city. Its history is heavily influenced by a lot of different cultures, as many immigrants from all over the world (Italians, Spanish, Japanese, Lebanese, and Syrian) inhabited this part of São Paulo back in the day.
The East of São Paulo was once considered the second-best region to live in the city, only losing to the South Zone.
São Paulo East Districts:
Água Rasa
Aricanduva
Artur Alvim
Belém
Brás
Cangaíba
Carrão
Cidade Líder
Cidade Tiradentes
Ermelino Matarazzo
Guaianases
Itaim Paulista
Itaquera
Jardim Helena
José Bonifácio
Lajeado
Mooca
Pari
Parque do Carmo
Penha
Ponte Rasa
São Lucas
São Mateus
São Miguel
São Rafael
Sapopemba
Tatuapé
Vila Curuçá
Vila Formosa
Vila Jacuí
Vila Matilde
Vila Prudente
West Zone
The West of São Paulo is the city's epicenter for culture and business, being considered as one of the most well developed areas in the city. It houses some of the most prestiged districts in the São Paulo and has easy access to other parts of the city.
São Paulo West Districts:
Alto de Pinheiros
Barra Funda
Butantã
Jaguará
Jardim Paulista
Jardim Paulistano
Jardim Europa
Jardim América
Lapa
Morumbi
Perdizes
Pinheiros
Raposo Tavares
Rio Pequeno
Vila Leopoldina
Vila Madalena
Vila Sônia
São Paulo's Subway System
São Paulo houses the biggest subway system in Brazil, and if you are not used to the city, there's a great chance you might get lost while using it. I have been to São Paulo several times and I still somehow manage to miss where I'm supposed to get off, so I thought it would be useful to write a small guide on how to move around using the city's subway system.
There are currently five metro lines operating in São Paulo: Blue Line, Red Line, Green Line, Yellow Line and Lilac Line. If you consult the Metropolitan Transport Map available on the official SP Metro website, you will also find the Silver Line.
1- Blue Line
The Blue Line of the São Paulo Metro is the oldest in the city and the one with the largest number of stations: there are 23 stops spread over 20 km. At both ends are the Tucuruvi Station and the Jabaquara Station.
As a reflection of its importance, the Blue Line connects with all other metro lines:
» To go from the Blue Line to the Red Line, just get off at Sé Station.
» To go from the Blue Line to the Green Line, just get off at Paraíso or Ana Rosa stations.
» From the Blue Line to the Yellow Line, just get off at Luz Station.
» To go from the Blue Line to the Lilac Line, just get off at Santa Cruz Station.
In addition, the São Paulo Metro Blue Line also provides access to two intercity bus terminals in the city: Portuguesa Tietê and Jabaquara. To get to the bus terminals, just get off at the metro stations that have the same name.
Blue line opening hours: Sunday to Friday from 4:40 am to 00:06 am; Saturday from 4:40 am to 1:00 am. Starting stations of the route: Jabaquara – Tucuruvi.
2- Green Line
To connect Vila Prudente to Vila Madalena, the Green Metro Line runs for almost 15 km and makes 14 stops. At three stations it is possible to change to other lines:
» To go from the Green Line to the Blue Line, get off at Paraíso or Ana Rosa Stations.
» To go from the Green Line to the Yellow Line, get off at Consolação Station.
» From the Green Line to the Lilac Line, get off at Chácara Klabin Station.
Green line opening hours: Sunday to Friday from 4:40 am to 00:07 am; Saturday from 4:40 am to 1:00 am.
Starting stations of the route: Vila Prudente – Vila Madalena.
3- Linha Vermelha
Although it has fewer stations than the Blue Line, the Red Line wins in kilometers traveled: 22 km with 18 stops along the route. At one of these stations, in this case, Palmeiras Barra Funda, it is possible to access the intercity bus terminal of the same name.
The Red Line connects with two other metro lines:
» To go from the Red Line to the Yellow Line, get off at República Station.
» To go from the Red Line to the Blue Line, get off at Sé Station.
Red line opening hours: Sunday to Friday from 4:40 am to 12:19 am; Saturday from 4:40 am to 1:00 am. Starting stations of the route: Palmeiras Barra Funda – Corinthians Itaquera.
4- Yellow Line
One of the newest São Paulo metro lines, the yellow one, runs for almost 13 km and will have a total of 11 stations. Currently, work on the Vila Sônia Station, in the southwest zone of São Paulo, still needs to be completed.
Using the Yellow Line it is possible to connect with three other metro lines:
» To go from the Yellow Line to the Green Line, just get off at Estação Paulista.
» To go from the Yellow Line to the Red Line, just get off at República Station.
» From the Yellow Line to the Blue Line, just get off at Luz Station.
Yellow line opening hours: Sunday to Friday from 4:40 am to midnight; Saturday from 4:40 am to 1:00 am.

Starting stations on the route: Luz – São Paulo Morumbi.

5- Lilac Line
Very little used by tourists, the Lilac Metro Line is the third longest in the city: it is almost 20 km long with 17 stops along the way. And, since September 2018, the Lilac Line has been interconnected with two other metro stations:
» To go from the Lilac Line to the Blue Line, get off at Santa Cruz station.
» To go from the Lilac Line to the Green Line, get off at Chácara Klabin Station.
Lilac line opening hours: Sunday to Friday from 4:40 am to midnight; Saturday from 4:40 am to 1:00 am. Starting stations of the route: Capão Redondo – Chácara Klabin.
CPTM Train Lines
In addition to the subways, São Paulo's rail transport network is completed by the CPTM trains, which have a total of seven stations that reach municipalities relatively distant from the capital. For a tourist, the CPTM line that tends to be most useful is the Esmeralda, which has stops in Villa Lobos, Cidade Universitária, Pinheiros, Cidade Jardim, Vila Olímpia, Berrini and Morumbi.
The Emerald Line has connections with two metro lines – remembering that you don't need to pay another ticket to change!
» To go from the Emerald Line (CPTM) to the Yellow Line of the subway, get off at Pinheiros Station.
» To go from the Emerald Line (CPTM) to the Lilac Line of the subway, get off at Santo Amaro station.
There's also the Airport Express, a direct line that connects Estação da Luz to the Guarulhos Airport. Although opening times are limited, this is a way to beat the traffic to get to São Paulo's main airport. Both the price and the schedules for the Airport Express line are different from other CPTM operations:
» Ticket price: R$ 8.60 each way.
» Timetables towards Estação da Luz – Airport: 10am, 12pm, 2pm, 4pm and 10pm.
» Opening times towards Airport – Estação da Luz: 9am, 11am, 1pm, 3pm and 9pm » For now the train only runs from Monday to Friday.
» Travel time: 35 minutes by train + 15 minutes by bus to reach the airport terminals (the bus is free).

Neighborhoods To Avoid in São Paulo
When we say that some part of the city is more dangerous or safer than another, we are relying on data provided monthly by the SSP – Public Security Secretariat of each state in Brazil.
What we popularly call "crime index" has the official nomenclature of "crime rate". This statistic is of fundamental importance for the implementation of security policies and is often used in the real estate market as well.
After all, crime rates can be one of the best indicators of the viability of investments in a region of the city. Still following the logic of the crime rate, it is possible to map the most violent areas of the city.
According to the latest official surveys, the South region has proven to be the most dangerous area in SP. A survey by the Sou da Paz Institute showed that, of the ten most violent neighborhoods in the capital, four are in the South zone.
The organization created a ranking to monitor residents' exposure to violent crimes.
20 worst  São Paulo's Neighborhoods (by Crime Index Rate):
20 – Jaraguá (0,791).
19 – Sapopemba (0,786).
18 – Capão Redondo ( 0,782).
17 – Vila Jacuí (0,779).
16 – Pedreira (0,777). 
15 – Anhanguera (0,774). 
14 – Perus (0,772).
13 – Brasilândia (0,769).
12 –  Guaianases (0,768).
11 – São Rafael (0,767).
10 – Cidade Tiradentes (0,766).
9 – Vila Curuçá (0,765).
8 – Itaim Paulista (0,762).
7 – Grajaú (0,754).
6 – Jardim Helena (0,751).
5 – Iguatemi (0,751).
4 – Jardim Ângela (0,750).
3 – Lajeado (0,748).
2 – Parelheiros (0,747).
1 – Marsilac (0,701).
So, how did you like our guide through the best neighborhoods in São Paulo? Being the biggest metropolis in Brazil, the city is in constant evolution and growth, which directly translates into better quality of life. The city's infrastructure is bigger and better than most cities in Brazil, so you'll definitely be in for a treat if you decide to visit São Paulo!
While you're here, I think we might interest you with these:
São Paulo on a rainy day: 12 things to do (8 surprising ones!) – if you think the rain migt ruin your trip to São Paulo, better think again! We listed 12 amazing things to do on a rainy day in the city, click on the link and find out!
Traveling inside Brazil: a guide to transportation in the country – To get to different points of interest in Brazil, you must learn what are the best and worst ways of getting around in the country. Luckily for you, we have just the guide you needed!

Brazilian Business Etiquette As Per Brazilian Citizens – About to engage a Brazilian in a business meeting and don't know how it'll go? Take a look at this post so you'll get a better understanding about how Brazilians do business!
Photo Cover: Sao Paulo panoramic – Credit: Veja SP