On February 14, the whole world celebrates Valentine's Day, the day on which love is celebrated in honor of Saint Valentine, a priest. He risked his life to celebrate marriages in the 3rd century. However, Brazil goes entirely in the opposite direction and has a whole different meaning to the date.
In Brazil, Valentine's Day is on June 12, and instead of honoring Saint Valentine, the date is dedicated to Saint Anthony (Santo Antonio), who is known in the country as the "matchmaking saint." This way, unlike the rest of the world, Brazil doesn't celebrate the date on February 14.
In this post, you're going to know a bit more about Valentine's Day in Brazilian culture, as well as some interesting facts on how the date is celebrated!
Who Is Saint Anthony (Santo Antônio)?
Santo Antônio – or Fernando Antônio de Bulhões – was born in Lisbon, Portugal, on August 15th, 1195. At the age of 19, he went against his father's wishes to enter the Monastery of São Vicente dos Cônegos Regulares de Santo Agostinho, where he had a vast library to encourage his studies.
On June 13, 1230, at just 36 years old, Friar Anthony died in Padua, Italy, which is why he became known as Saint Anthony of Padua – in addition to Saint Anthony of Lisbon, thanks to his city of origin. Before his passing, Friar Anthony became known for several miracles, such as speaking to animals and even bringing a man back to life in order for him to clear his father from the murder allegations.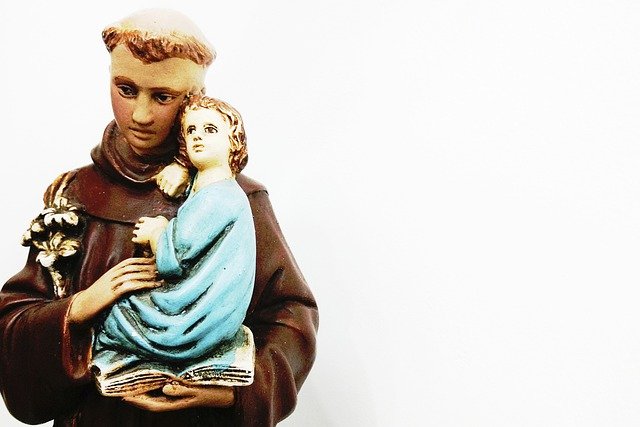 He ended up being known as the matchmaking saint because, in Naples, a girl realized that her family would not have the money to pay the dowry necessary for her to marry – as it was custom at the time. So she knelt at the feet of an image of Saint Anthony and asked for his intercession. Miraculously, he appeared and handed her a note that told her to look for a certain merchant, in which he would give her the number of coins that equaled the weight of that paper.
She found the merchant and gave him the note. But, to the merchant's surprise, it took 400 silver coins for the scale to reach matches the weight of that piece of paper, and at that moment, that merchant remembered that, in a previous moment, he had promised the same amount to the saint and had never fulfilled the promise.
Thus, Santo Antônio collected his debt by helping the young woman to get married. The story spread rapidly, and since then, Saint Anthony has been known for helping couples in love to get married.
The Brazilian Valentine's Day
Since 1948, Brazil celebrates this romantic date on June 12. It coincides with the eve of Saint Anthony's Day, but the reason for this has very little to do with religious significance, it was actually purely commercial. The idea of ​​establishing a "Valentine's Day" celebration in Brazil came from a publicist called João Doria.
He was the owner of ad agency Standart Propaganda, and a store hired him to help improve the results of sales in June, which were always very weak. Inspired by the success of Mother's Day, Doria instituted another commemorative date to exchange gifts in the year: Valentine's Day. Again, June was chosen because it was precisely the month when sales slowed down.
The choice of the 12th had to do with the fact that it was the eve of the celebration of Saint Anthony, who was already famous in Brazil for being the matchmaker saint. That way, Doria created the first advertisement that would establish the date in the country.
"It's not only with kisses that you can prove your love!", read a slogan of the first Brazilian Valentine's Day. "Don't forget: love is paid for with love", said another. The advertisement was ranked the best of the year by the São Paulo Advertising Association at the time.
The date began to take off in Brazil the following year when more regions began to celebrate it, and it soon became a national thing. Currently, "Valentine's Day" ranks in the top 3 best dates for commerce (and e-commerce) in the country – alongside Christmas and Mother's Day.
How Is Valentine's Day Celebrated in Brazil?
Since the date is dedicated to Saint Anthony, the matchmaking saint, Valentine's Day in Brazil is focused solely on couples. Therefore, unlike in most countries where you can gift a loved one (without needing to be romantically involved with that person), you should only give someone a Valentine's Day gift if you have a romantic connection.
That's really important to know and it should save you from some very awkward situations! So if you are not remotely interested in the person you want to gift, refrain from buying them a gift on Valentine's Day! But if you indeed want to gift a loved one in Brazil, we have some great information on gift-giving in Brazil!
If you want some ideas of what to gift your loved one, here are some gifts suggestions:
Being such a famous date in the country, you can only imagine how crazy it is to do something on June 12th for Valentine's Day in Brazil, right? Restaurants and bars get very crowded, so if you're thinking about celebrating, better get some reservations early, ok?
And if you are looking for a romantic place to celebrate your love with your significant other, take a look at these 12 ideas for a luxury honeymoon in Brazil!
While you're here, I think we might interest you with these:
15 Reasons Why You Should Visit Ilha Grande on Your Vacation to Brazil – Ilha Grande is definitely one of the most beautiful and romantic places in Rio de Janeiro, and if that wasn't enough, we have 15 reasons on why you should definitely visit!
Gift Giving In Brazil: What To Expect – Getting something to someone of a completely different culture could be tricky, but we have all the major deets for you right here so you won't mess up!
12 Small Amazing Cities to Visit in Brazil – They say that the best perfumes come in small bottles, which also applies to several small Brazilian cities! Come take a look at our fantastic list!
Cover Photo: Roses and chocolate | ID 84188609 © Evgenyatamanenko | Dreamstime.com