Ever since 2018, the Brazilian government has been meaning to implement a new payment system as an alternative to the current methods such as bank slips, checkbooks, credit cards, and cash transactions.
Approved and announced in August 2020, PIX is an instant cost-free payment system that promises to make safe and quick transactions 24/7. It also allows financial activities between different institutions with no fee, which wasn't something possible in Brazil up until this moment.
There's a lot of information flying around regarding this subject, so you're looking to understand more about this new system and how it works. We've prepared this small guide containing everything we know so far about PIX and its main features.
Who Created PIX and Why Was It Implemented in Brazil?
The PIX system was created by Brazil's Central Bank, as the institution felt it was time to modernize and update the country's current payment systems. Taking almost two years to be fully realized, PIX will finally be made available in the country in November 2020.
Although presented as a completely new system, Brazilian citizens won't have to create new banking accounts to use this service. It will be implemented in their own financial institution and fintech's physical agencies and apps.
Up until now, financial activities between different bank institutions in Brazil were only made possible through transactions that could either take days to conclude or cost too much for the average population to bear.
With the new PIX system, those transactions will take only a matter of seconds to process, as well as all fees and costs to make transactions will no longer be applied to physical entities.
On the other hand, legal entities will still have to pay for transactions, but with fees considerably lower than those they bear today.
For example, stores and establishments will be charged much less in the PIX System than today by credit card companies. This should encourage more and more companies to use the new PIX system, as they'll make more profit from the lower fees.
The use of the system can also allow e-financial institutions (like PicPay, for instance) to expand, as they'll no longer be limited by credit card machines to compete with other banking institutions.
Aside from that, given some Brazilian cities' background regarding theft and violence, using and carrying cash and checkbooks, for example, can represent a big risk to the citizen, adding more weight to simplifying paying methods in the country.
So, in a nutshell, the PIX system aims to facilitate banking operations not only in between natural entities but also between natural and legal entities, as well as with the Brazilian government.
According to Brazil's Central Bank, the PIX system will be able to:
Speed up transfer and payment transactions
Trigger market competitiveness and efficiency
Lower costs
Increase security
Improve user experience
Promote financial inclusion
Fill in the gaps of current payment methods
How Does the PIX System Work, And What Are the PIX Keys?
Every Brazilian citizen with an active bank account will have the PIX option made available to use in their bank apps and agencies, whether they're making transfers, paying bills, or scheduling future transactions.
To use it, citizens need to register a PIX Key (Chave Pix) via your Brazilian bank app or by showing up to one of its physical agencies. The citizen's PIX Key represents the persons' PIX "profile" per se.
We created this infographic to show you the steps for registering to use PIX. It is really simple!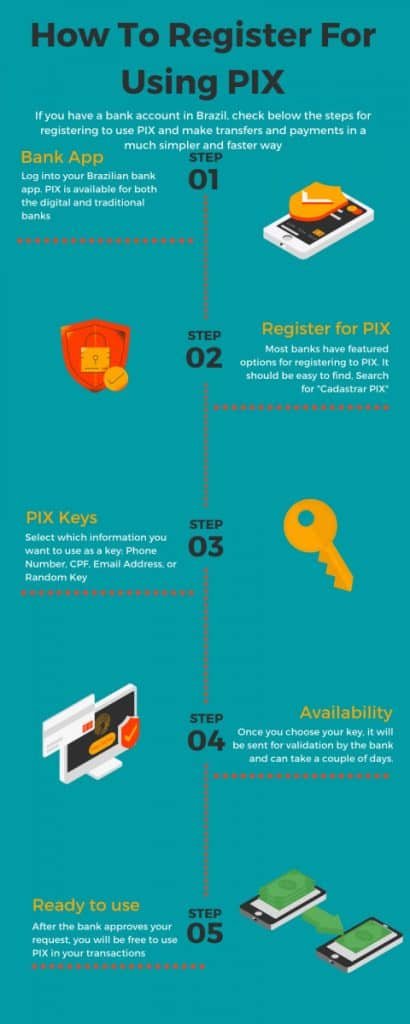 The PIX Key can be registered with the entities CPF (the local document that enrolls the entity with the Brazilian IRS), e-mail, mobile number, or a random key number (generated by the system) to identify the resource destination account.
It's worth mentioning that if the person has two or more bank accounts in different financial institutions, they'll have to register a different PIX Key in each of them.
So, for instance, if I register a PIX Key using my e-mail in Bank 1, I won't be able to use the same e-mail in Bank 2, and I'll have to choose from the other remaining keys (CPF, phone number, etc.) to complete my PIX Key registration in that institution.
Having the PIX Key ready to go, the citizen will be able to make transactions through the following manners:
QR Code
Using the PIX system, the citizen will be able to create a QR code to complete the desired transaction. Two types of QR Codes can be used:
Settled QR Code
This QR modality allows for the code to be used in multiple transactions, like transfers between two entities. For example, if you need to make a monthly payment to someone, you can be provided with a Settled QR Code from that person to be used every time you need to make that transaction.
Dynamic QR Code
This code will be exclusive to a single transaction, allowing possibilities like paying for one-off expenses like supermarket or restaurant bills, for example. After the transaction is concluded, the QR Code expires, and no further transactions can be made with it from then on.
NFC (Near Field Communication)
Allows transactions to be made through technologies that transfer information via approximation using your mobile phone, similar to Apple Pay or Google Pay contactless payments.
Basically, you'll be able to make the desired transaction just by getting close to the person, as the PIX System will be able to scan for other close PIX Keys.
Banking Information
It makes it possible for banking transactions to be made using the other person's basic information like full name and CPF, the institution's code, and the bank agency and account number.
Randon Generated Code
The PIX system can generate a random code made out of numbers and letters, which can also conclude financial operations.
Albeit being "safer" because it keeps the user from providing personal data like CPF and phone numbers, it's also the least practical way of making transactions, as the user could forget or get confused while putting in the information.
Once you have the PIX Key ready and the information filled in, the system will show the recipient's data and ask for confirmation to complete the transaction.
This way, anytime you need to transfer money to someone or pay for something, you'll need to provide the person's chosen key (find their PIX profile) and conclude the operation if the information is accurate.
It's important to note that once you hit the "OK" button, that transaction can no longer be undone, as it automatically concludes after your confirmation, so make sure you get everything right!
PIX Safety Measures And Citizen's Concerns
Roberto Campos Neto, Brazil's Central Bank president, has asserted that the PIX system is a totally safe and transparent instrument for the local citizens. Still, the latter seems to be showing growing concerns otherwise.
Many locals on social media have been expressing their worries about the system, pointing out that the fact you can transfer money to anyone in a matter of seconds (and not being able to cancel it) could make things easier for burglars and thieves.
Other than that, there have already been reports of criminal activity in the system, with over 30 fraudulent domains using the PIX name registered within the first 9 hours after launch.
Kaspersky, the company in charge of PIX data security, has identified a couple of different ways criminals manage to disseminate malware and spyware and steal users' data and, subsequently, their money.
As safety measures in regards to this, the following topics have been pointed out by specialists as alert pointers:
Only use official channels (apps or physical bank agencies) to make transactions in the PIX system. Always suspect of unfamiliar text or e-ail messages using the PIX name as bait. If you're unsure or suspicious of anything, don't hesitate to contact your banking institution.
Install anti-phishing technologies on your phone based on your usual behavior, as it will help to identify recent phishing attacks.
The Central Bank has stated that if the system identifies a potential fraud (like an unusual transaction for a particular customer), the bank could freeze the transaction for half an hour during the day or one hour at night for a more thorough review.
There are daily limits established for transactions to avoid criminals sweeping accounts clean. These limits will increase from time to time based on a 3-stage plan until the system is 100% free of scams (or at least able to identify potential threats).
Although all keys have the same level of security, specialists say that one way of keeping your information safe is by generating two different keys: one based on your personal information (like e-mail or mobile number) to use with people you know (friends and family) and one using the random code to use with vendors and commercial establishments.
We'll keep updating this post as new information continues to come up, but make sure to check with your bank as their fees and rules can vary from one bank to another.
Now, if you are moving to or have businesses in Brazil, I think I may have a few topics that can be of your interest:
Related Questions
Will the new PIX system be made available for international bank accounts and tourists?
Yes, the new payment system will be made available for tourists and foreigners to use in a near future. Brazil's Central Bank director João Manoel Pinho de Mello has stated that the system should have a worldwide range as of 2022 or 2023.
Given that the system is still in its early stages of use and the fact that the current exchange legislation is pending some reviews, PIX's internationalization is definitely in future plans.
Can the PIX System be used as a credit card?
Not yet, no. The fact that the person may not have the balance in their bank accounts to make and conclude a certain purchase using PIX as a credit card is what prevents the system from adding this feature at the moment. But as with the internationalization of the system, its use as a credit card is also something that's being discussed for future plans.
What's the difference between PIX, TED, and DOC?
The main difference for the consumer is that PIX is faster, happening instantaneously while DOC and TED happen only during business hours.
The minimum and maximum amounts allowed to be transferred also varies:
DOC – Up to R$ 5.000,00
TED – No minimum is required and the maximum is estipulated by the bank
PIX – The Brazilian Central Bank stipulated that it needs to be at least 50% of the TED limits until February 2021 and 100% of that limit from March onwards. The limits can also vary according to the hours you are performing the transaction, for safety reasons.