If you ever find yourself in Brazil, trying the local food is a must. There are so many great meal choices but let us not forget about an essential part of every meal, the dessert. Trying local desserts is one of the best things you can do when traveling.
Trying desserts in different parts of the world gives you a taste of their culture and lets you get the most out of your trip. You may even find you like them so much you want to try and recreate your favorites at home to bring a little Brazil into your everyday life. Read on to find the top 26 desserts you should try while visiting Brazil.
Açaí Na Tigela – Açaí Berry Smoothie in a Bowl
This dish is typically made of mashed acai berries that are sweetened and found all over Brazil. These bowls have even found their way to the states. It creates a smooth pudding-like dessert. There are usually only a few ingredients used to create this treat which are:
Açaí pulp
Bananas or other fruits as a topping
Granola
Guarana syrup
Some parts of Brazil will sweeten the berries with guarana syrup. It is said to have an earthy taste from the berries themselves. There are many variations to this dessert because it is so simple you can change it in many different ways like the ones seen here.
If you'd like to know more about Açaí and Guanará, take a look at this post we have written on the wonderful Brazilian fruits and veggies!
Ambrosia Salad – A Brazilian Twist on a Popular Dessert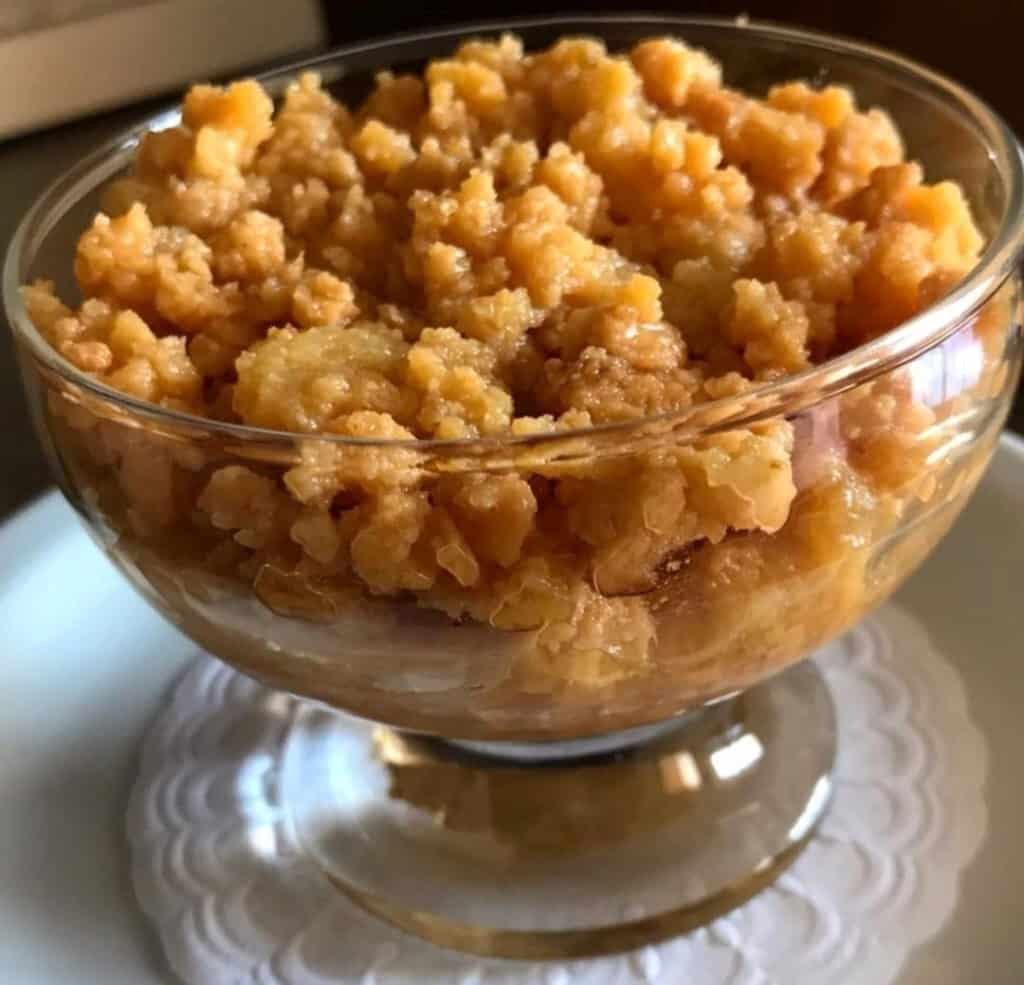 This is not your mom's ambrosia. In Brazil, it is made quite differently than in the United States. The Brazilian dessert is made differently to get its unique texture and is made out of only a few ingredients:
Brown cane sugar
Cinnamon or cinnamon sticks
Eggs
Milk
It is a ubiquitous dessert in Brazil that is perfect for the after-dinner moment, as it is light and refreshing. Like many other dishes on the list, different variations of this dessert can be found around the country, as the base ingredients are pretty simple.
Arroz Doce – A Twist on Sweet Rice Pudding
This sweet treat can be found in many places around the world. Brazil's rice pudding is made a little differently than you may be familiar with, as the ingredients include:
Butter
Caster sugar
Cinnamon stick
Cloves
Egg yolks
Ground cinnamon
Lemon
Milk
Orange
Star anise
White rice
This rice pudding is a very light snack that can be eaten anytime and made quite quickly. It is topped with cinnamon and eaten at room temperature or cold. It does take some time to cook, but it is worth the wait. If you want to try it on your own, you can use this recipe found here.
Banana Frita – A Sweet Fried Banana Treat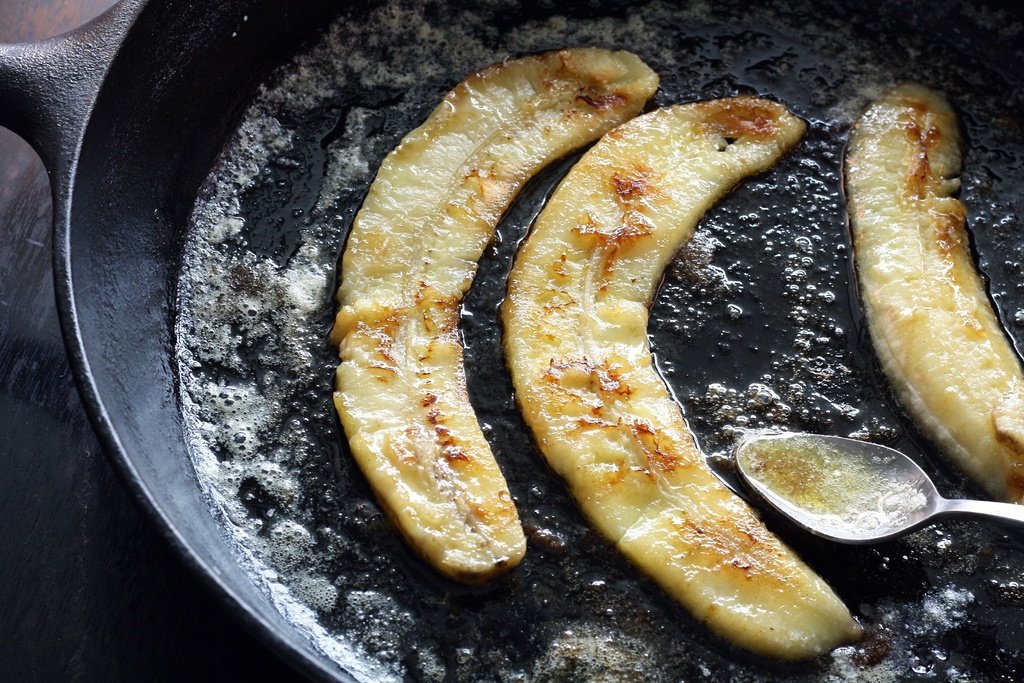 Is there anything better than a sweet fried banana? When a banana is fried, the sweetness comes out even more. They fry up nicely, turn golden brown, and then are typically coated with coconut flakes before being fried in coconut oil or butter. 
Banana Frita is a dish that tastes good on its own or even better with ice cream. It is pretty simple to do, and because there are only two ingredients, anyone can make this. It can also be made relatively quickly as the perfect dessert or side dish to accompany a savory meal.
Beijinhos – Rolled Coconut Balls
Beijinho is a very popular treat found all around Brazil. They are made with four simple ingredients that make up a sweet treat that is basically coconut fudge rolled into balls. They are a very sweet treat, like any fudge, and the perfect dessert after any meal. If you love coconut and fudge, you will love Beijinhos.
They can also be prepared relatively quickly. Many people mix the combo and sit it in the fridge overnight, making it easier to make. If you want to make these on your own, you can try this recipe here.
Bolinho de Chuva – A Brazilian Filled Sweet Scone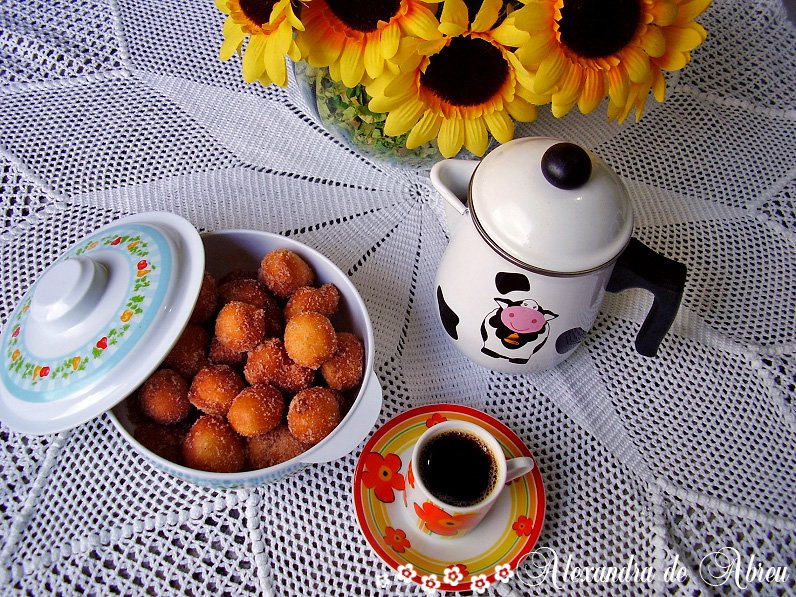 These treats taste like a combo of a few desserts, such as scones, dumplings, and a beignet, all mixed into one. They are very popular in Brazil and can be made sweet or savory. Their name means donut of rain. There is a simple batter made up of:
Baking Power
Baking soda
Cinnamon
Eggs
Flour
Milk
Salt 
The batter is mixed together and then dropped into the hot oil. Then they are rolled in a cinnamon and sugar mixture. Finally, they are then filled with a sweet cream which can differ depending on where you get them from. They are not hard to make, and if you want to try your hand at them, you can find a recipe here.
Bolo de Brigadeiro – Three Layer Chocolate Fudge Cake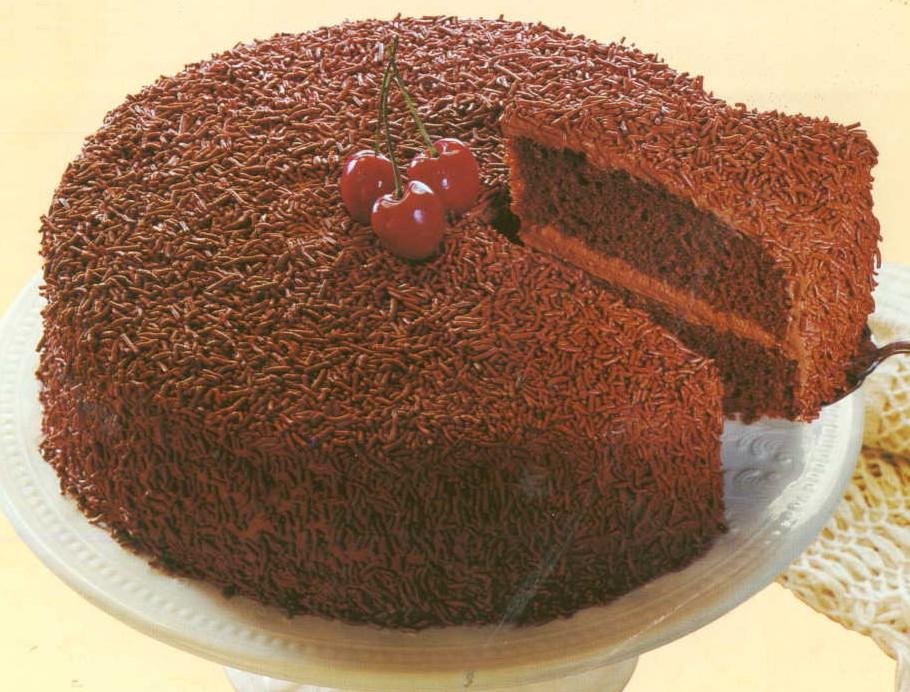 This is not your typical chocolate cake. Brigadeiros are small balls made out of: 
Condensed milk 
Cocoa powder 
Butter 
They are also always coated in chocolate sprinkles. This cake stands out because it is placed on top of the cake as an edible decoration. The cake itself is also different from what you may be used to.
A brigadeiro cake is made of the same simple ingredients but has egg and cream in it also. This creates a very moist and decadent cake. The cake traditionally has three layers and chocolate fudge filling in between the layers. The cake, just like the balls, is also covered in chocolate sprinkles. It is a chocolate lover's dream. To try it out on your own, you can find a recipe here.
We have filmed the reaction of a British girl trying out Brigadeiro for the first time ever, check it out!
Bolo De Rolo – A Brazilian Goiabada Cake Roll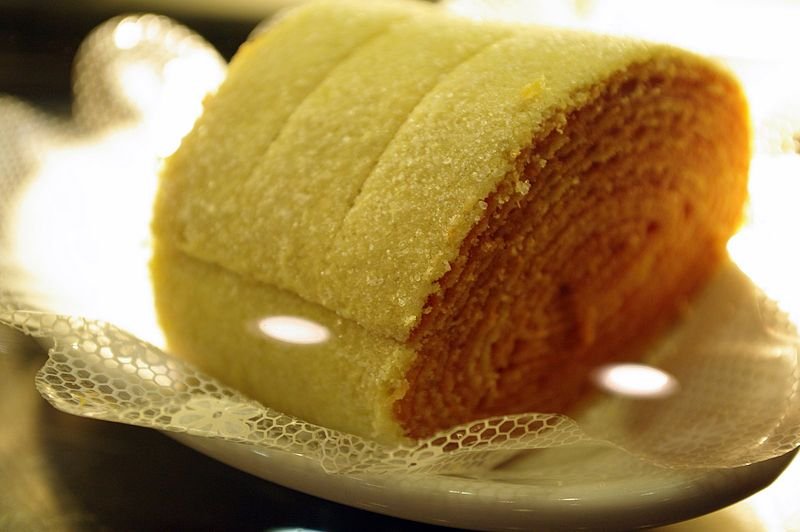 This may seem like the cake rolls you are used to, but it is very different. The cake part of Bolo de Rolo is much thinner than a standard cake roll found in the states. It looks more similar to a cinnamon roll with many layers. It is typically made of many layers of sponge cake connected to create one long thin sheet. 
Sweetened guava is then spread on the sheets just like you would with a cake roll. It is rolled and then sliced. It is a very light dessert, not heavy like a traditional cake. This treat can be found all over Brazil at almost all local shops. You can try to make it yourself with the recipe found here.
Brazilian Carrot Cake – Not Your Typical Carrot Cake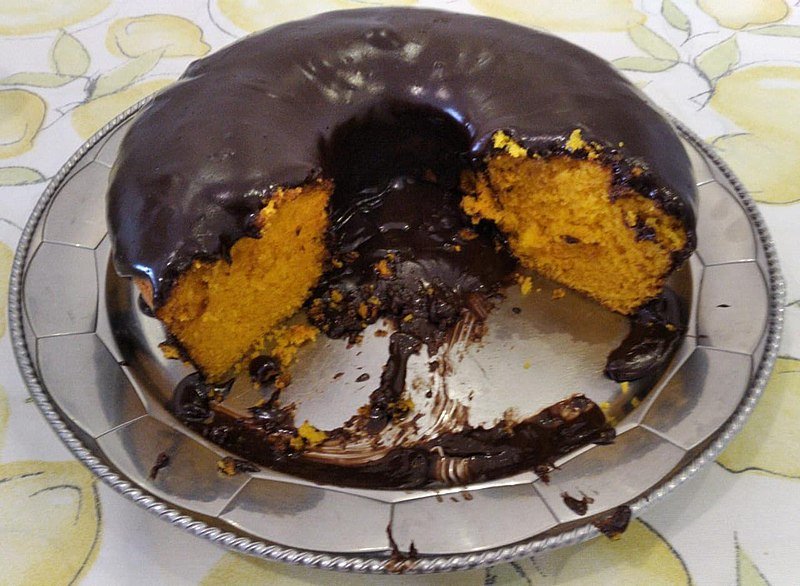 This cake is very different from the carrot cake found in the United States, that is covered in a sweetened cream cheese icing with carrots piped on top. In Brazil, they do things quite differently, and it will probably make you never return to the carrot cake you are familiar with. There are no carrot chunks of cream cheese icing.
This cake has pureed carrots to make a sweetened and unique taste. The most significant difference and best part of this carrot cake, is that it is topped with chocolate sauce. It is also typically made in a bundt pan, as many cakes are made this way in Brazil. If you want to try your skills at the Brazilian carrot cake, you can find one here.
Brigadeiro – Three Ingredient Fudge Balls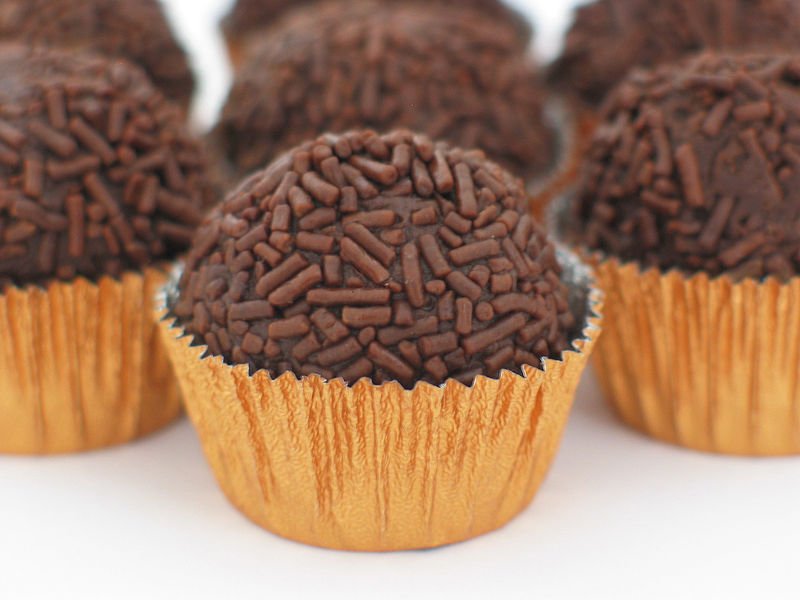 As mentioned above, Brigadeiro can be used as topping on a cake, but they are also a dessert all on their own, and a quite popular one in Brazil. They are very similar to truffle, reason why they are sometimes referred to as Brazilian truffles. They are very easy to make and only take three common ingredients:
Butter
Cocoa powder 
Sweeten condensed milk
You mix it all in a saucepan to melt it, then pour it into a pan to cool in the fridge. The mixture creates a gooey playdough type of dough that can be shaped into balls. Then they are coated in chocolate sprinkles. It is that simple to make this simple snack. You can find the full recipe here.
Cocada – A Baked Coconut Candy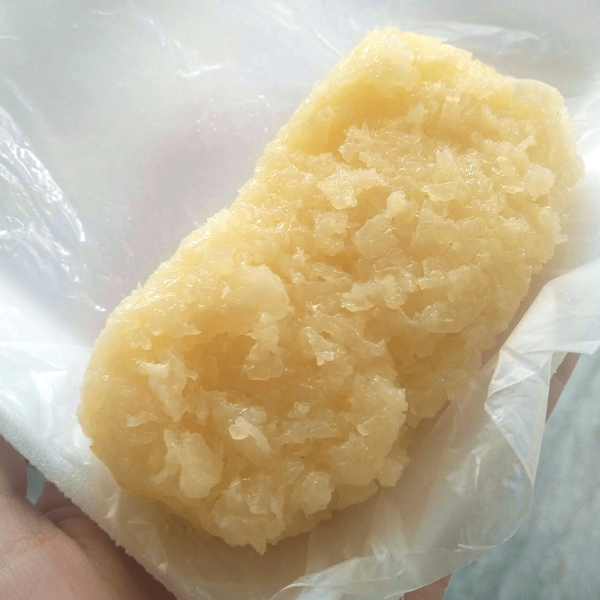 Cocada is a very popular candy found all over Brazil. It is somewhat like a coconut macaroon. A tiny bite-sized sweet treat packed with sweetened coconut. It is a favorite of many children around Brazil. While it is a very simple treat to make, it has a lot of flavors in the tiny ball. The ingredients are pretty simple:
Castor sugar
Freshly grated coconut
Sweetened condensed milk
Vanilla
That's all you need to make these little balls of happiness. The ingredients are cooked down together in a saucepan and then spooned onto a sheet pan to cool. It truly can't get any easier than that. Once you get the hang of this treat, you can even start creating your own variations. If you want the full recipe, you can find it here. 
Creme de Cupuaçú – A Brazilian Cupuacu Ice Cream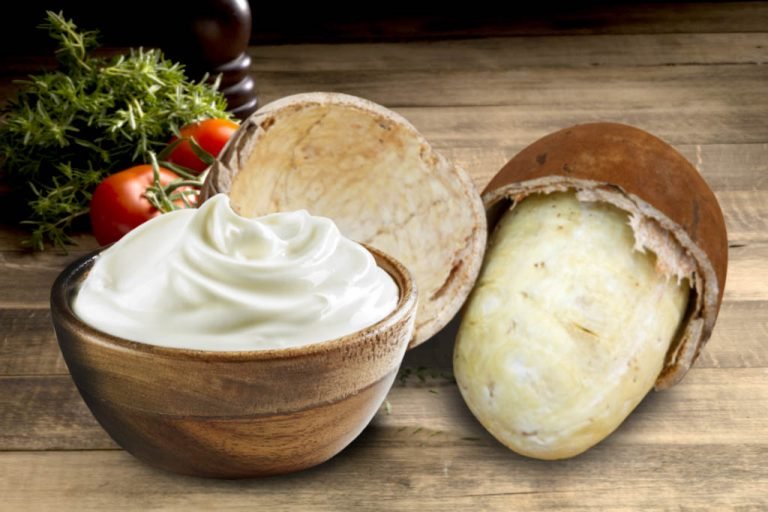 If you have not tried cupuacu ice cream, you are missing out! This Brazilian sweet treat is a staple as it is made from Brazil's national fruit, the cupuacu. It is a tangy acidic fruit that is a cross between a pineapple and cocoa fruit when it comes to its scent. 
Cupuacu has quite a distinct tart flavor makes a nice treat when eaten raw or mixed with sweets. When it is made into an ice cream, it makes for a refreshing dessert. It can be found all around Brazil and even in many places in the states now. 
If you would like to know more about the Cupuaçú fruit, take a look at this post we have written!
Creme de Papaya – A Refreshingly Sweet Papaya Dessert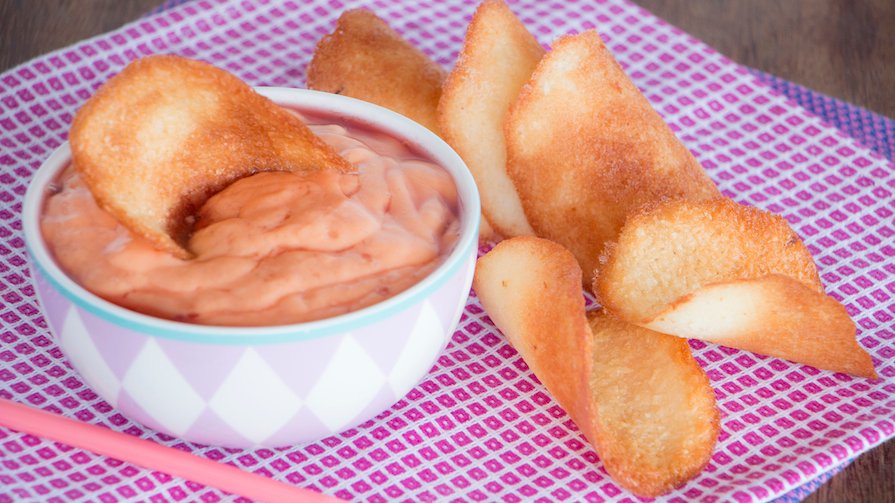 If you are a fan of papayas, you will love this light after-dinner snack. It can be found in many places around Brazil and even other places around the world. This dessert is made up of fresh papaya that is blended with vanilla ice cream until it is completely smooth.
There are many different variants to this sweet treat. Sometimes people will add sweet liquors or syrups in with the ice cream for added sweetness. This dessert will also pair nicely with many of the other desserts on this list. If you want to try your hand at the dessert, you can try this recipe here.
Curau de Milho – A Sweet Corn Pudding Dessert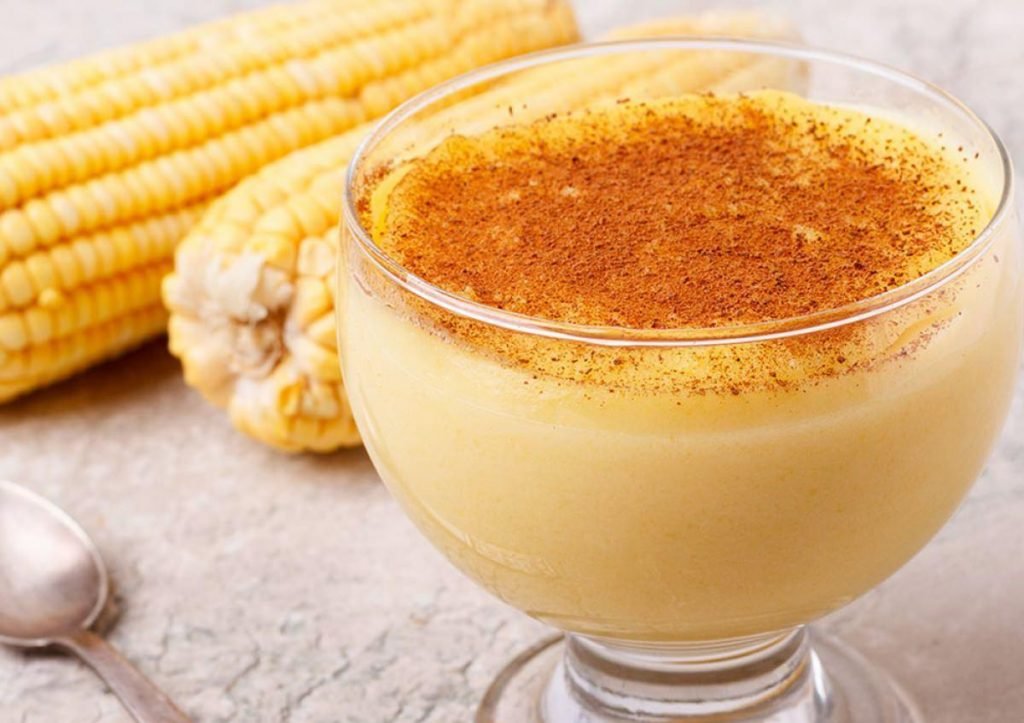 This sweet corn pudding dessert is a very common dish in Brazil and has been for years. Corn can be made in so many different ways it is no wonder why it found its way into a pudding form. This dessert is made up of:
Corn starch if using corn that is not from Brazil
Milk
Sugar
Unripe maize
Corn in Brazil has a lot more starch than those varieties found in other parts of the world, so it is not needed. The pudding is warm when eaten as it will turn into a gelatin texture as it cools, which is not the case with corn from the United States.
It is a sweet and simple treat that can be eaten anytime and is better for you than a typical pudding. You can find a recipe here.
Romeu E Julieta – Goiabada and Guava Paste Pair Well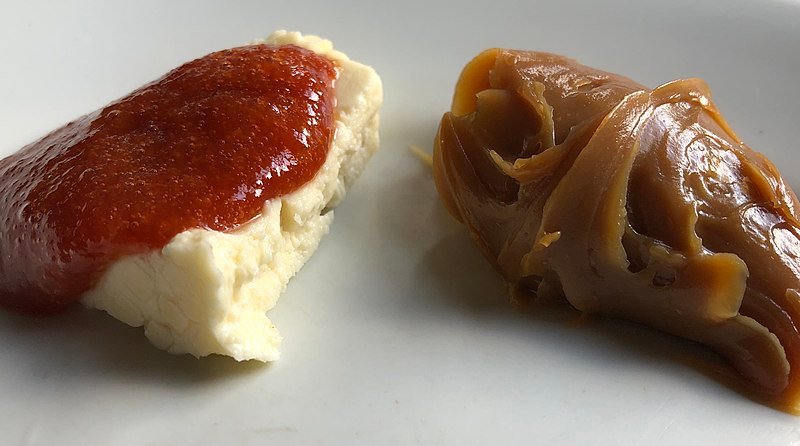 There are many forms of this sweet dessert combo found all over Brazil. The combo is always with two main parts is a savory and salty cheese paired with a sweet guava paste. In some cases, the guava paste is formed into tiny squares and served on top of slices of cheese as a bite-size snack. Some places even create the guava paste into some form of a cake and pair it with cheese.
There are really endless possibilities with this sweet and savory combo that you may not think would fit perfectly together hence the Romeo and Juliet name. If you want to try and create a different take on this Brazilian favorite, you can try this recipe found here.
Maria Mole- Homemade Coconut Marshmallow-Like Treats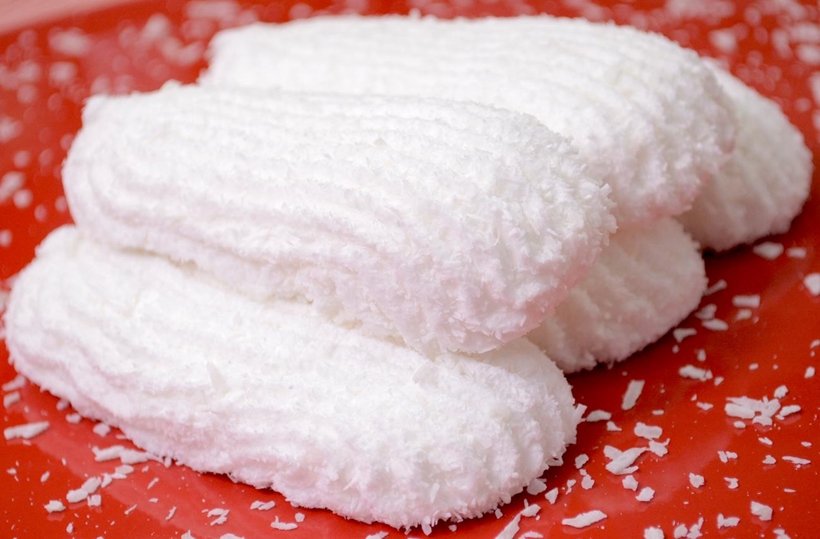 These sweet mouthwatering treats may make you never want to eat a marshmallow from the states again. They have the feel of a marshmallow but are much lighter and fluffier. They are made up of a few simple ingredients, which include:
Coconut
Egg whites
Gelatin
Sugar
This treat can be found in the small area of Sao Paulo in Brazil. It was created by a candy maker who wanted to use up the left-over egg whites when they were making the different types of candies. Kids go crazy for these little treats, and they can be found at every child's party around Brazil.
You can find a recipe for these sweet treats here.
Mousse de Maracujá – Passion Fruit Mousse to Die For!
If you love the sweet taste of passion fruit, you will love this dessert. Passion fruit, cream, and condensed milk are mixed to create this sweet pudding-style dessert. It can also come topped with a number of ingredients such as:
Chocolate shavings
Cocoa nibs
Mint leaves
Toasted chopped cashews
Toasted coconut
You can add anything you would like to this simple dessert, and it can be found everywhere in Brazil. It is the perfect chilled dessert for the warm summer months as it is surprisingly refreshing and light. If you would like to try to create this sweet treat, you can follow the recipe here.
Paçoca – A Sweet Brazilian Peanut Candy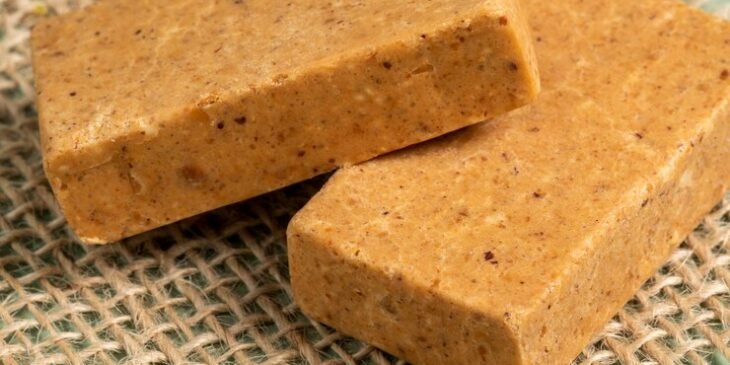 If you were to combine fudge and ground peanuts, you would get paçoca. It is a mixture of: 
Ground peanuts
Sugar
Salt 
Once the ingredients are ground together, they can be formed into different shapes or pressed into a pan to be cut later.
The mixture sticks together because the peanuts release their oils once crushed. The consistency is almost like a raw peanut butter cookie when you bite into it. It is not overly sweet and makes for a great dessert or afternoon snack. If you need more help with the recipe, you can go here. 
Pamonhas – A Sweet Tamales Style Treat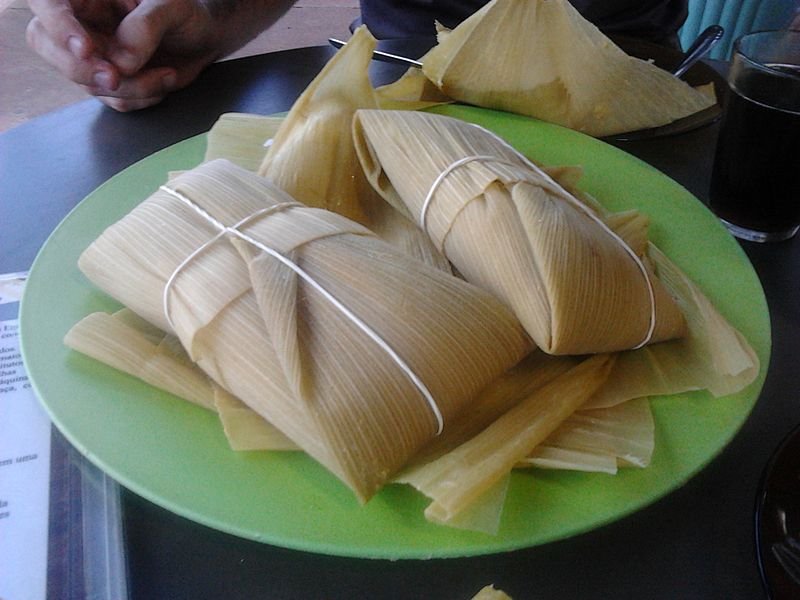 You have probably heard of spicy Mexican-style tamales, but did you know they can come in dessert form too? Corn is a very universal food and is found in many different meals in many ways. Sweet corn is a delicious part of this desert. Pamonha is made of corn husks wrapped around sweet corn paste.
The corn husks are typically boiled beforehand and can be filled with a number of things, from savory to sweet. You do not eat the corn husk; this treat simply boils in it. Southern Brazil is where you can find sweet pamonhas, while northern Brazin typically has savory ones that are more popular.
You can find the snack recipe here to try it at home here.
Pavê – Brazil's Take On Tiramisu
If you love tiramisu, you will love this decadent layered dessert. It is a no-bake dessert and really can't be messed up when making it at home as it is only layered in one dish. If you want to try it out, you can find a recipe here. The layered ingredients are typically:
Chocolates
Cookies or biscuits
Creams
Fruits
There is not any coffee in it but typically some form of liquor. There are tons of different types of pave in Brazil and around the world. Ranging from using every fruit you can think of to all sorts of chocolates; it is somewhat like banana pudding meets tiramisu. It is a nice refreshing snack for any time of the year and can be made in minutes in any style you would like. 
Pé-de-Moleque – A Simple Twist on Peanut Brittle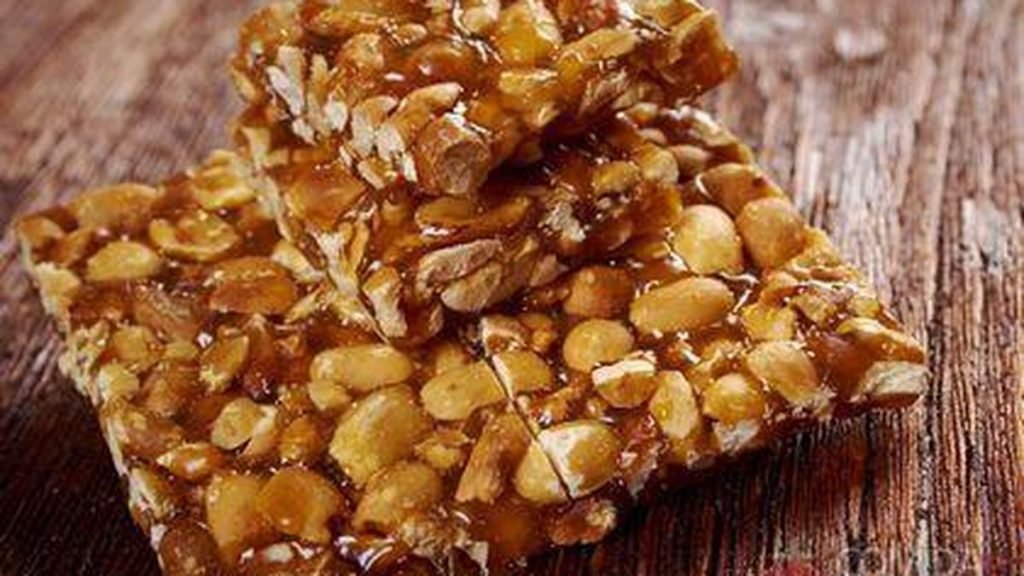 This traditional peanut candy resembles a granola bar minus the granola. The ingredients are quite simple: sugar and peanuts. Those two ingredients are heated and mixed together, the mixture gets poured onto a large cookie sheet, then spread evenly. 
Once the candy is cooled, it can be cut into rectangles or broken into random size pieces, kind of how peanut brittle would be. It is thicker than peanut brittle, though. There are so many variations of this snack. It can be crunchy like a brittle or soft like a granola bar. It all depends on how the sugar is cooled and for how long.
You can find a recipe for this sweet treat here.
Pudim de Leite – Brazilian Caramel Coated Custard Flan
Just like the flan you are familiar with, this custard creation has a sweet caramel topping. Like flan, it has a very light and fluffy texture. The caramel drips down, coating the custard cake. It is made up of only a few ingredients that are:
Eggs
Regular milk
Sugar
Sweetened condensed milk
Pudim, meaning pudding in English, is a simple dessert but quite delicious. There are many variations to this dessert that will alter the flavor and texture when making this treat. These differences range from a water bath to a savory treat versus sweet.
You can create your own Brazilian flan following the recipe found here.
Quindim – A Coconut Custard Cake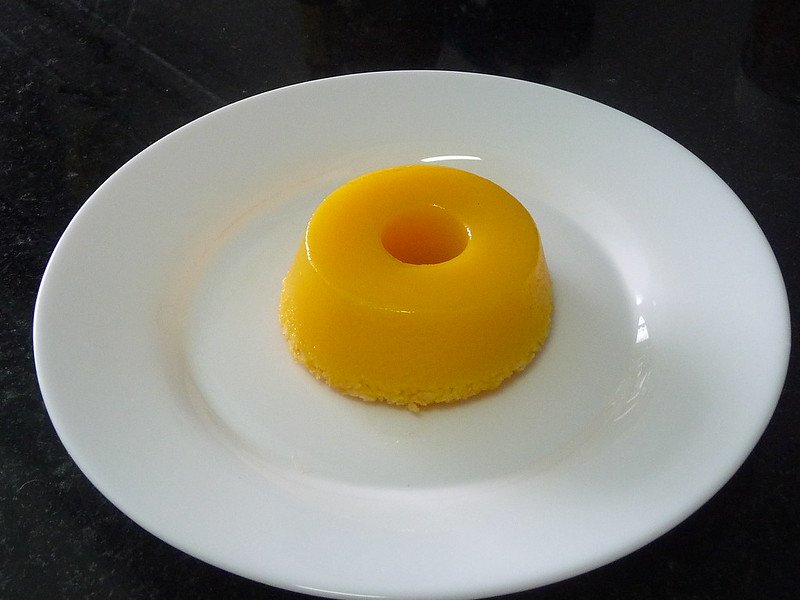 This delicious custard cake is a traditional dessert that was said to be created centuries ago. Its main ingredient is egg yolks, but it also contains sugar and ground coconut. It can be found in a couple of different forms as either a flan type of dessert without the caramel glaze or as a pastry resembling a quiche. 
Traditionally, the dessert is made up of one batter. As the custard cake bakes, a crust forms when the shredded coconut starts to brown on the top of the dish. Then the treat is flipped upside down like a flan or upside-down pineapple cake would be. What's lefts is a delicate and sweet dessert. It's popular in Bahia, Brazil but can be found everywhere.
You can find a recipe here.
Rabanada – Brazilian French Toast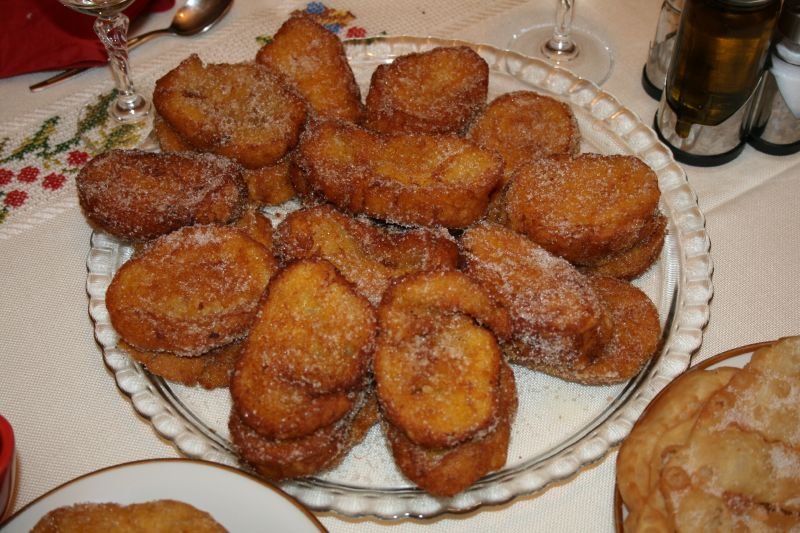 If you love French toast, you will absolutely love Rabanada. It is a little different than the French toast you are used to eating. Rabanada is typically soaked in milk/wine, then dipped into an egg and fried in oil, unlike traditional that is dipped in an egg/milk mixture then put directly into a pan. 
It is also made with a special type of stale bread and topped with a cinnamon-sugar coating. The pieces of bread used for this can be:
Brioche
Challah
Rose de Reyes
It will not taste the same if you use plain white or wheat bread. A thicker stale bread will work best to create this afternoon snack. You will love the crunchy cinnamon sugar outside while the inside is soft and sweet. You can find a recipe here.
Sagu de Vinho– Wine Cooked Tapioca Pearl Treat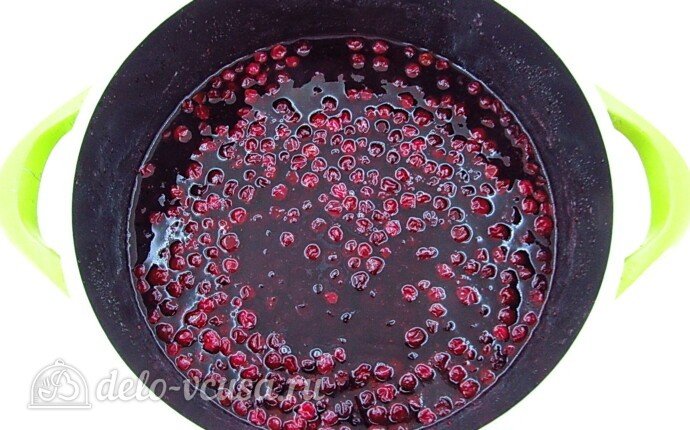 This alcohol-infused dessert is made up of tapioca. Tapioca balls are a very common starch found all over the world. Unlike those found in other parts of the world, these are cooked in wine. As they cook, the balls/pearls soak up the wine and turn a deep shade of red. Sometimes the wine is mixed with grape juice to make for a sweeter ball.
You can simply eat the wine-infused balls as is or add them to any of your favorite creamy desserts, from cheesecake to ice cream. All will taste incredible. This is a very easy treat that just about anyone can make. It can add a splash of taste to any dessert. You can find an easy-to-follow recipe here.
Sonho – A Sweet Brazilian Cream Donut
These donuts can be filled with a few different things but traditionally are filled with cream or caramel. This treat is a fried donut that is sometimes called padaria. When found in local shops in Brazil, you can expect to find them filled with:
Cream
Doce de leite – Caramel
Guava paste
Jam fruit filling
Pastry cream
Whipped cream
A sonho donut will be light and fluffy and far less sweet than those found in the states. They are also sometimes rolled on sugar to add a little extra sweetness. The ingredients are quite common, and the dessert is easy to make. You can find a very easy-to-follow recipe here.
A Taste of Brazil
It is clear to see there are many amazing dessert choices when traveling around Brazil. While some may be found all over the country, some, as you now know, will only be found in certain parts, making them even more unique to try. You should be warned once you try the desserts on this list, you may find your typical desserts don't taste as great anymore.
While you're here, I think we might interest you with these:
Tired Of BBQ? The 8 Places And Food To Eat In Rio (By A Local) – There are many wonderful BBQ places in Rio, but if you're tired of eating meat, here are some great options for you to try!
Brazilian Steakhouses: Why Are They Popular? – Brazilians are very traditional with their barbecues, which are very popular throughout the country. Click here to find out why Brazilians love them so much!
These Are Wonderful Fruits and Veggies Made in Brazil – Brazil is not only famous for it's beautiful beaches and friendly people, but also for it's exquisite food! Take a look at some of the delicious natural veggies and fruits in the country!
Cover Photo Credit: Pxhere