You just booked your flight to Brazil, and you couldn't be more excited about the new adventures, especially the food. Brazilian dishes are famous for their bold, rich, vibrant flavors, and you want to taste them all. But there is only one problem: you have no idea which dishes to try while visiting. 
Deciding which of Brazil's famous foods to try while vacationing there can be challenging, especially without a guide. So please keep reading to find out ten must-have dishes to try while there, how they're made, and the history of where some of them came from!
Picanha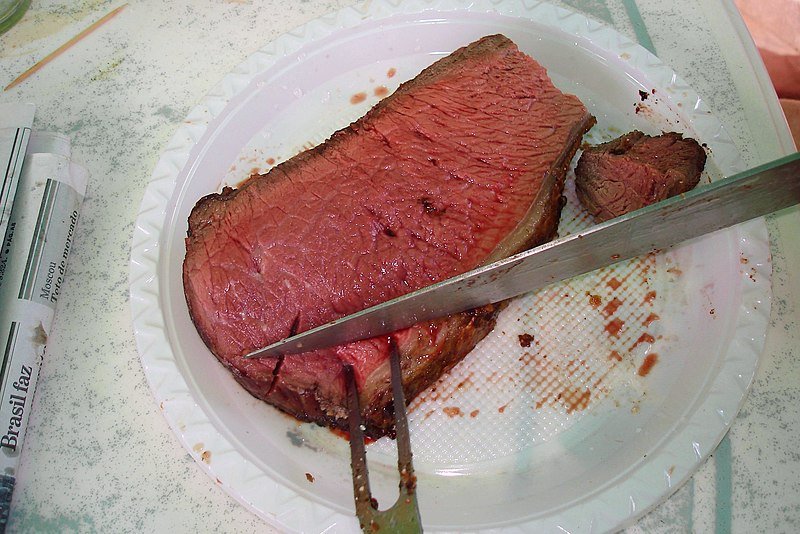 Picanha is one of the most sacred cuts of meat in Brazil. Picanha is the Portuguese name for a beef cut right at the top of the rump. In English, this cut is called the rump cap, rump cover, or sirloin cap. In America, the cut is usually combined with the rump round.
It is a triangular-shaped muscle that is rarely used, so it is tender and nearly melts in your mouth. 
How Picanha is Made 
The picanha cut of beef is usually around 2.5 pounds or smaller. Anything more significant than this size risks cutting into other, tougher cuts of meat like the rump round. In Brazil, you will see these cuts of steak skewed in the shape of a U and cooked over red hot open flames. 
Picanha is usually served with the fat still attached to stay juicy, and you can see how healthy the animal is. It should be about a centimeter thick.
Where to Eat Picanha in Brazil
If you are visiting Brazil, some of the best Brazilian cities to taste Picanha, according to food critics, are Rio de Janeiro, Porto Alegre, and São Paulo. 
Bolinho de Bacalhau  (Deep-Fried Cod Cakes)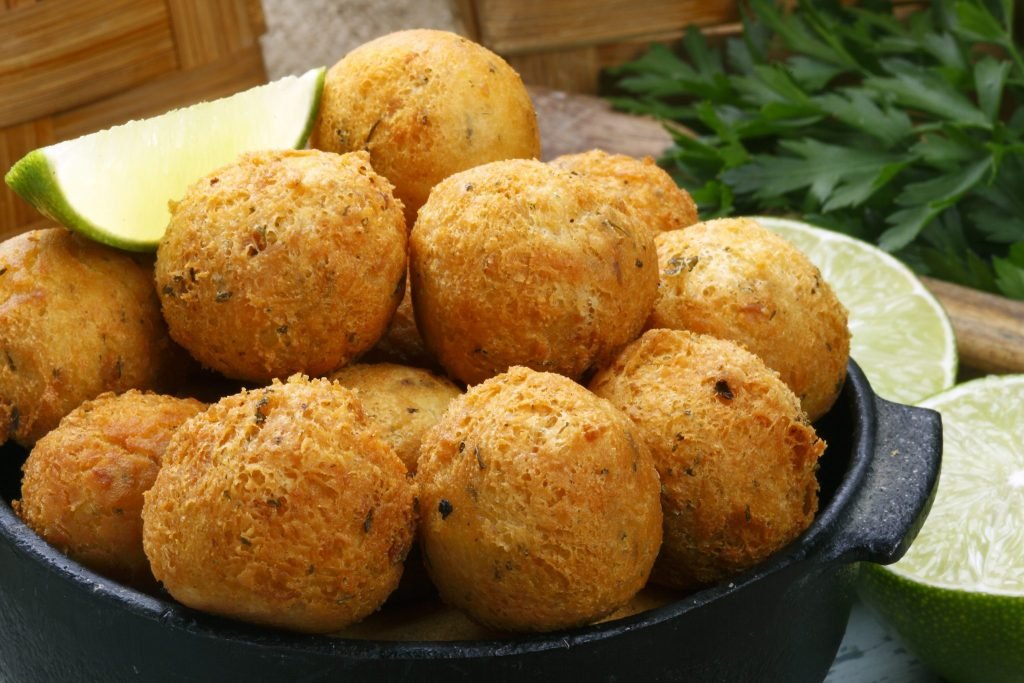 The phrase "Bolinho de Bacalhau" literally means "cakes of codfish" or "codfish cakes." In the Lisbon region of Portugal, this dish can be called "Pasteis de Bacalhau," which means "pastries of codfish" or "codfish pastries."
In American and UK English, Bolinho de Bacalhau is also called Codfish Balls, Salt Cod Fritters, and Salt Cod Croquettes.
The Portuguese people have been salting and drying codfish since the 1350s, and the idea of fish cakes has been around for 4000 years, but it is unclear how the actual Bolinho de Bacalhau recipe was born.
How to Bolinho de Bacalhau is Made 
Bolinho de Bacalhau is made from dried, salted codfish that has been soaked to rehydrate. The codfish is then added to a mixture of potatoes that have been mashed into a paste and mixed with eggs, parsley, garlic, onions, and other tasty herbs and spices.
The mixture is formed into palm-sized balls and is fried until they are golden on the outside, and you can bite into them with a crunch. Bolinho de Bacalhau is mainly served as an appetizer in Brazil, but you can also eat it as the main course.
Where to Eat Bolinho de Bacalhau in Brazil
Food critics agree that the two best cities to find Bolinho de Bacalhau are Rio de Janeiro, Brazil, and Lisbon, Portugal. 
Feijoada 
Feijoada is a comfort food widely considered Brazil's national dish, especially in Rio De Janeiro. A black bean and pork stew, Feijoada is derived from the times of slavery in Brazilian history.
Feijoada comes from the Portuguese root word for beans, "feijão" (pronounced like fay-jawn). It is made with black beans, pork, and sometimes beef, either smoked or salted overnight. 
The cuts of pork can be bacon, pig ears, pig feet, or other spare parts of the pig, but if you are visiting Brazil and want to order this delicious dish, you usually have a choice about which cut you want to try.
How Feijoada is Made 
Feijoada pairs well with Farofa, a cassava flour that has been toasted and sprinkled on top of the dish. The sides vary, but it is usually a combination of rice, fried cassava flour, collard greens, fried plantains, and orange slices. 
Where to Eat Feijoada in Brazil
As a matter of tradition, Feijoada is usually offered only on certain days in Brazil. In most of Brazil, you can find Feijoada on Saturday and Sunday lunch menus throughout. In São Paulo, working-class restaurants offer it on Wednesdays and Saturdays. If you are going to be in Rio de Janeiro, you can find it on the Friday menu. 
Coordinating the days and places to eat Feijoada with your trip schedule might be difficult, but it is well worth the effort. 
Pão de Queijo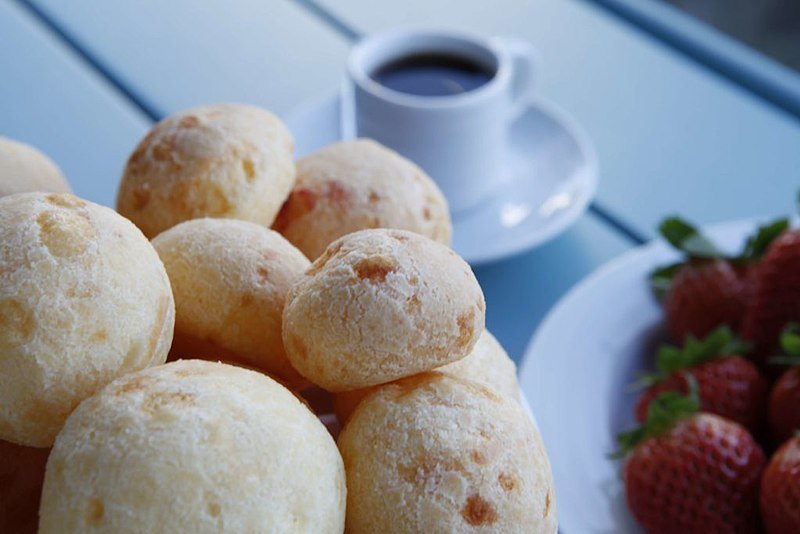 Pão de Queijo is a Brazilian cheese bread that is literally called "Bread of Cheese" in Portuguese. In Brazil, it can be a breakfast or snack food usually sold in bakeries, markets, or street food vendors.
This wonderful snack is crusty on the outside with a warm, cheesy middle that makes your mouth water just thinking about it. 
How Pão de Queijo is Made 
In modern times, Pão de Queijo is made with tapioca flour, your choice of mozzarella, parmesan, or feta cheese, olive oil, your choice of regular or soy milk, and eggs. 
Historically, Pão de Queijo was created by enslaved people who would make the bread from the cassava root after soaking it. That version of the bread was, of course, very different, with bland flavors. It was many years after that they began to add enriching ingredients like milk and cheese to create the Pão de Queijo we know and love today. 
Where to Eat Pão de Queijo in Brazil
If you are visiting Brazil, you can usually find Pão de Queijo sold in bakeries, markets, or street food vendors all over the country.
Brigadeiro 
Brigadeiro, also called "Negrinho" in the Rio Grande do Sul, is a Brazilian fudge ball that melts when you bite into it. Brazil owes the creation of Brigadeiros to Eduardo Gomes. He was an Air Force Brigadier whose presidential campaign in 1945 changed Brazil in many ways. 
The presidential campaign of 1945 was the first national election in which women were allowed to vote. Women sold chocolate fudge balls rolled in chocolate sprinkles at rallies and political events to drum up support for Brigadier Gomes. The name of the popular treat became brigadeiro.
How Brigadeiro is Made
Brigadeiro is made with condensed milk, butter, cocoa powder, and optional sprinkles of chocolate, vanilla, or coconut flavors.
They can be served as either small rounds or small bowls to be eaten with a spoon. If you eat it with a spoon, it is called "brigadeiro de colher," which literally means, "brigadeiro on a spoon" or "spoon brigadeiro."
Where to Eat Brigadeiro in Brazil
Although Brazilians usually bake Brigadeiro at home, if you are visiting Brazil, you can find them in bakeries or shops that sell snacks. It is possible also to see these tasty treats on the dessert menu, but it may not be that common.
Goiabada com Queijo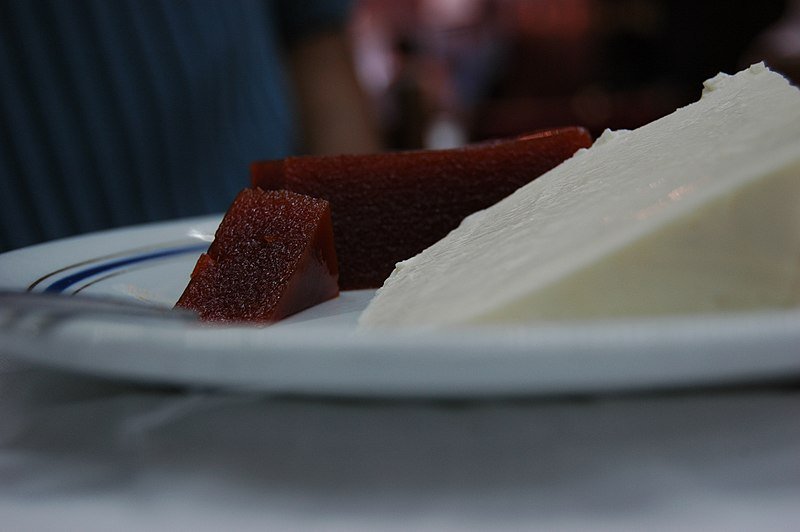 If you are vacationing in Brazil, you definitely want to try Goiabada com Queijo or "Guava with Cheese," as it is called in English. It is a sweet and savory dessert food commonly known as the "Romeo and Juliet dessert."
How Goiabada and Queijo came to be together is still a mystery, but the production of queijo minas—soft, white cheese—used for the dish goes back 300 years and has been part of "Brazilian Immaterial Cultural Heritage" since 2008.
How Goiabada com Queijo is Made 
Romeo and Juliet, or Romeu e Julieta in Portuguese, is made with sweet guava paste, which can be substituted with marmalade. The goiabada, or guava in English, is made into a paste with sugar and paired with queijo minas, which is usually salty.
Where to Eat Goiabada com Queijo in Brazil
If you are visiting Brazil, you can buy Goiabada and Queijo at your local market and put them together to make Goiabada com Queijo.
Beijinho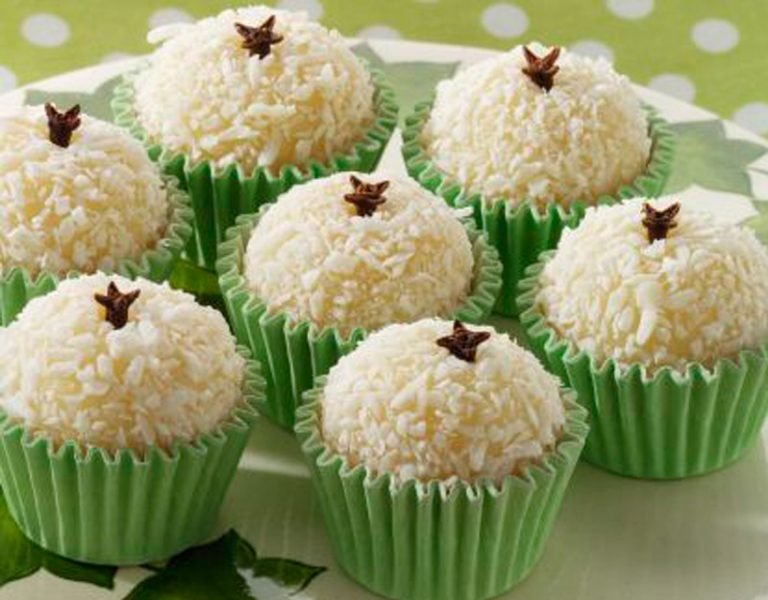 Beijinho means "Little Kiss" in English. If you like coconut, you must have a taste of this yummy dish. The Beijinho is the coconut-filled sibling to the brigadeiro, in which the coconut is substituted for cocoa powder.
Sometimes called "Beijinho de Coco" or "Brazilian Coconut Kisses," Beijinho is a sweet treat usually served at birthday parties. 
How Beijinhos are Made 
Beijinhos are made with butter, sweetened condensed milk, and unsweetened grated coconuts, then topped with a thin layer of caster sugar on the outside and decorated with a clove.
Where to Eat Beijinhos in Brazil
Although these sweet treats are usually homemade for gatherings like birthday parties, anniversaries, or other special occasions, you can still buy them in the store.
If you plan to visit Brazil, look for bakeries and small sweet or cake shops called "doceiras" for this delicious dish. 
Farofa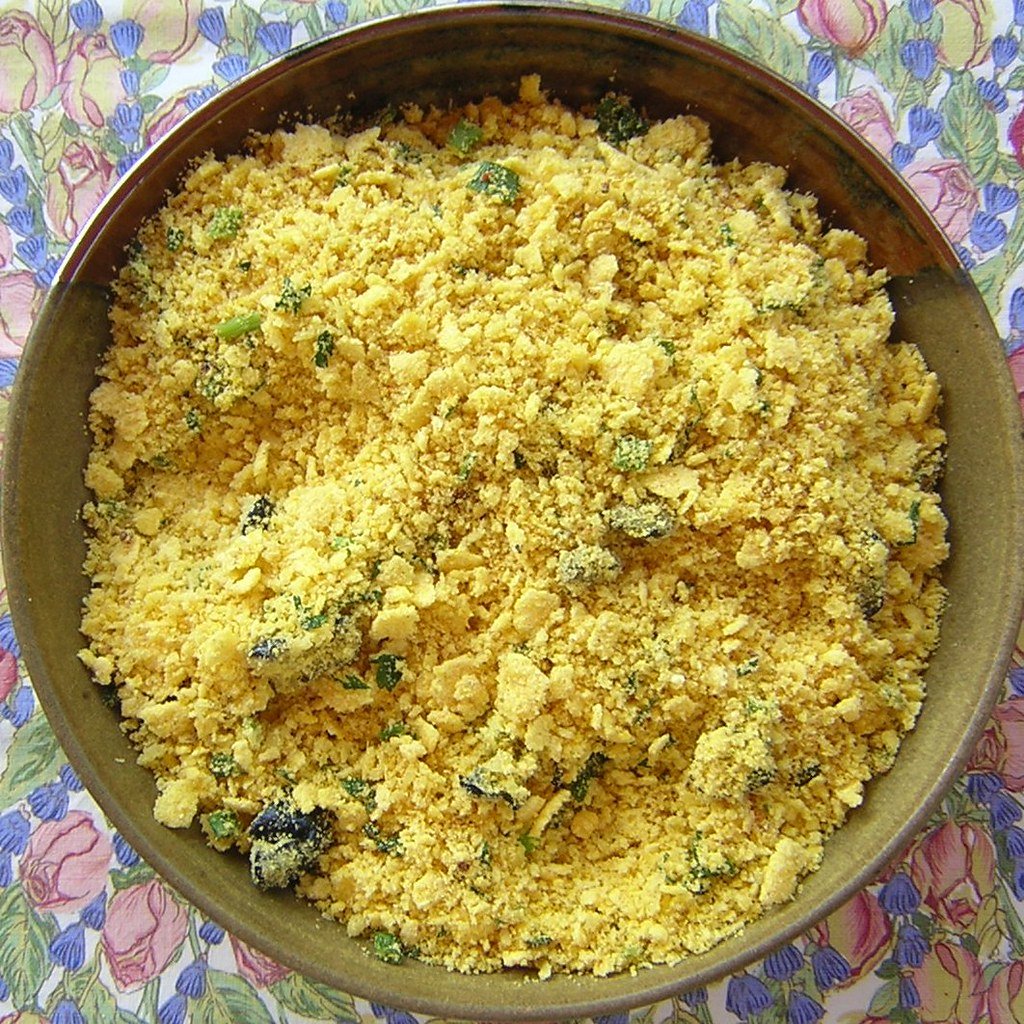 Farofa is cassava flour, also called cornflour, that has been toasted. Farofa is mostly famous for being the topping on Brazil's national dish, Feijoada, but it is commonly used as a topping or side dish for hearty stews like Moqueca, a seafood stew.
How Farofa is Made
Home recipes for Farofa include some variations of spices, oils, onions, olive, garlic, and even smoked meats. Usually, the Farofa is used to accent the taste of stewed or barbecued meat. Families may also use Farofa as stuffing for chicken and turkey, mixing it with nuts and fruits like apples, bananas, and raisins.
Where to Eat Farofa in Brazil
Farofa is often made homemade, though recipes vary by household and family traditions. However, it is also mass-produced and available in most stores in Brazil. If you are at a restaurant, chances are Farofa will be offered as a side dish. If you see it on the menu, it is definitely worth a try.
Moqueca 
If you are going to vacation in Brazil and want to eat some good food, Moqueca is a must-have dish. From the word "mu'keka," from an Angolan language called "Kimbundu," Moqueca is a Brazilian fish stew but can be made with any kind of seafood. 
How Moqueca is Made 
Moqueca is most commonly made with white fish, lobster, and/or shrimp cooked with a base of tomatoes, palm oil, garlic, bell peppers, and onions with various spices that include lime, cilantro, and coriander. 
This amazing dish is packed with Portuguese and African flavors that use coconut milk—in some variations—and palm oil to bring out the dish's richness. 
Where to Eat Moqueca in Brazil
Based on critical reviews, the best cities in Brazil to eat Moqueca include Salvador, Rio de Janeiro, and Vitoria.
Final Thoughts 
Brazil is an amazing city with amazing food. Rich, vibrant flavors steeped in the history and traditions that make Brazil what it is today. These ten famous dishes, designed to bring you closer to the real Brazilian experience, are must-haves if you ever visit Brazil.
While you're here, I think we might interest you with these:
Tired Of BBQ? The 8 Places And Food To Eat In Rio (By A Local) – Although barbecues are indeed big in Rio (and in the rest of Brazil), there are also several different flavors for you to try around the city! Here's a list of 8 great places you should eat at!
The 27 Must-Have Desserts In Brazil – Brigadeiros, pudim de elite, and beijinho are just a few of the many delicious treats Brazil has to offer, so if you want to find out what those are (and more), click here!
Brazilian Birthday Party: Traditions, Food, Song, and more – Brazilian birthday parties are pretty great, with tons of traditional food and drinks, so if you ever have a chance to attend one, here's what to expect!
Cover Photo: Brazilian Feijoada dish – Credit: Flickr | Sebástian Freire