When you think about the beaches and famous localities in Rio de Janeiro, Copacabana is probably the first thing that pops into your mind. Still, its neighbor district Ipanema also deserves a major shout-out, as it is equally (if not more) beautiful than the latter.
From the fact that Ipanema used to be a big farm before growing into an opulent district to it being both a landmark to the local LGBTQI+ community and an inspiration for one of the most famous MPB songs ever made, Ipanema is full of history and interesting facts.
Throughout this post, we're going to highlight the most interesting matters about Ipanema that you may not know about, giving you the inside scoop on little-known facts about the place and where you need to visit whenever you're in Rio!
1 – From a Farmstead to a Fancy District
In the late 19th century, the district of Ipanema (which actually means "stinky lake" in the indigenous Tupi language) was a huge farmstead named Ipanema Village, owned by the Ipanema Count. Even though there were constructions throughout the property, it still wasn't recognized as a district.
After the land's allotment, the count built streets, avenues, small plazas, and tram lines to facilitate access to the general population and interest them into purchasing the land, and soon the district started to take shape,
A big chunk of that land was acquired by french entrepreneur Charles Le Blond, who would eventually do the same allotment process for the Leblon district to be originated.
2 – An LGBTQI+ Landmark in Rio de Janeiro
The Ipanema beach is a well-known spot for LGBTQI+ people, especially around Farme de Amoedo street, where you'll see the big rainbow flag indicating it's the spot.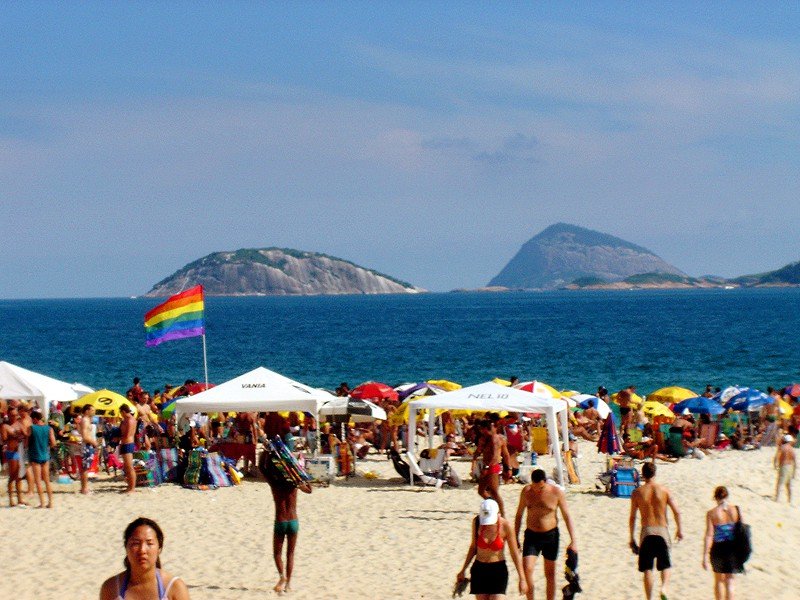 This specific part of the Ipanema beach started becoming a reference point for LGBTQI+ people ever since the '80s when openly Carioca (how Rio locals are called, as we explained in this piece) gay artists such as Cazuza would choose this spot to meet up with friends and acquaintances.
Farme de Amoedo street has since become a gay landmark in the city of Rio de Janeiro, and you can find many specific gay bars and nightclubs in the surroundings of the street.
We've gone over this and other locations while discussing LGBTQI+ friendly places throughout Brazil, so make sure to read up on that if you want to know more about it.
3 – One Beach For Many Different Tribes
Aside from being a favorite spot for the LGBTQI+ culture, the Ipanema beach also attracts other tribes to its shores, such as surfers and skaters.
The waters that face Ipanema's beach post #9 are where many surfers choose to hit the waves. Alongside the beaches in Barra da Tijuca, this particular spot is where surfers claim to catch the best waves, so if you're a fan of the sport, now you know where to go!
Alongside the boardwalk at the end of the Ipanema beach (known by Cariocas as Arpoador), you'll find a plaza called Galeria River, which is, in short, a small gallery of skateboard stores. You'll find everything from skateboard pieces, equipment, and apparel.
Just as a curiosity, I had my first skateboard built by a friend after we went shopping for pieces in these shops, and he gave me this beautiful skateboard for a very sweet deal. So make sure you stop by if you're into it.
In the back of the beach, near the boardwalk, you'll be able to spot several people playing handball in the courts, which brings us to our last click, the handball enthusiasts. The sport is very traditional at the Ipanema beach, being a regular sight all day long.
Even if you don't have a partner to play with, locals residents are amiable and won't hesitate to include you in the game, so don't be shy and have fun.
Take a look at this video if you want to understand more about beach etiquette in Brazil. It is also available on my YouTube channel:
4 – The Real Girl From Ipanema
If you have any knowledge of Bossa Nova, you've probably heard the song "Girl from Ipanema," sung and composed by MPB legends Tom Jobim and Vinícius de Moraes. But do you know who the real girl from Ipanema is?
The year is 1962, best friends Tom and Vinicius were walking down the Ipanema beach when they spotted a girl walking towards the water. Although a regular sight, the girl's unique, delicate walk and golden-like skin prompted the artists to compose a piece about her.
Helô Pinheiro, the girl from Ipanema, would only become aware that the song was inspired by her almost two years after it impacted the radios, which allowed her to follow both national and international careers in modeling.
The song would become a worldwide success and was re-recorded by several artists, including Frank Sinatra and Stan Getz, reinforcing the image of Ipanema's beach to the world as one of the city's landmarks of Rio de Janeiro.
The bar in which Tom Jobim and Vinicius de Morais wrote the song still exists and operates to this very day, so if you want to grab a beer at its birthplace, just head to Garota de Ipanema bar at Vinicius de Morais street.
5 – Ipanema's Rise to one of Rio's most Expensive Districts
After "Girl From Ipanema" became the face of Bossa Nova worldwide, all eyes were on Ipanema. Real estate agents and construction companies began to see that as an opportunity to transform the district and profit from the social development in the area.
In the '60s, little by little, the houses started to lose space to small luxury buildings, and Ipanema was quickly one of the most disputed places in the city of Rio de Janeiro.
Between the 70s and 80s, the district's popularity was riding so high that Ipanema's Vieira Souto street (the avenue that faces the beach) became one of Rio's most noble and expensive addresses, even surpassing Copacabana's Avenida Atlântica.
But the development from a charming and calm little place into a district filled with buildings didn't please everyone. Brazilian artist Toquinho would reference Tom Jobim's Girl From Ipanema in his 74 compositions "Carta ao Tom," singing about how Ipanema became "sad with traffic and lost its beauty."
What to do in Ipanema?
After all these facts about Ipanema, I bet you want to know what else you can do around the district. So I've listed some locations that may interest you, so you'll know what kind of leisure you can do in Ipanema whenever you're in Rio:
Shop At Feira Hippie
Ipanema holds a weekly fashion open market called Feira Hippie, which happens every Sunday at the General Osório square ever since the late '60s. Tourists and locals can purchase from clothing to jewelry, embroideries, paintings, and decoration items, making this an awesome place to buy souvenirs.
Watch the Sunset at Pedra do Arpoador
A tradition amongst beachgoers at Ipanema, watching the sunset at Pedra do Arpoador is an almost magical experience, as you get to see the sun going down in the most Carioca way possible.
Take a look yourself:
Do Yoga at the beach
Right at the beach post #8 mark, the instructors give biweekly free yoga classes on Sundays. There's no list or inscription needed, you just have to show up with your yoga mat, and you're good to go!
That is it about our Ipanema facts! I hope we were able to give you a few extra reasons to come visit Rio de Janeiro and get to know one of its most charming districts!
While you're here, I think we might interest you with these:
6 interesting facts about Copacabana Beach – Even one of the most famous beaches in the world has its curiosities and little-known facts! Come find out!
Living in Rio: How much does it cost in USD? – If you're thinking about moving to the city of wonders, we have everything you need to know right here.
NYE in Rio: A Complete Guide – Looking to learn more about how NYE in Rio de Janeiro works? We got your back!
Related Questions
Is Ipanema safer than Copacabana?
Yes, Ipanema is definitely safer than Copacabana. Copacabana is a much larger beach than Ipanema and with a much wider sand strip as well, which gives thieves more area to act and escape. Historically, Ipanema's crime rates are much lower than Copacabana's.
Cover image: Sunset seem from Pedra do Arpoador in Ipanema – Credit: WikiCommons | Mayra Pavanello Munerato